United Bravo has been pretty much the center of news in automotive world of Pakistan long before its launch till the ongoing day. While some call it better than Mehran other refer to it as a "Chinese Box". Nevertheless United Bravo has been a controversial topic and still continues to do so. As we take a step back to 2018, the social media was flooded with news about "Chinese Mehran" ready to be imported and sold in Pakistan. According to the rumors this new "Mehran lookalike" was to be sold for only PKR 250,000. Although the rumor, it still made it to everyone's ear and eyes with number of potential customers wanting to buy the car. However the car never really made it here. This has to with the fact that as the car was almost like the Suzuki Mehran, it would face copyright issues in Pakistan. However all the news were not fake as two models were imported secretly by United from Zotye Automobile in China. Fortunately enough United had the customer attitude in its favor if it launched Mehran competitor soon enough. Therefore United finally launched an 800cc vehicle as "United Bravo" in October, 2018.
Now that the United Bravo has made itself visible on roads, let's talk about is it worth the hype or not. No doubt United Bravo is far more better than the Mehran however unfortunately for a newly launched car it is no standard to compare it with 37 years old vehicle. Yes sure the only thing we had before Bravo was Mehran and now we are 'lucky' for Bravo to save the day. However unfortunately with rest of world advancing at pace in Automobile Industry it's time we set out preferences straight instead of just being 'thankful'.
Engine & Performance:
Starting from the engine, United Bravo is powered by 800cc 3 cylinder EFI engine. Although there are no confirmed reports if it's the same engine that was used in Mehran, however the United Bravo engine makes the same output as Mehran i.e. 40hp. Another factor to be kept in mind is that with all the fancy accessories and interior, United Bravo has more weight to it which makes it sluggish.
Next in the line to select a car are the safety features it comes with. Unfortunately there isn't a list of those except for the seatbelts. Just because it's a better alternative to something doesn't mean a waiver from all the safety it should be equipped with. Now I don't want to make assumptions about platform build quality but there are no crash testing or crumple zone rating or data avail be on the website. In other words, the manufacturers don't have any in reality since my hopes are high that the Bravo was never tested for safety and crash.
Interior is another factor to judge a car. Fortunately enough for the Bravo, its competitor didn't have much of interior except a simple plastic dashboard. However fortunate for the customer, United Bravo does comes with good room. The digital cluster along with infotainment panel is an upgrade for sure. The rear view camera also makes it good enough again. Dual AC vents with wooden-like strip continuing on the bottom side of dashboard gives it a premium look. The dashboard is colored in black. The interior in Bravo is quite nice for the price it comes in.
Fit Finish & Build quality:
There are no high hopes to be held for the perfect fit finish and build quality. Unfortunately it's the thing Pakistani Auto manufacturer seem not to care about. Even the companies like Honda, Suzuki and Toyota have failed to deliver the international quality to the customers. However this can't be used as an excuse in case of Bravo since one wrong doesn't justify the other. According to the initial reports the build quality of Bravo is not so bravo. However I am sure United will work its way around to ensure greater quality.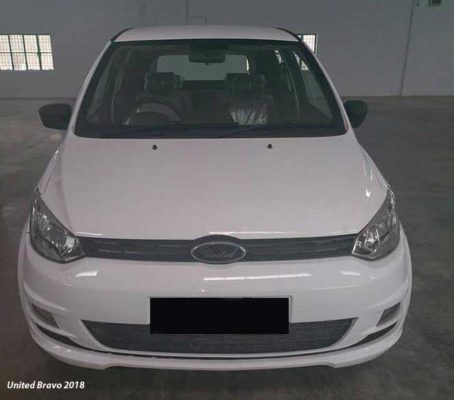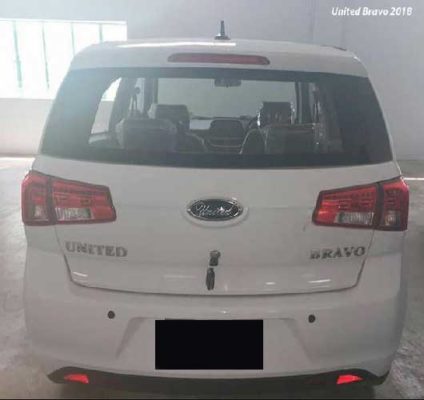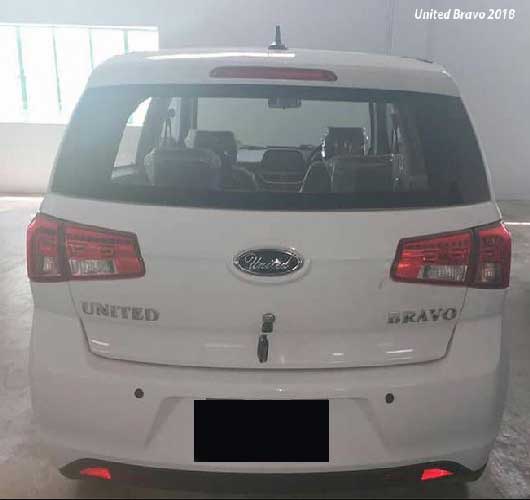 Verdict:
Yes the United Bravo is far better than the Mehran, however this isn't about it anymore. As consumers we need to ask ourselves if we want to set our eyes and catch up with rest of the world in automotive industry, or keep getting fooled by these companies for decades. Fortunately we have seen a rise in awareness among people buying cars as the buyers are appreciating newer companies planning to launch in Pakistan. In simple words this means people want good cars for their money and they are ready to try out new manufacturers instead of the worn-out under delivering old companies. While United Bravo might be a good option for the time being, let's hope for something given to us made on international standards.
Updates in 2020 United Bravo:
Colored Door Handles
Matching Side View Mirrors
Enriched Seat Fabrics
Spare Wheel
Engine Shield and Charcoal Cannister Added
Six New colors (Maroon Metallic, Beige Metallic, Royal Blue, Grey Metallic, Silver Metallic, and White)
Price of United Bravo in 2020:
985,000 PKR