2023 Toyota Corolla Hybrid
Sold in Pakistan  = 2020-Present

(As Import Model)

12th Generation
Price in Pakistan = 60-115 Lac PKR

(As Per Condition & Model Year)
Toyota Corolla Hybrid was introduced in the year 2020, and now it has become a fuel-efficient vehicle that makes it an attractive option in the sedan category. The 2021 year brings the Corolla hybrid with some upgrades that rated it among the top ten sedans. The latest model of the Toyota Corolla hybrid was introduced with standard features of blind-spot detection, an Android Auto interface for infotainment, and a rear cross-traffic alert system. It continues the tradition of providing the best safety features to its customers at a reasonable price tag. It features an attractive cabin, and it gives you smooth ride quality with a good suspension setup. The 2021 model adds rear-seat attached side airbags, and a Special Edition package is also introduced for the 2021 version that provides you with an exclusive body kit and red paint. The sedan is also upgraded with an Apex Edition and offers you a specially tuned chassis along with a stylish appearance and automatic transmission. The Nightshade model will let you have black exterior accents in your Toyota Corolla Hybrid, and a tire-repair kit is also given. Toyota Corolla Hybrid is already selling in more than 90 countries, and we also expect its launch in Pakistan in a year or two.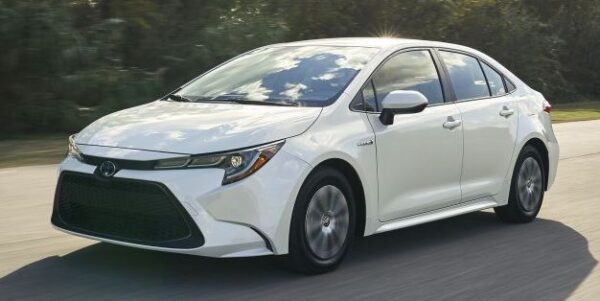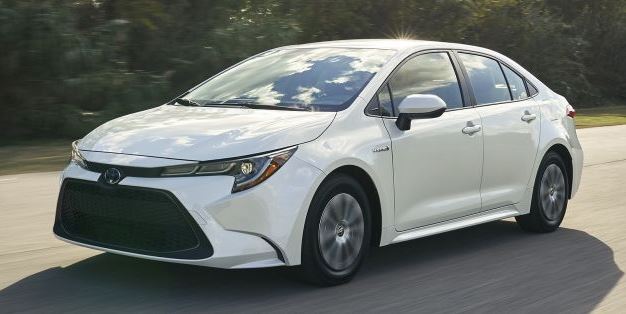 Trims & Versions:
The Toyota Corolla Hybrid is available in only one trim level LE, while the other versions of the 2021 Toyota Corolla do not offer a hybrid powertrain. The LE trim features cloth upholstery, keyless entry, an eight-inches touchscreen display, Android Auto and Apple Carplay interface, 2 USB ports, six speakers, a Wi-fi hotspot, and a Bluetooth connection. It is available with continuously varying automatic transmission and front-wheel driving features. Apart from this, you can upgrade your trim by purchasing different packages as discussed above.
Engine & Power:
Toyota Corolla Hybrid is powered by 1.8 liters sixteen valves, and four inline-engine paired with two electric motors producing power of 121 hp at 5200 RPM and torque of 105 pounds-feet at 3600 RPM. The electric motors are backed by a 1.3 kWh battery pack that gives enough power to run the front wheels with continuously varying automatic transmissions. The transmission is gearless which enables the whole system to work with choreography, and supports the fuel economy. It is unlike pure electric vehicles as its battery gets excess power from the engine when it runs low. It is also equipped with a regenerative braking feature that stores energy in the battery by a generator whenever you apply brakes. Thus there are no cables or plugs in Toyota Hybrid to charge the batteries (it is not a plugin hybrid).
Performance & Drive:
Toyota Corolla Hybrid is known for its responsive handling that gives you the highest-ever mileage in all Corolla series. The EPA estimates that it might give you a mileage of 52 miles per gallon which makes it the best reason to pick among other trims of Corolla. The suspension of the Corolla Hybrid is improved to deliver superb road handling, making every turn more exciting and safe. The Lithium-ion battery pack has been placed in a good position; where helped in making the car lighter, and also kept its weight distributed. It absorbs most of the imperfections of the road and lets you enjoy a controlled ride quality. The small steering inputs make easy control of a vehicle on all road types, especially when parking in narrow spaces. But unfortunately, the steering response is quite dull to give you confident turns and curves. The acceleration of the Corolla-Hybrid is also adequate taking 10.3 seconds to speed up from zero to sixty miles per hour, and it dropdowns when switching to Eco-mode. The brakes of the Toyota Corolla hybrid are a bit grabby, require more effort to press the brake pedal, and it takes some time to get used to its Braking system. It gives you the option of four driving-modes that are Normal, Eco, Sport, and EV mode. Normal driving mode preserves more of the limited torque, and it comes as default in the hybrid models. The Eco mode runs the car on less energy, and the Sport mode delivers more energy from the in-line four-cylinder engine. The EV mode is best for driving it in traffic and the optional power mode is there too if you want, which increases the throttle response for exciting drives.
Exterior Design & Features:
The modern style of the 2021 Toyota Corolla Hybrid features a low wide stance with an aggressive front end. The front end has been equipped-with sleek LED headlights provided with daytime running lights, and a black maw chrome grille gives an arrogant stance to its fascia. The rear end is almost identical to the traditional Corolla and its fifteen inches alloy wheels are also similar to the other trims. It is now available in blizzard pearl, silver metallic, black sand, Barcelona red metallic,l super white, celestine, and blueprint exterior colors.
Interior Designs & Features:
The interior of the Toyota Corolla Hybrid is attractive enough with piano black accents throughout the cabin. The cabin has made of soft-touch high-quality materials that give premium comfort to the passengers. An eight-inches display screen mounted on the dashboard is compatible with Android-Auto, Apple Carplay, and Amazon Alexa. The buttons and all controls are well-organized and drivers centered. All seats are covered with fabric but are comfortable enough to let you enjoy a relaxing ride. A seven-inches digital instrument cluster display gives drivers enough information for their assistance. Many other comfort features have also been given like keyless entry, 2 USB ports, a climate control system, adaptive cruise control, six high-quality speakers, Bluetooth connection, universal garage opener, child car seats, and easy manual adjustment of seats.
Safety Ratings & Features:
NHTSA has given five stars to the 2021 Toyota Corolla Hybrid in frontal crash tests, but the IIHS has not tested it yet. Some of the key safety features available in the Toyota Corolla Hybrid include a forward-collision warning alarm, lane-departure warning alarm, blind-spot detection, rear-view camera, rear-cross-traffic alert alarm, automatic-high beam headlights, adaptive cruise control, and lane-keeping-assistance feature.
Major Competitors:
Verdict:
The Toyota Corolla Hybrid has been rated number seven among hybrid and electric cars due to its excellent reliability rating and stellar fuel economy. Although its hard brake feels, a noisy cabin at high speeds, lack of steering wheel, and average acceleration make it an unattractive car among its competitors. But its fuel-friendly powertrain provides the highest mileage to differentiate it in the lineup of the Corolla series. All this healthy list of features and exciting drive quality is present at a very economical price.