2022 Haval Big Dog 
Sold in China = 2020-Present
Generation = 1st
2022 Haval Big Dog Price in China: 
| | | |
| --- | --- | --- |
|  Husky Edition | 119,900 yuan | 1.5GDIT EVO L4 |
| Labrador Edition | 129,900  yuan | 1.5GDIT EVO L4 |
| Side Shepherd Edition | 135,900 yuan | 1.5GDIT EVO L4 |
| Harvard Horse Dog Edition | 142,900 yuan | 1.5GDIT EVO L4 |
| Border Shepherd-Wang Cai Edition | 133,900 yuan | 1.5GDIT EVO L4 |
|  Great Dog Horse Dog-Prosperity Edition | 149,000  yuan | 1.5GDIT EVO L4 |
| Chinese Hound Edition | 145,900 yuan | 2.0GDIT L4 |
| Chinese Pastoral Dog Edition | 155,900 yuan | 2.0GDIT L4 |
| Roaring Dog Version | 161,900 yuan | 2.0GDIT L4 |
The Big Dog by Great Wall Motors was launched in 2020 under the sub-brand Haval. It was debuted at the Auto Show held at Chengdu in 2020, and it is considered the successor of the Haval H5. It is a five-door compact CUV with a front-engine and front-wheel-drive option or a front-engine and four-wheel-drive option. It is designed by Phil Simmons and manufactured on the Lemon B30 platform. This CUV has an exciting and unique name, BIG DOG, which was selected by a poll taken by Haval from the Chinese public, and thus its trim levels are named after the breed of dogs. It offers a single-engine option but a variety of driving modes. It is a perfect choice for urban traffic and hard-core off-road traveling, while its looks are masculine and bold. A 2.0 liters engine choice will come later in this year, or the next among engine choices of Big Dog. The looks of Haval Big Dog are different from all other vehicles of Haval because it revives the antique looks of a typical SUV and yet gives a rugged appearance at the same time. It is more prominent than Toyota RAV4 and is equipped with various latest features to compete with Toyota Land Cruiser.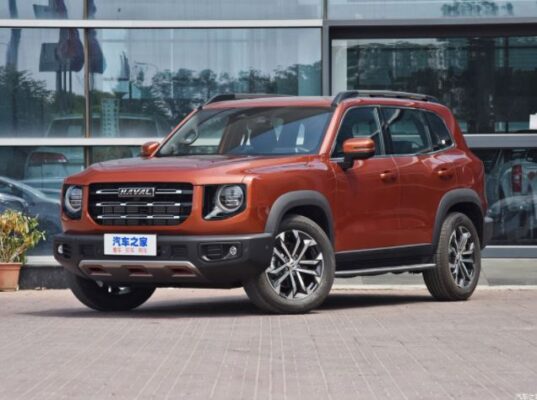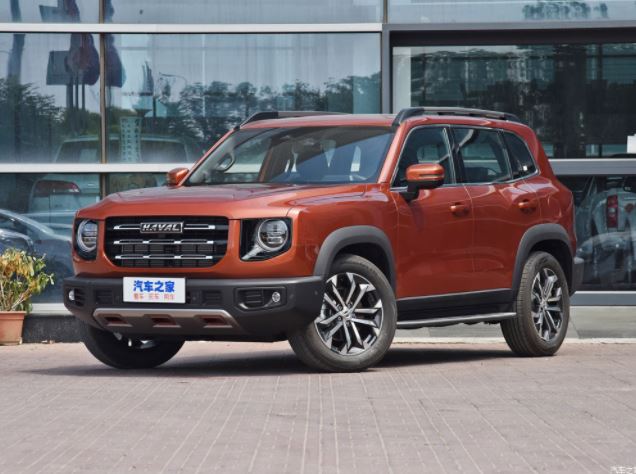 Trims & Variants:
The base variant of the Haval Big Dog is named Husky, then there is a Labrador variant, and then we proceed to Border Collie trim while the highest-trim level is Malinios. Other than this, you can have a front-wheel-drive version of the Big Dog, which runs the car efficiently on the front wheels, and the four-wheel-driving feature can also be availed, which makes your journey easy and convenient on any road conditions. The company claims Haval Big Dog to be an all-rounder for the paved and unpaved pathways.
Engine, Power & Transmission:
The Haval Big Dog has 1.5 liters Gasoline GW4B151 turbocharged engine that produces 169 hp and a 285 Nm torque. It has a transversely mounted engine, and its suspension system consists of a Macpherson suspension for the front and a multi-link suspension for the rear axles. It offers a seven-speed dual-clutch transmission with all its versions & trims. The Haval Big Dog is also available in another engine choice of 2.0 liters that generates a 155 kW (207hp) power and a 325 Nm torque.
Performance & Drive:
The performance of the Haval Big Dog is quite impressive, and it makes your journeys either the everyday routine journey or a long drive journey to a hilly desert area fun. The wheelbase of the Haval Big Dog is 2738 millimeters, which is more than the Toyota RAV4 and the ground clearance of BIG DOG is 200 millimeters that making off-road driving safe and easy. The engine is powerful and generates enough power to run all four wheels together so you can run your car smoothly over all types of road conditions. The suspension is set accurately, so the rough terrains do not disturb the comfort of the passengers by producing jerky feels, and the quality of the ride is not compromised, in any case. The steering wheel is also well-balanced and very light in weight to control the car's movements, and turning the vehicle produces little body roll. The transmission is controlled by a rotating dial that controls the different tarmacs of the car conveniently, and the gear changes are well-balanced. It offers a variety of driving modes that can be changed according to your road condition and your requirement, among which the Eco mode maximizes fuel efficiency. It also offers two differential locks and a tank U-turn feature that moves all the car's wheels at the same speed. The fuel consumption of the Haval Big Dog is not inadequate, consuming 6.9 liters of petrol to give a mileage of 100 kilometers and delivers you a maximum speed of 175 kilometers per hour. It comes with high beam and low beam LED headlights with automatic adjustment according to the light, and the higher-end trim also offers fog lights to assist driving in extreme weather. The electronic stability program stabilizes the vehicle, and an Anti-Lock Braking system prevents damages in collisions. At the same time, parking is also made more convenient with an automatic parking brake, rearview camera, and active braking.
Exterior design and features:
The Haval Big Dog, also known as DaGou, has a retro-style exterior body that is almost the size of a Toyota Prado, and it has an overall length of 4620 millimeters. It has an overall boxy shape, and the front end is different from a coupe-like SUV. There is a large-sized grille on the front with two rounded LED headlights accompanied by fog lamps below. You will find roof rails for outdoor use and a plastic bumper that has a skid plate. The Haval Big Dog features nineteen-inches aluminum black wheels for making your drive bold in rough terrains.
Interior design and features:
Now moving inside the Haval Big Dog, which comes with fabric upholstery, and the higher-end trims have leather-covered seats that are well cushioned and bolstered so you can enjoy a comfortable ride. The Haval Big Dog is spacious enough to accommodate five adults but is smaller in size than the Honda CR-V. The dashboard has a simple layout with vertical air vents and a grab handle on the A-pillars. An infotainment screen mounted on the dashboard gives you infotainment and comes with smartphone connectivity. A digital instrument cluster is shown to provide the car's basic information for the drivers' assistance. There is a multi-function steering wheel emphasizing making the controls driver's centered, and a wireless charging pad lets you charge your smartphones anywhere you want. It also offers a remote lock, keyless engine start, and entry system, along with a central lock and smart-trunk opening. You can also drive the car with an adaptive cruise control feature that lets you maintain a safe distance from the vehicles ahead.
Safety & features:
Some of the safety features of the Haval Big Dog are as follows:
Rearview camera
Airbags
ABS
EBD
Brake Assist
Traction control
Blind Spot Monitoring
Hill Descent Control
Hill-Start Assist
Automatic parking system
Active braking
Major competitors: