2023 Audi Q3
Sold in Pakistan = 2018-Present
2nd Generation
2023 Audi Q3 Price in Pakistan
The Q3 of Audi first entered the automobile world in 2011 as a luxury crossover SUV with front-engine and options of both front-wheel and four-wheel-drive. Currently, the second generation of Audi Q3 is available in the market and was introduced in 2018. It is a five-door SUV built on the Volkswagen Group MCB platform. The exterior design of the new Audi Q3 displays more self-confidence, and the interior cabin is also exceptionally marvelous, giving you plenty of passenger room and intuitive technology. The 2021 Audi Q3 available in Pakistan follows a similar tradition and gives you an all-rounder SUV that offers you great utility and versatility. It looks sportier than the previous generation, and you can get to know about its complete outlook in the article below. Another prime feature of Audi Q3 is its intelligently connected MMI system that makes sure your entertainment and convenience are not affected in any case. As mentioned Audi Q3 is sportier than its predecessor, and the sporty does not mean it is only related to its exterior body style but also to its driving and performance. The dynamic handling and stability of the Audi Q3 are equally good as in the city or off-road. This is what makes it a versatile car not for cities but on highways and rough terrains as well.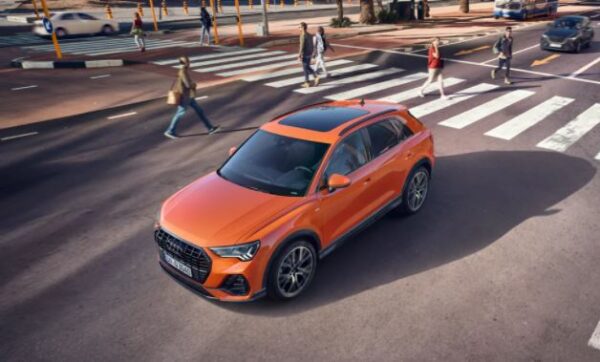 Trims & Variants:
You can purchase the Audi Q3 in four trim levels that include Audi Q3 35 TFSI, Audi Q3 40 TFSI Quattro, Audi Q3 45 TFSI Quattro, and Audi Q3 35 TDI. The main difference between all these trims occurs in their engine capacities and powertrain. The Audi Q3 35 TFSI and Audi Q3 35 TDI trims offer front-wheel-drive features, while the Audi Q3 40 TFSI Quattro and Audi Q3 45 TFSI Quattro trims are available in the all-wheel-driving facility.
Engine, Power & Transmission:
The Audi Q3 35 TFSI is powered by a 1.5-liter four-cylinder turbocharged petrol engine that generates maximum output of 110 kW (147hp) @ 5000 to 6000 RPM and torque of 250 Nm @ 500 to 3500 RPM. 
The 40 TFSI Quattro has powered by a 2.0 liter inline four-cylinder turbocharged petrol engine that generates maximum output of 140 kW (188hp) @ 4200 to 6700 RPM and torque of 320 Nm @ 1500 to 4200 RPM. The 45 TFSI Quattro trim features similar engine specs as the 40TFSI Quattro, but it differs in overall power production as it produces a power of 169 kW (227hp) @ 5000 to 6700 RPM and torque of 350 Nm at 1500 to 4400 RPM. The Audi Q3 35 TDI is powered by a diesel 2.0-liter diesel engine that generates maximum output of 110 kW (148hp) at 3500 to 4000 RPM and a torque of 340 Nm at 1750 to 3000 RPM. The transmission option in all the trims is similar, and that is a seven-speed S Tronic transmission.
Performance & Drive:
The 2nd generation Audi Q3 is known for its versatility and has excellent maneuverability in town, city roads, highways, and rough terrains. The longer wheelbase of the all-new Audi Q3 is better than its predecessor giving you a balanced ride on bumpy roads. The S Tronic transmission in Audi Q3 comes with precise throttle changes and delivers a smooth performance. The suspension system of Q3 has been designed in a way that further complements your smooth and relaxing journey with an optional suspension with damper control that makes its ratio direct with an increased steering angle so increasing the light-footed handling of Q3. The new Audi Q3 offers you various driving modes that help you to drive the vehicle according to the road conditions. The Auto mode sets a balanced configuration while Dynamic mode tightens up the suspension so you can enjoy a sporty driving style while the other modes are the regular driving modes. The Quattro all-wheel-driving feature makes this SUV even more powerful, as it generates enough power to run all four wheels efficiently so you can enjoy a real sporty ride. The acceleration of all the trims of Audi Q3 is exceptional-with Audi Q3 35 TFSI, and 35 TDI trims taking 9.6 seconds to accelerate from 0 to 100 kilometers per hour while the 40 TFSI Quattro takes 7.4 seconds to reach 100 kilometers per hour and 45 TFSI Quattro sprints from 0 to 100 kilometers per hour in 6.3 seconds. The fuel consumption of all the trims also varies with the minimum consumption seen by the 35 TDI trim which consumes around 4.9 liters of diesel to give a mileage of 100 kilometers.
Exterior Design & Features:
The new Audi Q3 is more attractive than the previous model, and it features an attractive feature with shoulder lines connecting headlights and taillights, formally giving Q3 an athletic impression. You find an octagon single-frame grille on its front and the large-sized air inlets enhancing the masculine feature at the front end. The headlights run inwards in a wedge shape, and the contours make this SUV look even wider with contrasting wheel arches emphasizing offroad looks. The longer roof edge spoiler is flanked by rear windows, and the steep D pillars create a forward thrust layout of the rear. The 20 inches aluminum wheels are bold enough to enhance the sporty character of the Q3.
Interior Design & Features:
The first noticed feature in the cabin of Audi Q3 is its spacious concept which is 97 millimeters longer than the previous model, which means it provides more headroom and knee room to the passengers and accommodates five passengers comfortably. The rear seat can be adjusted in three ways so the rear passengers can have the option of larger space. The loading floor of Q3 can be adjusted so the heavy luggage can be loaded easily in the luggage compartment. The storage capacity in the luggage compartment can be increased to 1525 liters when the rear seats are folded. Other than this, you will get intuitive technology inside the Q3. There is a 10.25 inches screen with a digital instrument cluster, and you will get an MMI radio plus, virtual cockpit, and MMI functions compatible with Audi connect services. You will get top-of-the-line infotainment that also provides you with ideal navigation. You also get a Wi-Fi hotspot in the cabin so the passengers can enjoy the entertainment of their choice and the Bang and Olufsen premium sound system gives you three-dimensional audio quality with its 15 speakers.
Safety & Features:
Audi Q3 offers you outstanding safety features so you can completely feel safe while traveling in it. The pre-sense safety system detects critical situations and gives a warning alarm to the drivers, and if emergency brakes are required it initiates them appropriately. Similarly, you will get cross-traffic assistance, a lane departure warning alarm, two radar sensors, adaptive cruise control, airbags, and a blind-spot monitoring system.
Major Competitors: