2022 Hyundai Venue
Sold in USA = 2020-Present
Generation = 1st
2022 Hyundai Venue Price in the USA :
SE

Starts at:

18,900 $

SEL

Starts at:

20,650 $

Limited

Starts at:

22,150 $
Hyundai Venue was first debuted in 2019 in New York International automobile show as a front-engine, front-wheel-drive subcompact SUV crossover. It has its markets in India, North America, Canada, and Australia. We will be discussing US Hyundai Venue in detail. The latest 2021 Venue is known for its excellent value and up-to-date driver's assistance programs along with generous passenger room. The present Venue's small size makes its handling more easily around urban areas. Every trim of Venue is equipped with an automatic emergency braking system with a smartphone interface infotainment system. The new 2021 Hyundai Venue discontinue the manual transmission which was standard in previous models and now all trims feature continuously varying transmission as standard. The steel wheels are also dropped out this year and now all trims are equipped with alloy wheels.
 The 2021 Hyundai Venue also made the Convenience package as standard in SEL trim which was previously available as an option while presently Convenience package is standard providing you with the blind-spot detection system, rear cross-traffic alert system, sliding armrest, and leather upholstery. It is rated number four among all other small SUVs. Currently, the 2020 model is available but the future is of the 2021 Venue.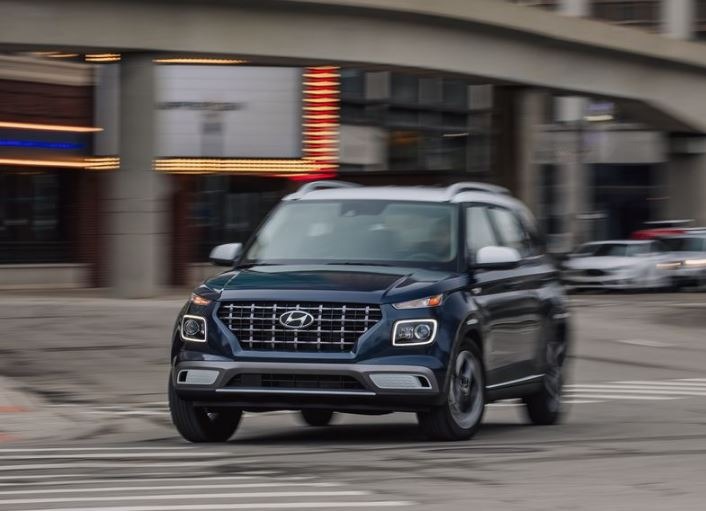 Trims & Versions:
2021 Hyundai Venue is available in three trim levels that include SE trim, SEL trim, and Denim trim. SE trim is the base trim which is now equipped with standard continuously varying transmission and fifteen inches alloy wheels. SEL Trim is mid-level trim which features seventeen inches alloy wheels, a standard Convenience package whose detail is discussed in the above paragraph, and a white-colored roof and the Denim Trim is equipped with leather upholstery, eight inches touch screen display compatible with smartphone interface, keyless start, and navigation system. All trims have similar powertrains and give a warranty period of five years or sixty thousand miles driven.
Engine, drive train & Power:
It is charged by 1.6 liters inline four-cylinder gas engine that delivers enough power to drive the front wheels generously with the continuously varying transmission. Hyundai Venue produces a maximum power of 122 hp and torque of 113 pounds-feet. The all-wheel driving option is not yet available in Hyundai Venue but the front-wheel-drive does deliver precise performance. It is best suited for driving in city traffic at medium speed while driving it at high speeds on the highway requires more effort to put on pedals so as to cope with the fast-moving traffic there.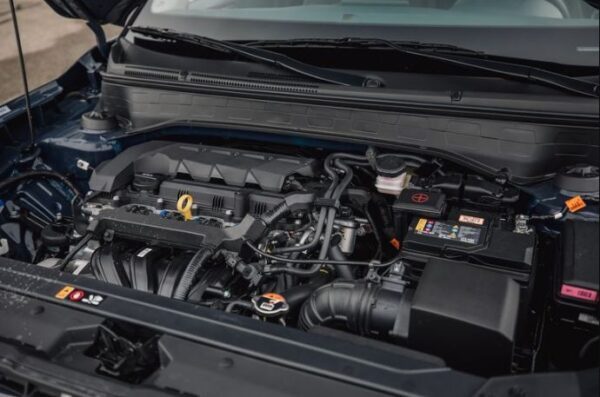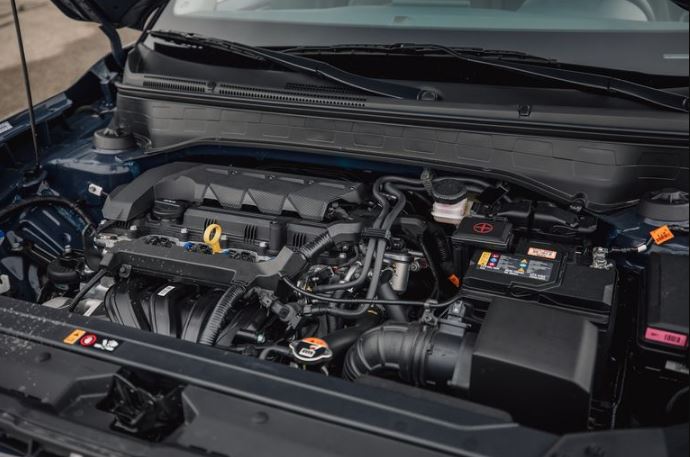 Performance & Drive: 
The driving abilities of Hyundai Venue is satisfactory as it does not give an outstanding performance because it doesn't seem to be a fast vehicle and you might overlook its other features by just looking at its clumsy speed but its actual achievement is its cheap fuel economy. The positive point in Hyundai Venue is its low weight and smaller size of engine that makes its handling easy. The towing capacity of the Venue is also very satisfactory capable of towing only 1700 pounds. It is capable to speed up from zero to sixty miles per hour in nine seconds which is not so bad even but best suited for city drives.
The eager steering wheel controls the car smoothly making your drive fun and even the navigation system helps you navigate the city streets easily. The suspension of the Venue is also quite smooth soaking up all the bumpy roads and uneven streets in the city letting you enjoy a comfortable ride. Fuel Economy: It gives you a mileage of thirty miles per gallon in the city and thirty-four miles per gallon on highways with a fuel tank capacity of 11.9 gallons. On the whole, it gives you a decent ride even over potholes with its light steering and maintains all the thrills in a cheap fuel economy.
Exterior design and features:
2021 Hyundai Venue has a blunt styling with a tall hatchback layout which is neither an SUV nor a sporty car either. The modern look is emphasized by a pinched grille on the front with sideways robotic LED headlights that are given with daytime running lights and fog lights. The deeply sculpted body gives it a light look while the rear end features equally attractive sleek designed LED taillights. The base trim features fifteen inches alloy wheels while the higher-end trim features bolder seventeen inches alloy wheels. It is now available in six exterior colors among which green apple, intense blue, and scarlet red are some.
Interior design and features:
Hyundai Venue has a modest and comfortable interior with a grained dash cap along with metallic paint to the vents and shift lever. It features grey and black colored fabric-covered seats while the Denim trim is updated with leather upholstery. It can accommodate five adults comfortably while the cargo space counts for 18.7 cubic feet and it can be increased to 31.9 cubic feet by folding the rear seats.
The dashboard holds an eight inches touch screen display that delivers fine graphics and is compatible with Android Auto and Apple Car Play. The cabin is designed in black cloth and contrasting grey stripe patterns while the gauge cluster is also very attractive. Some of them up-to-date features it include an automatic climate control system, keyless start, satellite navigation, heated front seats, six-way manually adjustable front seats, audio controls present on steering wheels, and sunroof adding brighter light inside the cabin. One of the best features of its cabin is its generous passenger space that ensures a relaxing and comfortable ride to its passengers.
Safety & features:
IIHS has awarded 2021 Hyundai Venue a Top Safety Pick Key award and NHTSA has rated it with four stars ensuring its customer's complete safety to be enjoyed. safety features of the 2021 Hyundai Venue include six airbags, an electronic stability control system, a vehicle stability management system, a forward collision warning alarm, a pedestrian detection warning alarm, blind-spot detection, and rear cross-traffic assistance. The active lane-keeping assistance, automatically adjustable high beams LED headlights and blind-spot detection are given as standard in all SEL trims.
Major competitors:
Verdict:
1st Generation Hyundai Venue holds a spunky style with good cargo space and big infotainment system while its back seats do not provide promising shoulder space and its grille is also very spooky and lastly, it's not a crossover which it might seem to be but overall it is an affordable hatchback which is a strong drawcard and practicality.