2022 MG RX8
Sold in UAE = 2018-Present
Generation = 1st

2022 MG RX8 Price in UAE :
| | |
| --- | --- |
| MG RX8 2.0T Comfort (AWD) | AED 99,645 |
| | AED 110,145 |
MG RX8 should not be mixed with Mazda RX8, the all-new MG RX8 is the rebadged vehicle of the Roewe RX8 that is manufactured by Chinese automobile company SAIC. Roewe RX8 was revealed in 2018 at Auto Show held in Beijing. 2020 MG RX8 was unveiled at Alyousaf Motors showroom Shaikh Zayed Road, and it is introduced as a seven-seater compact SUV car. The CEO of Al Yousaf Motors UAE, Mohammed Yousaf, addressed that he is confident that the entry of this seven-seater SUV in the UAE market will be the best package in terms of the value of money and technology. The company is expecting that sales will take new heights with the introduction of this SUV in its lineup. MG RX8 features the largest wheelbase, and it offers the most spacious third row of seats among all other seven-seaters. RX8 offers a four-wheel driving feature that makes it the best choice in all types of road conditions, and you can now drive it smoothly in deserts giving you exciting dessert rides. The customers are attracted to this SUV from the day it launched which happened at the beginning of 2020. MG RX8 is available at a competitive price with a warranty for six years.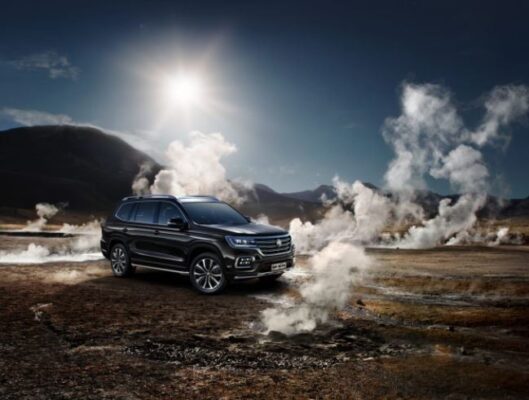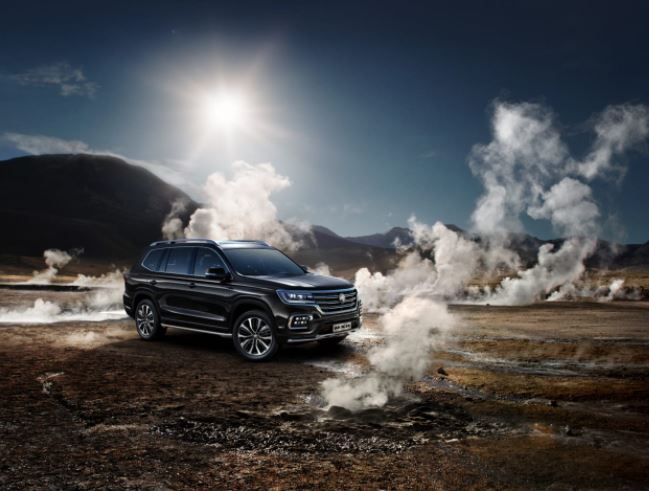 Trims & versions:
2020 MG RX8 is available in three trim levels that include Standard, Comfort, and Luxury trim. Standard-trim is equipped with fabric-covered seats, six speakers, ten inches standard touch screen display, seventeen inches alloy wheels, and up-to-date safety features. The Comfort trim is upgraded with a leather-covered steering wheel, eighteen inches alloy wheels, front and rear parking sensors, and airbags. The Luxury trim is further upgraded with leather-covered seats and steering wheel, ten inches infotainment screen, Android Auto and Apple Carplay interface, twenty inches alloy wheels, eight speakers, a lane-keeping assistance alarm, rear differential lock, and a panoramic sunroof. The powertrain for all the trims is similar, and they differ only in some upgraded features.
Engine and Power:
MG RX8 powered by a 2.0 liter inline four-cylinder turbocharged engine paired with six-speed automatic transmission, the engine generates a horsepower of 220 hp and torque of 360 Nm. MG RX8 Engine built on Net Blue technology (Net Blue technology helps the engine function better, give you driving power at less fuel consumption, reduced fuel loss, and almost zero noise). 
Performance & Drive: 
The strong chassis frame of MG RX8 has been designed similar to trucks capable of handling all types of toughest-off-road conditions that the Gulf region can throw at you. The ground clearance of 202 millimeters facilitates off-road traveling like a piece of cake. The four-wheel driving system features a real-time TOD (torque on demand) system that efficiently changes the torque in 0.1 seconds. It offers you six driving modes for different road conditions; Auto mode lets you drive at low speeds and high torque, The off-road driving mode gives you an exceptional off-road driving experience, snow mode lets the easy drive on wet surfaces. The sport mode is best for driving the car at faster speeds, and the 2H-mode is best for fuel efficiency and driving the vehicle at high speed in a two-wheel driving feature. All the trims offer a six-speed automatic transmission with paddle-shift gear changes, and the throttle changes are smooth enough, delivering you an excellent drive. The acceleration of MG RX8 is also quick that accelerates the SUV from zero to hundred kilometers per hour in just 9.5 seconds and makes it reach a top speed of 180 kilometers per hour smoothly. The highly efficient Net Blue Technology 2.0 liters turbocharged engine delivers you enough torque and gives you enough confidence to overcome all the challenges thrown at you. The suspension system of RX8 is also up-to-date, absorbing all the shocks and giving you an exceptional ride, it features double wishbone suspension on the front and multi-link suspension on the rear.
 Whereas the braking system is also remarkable, applying the brakes automatically whenever any obstacle comes in front of the vehicle. The braking system is equipped with disc brakes on both the front and the rear. The Anti-lock braking system, electronic brake-force distribution system, brake assistance, traction control, hill assist, and electronic stability control system further helps to drive the car remarkably, safely, and ensuring you an exceptional driving experience.
The fuel economy of MG RX8 is also appreciating, fit for your budget consuming only 9.1 liters of petrol in covering a mileage of hundred kilometers. 
Exterior designs and features:
The long SUV of 4923 millimeters with a wheelbase of 2850 millimeters features a simple but captivating design. The silhouette of RX8 is eyecatching displays a bold stance with smooth body lines and higher height. The chrome grille on the front is refined and impresses the customers from all angles. LED sleek headlights are designed on both sides of the chrome grille and LED daytime running lights are given along with it. The rear end features hammer-shaped LED taillights and a wide, flexible rear opening. The twenty inches two-tone alloy wheels give a commanding appearance on the roads and make it sportier. MG RX8 is available in various exterior colors that include white, blue, black, grey, and pearl white.
Interior designs and features:
MG RX8 features a theatre-styled cabin having an enlarged cockpit creating a gradient in front and rear seats. The third row of seats get a paralleled view, and entry to the third row is easy by passing through the second row of seats. RX8 offers a seating capacity for seven adults, and leather-covered seats are comfortable enough to give a joyful ride to all the passengers. 37 storage compartment keeps the interior free from all the clutters. The second and third-row seats are foldable to increase the cabin area and let you carry enough amount of luggage with you. The MG RX8 gives the best airflow system inside the cabin, giving a dual-zone climate control system and a proper air conditioning system that offers a separate air conditioner for the rear compartment. A ten inches display screen is mounted on the dashboard giving you infotainment and having compatibility for Android Auto and Apple Carplay interface. It has been equipped with the finest technology enhancing your driving experience offering cruise control, keyless entry, six speakers audio system, reverse camera, satellite navigation, and push-button start technology.
Safety features:
MG RX8 has been given five stars by C-NCAP, which means RX8 is the right choice for you, ensuring a safe drive. MG RX8 is equipped with airbags, a rearview camera, a tire pressure monitoring system, a lane departure warning alarm, parking sensors at front and back, and an active rollover protection system.
Major competitors:
Ford Endeavour

Skoda Kodiak.
Verdict:
MG RX8 is not only an eye-catching SUV that has a mind-blowing design but is also equipped with up-to-date technology and a spacious cabin that makes it unique from other seven-seater SUVs. So if you are looking for a durable SUV for big families and want adventure at the same time, then RX8 is the ideal choice for you.