2022 Rivian R1S
Sold in USA = 2021-Present
Generation = 1st

2022 Rivian R1s Price in the USA :
| | |
| --- | --- |
| Launch Edition | 75,500 $ |
| Adventure Package | 75,500 $ |
| Explore Package | 70,000 $ |
American automobile company Rivian is bringing up two new entrants in markets that include an all-electric pickup and an all-electric SUV. R1S SUV debuted in May 2018 at the LA auto show with the name A1C which was renamed to R1S. Similarly, to the pickup truck that was introduced by Rivian as A1T. Chassis of both the new entrants include a battery in the center, braking, cooling along with suspension system and this low center of gravity chassis refers to SKATEBOARD. R1S is designed to compete with Tesla Model X that is the only three-seater SUV available in the all-electric powertrain. The price of R1S will also be lower than Model X, and we will be able to see it in markets by 2021. R1S SUV and all-electric pickup truck are completely new vehicles by Rivian, and the service stations for Rivian automobiles s are not yet available which is why sales could disturb when the customer choose between R1S and Model X while considering it because Tesla's network of service stations is so big and have large of numbers of points and easy access. Rivian has an aim to open its service stations soon everywhere before the R1S and R1T go on sale. This all-electric SUV will go on sale in August 2021 but, a confirmed date of its launch is not known yet.
Trims & Version:
Similar to R1T electric pickup truck, R1S is also available in three trim levels that include 105 kWh R1S, 135 kWh R1S, and 180 kWh R1S. All the three variants of R1S only have the difference in battery capacity, among which the base model has the smallest battery pack that gives a driving range of 240 miles, mid-range trim features a 135 kWh battery pack with a driving range of 310 miles, while the higher-end Trim gives the longest-drive range of 410 miles. When comparing all three trims of Rivian R1S customers will prefer the higher-end trim available with the largest battery pack and driving range, because the drivers do not need to charge the battery more frequently.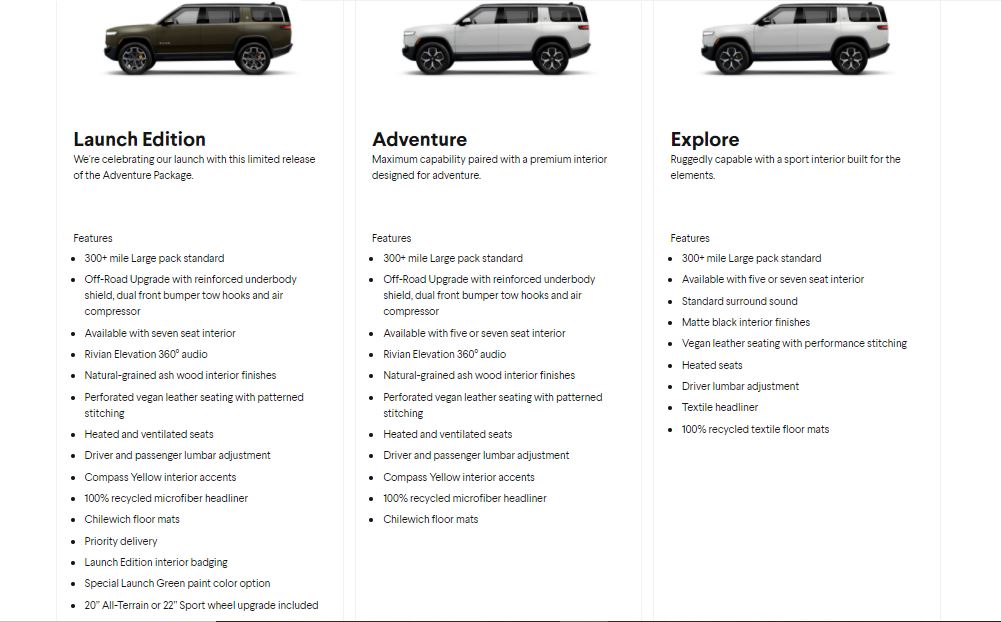 Power train:
As already mentioned above, R1S is available in three battery pack options but all powered by a 147 kW electric motor backed by either a 135 kWh battery, 105 kWh battery, or 180 kWh battery. The 105 kWh battery-powered vehicle produces a 402HP and torque of 560 Nm, 135 kWh battery-powered version produces 753 HP with a torque of 1120 Nm, and the 180 kWh battery vehicle produces 700 HP with a torque of 1120 Nm.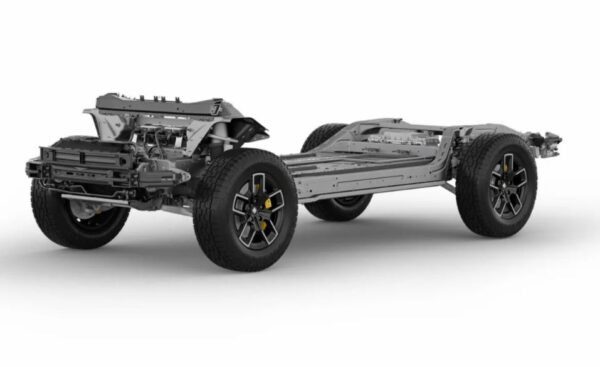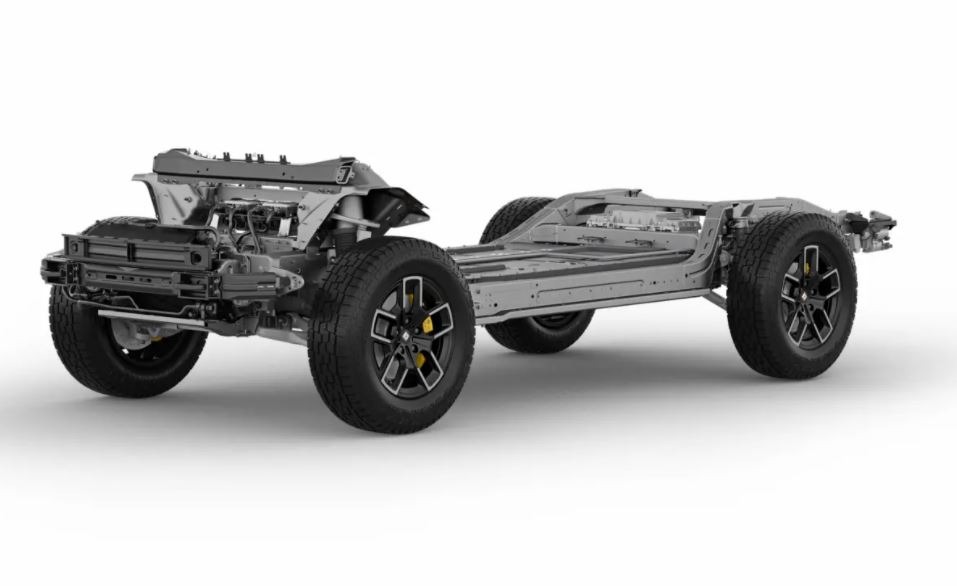 Rivian platform

Quad-motors

Our quad-motor drive is identical across all available vehicles. Four motors deliver instant power and independently adjust torque at each wheel for precise traction control in all conditions. Controlling power at the individual wheel enables torque vectoring — the ability to neutralize oversteer and understeer to help keep your vehicle steady and responsive through sharp maneuvers while off-roading and in the snow. Quad-motors offer substantially better torque control than locking differentials, and they're instantly adjustable for any condition.

Rivian quad-motor drive is comprised of two dual-motor drive units — one for the front axle, another for the rear. Much of the structure is shared between the motor and gearbox, enabling our high power density. Powering the front axle is a compact 415 horsepower unit with 413 ft lbs. of torque. In the rear, a higher torque derivative delivers 420 horsepower and 495 ft lbs. of torque. Together, they provide exceptional efficiency and vehicle performance in both on-road and off-road conditions.

Battery pack

Our battery packs are engineered and tested for extreme hot and cold temperatures. Optimized thermal control allows towing of up to 7,700 lbs on steep grades, high-power DC fast charging at over 200kW for sustained periods to ensure the shortest possible charging times and controlled cell temperatures to enhance battery performance and extend driving range. Our packs are also designed for long life with a smart battery management system built on Rivian's proprietary control algorithms. The system is designed to adapt and optimize performance based on charging habits, driving behaviors and climate conditions.

Independent air suspension

Independent air suspension allows for 6.3 inches of vertical adjustment — as low as 8.1 inches or as high as 14.4 inches — to optimize your vehicle's ride height for improved handling, comfort, aerodynamics and stability with varying payloads. Automatic ride-height leveling also balances your vehicle for better handling when towing heavy loads. For maximum efficiency and range, select a lower ride height.

Active damping

Active damping monitors the road and driver inputs every 5 milliseconds to adjust your suspension. Better for comfort and steering response, damping rates are variable so you can go stiffer for hugging the road, or softer for absorbing impact on uneven terrain.

Hydraulic roll control

Our electro-hydraulic roll control system replaces a mechanical anti-roll bar for more flexibility in how your vehicle responds, simultaneously delivering far greater breadth in vehicle body control, stability, ride comfort and off-road handling on uneven terrain. On-road, the system minimizes body roll to plant your vehicle in tight corners for sports-car handling. Off-road, it absorbs disturbances to reduce 'head toss' while maximizing wheel articulation and delivering added traction and comfort on tough surfaces.

Reinforced underbody shield

Protecting the underbody of our vehicle is a layered shield of high-strength steel, alloyed aluminum and carbon fiber composite. Engineered to absorb, deflect and distribute force from impacts, the shield is designed for maximum protection in the most extreme off-road conditions.
Performance and Drive:
The driving performance of Rivian R1S is remarkable which makes your ride comfortable whether you are travelling inside the city or doing an off-ride drive because its chassis those specially designed to adapt to any terrain seamlessly and make turns and cornering easy. The Quad motors send power to all wheels producing maximum traction and ensuring a safe drive no matter where you are driving. The 135 kWh battery allows it to accelerate from zero to sixty miles per hour in just 3 seconds. The 180 kWh battery helps accelerate from zero to sixty miles per hour in 3.2 seconds, and the base model hits sixty miles per hour in 5 seconds.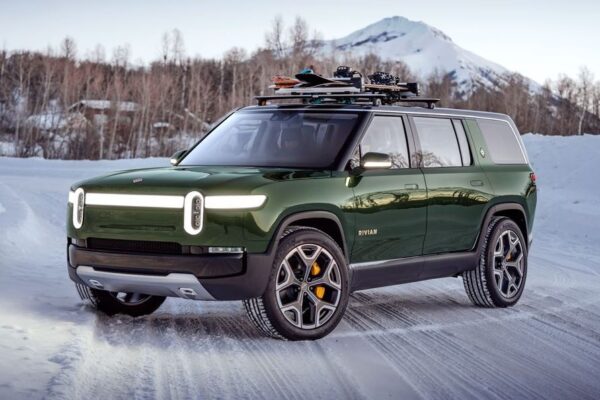 The all-wheel-drive feature already makes the ride comfortable, but this doesn't end here because electric motors at each wheel deliver enough power to tow 7700 pounds, however, when using it for towing purposes it will affect the driving range. Driving ranges of all the trims have also been described above and, the largest battery pack succeeds among all by giving you a range of 410 miles making it the best trim. Rivian has provided an 11 KW onboard AC unit with a Level two charging. it uses CCS DC fast-charging, stations soon to be opened that has 160 KW chargers to charge the battery in thirty minutes to give a mileage of 200 miles.
Exterior Design & Features:
The design of Rivian R1S is simple and elegant that has minimum cuts and creases. The front end is different from traditional SUVs having a single strip of thick and long LED light having two round-shaped headlights fixed in it. This LED strip also works as an indicator of charging that enlightens double when the battery is a hundred per cent-charged. You will also not see a typical grille on the front, and the charging port is given on the driver's side while mesh design air dams are present in the middle of the bumper to pass the fresh air to batteries. The bottom end features a skateboard, and the hood is kept simple that has only the Rivian logo on it. A B and D pillars are colored black while C pillars are body-colored, and the rear is flat that has a similar LED strip on the rear end too. R1S looks so high from the floor that has a ground clearance of 14.5 inches, and finally, its sporty and masculine design is completed with its twenty inches alloy wheels having square-shaped wheel arches.
Interior design and features:
The interior end of R1S is classy and features a wooden insert giving it a deluxe feeling. Its beauty is boasted with two large-sized display screens, the larger sized 15.6 inches screen for infotainment and the other one for driver's assistance. The infotainment system features Amazon Alexa software that enables you to get directions, play music, place calls, and turn the air conditioners on/off. Alexa home can turn off lights at your house and can let you see rearview camera video on your television. The steering wheel design is pretty that has two scroll wheels, and the center design is square. The interior has a theme of black and grey colors, and leather upholstery gives it a premium look. R1S is a three-row SUV giving you accommodation of seven adults and a 12 cubic foot trunk on the front to let you carry enough luggage with you.
Safety features:
Rivian R1S has not been rated yet by NHTSA and IIHS, but we expect it to get a higher score in crash testing. Some of the safety features of R1S include a standard automated emergency braking system, standard lane departure warning alarm, adaptive cruise control, eight airbags, self-driving sensors, and forward-collision warning alarm.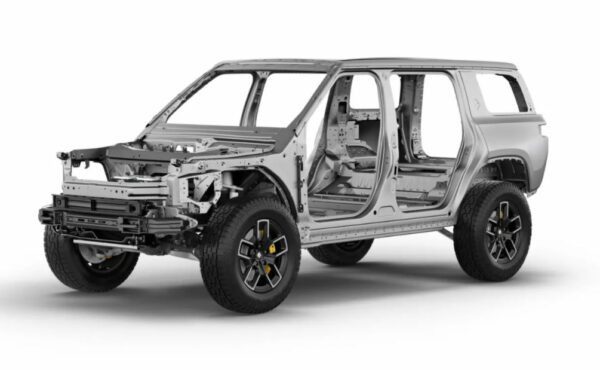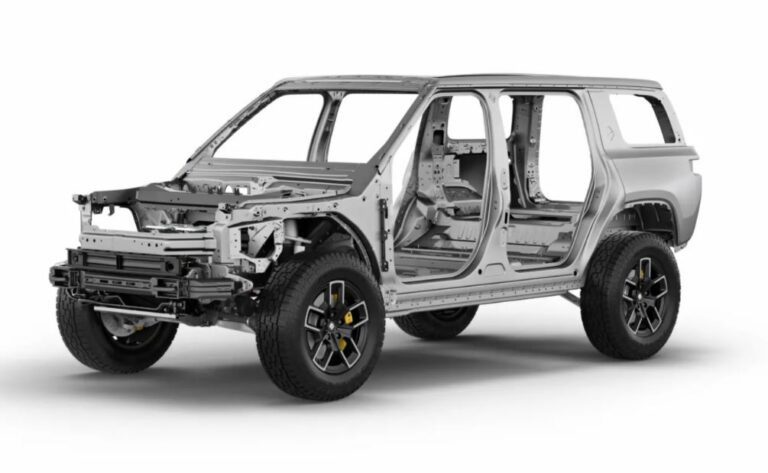 Major competitors:
Verdict:
Rivian R1S is an all-rounded vehicle offering wonderful performance, a long driving range, and a spacious cabin. The driving ability of R1S is exceptional not only on roads but also off-roads, and most interestingly, its price is kept cheaper than Tesla Model X so, it will be giving a tough competition to it. We will have to wait for its launch to see whether the entry of this SUV will be at the position of the Tesla Model X.