2022 Rivian R1T Electric Pickup Truck
Sold in USA = 2021-Present
Generation = 1st
2022 Rivian R1T Price in the USA :
| | |
| --- | --- |
| Adventure Package | 73,000 $ |
| Explore Package | 67,500 $ |
American automobile company Rivian promised an all-electric truck to be launched after its revelation at the LA Auto show in 2018. Previously it was named A1T then, later on, it was renamed as R1T which is now going to release in early 2022. Rivian claimed that there is no concept vehicle of R1T anymore, but the customers will receive the same truck that was displayed at the show and now has entered the production phase. R1T is going to be a competitive vehicle that will surely achieve greater demand to beat Italian supercars. It features automated trailer backup and ground clearance of fourteen inches. The founder and CEO of Rivian RJ Scaringe addressed that Rivian always wanted to introduce a product that has to be remarkably different from all other vehicles while this idea has driven them to bring R1T on roads. R1T is an off-road machine with a regenerative braking system and having a towing capacity of 11,000 pounds. Another remarkable thing about this vehicle is that its battery can be charged anywhere anytime and takes only thirty minutes to charge its battery by eighty percent. Production of R1T will start in early 2020 while its sale will begin afterwards and will be sold directly to customers.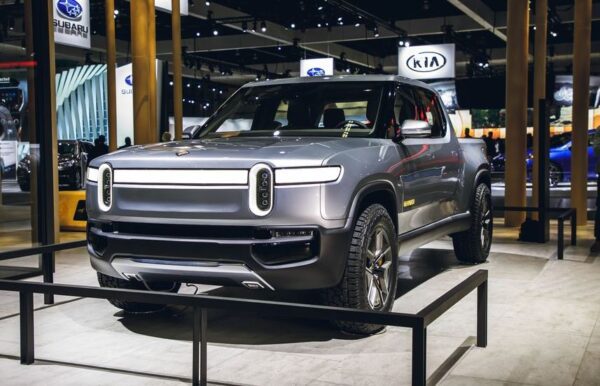 Trims & Versions:
Three variants of Rivian R1T will be available as an option for the customers while the differences will be based on the battery capacity of the vehicle. The trim levels of R1T are the Base model, mid-range model, and higher-end trim. The Base model features a 105 kWh battery, mid-range trim is equipped with a 135 kWh battery pack while the higher-end trim is powered by a 180 kWh battery pack. When comparing all three models and considering them with their towing capacity, the higher-end model sits on the top because of its highest driving range and largest battery capacity.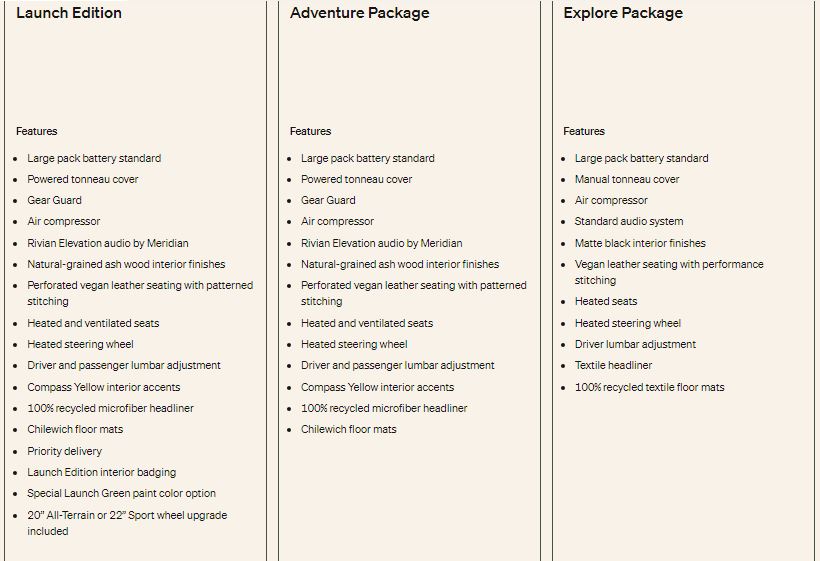 Powertrain: 
It is an all-electric vehicle that generates power by an electric motor backed by a battery. R1T produces a maximum power of 750 hp and 829 pound-feet of torque. Three battery options have already been discussed above, but when talking about the cell type used in these batteries, then these batteries are similar but only differ in size and shape. The 105 kWh and 135 kWh batteries have seven and nine modules used in it while the 180 kWh battery has nine modules used in it and it is the largest among all batteries. The extra layers of modules are now fixed under the rear seats on the skateboard. The smallest battery pack offered in R1T is big and has more capacity than the bigger battery pack offered in Tesla's vehicles.
Driving performance:
The active chassis of R1T is designed to adjust without effort whenever you switch the terrains and gives you remarkable handling and driving performance. An all-wheel-drive system lets you send power to each wheel independently with maximizing traction in all demanding conditions and making the ride superb anywhere you are driving. The energy-dense battery packs evenly distribute its weight on wheels so that the vehicle anchors the ground smoothly even at higher speeds and while turning. Adjustable air suspension is now standard in all trims of R1T, and it maintains the ground clearance from eight to fourteen inches. The smallest battery pack is the quickest among all because of its lower weight, and it accelerates from zero to sixty miles per hour in just 3.0 seconds that making this a real quick monster of roads. The towing capacity of R1T is quite astonishing having the ability to tow up to 11,000 pounds, but towing will use more power and will deplete the battery faster as compared to when cruising without loads. The 180 kWh battery is expected to have a driving range of 400 miles while the 135 kWh battery pack will have a range of 300 miles and the smallest battery pack will have a range of 230 miles.
Rivian also delivers superb off-road driving ability in R1T that lets you drive in all types of conditions and make your rides super comfortable even in desserts. Rivian uses a Combine Charging system for charging all its electric vehicles and provides a 350 Kw source for charging at charging stations. You can also charge the batteries at home using 120 volts or 240 volts source that might be time taking while a 350 kW charging station will not be as it takes 30.8 minutes to fully charge your battery and 150 kW source at charging station takes 1.2 hours to charge the battery.
Exterior Design & Features:
This monster is not only outclassed in its performance but also features a beautiful exterior design having adjustable height and has a higher stance as compared to other trucks. The stadium headlights span across the whole width of the vehicle with daytime running lights looking great. An extra twelve cubic feet lockable storage tunnel is given to fit the gear that doesn't fit anywhere else while a rear bin is also given beneath the bed to keep a spare tire. A rack is also available that can expand so you can fit the gear on the roof or the bed floor. The daytime running lights will work more efficiently when the vehicle battery is fully charged, and a full green bar on the front indicates a fully charged car.
Interior Design & Features:
The interior looks of R1t are classy combing wooden panels with premium utilitarian material bringing a deluxe feeling to the cabin. It features leather-covered seats and has a sitting capacity for four adults. It has a large trunk under its hood and a twelve cubic feet lockable storage behind the cab. A large-sized touch screen display mounted on the dashboard with the provision of infotainment and navigation system, climate control, and media. This infotainment system is compatible with Android Auto and Apple Car play and may also feature a Wi-Fi hotspot. Another digital screen is mounted that serves as a reconfigurable instrument cluster for driver aid.
Safety features:
Rivian R1T hasn't been tested by NHTSA or IIHS so we cannot say anything about its safety level. But the vehicle is outfitted with sensors having Level 3 Autonomy making it a safe car to drive, and even it has the feature to take control under certain circumstances as the software will not let the drivers drive their own in case of accidents. Some of the up to date safety features equipped in it includes a standard automated emergency braking system, lane departure warning alarm, adaptive cruise control system, eight airbags, and forward-collision warning alarm.
Major competitors:
Chevrolet Colorado
Chevrolet Silverado
Verdict:
Rivian has brought an electric pickup that is no doubt different from all traditional pickups in terms of its powertrain, exterior looks, and driving abilities but still R1T has a long way to match up the demand of diesel engines pickups and to break the stereotype.