Tesla cyber truck
Tesla Cyber truck is an all-electric truck with rear wheel driving feature and it was unveiled in November 2019 by CEO of company Elon Musk while it has a schedule launch in 2021. It will be available in three versions that include single motor rear wheel drive truck, dual motor all-wheel drive truck and triple motor all-wheel drive truck. The triple motor all-wheel drive truck will undergo sale in 2022 while other versions will be available for sale in 2021. Tesla has already received preorders of 250,000 Cyber Trucks till now in United States as US is the largest market of Tesla while orders are also received from Canada, Australia, United Kingdom, Germany and Norway. The CEO of Tesla tweeted about the Cyber truck to be his future ride. Tesla is moving into the alien race of all top selling pickup trucks by introducing its Cyber truck that has a capability to tow 14000 pounds and made with an ultimate durable exterior shell for passenger protection having impenetrable exoskeleton made from Ultra HARD 30x stainless steel providing you more endurance and strength. Tesla Cyber truck is known for its endurance, acceleration and versatility.
Powertrain, transmission and performance:
The all electric cyber truck has a low center of gravity and torque with both rear wheel driving feature and all wheel driving feature. The capacity and size of its battery is not revealed yet by the company but it is for sure that it will be an all-electric version and will be coming with 250 KW charging cable. The single motor RWD has a capacity to accelerate from 0 to 60 miles per hour in 6.5 seconds while it gives a driving range of 250 miles per gallon. The dual motor AWD can sprint from 0 to 60 miles per hour in less than 4.5 seconds and gives you a driving range of 300 miles per gallon while the tri motor AWD accelerates from 0 to 60 miles per hour in less than 2.9 seconds and gives you driving range of 500 miles per gallon.
The air suspension of all the trims of Cyber trucks are adjustable which can be increased or decreased and gives you a ground clearance of up to sixteen inches. The off road abilities of Cyber truck are amazing letting you drive in all type of terrains and giving the drivers enough confidence in all rough conditions making your rides thrilling.
Exterior design and features:
The versatile exterior design of cyber truck is utilitarian having refined looks. As already mentioned above its made from ultra-hard 30X Cold Rolled stainless steel that is corrosion resistant and helps in eliminating dents while the monochrome exoskeleton covers the whole body as a shell that acts as a protective cage for the passengers and a armor glass with layered polymers is used in the screenand windows that absorbs all redirect impact forces for minimizing damage and increasing performance. It has a total length of 5.89 meters, width of 1.9 meters and height of 1.9 meters.

Interior design and features:
Cabin of cyber truck is not as attractive as its exterior design. It comes with two rows of seats having seating capacity for three adults on each row and the dashboard holds an enlarged seventeen inches tablet having smartphone connectivity providing you with infotainment. The steering wheel is also beautifully designed with illuminated display and squared off pattern giving you precise steering control too.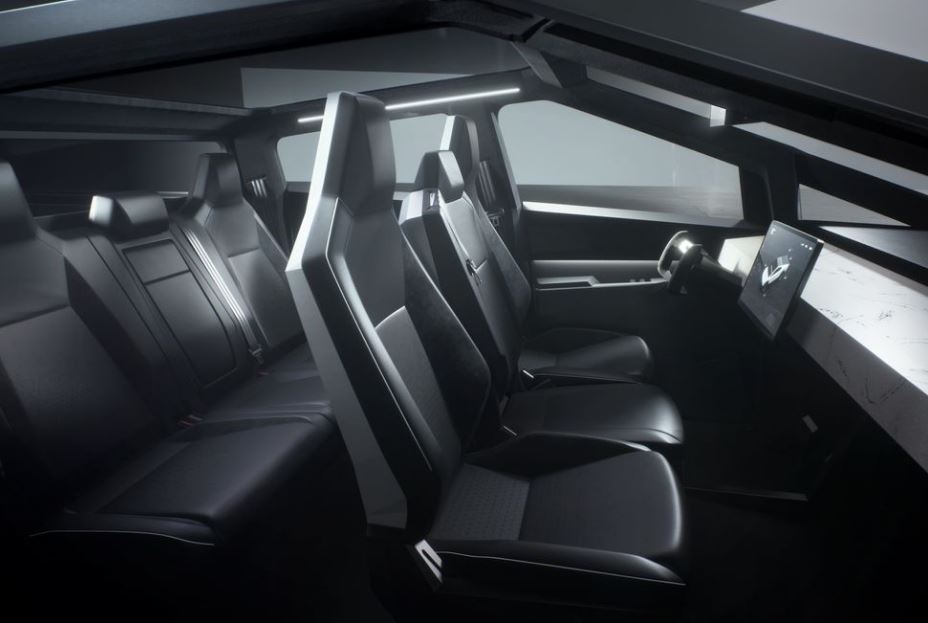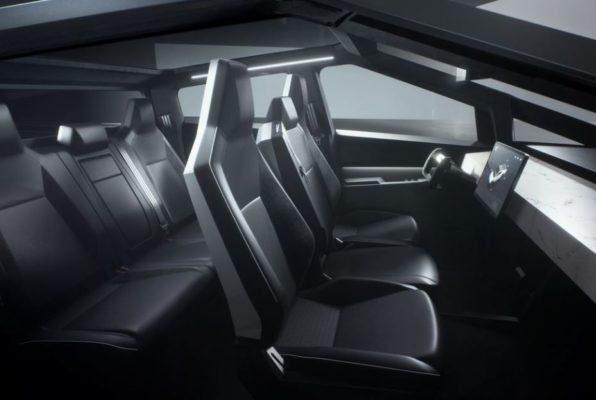 It is the most powerful pickup truck with perfect engineered body and giving you hundred cubic feet of lockable storage that serves as perfect utility that can carry heavy amount of cargo while it also features nifty sliding tail gate that can carry four wheelers and bikes easily in the car. It has not been tested for safety clearance by NHTSA and HIS but however it comes with driver's assistance technology and self-driving autopilot feature to provide you a safe and secure ride.
Major competitors:
Some of the highest competition to upcoming Tesla Cyber truck will be given by Ford F-150, Bollinger B2, GMC Canyon, Ford Ranger and Toyota Hilux.
Price:
The single motor RWD Cyber truck has a starting price of 39,900 US dollars while dual motor AWD Cyber Truck has a starting price of 49,900 US dollars and Tri Motor AWD Cyber truck has a price of 69,900 US dollars and they all come with a limited time warranty of four years with no complimentary services for maintenance.