2022 Changan Eado Sedan 
Sold in China = 2018-Present
Generation = 2nd
2022 Changan Eado price in China : 
| | |
| --- | --- |
| 1.6L MT Luxury | 57,900 Yuan |
| 1.6L AT Luxury | 67,900 Yuan |
| 1.6L AT Premium | 73,900 Yuan |
The Chinese automobile company Changan introduced its Changan Eado in 2012 as a four-door sedan and a five-door hatchback in China. The 2nd generation of Eado was released in 2018 that is a front-engine and front-wheel compact car. Changan made entry into the Pakistani automobile market after getting greenfield approval from the Government of Pakistan and signed a joint Venture with Master Motor Corporation Limited. Changan is investing 100 million dollars in the local auto sector in Pakistan, and an assembly plant is built in Karachi to manufacture locally assembled vehicles. The Changan Eado has not been launched in Pakistan yet but has attracted consumer attention when one or two variants are imported in Pakistan. Changan Eado will be hitting Pakistani markets soon, and it will be competing with Hyundai Elantra, Toyota Grande, and Honda Civic. The Changan Eado available globally ushered a new era for Chinese vehicles as it offers convenience and comfort, along with intuitive technology. It is available in a list of engine options and transmission options. The facelift changes brought Changan Eado in 2020 that introduced two restyled trim versions to the buyers that are Standard and Sport trims. The electric variant of Changan Eado is also available in China powered by a 100 kW electric motor.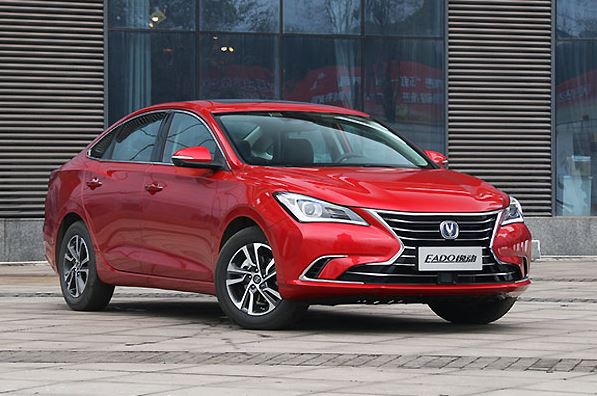 Trims & Versions:
The Changan Eado is available in three trim levels that are MT luxury, AT luxury & Premium. All the Trims other than having different transmissions also have some major differences in features that are given below;
| | | |
| --- | --- | --- |
| Luxury MT | Luxury AT | Premium AT |
| NIL | NIL | Shark fin antenna |
| NIL | NIL | EPS electronic power steering system |
| NIL | NIL | One-click start system |
| NIL | NIL | smart key |
| NIL | NIL | Keyless entry system |
| Four-way adjustment of front seats | Four-way adjustment of front seats | Six-way adjustment of the driver's seat |
| 2 speakers | 4 speakers | 4 speakers |
| NIL | NIL | Body Electronic Stability System (ESP) |
| NIL | NIL | Electronically Controlled Brake Assist System (EBA) |
| NIL | NIL | Hill start assist system (HHC) |
| NIL | NIL | Gaode Navigation |
Engine, power & transmission:
The 1.6L  trim produces a maximum output of 92 kW (123hp) @ 6000 RPM and a torque of 160 Nm @ 4000-5000 RPM. The Luxury MT Trim has five-speed Manual Transmission while the other two trims are paired with Aisin's 4-speed automatic manual transmission.
Engine Available in other Countries: 
The 1.6 L GDI generates a maximum power of 94 kW (126hp) @ 5700 RPM to 6200 RPM and a torque of 168 Nm @ 4000 to 5000 RPM. The 1.4 liters turbocharged engine produces a maximum power of 157 hp and has mated with a five-speed manual transmission or a six-speed manual transmission, or a seven-speed dual-clutch transmission.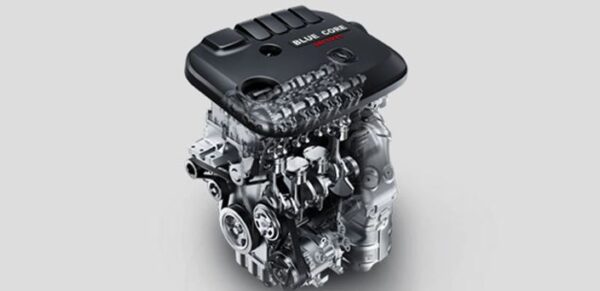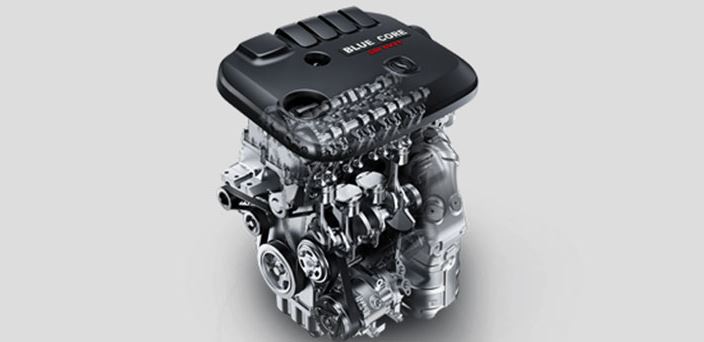 Performance & Drive:
Globally the Changan Eado is available in 1.6 liters turbocharged engine that has developed under international standards, and the transmission it offers is Asin 3 generation six-speed automatic. The gearbox comes with an electromagnetic fuel pump that facilitates start and stops function conveniently. The hydrodynamic torque converter technology in the gearbox improves the fuel economy by over 8.6 percent. It offers a Brake Recovery System with an advanced technology 48V auxiliary system that recharges the battery while the vehicle is braking, and the lost energy gets utilized to produce power effectively. The electric power steering is well-balanced, and you can handle the car conveniently. The vehicle can be turned and curved around corners easily with minimum body rolls. It is equipped with Smart technology that comes with an In-Call 3.0 remote that controls the engine start and stop, entry to the vehicle, and window controls through your smartphone easily. It has an adaptive cruise control system that adjusts the speed of the car automatically by maintaining a safe distance from the car ahead. 
The car ahead is detected by Bosch mid-distance radar which employs the Stop or Goes function, and this system operates with a speed range of 0 to 150 kilometers per hour. Furthermore, it has an Electronic stability control system that ensures the stability of the car especially in emergencies, and the tire pressure monitor system alerts the drivers when the pressure in the tire is out of range. The fuel efficiency of Changan Eado is not bad, consuming 7.2 liters of petrol to give a mileage of 100 kilometers and has a fuel tank capacity of 52 liters. The acceleration speed of Changan Eado is quite appealing as it takes 13.5 seconds to accelerate from zero to 100 kilometers per hour and the electric version of Eado takes just 11.4 seconds to accelerate from 0 to 60 miles per hour.
Interior design and features:
The interior of Changan Eado has been designed with the essence of Chinese culture, and you find a feel of luxury in the cabin. The cabin is trimmed in a two-tone leather theme with leather black leather-covered seats and a steering wheel. The multi-function steering wheel controls media and cruise control while the controls have been designed ergonomically so the drivers can operate simply. The leather-crafted seats are well cushioned and comfortable enough to give you a relaxing journey. The cabin is spacious enough with large legroom so it can accommodate five adults comfortably. The trunk is spacious enough to carry all baggage and goods so you can go on a weekend trip. The cabin is equipped with an air purification system with a 4-layer strainer and activated carbon filter that purifies PM2.5 and other hazardous substances. The passenger touch display has been fixed in the dashboard that allows volume control and an environment of the cabin. The cabin is calm and quiet with a noise-canceling design, so the relaxed mode does not get disturbed throughout the journey. There are two 10.25 inches screens in the cabin, one of the screens is used as an instrument panel, and the other screen gives you infotainment. There is a panoramic sunroof that is electrically controlled and adds natural light and air to the cabin.
Exterior design and features:
The exterior design of Changan Eado is expressive with a unique, black-colored honeycomb grille on the front that produces a powerful visual impact, and the headlights are designed with a petal wing shape. The LED headlights and taillights work automatically when the car is unlocked, and the headlights also come with daytime running lights to provide crisp visibility. There are seventeen-inches two-tone alloy wheels that give it a sporty look, and chrome-plated door handles and window trim look elegant from all views.
Safety & features:
Changan said the Eado has reached a four-star standard in the Euro NCAP safety assessment program. Some of the safety features of 2021 Changan Eado are as follows:
HEEAB high strength energy-absorbing body to provide safety to the passengers

High-strength Car Chassis

Six airbags

Anti-Lock Braking System

Electronic Brakeforce Distribution

Traction control system

Dynamic brake force

Hill-Hold control

Hydraulic brake boost

Direct tire pressure monitor system
Major competitors: