2023 Jetour X70 Plus
Expected Launch in Pakistan:

2023-2024

Expected Price in Pakistan:

75-90 lac PKR

2nd Generation 
The first generation of Jetour X70 was launched by Chery automobiles' sub-brand Jetour in 2018 as a seven-seater mid-size crossover. It was available in various variants in a coupe range, an all-electric range, or a Sport S range. The Jetour X70S is the sporty range of X70, and it received an up-gradation in 2020 and introduced Jetour X70 Plus which is a mid-size crossover with front-engine and front-wheel-drive features. The X70S is the sporty addition of X70 with sporty touches in its exterior design that includes a differently designed grille and dashboard design, while the powertrain remains the same as compared to the traditional Jetour X70. The Jetour X70S is doing very well in China and gulf countries like UAE. There are expectations that it may receive major facelift changes in the first quarter of 2022 that will retain in markets for the next couple of years until X70 gets replaced by another vehicle. The present Jetour X70 Plus available follows the design of the "THE BEST IN HUIZHOU" family that creates an oriental flavor by adding Chinese cultural elements to its appearance. It is the first vehicle in China that has been built on the Snapdragon Automotive Cockpit platform which is Qualcomm technology. The 2021 Jetour X70 available in Saudi Arabia is similar to the Chinese model in terms of powertrain.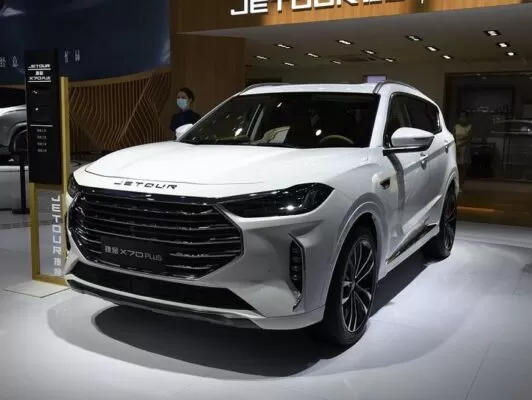 Trims & Variants:
Two trim levels of X70 Jetour are available which are the Jetour X70 S and Jetour X70 Base. The Jetour X70 is a front-wheel-drive SUV that features two airbags, an anti-theft alarm system, leather upholstery, a multi-information display, a Collision detection system, folding rear seats, and chrome exhaust pipes. The powertrain is similar in both trims, but the S trim differs in sporty touchings in the exterior design.
Engine & Power:
The 2021 Jetour X70 Plus offers two engine choices that are 1.5 liters turbo engine and 1.6 liters turbo engine. The 1.5 liters engine generates a maximum of 156 horsepower and is mated with either a six-speed manual transmission or a six-speed dual-clutch transmission. The other engine option is 1.6 liter turbocharged engine that produces a maximum of 197 horsepower and is mated with a seven-speed dual-clutch automatic transmission. It is available in a seven-seating or five-seating configuration.
Performance & Drive:
Jetour is always committed to giving you safe and reliable performance with its intelligent driving. The present Jetour X70 brings the technology of Qualcomm, which is a leading wireless technology company launching 5G. The idea behind Jetour X70 Plus is to combine Qualcomm technology in a 3rd generation Snapdragon Automotive Cockpit platform that brings TINNOVE system (TINNOVE, a Tencent-backed IoV (Internet of Vehicles) technology developer), giving you a high level of intelligence, and computing in the vehicle. With this technology, you will get an in-car virtual assistant that assists the driver in creating natural interaction with the vehicle. Other than this, you will receive advanced wireless technologies, and the Phoenix Auto intelligence provides you with deep optimization and enablement. While talking about its powertrain, both engines generate efficient power to run the front wheels efficiently and provide good quality rides. The transmission has been updated with smooth gear changes, as a result of which it delivers a smooth driving experience. The suspension system is also remarkable, providing you with a balanced ride, even on bumpy roads of the city, and thus, the ride quality is not affected in any case. The power steering is such a light-weighted addition in this range, which controls the car quite effortlessly, and the turns and twists are easily handled by the driver now. Furthermore, you are provided with a variety of features that make your ride remarkable. The Hill-Start Assist and traction control let you drive this SUV with additional safety on hilly roads, and electronic stability control provides additional stability on roads. Parking radars are given on the rear and front to assist you in parking. The fuel economy of Jetour X70 Plus is good, consuming an average amount of gasoline. The 1.5 liters engine car consumes around 7 liters of petrol to give you a mileage of 100 kilometers, and the 1.6 liters engine consumes 7.3 liters of petrol to give a mileage of 100 kilometers. It has a fuel tank capacity of 55 liters and gives you a top speed of 180 kilometers per hour.
Exterior Design & Features:
The new Jetour X70 Plus features a Chinese Huizhou culture element in its appearance, which is dynamic and oriental plus fashionable at the same time. It is longer in dimension as compared to the previous model. The front end features a hexagonal grille, and three chrome-encrypted strips are designed horizontally on it, while LED headlights look equally beautiful. The foglights feature four lamp-based design that looks unique. The rear of the vehicle is similar to the previous model, while the aluminum wheels contribute to completing the sporty look of the X70 S. The sportiness is further enhanced by chrome exhaust pipes, daytime running lights, and air intakes.
Interior Design & Features:
The interior design of the present Jetour X70 Plus is similar to the previous model which features two seating configurations which are five seats or seven. The leather-covered seats and steering wheel create a premium feel in the cabin, while the seats are well-bolstered and cushioned to provide you with a comfortable and relaxing journey. The multi-functional steering wheel has a flat-bottom design, and the gear lever has an updated and more stylish design. There is a dual-barreled instrument panel that provides information for driver's assistance, and a 10.1 inches touch screen mounted in the center of the dashboard gives you the infotainment. The infotainment system is made compatible with a smartphone, while other than that, there is a touch panel is-installed for controlling the air conditioner. The digital cockpit gives worthy features and provides an extensive ecosystem for safer, more intelligent, and richer driving performance. There is a lot of space inside the cabin which makes it one of the best family and travel cars for long journeys and trips. The rear seats can be folded to increase the storage capacity, so you can carry enough amount luggage, and the automatic luggage door makes access to the luggage area convenient. Other features you get in this vehicle are; a cruise control feature, keyless engine start, keyless entry start, central lock, and ventilated and heated seats in the cabin.
Safety & Features:
Jetour X70 is a safe car as "JETOUR X70 PLUS features a 3rd Generation Qualcomm Snapdragon Automobile Cockpit Platform and Phoenix Auto Intelligence's software ecosystem to drive premium digital cockpit experiences for next-generation vehicles." and further the vehicles incorporate the following safety features;
Parking radar

Rear-view camera

Anti-Lock Braking system

Electronic brakeforce distribution.

Traction control

Electronic Stability Control

Automatic parking brakes

Hill Start Assist.

Blind Spot Assist

Airbags.
Major Competitors: