Toyota Fortuner TRD Sportivo
Sold in Pakistan = 2020-2021
Generation = 2nd Pre-Facelifted (Discontinued)
Toyota Fortuner Price in Pakistan in 2021:
VARIANT
EX-FACTORY PRICE
Fortuner Sigma4 TRD (4X4 Hi)
PKR. 9,399,000/-
Fortuner Sigma4 (4×4 Hi)
PKR. 9,149,000/-
Fortuner V (4×2 Hi)
PKR. 8,399,000/-
Fortuner G (4×2 Std)
PKR. 7,699,000/-
* THE PRICE IS SUGGESTED RETAIL PRICES, EX-FACTORY KARACHI, PER UNIT, INCLUSIVE OF 17% SALES TAX & 7.5% FED
** THE PRICE IS EXCLUSIVE OF WITHHOLDING TAX.
Toyota Fortuner made its worldwide debut in 2004 as a mid-size SUV, and its current 2nd generation was launched in 2015. The 2nd generation Toyota Fortuner was launched in Pakistan on 27th September 2016, and initially, it was only available in one petrol variant. The diesel variant Sigma 4 was added in late 2017, and 2020 brought a base petrol variant Fortuner G. Toyota Indus has also introduced a brand new trim in the Fortuner lineup that is the Toyota Fortuner TRD in 2020. The TRD term stands for Toyota Racing Development, which means an all-rounder vehicle that stands best in its engine, suspension, and chassis tuning and makes it a real sporty car. The new trim Fortuner TRD gets some cosmetic improvements that include a newly-designed front bumper and a new black-colored grill on the front, which has the TRD decal under the Toyota nameplate. The rear end also receives some minor changes in which you can see an extended bumper, and the cabin is also similar to the other trims of Fortuner. Toyota Fortuner TRD powertrain is the same as the Sigma 4 trim, which has a diesel engine and six-speed automatic transmission. The price for Fortuner TRD came up in a notification issued by Toyota IMC in April 2020, and the official launch of the Toyota Fortuner TRD Sportivo took place on 21st September 2020. The bookings and dealings for the 2021 Toyota Fortuner TRD Sigma 4 can be done at all Toyota showrooms.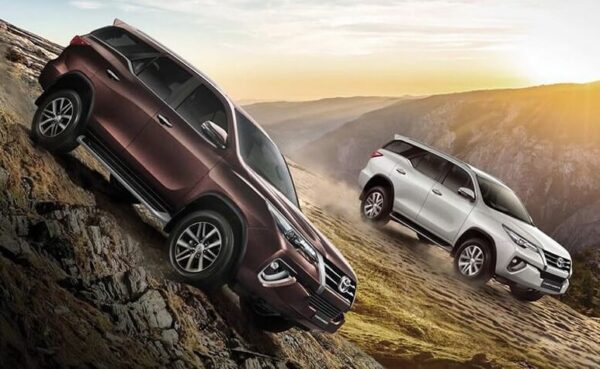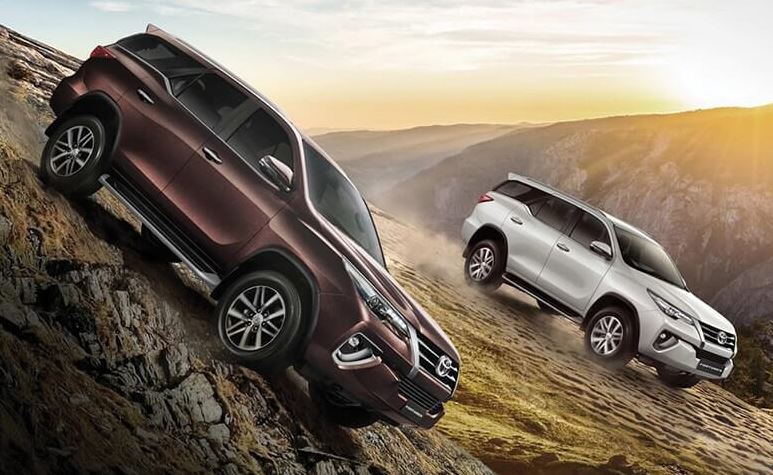 Trims & Versions:
The Toyota Fortuner is available in three variants that are Fortuner G, Fortuner VVT-i, and Sigma. The G and VVT-i trims are available in the petrol engine, while the Sigma is available in the diesel variant. As already discussed above, the TRD variant gets the drivetrain of Sigma, so the TRD Sportivo comes with a diesel engine.
Engine & Power:
The Toyota Fortuner TRD Sportivo Sigma-4 has powered by a 1GD-FTV 2755 cc inline-four cylinders diesel engine that generates maximum output of 130 kW (175 horsepower) at 3400 RPM and maximum torque of 450 Nm at 1600 to 2400 RPM. The transmission type it offers is a six-speed sequential automatic transmission with paddle shifters. This newly designed 1GD engine delivers exceptional acceleration and high-performance drive that makes your everyday ride more confident and thrilling.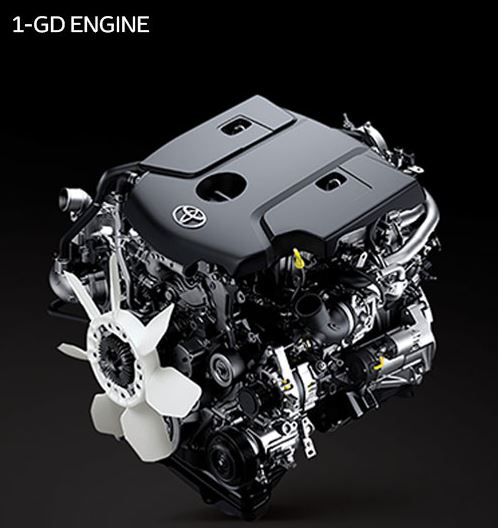 Performance & Drive:
The exceptional driving experience of the Toyota Fortuner TRD Sportivo makes it the best SUV in Pakistan. The strong body-on-frame chassis borrowed from the Toyota Hilux and it's the best choice for off-road adventures. The superior approach and its departure-angle with a stout drivetrain, powerful engine, and multiple-drive-controls make your off-road driving comfortable without causing any problems. The ample ground clearance further assists in safe off-road adventures. It is a four-wheel-drive that makes your off-road ride easier and memorable, and its diesel engine is powerful enough to give you a sporty experience. The transmission of Fortuner TRD is smooth with its flexible paddle shifters. The diesel engine may sometimes produce a gruff exhaust note on accelerating, but that's fine for a heavy car, and overall the drivetrain of TRD is up to the mark. The 1st generation of Fortuner had a rough quality of ride with complaints of a bouncy ride, but continuous improvements over the year bring a big difference in its ride quality. The all-new TRD Sportivo Sigma 4 gives you full control with a powerful and smooth ride, while the potholes get dealt with without any notice or giving you bumps. The Sigma 4 powertrain features improved traction control that now prevents the wheel from slipping mainly during off-roading and with features like downhill assist control and hill start assist control not let you stuck in any place. The handling of Fortuner TRD is also improved, as compared to other variants, and you will experience fewer body rolls. The steering response is a bit heavier at lower speeds inside the city, making the drive a little cumbersome, but it weighs up decently, and the steering response becomes friendly when you continue to drive. The braking system has also improved, and it stops the car quicker and smoother than before. The fuel economy of this SUV is average, giving you the mileage of around 7 kilometers per liter in cities and nine kilometers per liter on the highways. It has a fuel tank capacity of 80 liters, and the maximum speed Fortuner TRD can achieve is 200 kilometers per hour.
Exterior design & features:
The main difference that differentiates Toyota Fortuner TRD Sportivo from other variants is its facelift changes. The sharp headlights and taillights are the same as previous, but the TRD updated with a two-tone extended bumper on the front and a stunning black grille that has the TRD logo embossed beneath the Toyota nameplate. A black and white-colored TRD-decal runs from the mid of front doors to the rear bumpers, and it gets newly designed eighteen-inches alloy wheels with the TRD logo in it, adding more sportiness to it. It is now available in seven different exterior colors includes white, black, metallic graphite grey, blue, brown, and dark teal Mica Metallic.
Interior design & features:
The inside of the Toyota Fortuner TRD Sportivo continues with a high-quality premium and luxurious feel to the customers. The interior has been designed in a brown and black color theme, and you will get leather-covered seats, a steering wheel, and a dashboard also made of high-quality material. The cabin is spacious enough with three rows of seats and can accommodate five to six people comfortably. There is a new captivating 8.95 inches display screen in TRD Fortuner that comes with smartphone connectivity, Bluetooth connection, Screen Mirroring, USB, WiFi ready, and voice recognition. It gives you navigation through Android Auto, and the Apple Car play interface and six speakers give you exceptional sound quality.
A large color TFT gives you a multi-info display, and three 12V USB ports are also there for mobile phone charging. Some of the other features provided to you are:
The dual auto air conditioning system

Smart entry.

Analog gauge cluster.

Coolbox for keeping cold drinks.

Sunglasses holder.

Power door locks.

Illuminated entry system.

Side defroster.

Head and armrests for driver and passenger seat.
Safety & features:
Off-Road Vehicles Usually made safe and Stronger with a high-quality steel frame, so does the Fortuner TRD. Other than the well-built body structure Toyota Fortuner TRD Sportivo has all the Basic safety features to save the customers from injuries during accidents and help in driving.
Vehicle stability control.

Emergency brake signal.

Seat belt reminder.

Anti-lock Braking System.

Seven SRS airbags.

Child-Restraint system.

Engine oil levelling warning.

Emergency Braking Signal

Vehicle Stability control system

Hill-start assist.

Descent control.
Major competitors:
Verdict:
There is no direct competitor of Toyota Fortuner TRD Sportivo in Pakistan as there is no brand new SUV offered with such off-road capable features and driving performance engine. Fortuner TRD is no doubt the best off-road vehicle offered in markets that offers much bang for the buck as no other SUV, so if you are looking for an exceptional SUV, then you should book yours immediately.
In 2021 Many New SUVs has Launched in Pakistan that is capable of competing with the Toyota Fortuner on all Terms, Let's see how Toyota will respond.