2022 MG 6
Sold in UAE = 2020-Present
Generation = 2nd Facelifted
2022 MG 6 Price in UAE :
MG6 Standard =

62,895 AED

MG 6 Comfort =

67,095 AED

MG 6 Luxury =

73,395 AED
 MG Motors has-introduced its compact car MG 6 in 2012, and this small family car is ruling the automobile market even today. The second generation of MG 6 hit the automobile markets in 2016, and it shares a similar platform as Roewe i6. MG6 received a facelift in July 2020, and it looks even more stunning than before. The powertrain of this facelifted MG 6 was the same as the previous models, and it received the same styling changes. The 2021 MG 6 now comes with a beautiful exterior and intuitive technology. It is known for its budget-friendly price and it is such an economical car that comes with the latest features like central locking, Anti-Lock Braking System, and Active Steering. The 2021 MG 6 in the Middle East is available in three levels, and all the trims have a similar powertrain. It possesses a striking design and delivers excellent driving performance. It comes with a seven-speed dual-clutch transmission and six-speed manual transmission. It is also available in a plug-in hybrid version whose turbocharged engine is paired with an electric motor supported by a 9.1 kWh battery and gives a range of 53 kilometers in electric mode. We will discuss the features of the 2021 model of MG 6 in detail.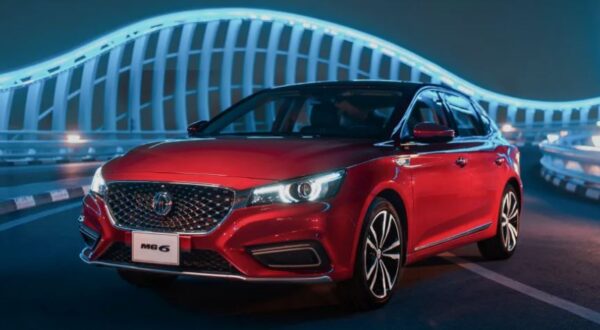 Trims of MG 6:
Three trims of MG 6 are available in the Middle East includes; MG 6 Standard, Comfort, and Luxury.
 The Standard trim features sixteen-inches alloy wheels, airbags, Brake Assist, fabric seats, aluminum wheels, a basic sun visor, folding rear seats, and keyless entry. 
The Comfort trim has up-gradation with seventeen-inches alloy wheels, leather steering wheel, cruise control, Bluetooth connectivity, electric sunroof, and daytime running lights. 
The Luxury trim features eighteen-inches alloy wheels, leather seats, six-way electric adjustable driver seat, cruise control, electric front and rear windows, front passenger seat belt reminder, electric sunroof, light-sensing headlights, and side airbags.
Engine & Power:
The 2021 MG 6 has powered by 1.5 liters Euro V engine that produces a maximum power of 169 hp at 5500 RPM and torque of 250 Nm at 1700 to 4300 RPM. All the trims of MG 6 offer seven-speed dual-clutch transmission, and it gives you the option of front-wheel-drive only. The engine produces enough power to run the front wheels efficiently and deliver outstanding driving performance.
Performance & Drive:
The latest MG 6 comes with revised spring and damper settings and gives you a balanced ride. The electric steering response is quite remarkable, turning the car around sharp corners and curves smoothly. The handling of MG 6 is also decent, and the passengers are relieved from the roads' bumps. The body roll is relatively less when cornering the car, and it generates lots of grip on roads. The latest electronic stability control system featured in MG 6 creates a sporty and safe driving experience. The clutch of MG 6 engages smoothly and makes sure your car does not shudder when you take off, and neither does the clutch slip when you are driving at higher speeds. The seven-speed dual-clutch gearbox carries lower revs at high rates, and the cabin is well-insulated from engine noise even at high speeds, but there may be a disturbance inside due to wind noise. Overall ride quality is good, and it offers directness when driving on the roads of the city, and it also offers sportiness in its comfort-oriented ride. One of the best features in its performance is its acceleration, as it can hit a hundred kilometers per hour in 7 seconds. It works efficiently even at lower speeds and delivers responsive performance while driving it at higher speeds adds superior stability. It gives the option of three driving modes that are Urban-mode, Normal mode, and Dynamic mode. It is more suitable for daily life driving and makes your everyday adventures even more exciting. The fuel economy of MG 6 is also impressive, consuming just six liters of petrol in every hundred kilometers driven with a fuel tank capacity of fifty liters. The cruise control feature in MG 6 makes sure the drive is safe by pushing it at a constant speed with little effort required by the drivers. The Brake Assist feature increases braking pressure in emergency conditions, so the performance is not compromised even when there is an emergency.
Exterior design and features:
The refined exterior design of the 2021 MG 6 features an attractive front end in which the pride is taken by the distinctive Star Ride grille in its center. The iconic octagonal MG logo encrypted on the grille and newly designed LED headlights deliver even more illumination. This sedan looks even more stylish with its slick curves running all over the body. The rear end is also quite attractive with its sleek taillights, while the eighteen-inches alloy wheels available in higher trims complete the sporty design of MG 6.
Interior design and features:
The 2021 MG 6 features an impressive cabin that offers you a spacious room and a variety of storage spaces. You will get twenty-two storage spaces inside the cabin, that is how your journey gets made convenient, and the cabin is enough-spacious to carry five adults comfortably. It gives you a boot space of 424 liters that can take plenty of luggage with you, and it can be further increased by folding the rear seats. The seats are covered with premium leather, while the stylish red and black color theme creates a pleasing visual effect. The sporty dashboard of MG6 is made of high-quality materials and an 8 inches touch screen display mounted on the dashboard for giving you refined infotainment. The infotainment system is compatible with Apple Car Play, while the Android Auto interface is not available yet. The steering wheel comes with multifunctional controls and eases your drive.
In contrast, the dual-zone climate control feature lets you adjust a comfortable temperature inside the cabin to make your journey enjoyable. The driver's seat comes with a six-way electronically adjusted feature so the drivers can adjust it according to their feasibility. Some of the other features include an electric sunroof, central locking, rear parking camera, immobilizer, speed-sensitive door lock, high mounted stop lamp, rear AC vents, and keyless entry.
Safety & features:
The 2021 MG 6 does not disappoint you when talking about the safety of the passengers. It has been equipped with up-to-date safety features to make your ride even safer more before. Complete peace of mind can be achieved because the car has fitted with Anti-Lock Braking System, tire pressure monitoring alarm, seat belt warning alarm, airbags, cruise control, rear parking camera, traction control, and Brake Assist feature.
Major competitors: