2023 Audi A8 
Sold in Pakistan = 2014-Present
3rd Generation Facelifted 
2023 Audi A8 price in Pakistan
Audi A8 3.0 TDI
33,000,000

PKR

Audi A8 3.0 TFSI Quattro
45,000,000

PKR

Audi A8 4.0 TFSI Quattro
33,000,000

PKR

Audi A8 4.2 FSI Quattro
33,000,000

PKR

Audi A8 L Hybrid
250,000,000

PKR
Audi's A8 was first introduced in 1994 as a full-size luxury sedan, that is currently in its 4th generation and is built on the MLB Evo platform. The current Audi A8 available in Pakistan is in its 3rd generation which was first introduced here in 2009. The 3rd generation of the Audi A8 received some powertrain changes in 2013 and some facelift changes in 2014. Two models of Audi A8 are available in Pakistan with TFSI Quattro technology. It is available in both the-norma- A8 version and the A8L version. The major between the models is the length; the A8L is 13 centimeters longer than the normal version of the A8, and the A8L can drive automatically. The 2021 Audi A8 stands among the top luxury sedans equipped with extravagant features blowing our minds. Starting from its powertrain, which is flawlessly amazing, going to its fuel efficiency, which is not very bad, we must tell you about its exceptional 8-speed automatic transmission and lastly talking about its spacious cabin, which can accommodate four passengers easily. The driving performance of the A8 is also excellent and comfortable which makes your journey convenient and fun.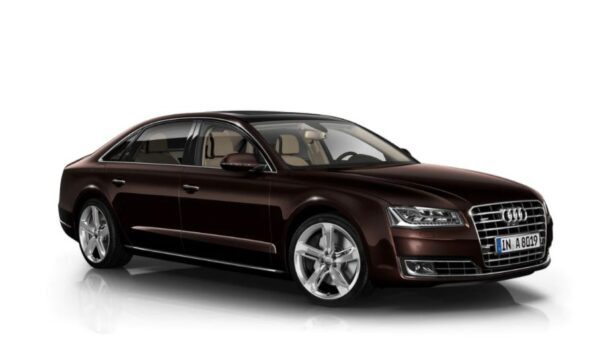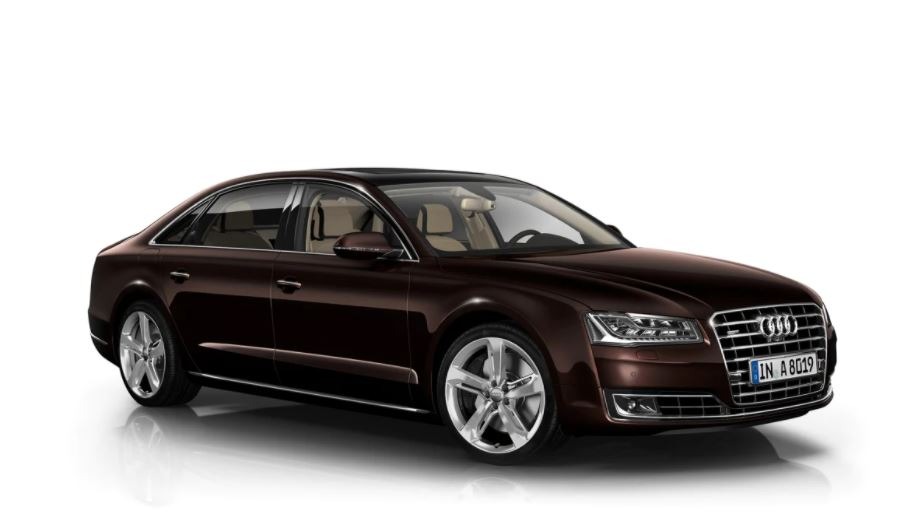 Trims of Audi A8 in Pakistan:
The two trim levels of the 2021 Audi A8 available in Pakistan include:
A8 55 TFSI Quattro

A8 60 TFSI Quattro
The main difference that occurs between both of the trims is in their engine capacities and performance. The transmission option in both of the trims is similar, which is eight-speed Tiptronic transmission. You can purchase various packages to make your A8 more exciting, like the chrome exterior package, which adds chrome elements to the exterior fascia, the Audi design selection package that brings special materials for the interior, and the Audi exclusive leather upholstery package with the addition of Valcona leather-covered comfortable seats in its cabin. Other than this, you can customize your Audi according to your taste opting from Vesuvius grey metallic, Terra grey or mythos black, Navarra blue, Seville red, impala beige, moonlight blue, and glacier white exterior colors.
Engine & Power:
Audi A8 55 TFSI Quattro is powered by a 2995 cc V6 turbocharged direct fuel injection petrol engine that produces a maximum output or power of 340 Hp @ 5000 to 6400 RPM and maximum torque of 500 Nm at 1370 to 4500 RPM. The Audi A8 60 TFSI Quattro is powered by a 3993 cc turbocharged V8 petrol engine that generates maximum output of 460 hp at 6000 RPM and torque of 660 Nm at 1370 to 4500 RPM. The all-wheel permanent Quattro technology is standard in both of the trims, while both the engines are paired with eight-speed Tiptronic transmission.
Performance & Drive:
Audi A8 features a TFSI engine that gives you higher efficiency and wonderful performance. The TFSI engine gains a high compression ratio as compared to other engines, and as a result, it gives an outstanding performance. The turbocharged engine has reduced size and weight, and it delivers dynamic performance, while the four cylinders out of eight automatically shut down when in partial-load range, because of which fuel consumption gets improved as well as reduces emissions. Talking about the eight-speed Triptonic transmission of the Audi A8 comes with a dynamic shift program that delivers faster gear changes without giving perceptible breaks. The Triptonic technology also lets the driver intervene manually even when driving in an automatic transmission, so driving it on mountain roads is made easy and safe as the gear changes are executed smoothly. The Quattro permanent all-wheel-drive technology in all trims of Audi A8 distributes the force to all four wheels of the vehicle permanently, and in turn, it becomes easy to drive it in rough and off-road conditions. The handling and stability of A8 are also more exceptional than ever before. It gives you more road grip when accelerating, and exceptional road holding is ensured due to its Quattro technology that lets you feel safe on roads. The acceleration of the Audi A8 is also exceptional, as the A8 55 TFSI Quattro takes 5.6 seconds to speed up from zero to 100 kilometers per hour, while the A8 60 TFSI takes 4.6 seconds to hit 100 kilometers per hour. The fuel consumption of the Audi A8 is also good, consuming 10.5 liters of petrol to give a mileage of 100 kilometers.
Exterior Design & Features:
The design of the 3rd generation Audi A8 impresses you with a chrome-aggressive grille with added chrome strips in its front and rear bumper giving it a premium feel. The sporty roofline coupe-like silhouette and a single large-sized grille give it an exceptional design. The taillights come with OLED technology that delivers you outstanding-homogenous light for an impressive journey. You can choose different sizes of wheels according to your requirement, like the nineteen-inches aluminum wheels, 20-inches sport cast aluminum, 20-inch aluminum wheels with a 5-arm polygon design, and 20-inches aluminum wheels with a 10-parallel spoke design. The Audi A8 L features a longer wheelbase and large-sized rear doors, providing more headroom and legroom as compared to the standard Audi A8.
Interior Designs & Features:
The cabin of the Audi A8 gives you a luxury feels and ensures your comfort with its high-quality materials. The seats are covered with Valcona leather that can be selected-in merlot red, sard brown, and tourmaline blue colors in contrasting stitching. The contour seats are well-bolstered and comfortable enough to give you a relaxing journey. The cabin is equipped with ambient LED lights that are switchable into 30 vivid colors. The front seat of the Audi A8 comes with a massage option along with a heating and ventilation system. The wooden inlays inside the cabin enhance the luxury feels. There is a 12.3 inches virtual cockpit that features conventional gauges and dials and displays a speedometer along with a tachometer. You also get a 7-inch LCD screen giving you navigation along with a rear camera view and cruise control. The infotainment system is the Audi MMI touch response system, and the Audi Connect subscription puts luxury at your fingertips by assisting you in your driving. By using the myAudi app it becomes easy to monitor the status and location of the vehicle, and it also makes it easy to lock and unlock the car. It also has the facility of charging mobile phones wirelessly using charging pads. It has a Trunk capacity of 13 cubic feet which means you can carry enough luggage with you for weekend trips.
Safety  & Features:
The 3rd generation facelifted Audi was not rated by the national highway traffic safety administration, but Audi A8 features automatic emergency brakes with pedestrian detection, lane-departure warning, lane-keeping assist, adaptive cruise control, airbags, forward collision warning alarm, auto high beam headlights, and parking sensors at the rear and front that keeps the passengers and driver safe.
Major Competitors: