2023 Porsche Cayenne
Sold in Pakistan = 2021-Present
3rd Generation 
2023 Porsche Cayenne Price of  in Pakistan =

416.9 – 674.0 lacs PKR
The mid-size luxury crossover SUV Porsche Cayenne introduced in 2002 was the first vehicle of Porsche to have a V8 engine. The currently available Porsche Cayenne is the 3rd generation of it which debuted in 2017, and 2019 brought two new models Porsche Cayenne Coupe and Turbo Coupe. The 2021 Porsche Cayenne brings the GTS model back, which has many desirable features, and it is the top-of-the-line trim. It is the only non-turbo trim of Porsche Cayenne with a V8 engine and features lowered suspension. Other than this version, Porsche Cayenne offers a variety of different powertrains. The spacious interior of Porsche Cayenne is a canvas for customization, and its innate athleticism with superb handling techniques makes it sure that this SUV lives up to the illustrious history of Porsche. In short, the all-new Porsche Cayenne is truly impressive in its handling techniques and offers a wide range of powerful engines with an exquisite cabin and exterior design. It gives a seating capacity for five adults and comes with the option of an all-wheel-drive feature that makes your ride convenient in rough terrains. We will discuss the features and specs of the Porsche Cayenne 2021 in detail in this article.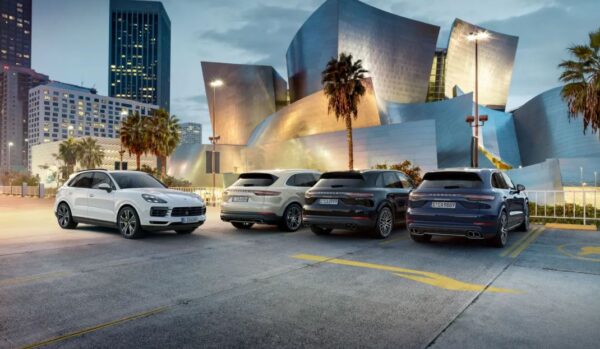 Variants & Trims:
The 2021 Porsche Cayenne is available in 6 trim levels that are:
The Base model: it offers nineteen-inches wheels, 12.4 inches touch screen, 4 USB ports, dual-zone climate control, 10-speakers, and a power liftgate.
E-Hybrid model: this model adds adaptive suspension dampers and a Sport Chrono package for additional performance.
S: it is the sportier version of the Base model, and it offers you a panoramic sunroof, speed-sensitive steering, and power steering plus package.
GTS: it offers sport seats, an adaptive rear spoiler, air suspension, a Sport design package, and twenty-one-inch wheels.
Turbo: it loads you up with leather upholstery, adaptive LED headlights, 14-speakers Bose sound system, upgraded brakes, and Faux suede headliner.
Turbo S E-Hybrid: this trim offers rear steering, a 21-speakers Burmester sound system, a 360-degree camera, adaptive cruise control, and ventilated seats.
Engine & Power:
The Base model gets its power from a three liters turbocharged engine that produces 335 hp power and a torque of 332 pounds-feet. The E-Hybrid model has an electric motor paired with the 3.0 liters six-cylinder engine that produces 455 hp power and a torque of 516 lb-ft. The S trim gets power by 2.9 liters, a 6-cylinder engine with a 434 hp power, and a torque of 405 lb-ft. The GTS model gets power from a 4.0 liters V8 engine that generates 453 hp power and a torque of 457 lb-ft. The 4.0 liters V8 engine in Turbo trim generates 541 hp power and a torque of 567 lb-ft. Lastly, the Turbo S E-Hybrid model has a hybrid powertrain in which the 4.0 liters V8 turbocharged engine is paired with an electric motor to produce a maximum power of 670 hp and a torque of 663 lb-ft. When comparing all the trims, the S trim is preferred the most because of its affordability, and the GTS trim is chosen because of its excellent performance.
Performance & Drive:
The Porsche Cayenne is a quick SUV, and its performance is equally impressive in all the trims; even the Base model produces steady power streaming. The 3.0 liters turbocharged V6 engine is super quick to accelerate from zero to sixty miles per hour in 5.3 seconds which is quite impressive. The S model is faster to accelerate from zero to sixty miles per hour in just 4.7 seconds. The eight-speed Tiptronic transmission changes gear automatically, reducing fuel consumption because of its wide ratio spread. It offers an all-wheel-drive Porsche Traction Management system that gives you the best power distribution and lateral support. The Porsche Hill Control drives the car by keeping the speed constant between 3 and 30 kilometers per hour. The Porsche Torque Vectoring Plus system improves the driving dynamics by automatically applying brakes on the rear wheels, increasing stability and outstanding traction. The adaptive air suspension provides better comfort and sporty drive with self-levelling function. The Active Suspension controls damping force on the roads by an electronic damping control that gives you three modes of driving: Normal, Sport, and Sport Plus. The handling manoeuvre is made better with rear-axle steering that increases stability even at higher speeds. Lastly, talking about the active roll stabilization system of Porsche Cayenne which decreases the body rolling during dynamic cornering and provides neutral handling. The S model gives a mileage of 18-miles per gallon in the city, and 22-miles per gallon on the highways, while the GTS model gives a mileage of 15-miles per gallon in the city and 19-miles per gallon on the roads.
Exterior Design & Features:
The Porsche Cayenne brings dynamic design and is available in two exterior body designs; Cayenne and Cayenne Coupe. The Cayenne Coupe contours flow from its headlights to the seamless-taillight strip. The front apron of the Athletic Turbo has independent and yet, powerful enlarged air intakes. The LED headlights come with an LED matrix beam and four daytime running lights. The taillight strip draws attention with its elegantly emphasizing appearance. The higher-end trim features twenty-two inches alloy wheels with five-spoke satin platinum paint that looks classic and sporty.
Interior Design & Features:
The cabin of Porsche Cayenne is spacious with an increased wheelbase that provides plenty of room to accommodate five adults. You can customize the cabin according to your taste, and everything in the cabin, from trim pieces to seatbelts, can be personalized. The cargo area is also spacious, providing you 27 cubic feet, and it can be increased to 60 cubic feet by folding rear seats. There is a 12.3 inches infotainment screen mounted on the dashboard that is compatible with Android Auto and Apple Car Play. You will get a Wi-Fi hotspot, 2 ten inches touch screens attached to the back of the front seats providing entertainment to the rear passengers, 14 speakers Bose sound system, and a dual-zone climate control system.
Safety & Features:
The Porsche Cayenne received a five-star crash test safety rating from EuroNCAP.
The safety features of the Porsche Cayenne are as follows:
Night Vision Assist helps to navigate dark roads with the thermal imaging camera.
Pedestrian protection
InnoDrive, which navigates unfamiliar roads using GPS-based navigation
Adaptive cruise control
Blind-spot monitoring system
Rear cross-traffic alert
Lane-departure warning
Lane-keeping Assist
Major Competitors: