2023 Audi Q8 
Sold in Pakistan = 2021-Present
1st Generation
2023 Audi Q8 Price in Pakistan
The mid-size luxury crossover SUV coupe Q8 by Audi was first launched in 2018, and this 5-door SUV is a front-engine with a front-wheel-drive vehicle built at Volkswagen Group MLB Evo platform. 2021 brings an athletic Q8 that satisfies enthusiasts with its mix of luxury and technological features. The 2021 Audi Q8 has been introduced in two rows of seats rather than three rows, and the bodywork is bolder now. The latest model of Audi Q8 available in Pakistan combines the elegance of a 4-door coupe with the versatility of an SUV, as it has been equipped with intuitive technology (for convenience), and off-road driving quality makes the journey more convenient. The Audi A8 is considered the best choice, from the business point of view, and best suited for leisure. New hybrid technology has also been introduced in the Audi Q8, which makes it a fuel-efficient car. The 48 volts electrical motor is paired with the engine that generates an additional power of 12 kW when the lithium battery is fully charged. As a result, it gives you an improved mileage of 22 kilometers per liter. The Audi Q8 is one of the top vehicles in the Q series, and its price is also a bit on the higher end.
Trims & Variants:
The newly introduced Audi Q8 in Pakistan will be offered in three trim levels include; Premium, Premium Plus, and Prestige. If the RS model is also provided, then another 4.0 liters engine will be available in it. All the trims other than RS are available in a 3.0 liters engine, and the vital difference occurs in their features. The Premium trim features twenty inches, five-arm design wheels, MMI navigation plus, a panoramic sunroof, and a parking system with sensors at the front and back. The Premium Plus trim; is equipped with twenty-one inches; five-segment spoke wheels, a convenience package, an ambient lighting package, and a 4-zone climate-control system. The Prestige trim is upgraded with an executive package, head-up display, intersection assist, leather dashboard, and power soft-closing of doors.
Engine & Power:
All the trims of Audi Q8 are offered in a single-engine choice that is 3.0 liters,six-cylinder, 2995 cc engine that produces a maximum output of 335 hp and maximum torque of 369 pounds-feet. It is mated with a mild-hybrid technology, as mentioned above, that enhances the power generation and mileage of the vehicle. All the trims offer 8-speed Tiptronic automatic transmission that comes with an all-wheel-driving feature.
Performance & Drive:
The Audi Q8 is top of a line SUV that delivers impressive driving performance. It features a damper control suspension system which means Audi Q8 comes with adaptive air suspension in all the trims and has controlled damping as an option in them, ensuring you a comfortable ride. The ride's height is adjustable according to the driving situation and preference of the driver, and you can adjust the driving according to the requirement of as much as ninety millimeters. The ground clearance of the Q8 is 10.1 inches which let you drive your Audi Q8 over short bumps and rocky paths. The mechanical center differential system transfers the force to the front and rear axles at the rate of 40:60, which means it transfers pressure to the axles with better traction. The mild-hybrid technology enables long coasting phases, so more efficient performance and power are attained. The Tiptronic transmission of the Audi Q8 provides exceptional performance with its precise gear changes. The handling of the Audi Q8 is extraordinary with its standard progressive steering, whose steering ratio is increasingly directive. You also enjoy the all-wheel steering option, where you can turn the rear wheels by 5 degrees, so the vehicle can be turned at low speeds that increase the agility and stability of the Q8. The acceleration of the Audi Q8 SUV is surprising as it takes only 5.6 seconds to speed up from 0 to 60 miles per hour with a top speed of 130 miles per hour. When talking about the mileage of the Audi Q8 SUV, then we must mention that it gives you a mileage of 18 miles per hour in the city and 23 miles per hour on highways with a fuel tank capacity of 22.5 gallons. The MHEV technology gives you an additional mileage of 22 kilometers per hour.
Exterior Design & Features:
The exterior design of the Audi Q8 features an elegant and attractive design that is equipped with an imposing SingleFrame octagonal grille at the front that is encrypted with an Audi logo on it. The radiator grille has a good design, and the spoiler is positioned toward the front. The vehicle is highly contoured, and its air inlets are also designed boldly. The roofline is sloping that terminates into the D-pillars and houses up to twenty-inches wheels. The wheel arches with spoiler, door trim strips, and diffusers colored in contrasting colors further enhance the beauty of the Audi Q8.
Interior Design & Features:
You will find a high level of integration of operation and architecture as soon you enter inside the Audi Q8. The Audi Q8 coupe is more comprehensive with a spacious cabin of 4.99 meters in length and 2 meters in width that can accommodate five adults having three seating configurations in the rear compartment. The seats are covered with premium leather that has contrast stitching on it that looks stunning. The luggage compartment at the rear is sufficient to carry a large amount of luggage with you, and you can also increase the luggage compartment to 1755 liters by folding the rear seats. There is a central 10.1 inches display with an MMI touch response, and it dissolves into a large black-colored 8.6 inches display that is referred to as a single element along with the upper collection. The upper display controls infotainment and navigation, while the lower display controls heating and other convenience functions. You also get a natural-voice interaction system with an intelligent operating concept that directs the operations as per command. A 12.3 inches LCD serves as Audi's virtual cockpit and shows all its features with a 3D impression in brilliant clarity. There is another fantastic feature in Q8: Audi's phone box that can detect your smartphone and operate all functions through MMI as soon you place your phone in the phone box. The Bang and Olufsen sound system provides 3D sound to all 5-seats so you can enjoy your music with full thrill.
Safety & Features:
Audi Q8 has received 5-star safety ratings from NHTSA and IIHS;
some quality safety features it has are;
5-radar sensors

6-cameras

12 ultrasound sensors

360-degree camera

Adaptive cruise control

Crossing assist and Lane changing warning.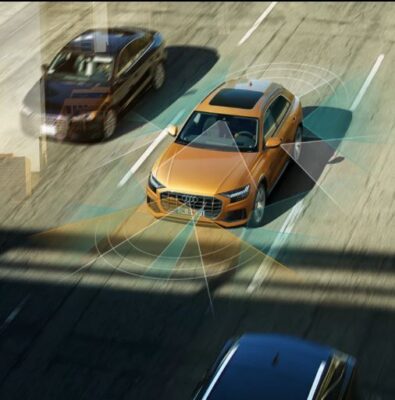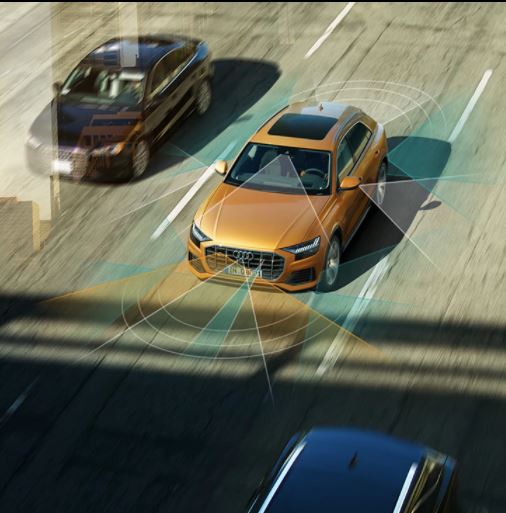 Major Competitors