2023 Toyota Hiace
Sold in Pakistan = 2020-Present
6th Generation
2023 Toyota Hiace Price in Pakistan
Price Effective Price From 10-March-2023
VARIANT
EX-FACTORY PRICE
Standard Roof (Diesel)
11,389,000/-

PKR

Standard Roof Dual AC (Diesel)
12,209,000/-

PKR

High Roof Dual AC (Diesel)
13,969,000/-

PKR

Standard Roof Dual AC (Gasoline)
11,459,000/-

PKR

Mid Roof Dual AC (Gasoline)
12,569,000/-

PKR

Standard Roof (Gasoline)
PKR. 5,690,000

(Discontinued)

* THE PRICE IS SUGGESTED RETAIL PRICES, EX-FACTORY KARACHI, PER UNIT INCLUSIVE OF 17% SALES TAX.
** THE PRICE IS EXCLUSIVE OF WITHHOLDING TAX.
The Toyota Hiace is a van with a front-wheel-drive option and a four-wheel-drive option. Its 5th generation was launched in 2004, and the 6th generation of it came up in 2021. The 6th generation of Toyota Hiace was first launched in the Philippines at the start of 2021. The latest model of Hiace is designed in a square with three body styles. It is available in the standard body style, high roof, and Mid-roof. It offers continuously varying automatic transmission and manual transmissions. It is a versatile vehicle, giving you a proven performance with a beautiful exterior. The utility of Toyota Hiace is vast, and it can be used for personal use, commercial use, or traveling purposes. The latest Toyota Hiace gives you exceptional ride quality, giving you maximum comfort and safety. The intelligent design of Toyota Hiace ensures driving ease by providing complete visibility, comfortable positioning, indicators, and switches. One of the best features Hiace leads in is its durability and dynamic stability. It gives you impressive handling with long-term reliability and excellent solidity. The corrosion-resistant body of Hiace makes it durable and a perfect choice for traveling long routes in areas where small cars are not reliable to go.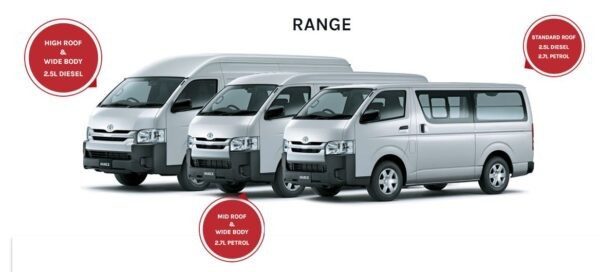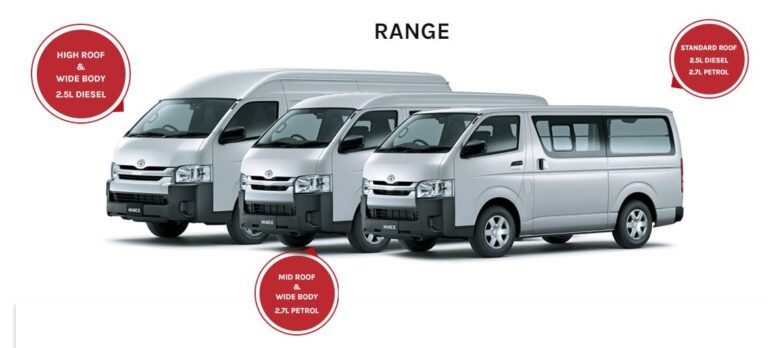 Variants Available:
It is available in a variety of versions that are as follows:
Standard Roof Diesel
Standard Roof Gasoline
High Roof Commuter
High Roof Tourer
Mid Roof Gasoline
Luxury Wagon Low Grade
Luxury Wagon High Grade
These versions are available with an AC option or without an AC option which will vary the price ranges of the variants. The standard and high roof commuters are available in manual transmission, while other trims are available in automatic transmission. The dimensions of all of these trims are different, and the luxury trim offers all luxury features like leather seats, heated seats, 3 airbags, keyless entry, rear speakers, cruise control, and climate control.
Engine, Power & Transmission:
The mid-roof and standard roof body styles are available in petrol engines. They get their power from 2694 CC, 2TR-FE, 4-cylinders, INLINE, 16 valve DOHC petrol engines that generate a maximum of 111 kW (148 HP) of power at 4800 RPM and a torque of 241 Nm at 3800 RPM. The standard roof is also available in the diesel engine option. Thus high roof and standard roof diesel engines get their power from a 2KD-FTV, 2494 CC, Common Rail type, turbocharged engine that generates a maximum of 75 kW (100 HP) at 3600 RPM and 260 Nm of torque at 1600 RPM to 2400 RPM.
Performance & Drive:
Both gasoline and diesel engines deliver excellent driving performance. The double-wishbone suspension at the front is durable, and it ensures passengers' safety by contributing to long-term reliability and providing impressive handling. It absorbs all the irregularities of the road that is best suited for traveling to the North, where routes are not well developed. The steering shaft intrusion-reduction system and the brake pedals of Hiace are also designed for giving you durability and reliability. Hiace will provide you with unprecedented power and performance despite heavy load loaded in it or whatever the road condition is. The hydraulic steering is light-weighted, and you can turn the vehicle conveniently without body lean. The handling of Toyota Hiace is good and gives the driver extra confidence in controlling the car even when driving it on sharp and dangerous turns of the roads in the North. The manual and automatic transmissions are smooth and come with easy gear changes that keep the overall effect of the ride smooth. The Toyota Hiace gives you both a front-wheel-drive option and a four-wheel-drive option. It can take you to all types of roads and make your adventures thrilling. It can carry up to 850 kilograms of goods in it and can travel over off-road conditions safely, so you can transport your goods safely. It can tow up to 2000 kilograms of load safely. It offers you a top speed of 180 kilometers per hour and has a fuel tank capacity of 70 liters. The high-roof diesel engine Hiace gives you a mileage of 10 kilometers per liter in the city and 12 kilometers per liter on highways. The Toyota Hiace comes with Euro II emission standards that keep the environment cleaner compared to other light commercial vans that are not environment-friendly.
Exterior Design & Features:
The Toyota Hiace has different body styles. The front end of Hiace has a rectangular grille in the center that has Toyota's logo stamped beautifully on it, and rectangular headlights are on its sides. The rear end has trapezium verticle side taillights and a standard case. The corrosion-resistant body of Hiace is highly rigid and provides you maximum stability and durability. The High Roof and Wide Body of Hiace are 6.2 meters wide, while the Mid Roof and Wide Body Hiace is 5.3 meters wide, and the standard Roof Hiace is 5.0 meters wide. All the variants have fifteen inches alloy wheels that look beautiful and decent.
Interior Design & Features:
The Toyota Hiace is mainly used commercially because of its spacious cabin. It can accommodate up to seventeen passengers and provide ultimate comfort to them. The seats are covered with fabric, and their texture is so fine, while the luxury trims are covered with leather that gives it a premium feel. The seats are given with headrests to provide you with more comfort, and the seat fabric is strengthened to withstand wear and tear. The air conditioning system is so powerful that it keeps the temperature inside the cabin comfortable, despite the hot weather outside. The rear AC vents let the cooling pass to the rear passengers. All passengers are given seat belts to provide them protection on the journey. The wide door opening of Hiace gives you a spacious entry and exit in the cabin that will make it easy for transporting goods in it and also old aged passengers can move in and out of it conveniently. The comfort and functionality of the cabin remain the same, whichever body style you use. You will get a tachometer, stereo system for entertainment, power windows, reclining rear seats, and power door locks.
Safety Features:
Some of the safety features Toyota Hiace offers are
Anti-Lock Braking System
Seat belts at the front and rear
Light remind warning
Key remind warning
Airbags
Corrosion-resistant body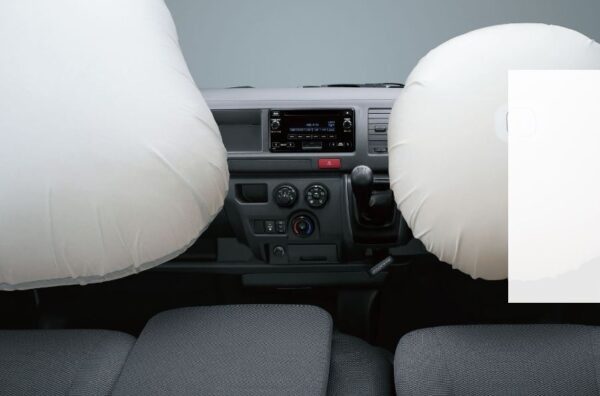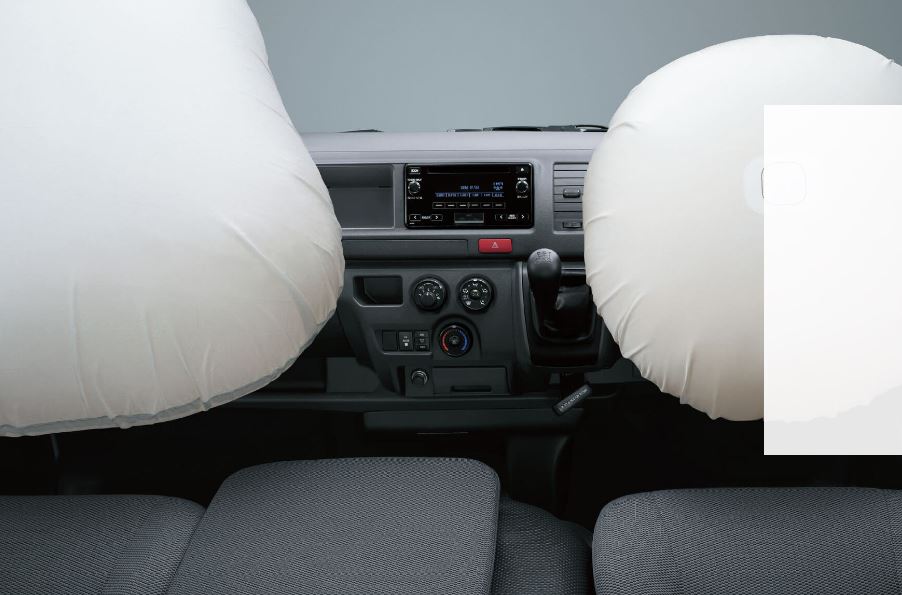 Pros & Cons:
Pros:
Mostly used for commercial transport
Being TOYOTA, People prefer to buy it for its build quality and for longer terms
Seating capacity of 17
Cons:
Expensive in its category
Expensive Spare Parts
Major Competitors: