SUZUKI APV
Pricing: 2020 Model Costs 34 Lacs PKR
Suzuki Apv is Tremendous Minivan & MPV Produced by Suzuki Company. It is Quite Luxurious and Beautiful from interior as well as from exterior. Used by families to go out and mostly for long routes. This Multi Purpose used for earning by providing Pick and drop as well as for Entertainment when families Travel. In start Suzuki Apv price was quite low but increase to much because of their demand. Engine is Quite Powerful having piston displacement of 1493 cc Even good for areas having more mountains. Available in different colors which provide choice to family to select their color.
Detailed Overview & Review:
Suzuki APV Considered as one of the good, Reliable and Comfortable vehicles by the company in Pakistan. This vehicle is in production since 2004 worldwide but for Pakistan it was introduced in 2007 and still selling as a hot car in multipurpose vehicles category.
Fact; when it was first introduced in Pakistan after a year of introduction Suzuki APV price was increase half of the full price and people those were already purchased the vehicles were in profit and could sell  same vehicle in profitable price. The main reason of this much price jump was the company wasn't expecting this to be successful in Pakistan that was why in the beginning the price was set lower to capture the market.
This is not much famous but despite of it Suzuki APV is selling well not in Pakistan only but in other countries as well including Australia, Malaysia and Chille. From 2007 to onward there haven't been done any major changes to its overall design but some small modifications to the exterior mainly to the bumper and headlights.
Trim Levels:
Overall around the Globe Suzuki APV is available in 4 Trims including GA, GL, GLX and SGX while in Pakistan GL and GLX Trims are available.
GA Trim:
Having 14 inches steel wheels as standard, have 2 speakers with Audio system without aux and USB port, Manual Air Conditioning with optional Dual AC.
GL Trim:
The major difference between GL & GLX is the Absence of Following features in GL Trim including; Power steering, Anti lock breaking system and Power Windows (Rear)/
GLX Trim:
Suzuki APV Glx is about 100 mm lengthier than GL and has 15 inch alloy wheels as standard, 6 speaker head unit with AM/FM/CD Audio system while having Auxiliary and USB port. Manual Air conditioning with Dual AC, Antilock breaking system and Adjustable Power Steering and key less entry are some of the other features present in GLX Trim.
SGX Trim:
SGX Trim of the APV could be called the luxurious trim or the captain seats version; this trim didn't have major changes to the Exterior but have more comfortable interior as well as improved engine performance. This particular trim of APV launched in selected countries only among which Pakistan is not present.
Engine & Power:
All the Trims of APV are equipped with 1.5 Liter 16 valves 4 cylinder Euro-II engine that produces 91 Horse power @ 6000 Rpm with 126nm @ 3000 Rpm of torque. Engine is paired with 5 speed manual transmission while international versions also have Automatic transmission. Top Speed of vehicle is 180 km/h and gives the fuel economy of 10-12 km/l combined.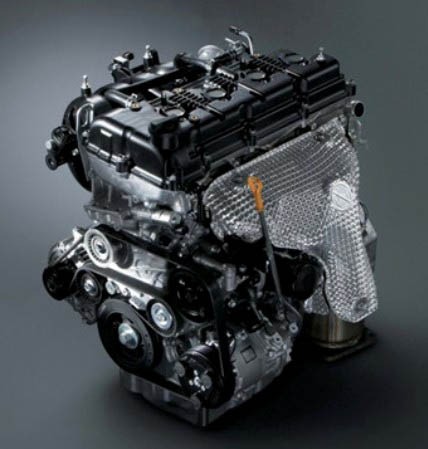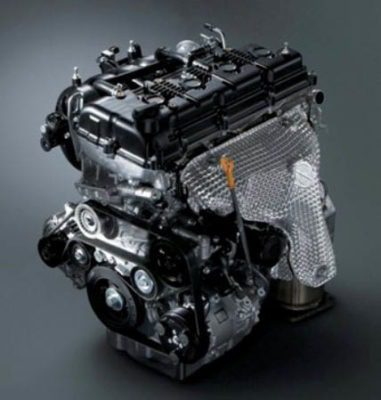 Driving Dynamics:
Ride of the vehicle is comfortable as it is equipped with Mcpherson strut and Coil spring front suspension paired with rigid axle and leaf spring Rear Suspension. Rack and pinion power steering wheel gives enough confidence and easy handling option.
Exterior:
This multipurpose vehicle have length, width and height of 4230mm, 1655 mm, 1865 mm with ground clearance of 185 mm which make it suitable for driving out of the city as well. Front of the vehicle is simple and traditional having small grille with dual chrome accents having large air intake below and fog lamps mount into the bumper. Body color door handlers and Mirrors are standard while higher trims have chrome door handlers. Rear end of the vehicle has staked tail lights, Standard case tailgate with Chrome accent just like the front. Overall exterior of the vehicle is Boxy but not un-attractive or seems old fashioned or out of date.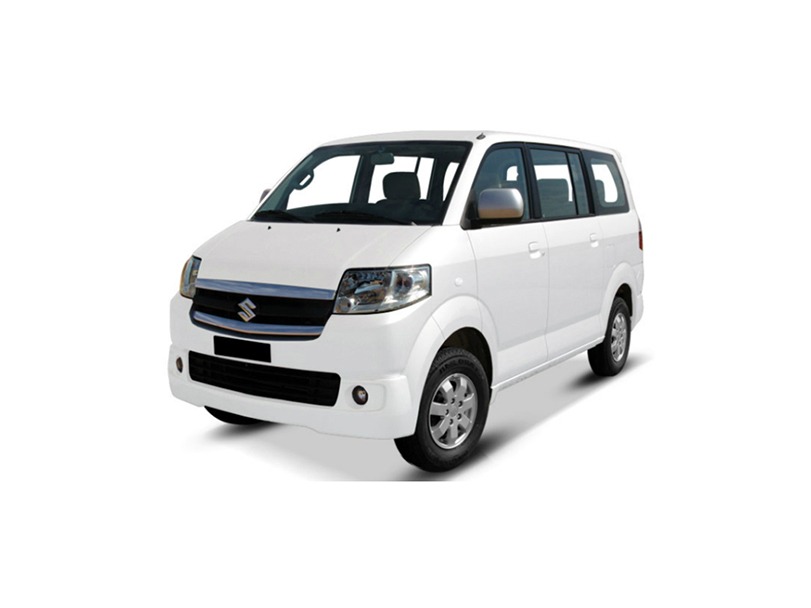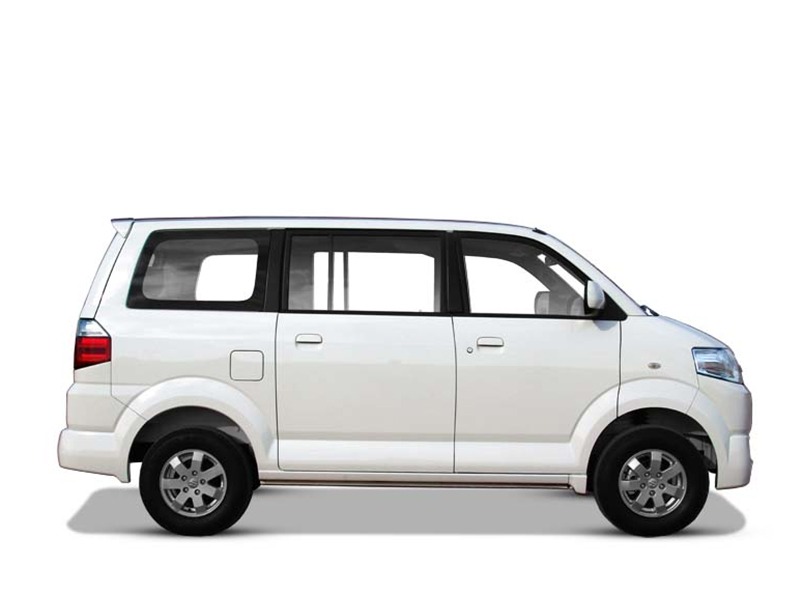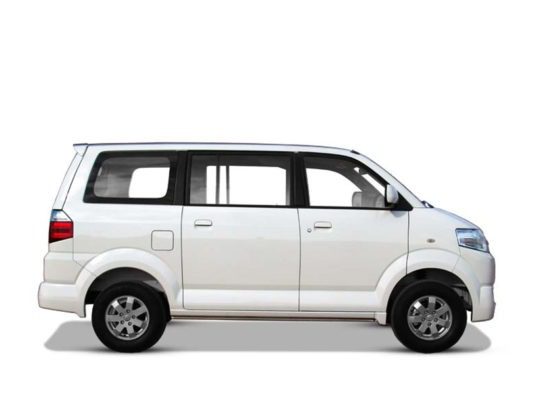 Interior:
Suzuki APV is comfortable from the inside with enough head and leg room even up to 3rd row seats. Build quality is not much appreciated especially for Pakistani version having plastic all around and missing some important features as well like infotainment screen. But overall interior design makes it look more luxurious and Beautiful; seats are covered with high quality vinyl fabric. Front seats are power recline and height adjustable (higher trim only), Rear air vents are build into the roof and give nice air throw that reaches 3rd row as well and make long journeys more comfortable in hot days. APV comes with competitive cargo space of 6.9 cubic feet that is enough to carry lot of luggage and with folding rear seats it becomes even more Multi Purpose Vehicle.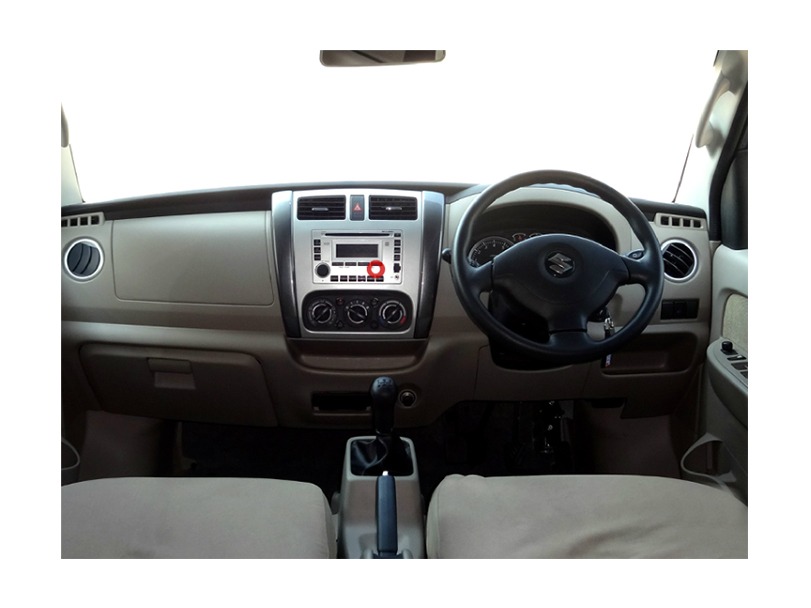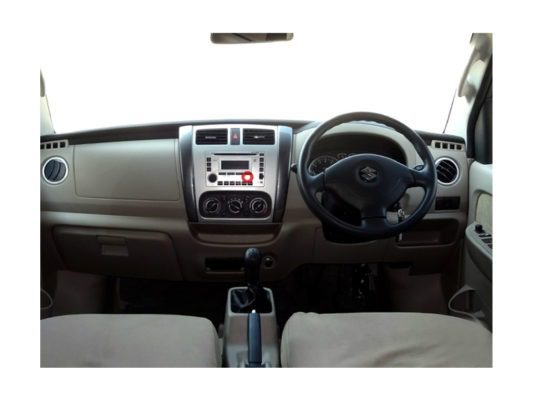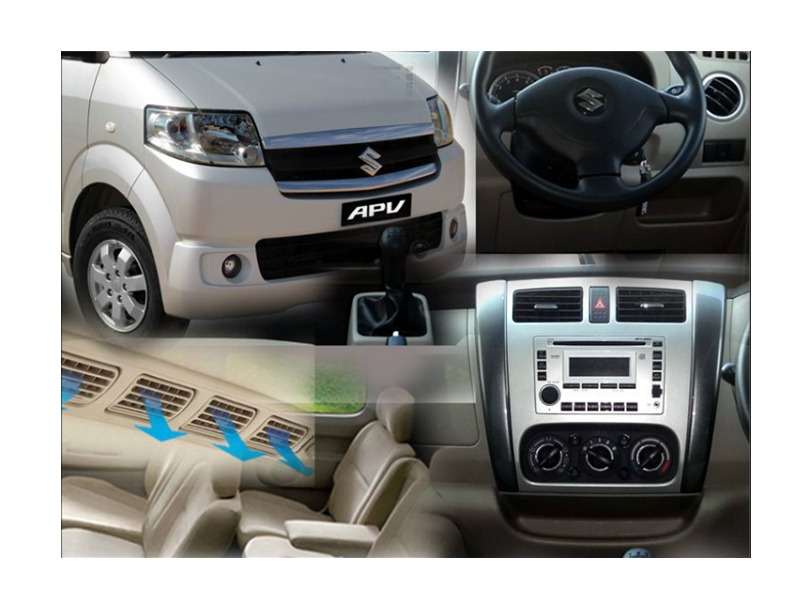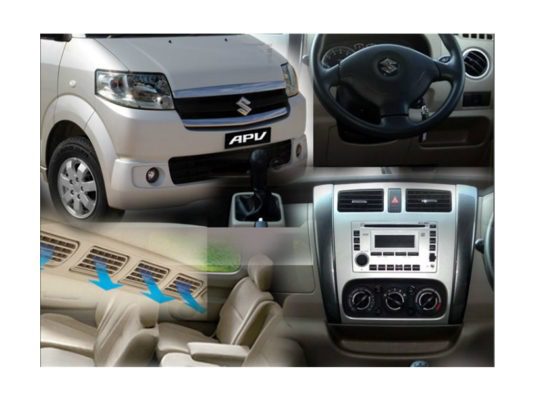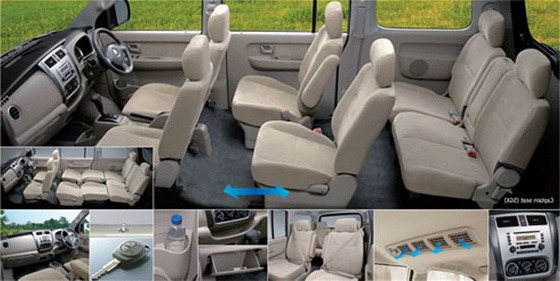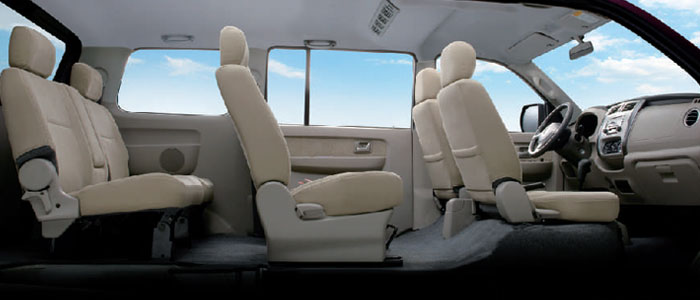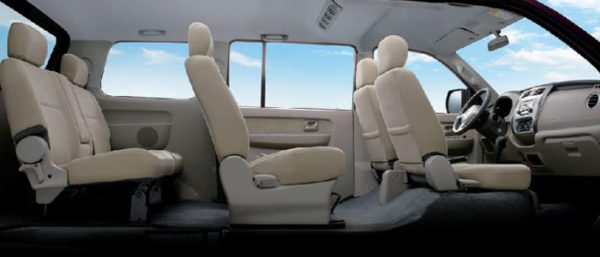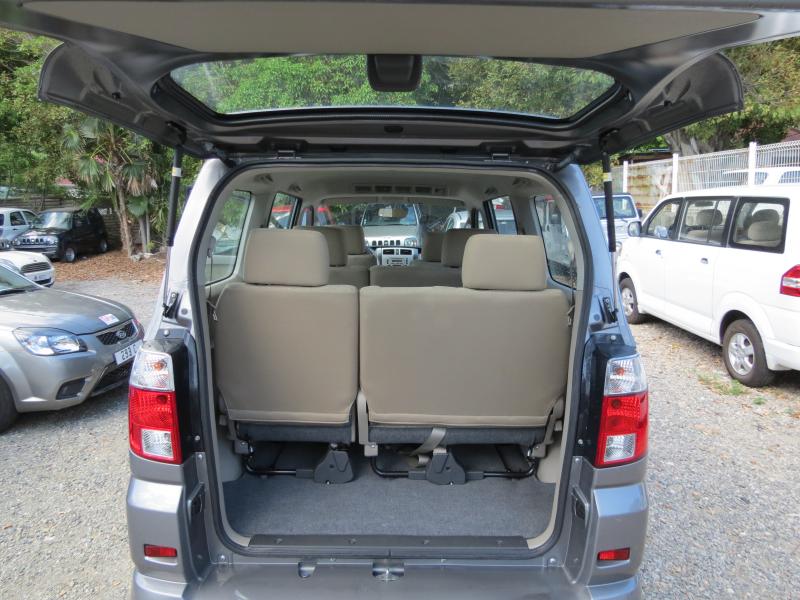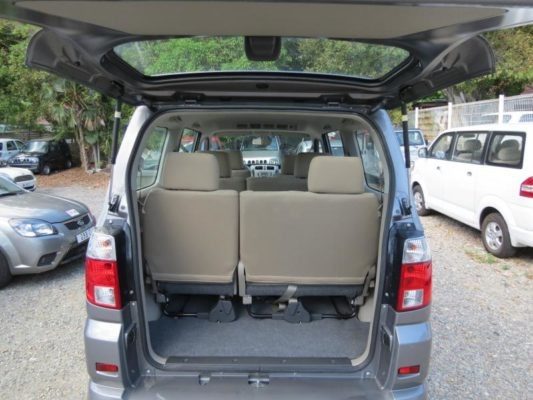 Safety:
This has become convention for Japanese Automakers to introduce Vehicles without safety features; same is here with Suzuki APV which has nothing other than seats belts while we all are well aware of the build quality of vehicles so crash impact remain maximum as always.
Verdict:
Suzuki APV is an ideal all purpose business vehicle for Pakistani's; other than the absence of safety features overall vehicle is comfortable and smooth to drive.
Pricing:
If we compare the vehicle with its price than it will not be difficult to say that it is quite expensive in 2020 as it cost 34 -35 (Ex-Factory) lacs Pakistan Rupees.
Major Competitors:
Toyota Probox, Toyota Axio Fielder, Mitsubishi EK, Honda Airwave, KIA Grand Carnival, Hyundai Grand Starex, Honda BR-V
Pros:
7 Seats Capacity
Competitive Cargo
Powerful Engine
Dual Air Conditioner
Cons:
Overpriced
No Safety
Limited Features
Other Features:
Manual Dual Air Conditioning
Power Steering
3-Position Front Cabin Light
14" Steel Wheels
Side Impact Door Beams
Front 2-Speed Wipers
2-Spoke Polypropylene Steering Wheel
Rear Window Demister
Vinyl Seat Upholstery
High Mount Stop Lamp
1.5L Gasoline, 5mt
Antenna and Speakers
Front Seat Slide and Reclining Adjustment
Front Mud Flaps­
Extra Features
Manual Dual Air Conditioning.
3-Position Front Cabin Light.
Side Impact Door Beams.
Front 2-Speed Wipers.
Rear Window Demister.
Vinyl Seat Upholstery.
High Mount Stop Lamp.
2-Spoke Polypropylene Steering Wheel.
3-Position Front Cabin Light.
Front Seat Slide and Reclining Adjustment.
Interior Design
Power Steering
Power Windows
MP3 CD Player
Air Conditioner
Safety Features
Central locking
Remote control
Air Bags
Exterior Features
Alloy wheels
Fog Lamps
Crystal Headlights
Rear Spoiler