2023 Aston Martin Vantage
Sold in the USA = 2018-Present
overall Rating =

8/10
2023 Aston Martin Vantage Price in the USA
| | |
| --- | --- |
| Vantage Coupe | $ 146,986 |
| Vantage F1 Edition | $ 171,586 |
| Vantage V12 Coupe | $ 302,586 |
| Vantage Roadster | $ 158,186 |
| Vantage F1 Edition Roadster | $ 182,886 |
| Vantage V12 Roadster | $ 353,086 |
The Aston Martin Vantage is designed specifically for passionate drivers who truly relish the driving experience. This remarkable car encompasses all the essential elements necessary to transform into a high-performance vehicle, combining power, grace, and impeccable precision. Through the collaborative efforts of German and British automakers, this fusion of expertise results in the creation of something truly extraordinary.
The Aston Martin Vantage exemplifies the harmonious synergy between these two automotive powerhouses. Meticulously crafted with an eye for refinement, this vehicle captures the essence of elegance and beauty. Its striking design is a testament to the seamless collaboration between German and British engineering, resulting in a truly captivating masterpiece. Beyond its aesthetic appeal, the Aston Martin Vantage possesses all the necessary qualities to serve as a reliable daily driver. Its rich heritage of stylish racing bodywork is a testament to its pedigree and reflects a legacy rooted in speed and performance. Complementing this heritage is a formidable engine, delivering raw power and exhilaration with each press of the accelerator.
The Exhilarating Design:
The design of this vehicle expertly communicates its sporty demeanor and high-performance dynamics. Its sleek body styling reflects a clear affinity for the racing track, ensuring compatibility with the demands of such an environment. Notably, the vehicle features super thin full LED headlights on the front, reminiscent of the Mazda MX5, which not only enhance its aesthetic appeal but also provide a brilliantly illuminated view of the road ahead. Further emphasizing its performance-oriented nature, this car incorporates substantial carbon fiber splitters on both the front and rear. These splitters generate exceptional downforce, effectively keeping this high-speed vehicle firmly planted on the road. Every aspect of the car's body has been carefully designed to minimize air friction, allowing it to unleash its maximum potential and outperform its competitors.
Despite its sleek and streamlined exterior, this car exudes a muscular presence that resonates with power. To enhance its aerodynamic characteristics and promote a smooth flow of air, a strategically placed spoiler adorns the rear of the vehicle. This inclusion not only adds to its visual allure but also contributes to its overall performance.
Elevating Luxury: The Premium Interior Design of the Aston Martin:
Exuding opulence and luxury, the interior of the Aston Martin embraces a premium atmosphere through the meticulous use of high-quality Alcantara material. From the doors to the dashboard, seats, and even the roof, every surface is adorned with this exquisite material, creating a harmonious blend of comfort and sophistication. While the vehicle boasts a commendable infotainment system, it should be noted that it utilizes an older version of the Mercedes system. While it does offer Apple CarPlay integration, the absence of Android Auto may be a limitation for some.
To enhance its racing capabilities, the Aston Martin incorporates large paddle shifters reminiscent of those found in Renault vehicles. The use of solid metal in their construction not only adds to the overall durability but also imparts a sense of luxury and expense. The Aston Martin excels in the realm of quality, with every detail thoughtfully crafted to perfection. However, it is worth mentioning a few minor drawbacks within the interior. The vehicle's storage spaces for holding bottles may be relatively small, and the cup holders could be more accommodating. Additionally, the absence of grab handles for passengers may be a slight inconvenience for some.
Unleashing the Power Within: The Aston Martin Coupe and its Potent Mercedes AMG Engine:
V8 Engine:
Beneath the striking exterior of this exquisite coupe lies the heart of a true powerhouse. Boasting the engineering prowess of German precision, the Aston Martin is equipped with a formidable 4.0-liter twin-turbo V8 engine sourced from Mercedes AMG. This dynamic engine effortlessly delivers a staggering 503 horsepower, accompanied by an impressive torque of 684Nm @ 2000rpm.
With such exceptional power at its disposal, the Aston Martin Coupe is capable of achieving remarkable performance benchmarks. Accelerating from 0 to 60 miles per hour, this car demonstrates its prowess in a mere 3.5 to 3.7 seconds, leaving a trail of exhilaration in its wake. Pushing the boundaries of speed, the vehicle reaches a top speed of 195 miles per hour, cementing its status as a true force to be reckoned with.
The harmonious marriage of the Aston Martin's captivating design and the brute force of the Mercedes AMG engine creates an automotive masterpiece that commands attention on both the road and the track. Prepare to be captivated by a vehicle that seamlessly combines elegance, power, and unparalleled performance.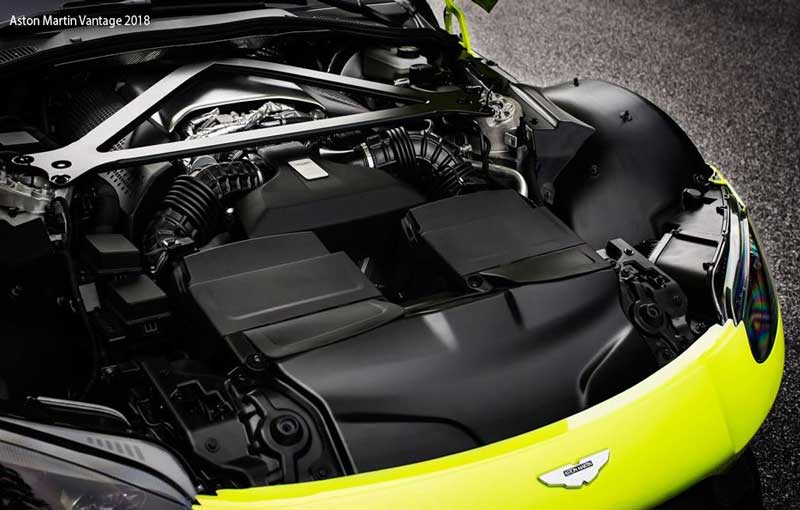 V12 Engine:
For those seeking an even more exhilarating driving experience, the Aston Martin Vantage offers an alternative engine option that takes performance to the next level. In addition to its already impressive performance capabilities, this beautiful and powerful vehicle is available with a V12 engine that delivers an abundance of power and torque, ensuring an unforgettable driving journey. Under the hood of the Aston Martin Vantage lies a commanding 5.2-liter V12 engine, ready to unleash a formidable 690 horsepower at 6500 rpm, accompanied by a maximum torque of 542 Nm at 5000 rpm. This potent V12 engine propels the Vantage with remarkable authority, catapulting it from 0 to 60 miles per hour in a breathtaking 4.0 seconds.
The sheer power and acceleration provided by the V12 engine offer an exhilarating driving experience, allowing drivers to fully immerse themselves in the thrill of the open road. With every press of the accelerator, the Aston Martin Vantage effortlessly surges forward, combining grace and brute force in perfect harmony. Whether you're craving the thrill of quick acceleration on a straightaway or the rush of power while tackling winding roads, the V12 engine of the Aston Martin Vantage ensures that every drive is an unforgettable and adrenaline-fueled adventure. It elevates the driving experience to new heights, enveloping drivers in a symphony of raw power and performance that will leave a lasting impression.
Unleashing Customization: Engine and Suspension Configurability in the Aston Martin
One of the standout features that sets this vehicle apart is its unparalleled configurability, allowing drivers to fine-tune both the engine and suspension settings according to their preferences. With independent control over these two vital aspects, the Aston Martin offers a level of customization rarely seen in the automotive world. For instance, you have the flexibility to set the suspension in a comfortable mode while opting for a dynamic engine mode, catering to your desired driving experience.
The Aston Martin strikes an impressive balance between comfort and performance, making it well-suited for daily driving. Its adaptable suspensions excel in providing a smooth ride even on uneven surfaces, ensuring a comfortable journey along bumpy roads. However, it's worth noting that when faced with particularly rough terrains with high bumps, the comfort mode of the suspension may not entirely eliminate the impact, and some discomfort may be felt.
When it comes to seating, the Aston Martin prioritizes both comfort and support. The seats are meticulously designed to offer a comfortable experience, enhanced by their 10-way power adjustability and lumbar support options. This thoughtful approach ensures that drivers and passengers can find their ideal seating position, promoting relaxation and reducing fatigue during long drives.
Cargo Area of Astin Martin:
You will require the keys to open its boot as there is no button or something while boot decent amount of space which will be enough for drivers having love for racing vehicle.
Major Competitors:
Verdict:
The Aston Martin Vantage 2018 is a remarkable vehicle that caters to passionate drivers seeking an exhilarating and luxurious driving experience. With its captivating design, powerful Mercedes AMG engine, and configurable suspension and engine settings, it offers a unique blend of style and performance. The sleek body styling, carbon fiber splitters, and aerodynamic enhancements contribute to its dynamic presence on the road. The premium interior, adorned with high-quality Alcantara material, exudes opulence and comfort, although there are minor drawbacks in terms of storage space and cup holders. The potent 4.0-liter twin-turbo V8 engine delivers impressive power and acceleration, making the Aston Martin Vantage a true force on both the road and the track. The ability to customize the suspension and engine settings further enhances the driving experience, striking a balance between comfort and performance. While the vehicle lacks some modern features in its infotainment system, it compensates with its exceptional design and performance capabilities. Overall, the Aston Martin Vantage 2018 is a worthy investment for those who appreciate high-performance vehicles with a blend of elegance and power, making it a formidable competitor in the luxury sports car segment.