Audi S5 (2018-2019)
Sold in the USA = 2018-2019
Status =

Cosmetic Changes made to 2020 & onward

overall rating =

7/10
Audi S5 Price in USA in 2019
| | |
| --- | --- |
| Premium | $ 53,395 |
| Premium Plus | $ 56,295 |
| Prestige | $ 59,995 |
Audi has established a strong reputation for producing exceptional vehicles, and among its esteemed lineup, the Audi S5 stands out, having earned significant acclaim. With a presence in the market for nearly a decade, the Audi S5 is renowned for its captivating blend of sensual aesthetics and impressive performance capabilities. While the S5 has consistently showcased admirable beauty across its previous generations, the 2019 model takes modernization to new heights by incorporating the timeless styles that have defined its predecessors while infusing them with a fresh sense of elegance.
The Audi S5 exemplifies Audi's commitment to striking design and innovation. Its exterior boasts sleek lines and aerodynamic contours, creating an alluring and dynamic profile. The harmonious marriage of form and function is evident in every detail, captivating onlookers and reflecting Audi's dedication to visual appeal. However, the enhancements don't stop at the exterior; under the hood lies a powerhouse of engineering prowess. The S5 delivers exhilarating performance, propelled by a high-performance engine that blends power, precision, and efficiency seamlessly. This potent combination results in a driving experience that is as thrilling as it is refined.
Trims & Variants:
The Audi S5 Coupe presents a variety of trims and variants, each providing a unique array of features and customization options. Let's explore the typical trims and variants available for the Audi S5 Coupe:
Premium: Serving as the base trim, the Audi S5 Coupe Premium offers an impressive set of standard features. These include LED headlights, leather upholstery, tri-zone automatic climate control, a 10.1-inch infotainment system, smartphone integration, and advanced safety features. The Premium trim establishes a solid foundation of luxury and performance.
Premium Plus: Building upon the features of the base trim, the Audi S5 Coupe Premium Plus introduces further enhancements. Expect additions such as a Bang & Olufsen sound system, a virtual cockpit with a larger display, wireless phone charging, a panoramic sunroof, and supplementary driver assistance systems. The Premium Plus trim elevates the driving experience with its luxurious amenities.
Prestige: Representing the top-of-the-line variant, the Audi S5 Coupe Prestige encompasses all the features found in the Premium Plus trim while adding even more opulent and advanced offerings. Look forward to features like a head-up display, ventilated front seats, premium leather upholstery, adaptive cruise control, and upgraded sound system options. The Prestige trim showcases the epitome of luxury and cutting-edge technology.
In addition to these trims, Audi may introduce special edition variants or optional packages that grant further opportunities for customization and enhancement of the Audi S5 Coupe. These packages might include performance upgrades, distinctive styling elements, or additional technological advancements. It's important to note that trim levels and available features may vary based on the model year and specific market. To obtain the most up-to-date information regarding trims and variants for the Audi S5 Coupe, it is recommended to consult with an authorized Audi dealership or visit the official Audi website.
Striking Design and Luxurious Sophistication:
The Audi S5 showcases a newly designed front exterior, featuring a single-frame grille that bears a striking resemblance to the iconic Audi R8. Enhancing the overall appearance, the S5 also incorporates cutting-edge 3D LED headlights and tail lights, which are standard across all versions of the vehicle. Adding to its allure, the S5 comes equipped with 5-spoke alloy wheels sporting a star design, with 18-inch wheels as the standard option. For those seeking an even more dynamic look, there is an optional upgrade to 19-inch 5-spoke alloy wheels.
Both inside and out, the Audi S5 strikes a perfect balance between sophistication and sportiness. The interior design of the vehicle introduces a fresh and modern aesthetic, boasting a host of impressive features and the extensive use of premium quality materials. For instance, the seats are upholstered with soft alcantara, providing a luxurious touch, while the dashboard features a soft touch material, further enhancing the premium feel of the cabin. Adding to the overall ambiance, real aluminum accents adorn the doors and center console, adding a touch of refinement to the interior space.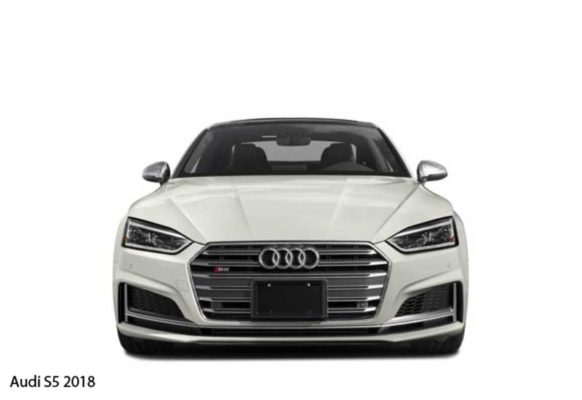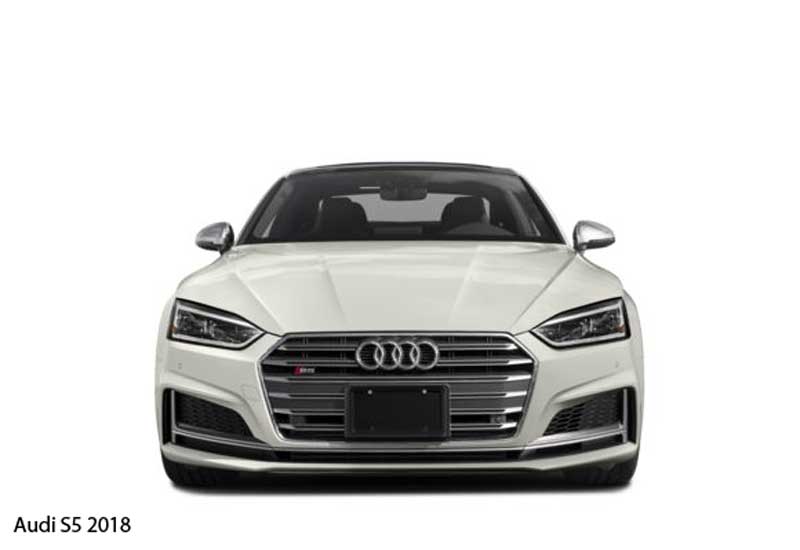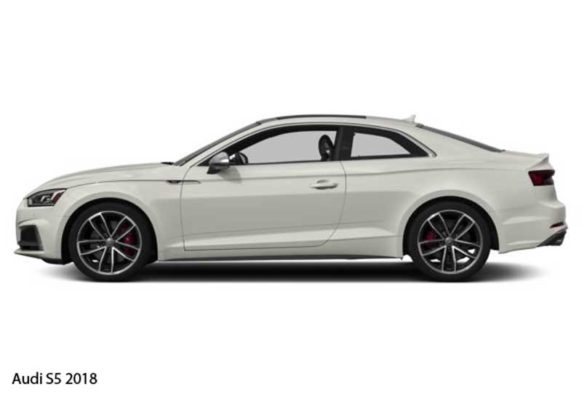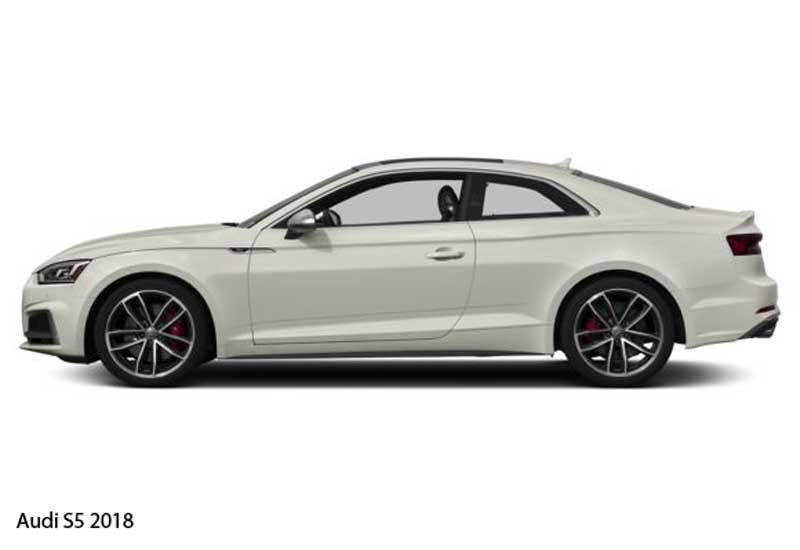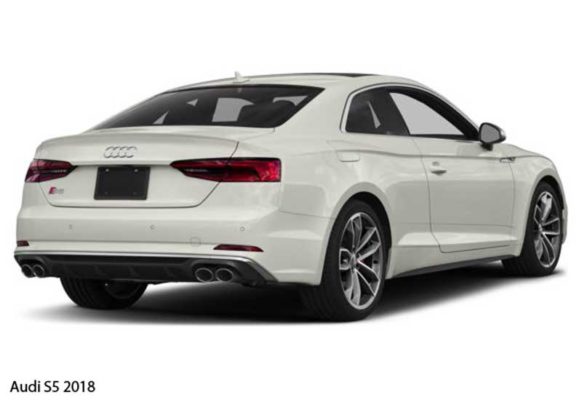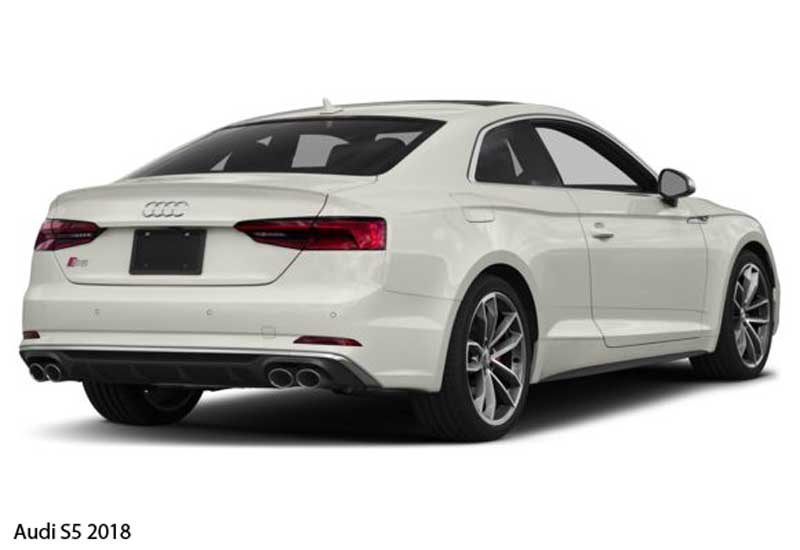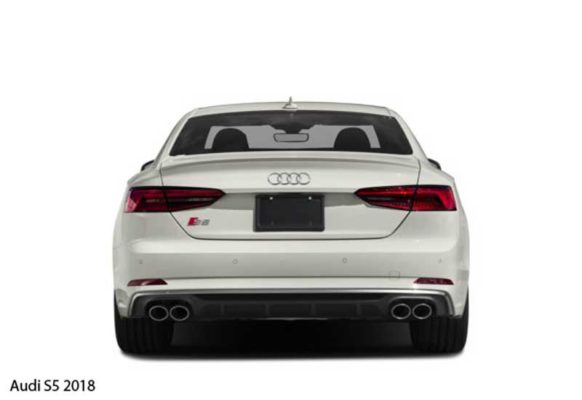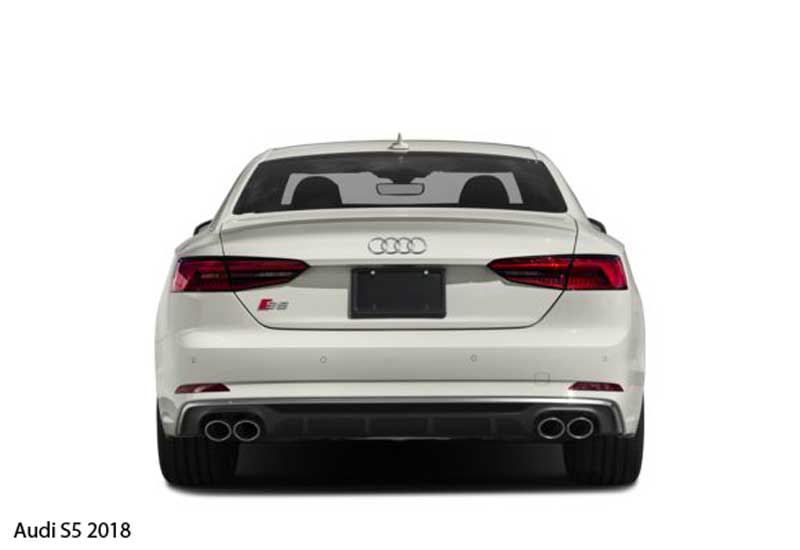 Unparalleled Comfort & Safety | Exquisite Seating Experience and Advanced Safety Features:
The Audi S5 excels in providing a comfortable and luxurious seating experience. The seats are exceptionally soft and offer a remarkable level of comfort. They come with 12-way adjustable options and power lumbar support, allowing for personalized seating preferences. Furthermore, a standard feature across all versions of the Audi S5 is the inclusion of a massaging function, adding an extra layer of relaxation during drives. In terms of space, the front cabin of the S5 is excellent, providing ample room for the driver and front passenger. However, when it comes to the rear seating area, there may be some limitations. While the seats themselves are not the issue, the legroom in the back may be slightly insufficient for longer journeys, potentially making it less comfortable for passengers. On a positive note, Audi has thoughtfully included air vents in the rear area, a feature that is often missing in comparable vehicles in the same class, ensuring a more comfortable and pleasant experience for rear-seat occupants.
When evaluating the safety features of the Audi S5, it is important to note that official safety ratings are not yet available. However, it is anticipated that the S5 will receive top safety ratings due to its comprehensive safety package. This package includes basic and city standard equipment, which automatically applies brakes at speeds up to 52 miles per hour when a pedestrian or another vehicle is detected in front of the S5. For a complete list of safety features, interested individuals can consult the official documentation provided by Audi, which offers a detailed overview of the safety measures incorporated into this impressive vehicle. While specific safety ratings are still pending, Audi's commitment to safety and the inclusion of advanced safety technologies ensure that the Audi S5 prioritizes the protection and well-being of its occupants.
interior Photos: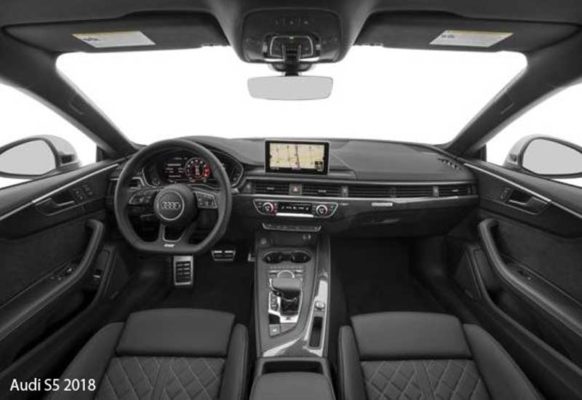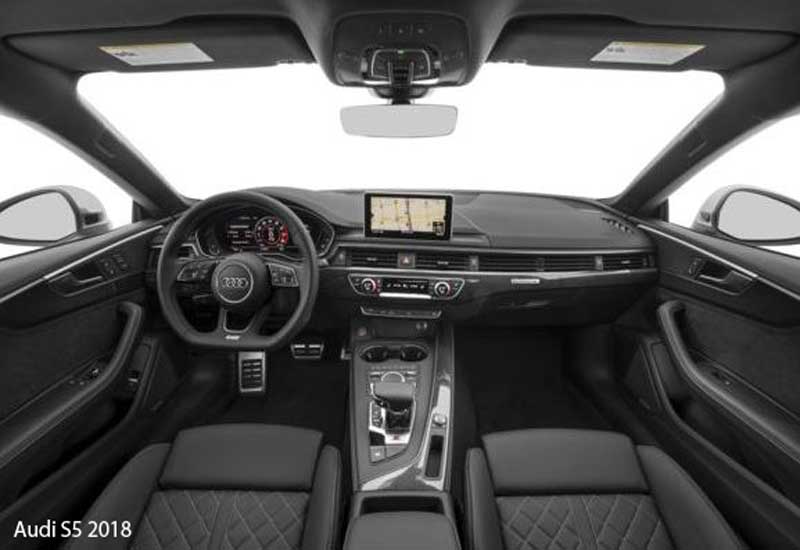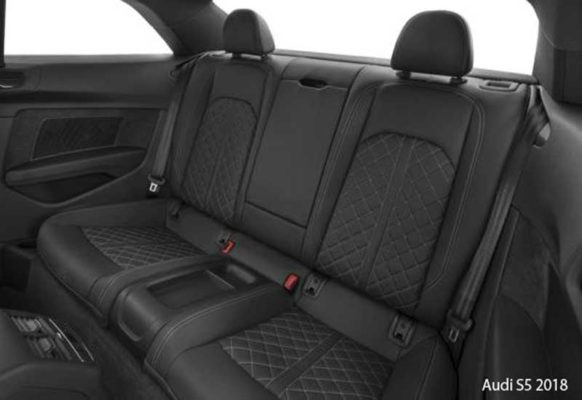 Turbocharged Engine, All-Wheel Drive | Dominating Performance and Intelligent Handling:
Underneath the hood, the Audi S5 boasts a formidable 3.0-liter V6 turbocharged engine that delivers an impressive power output of 354 horsepower. This robust engine generates a torque of 500 Nm at a low 1370 rpm, ensuring swift acceleration and exhilarating performance. However, the S5 doesn't compromise on fuel efficiency, thanks to its supercharged-turbocharged functionality. This intelligent combination allows the vehicle to achieve an admirable fuel economy rating of 21 miles per gallon in city driving and an impressive 30 miles per gallon on the highway.
The Audi S5 features an advanced all-wheel drive system that enhances both performance and traction. This system intelligently distributes torque equally among all four wheels, providing optimal grip and stability in various driving conditions. Additionally, torque can be selectively directed to a single wheel when necessary, further improving agility and control. As for the transmission, the S5 comes equipped with an 8-speed Tiptronic transmission, delivering smooth and precise gear shifts. While currently only the automatic transmission is available, there may be the possibility of a manual transmission option in the future, catering to enthusiasts who prefer a more engaging driving experience.
The Audi S5 exhibits impressive performance capabilities, with a top speed of 155 miles per hour, allowing drivers to unleash its full potential on the open road. Acceleration is equally exhilarating, as the S5 can sprint from 0 to 60 mph in just 4.4 seconds, showcasing its remarkable power and agility. Whether cruising on the highway or sprinting on the track, the Audi S5 offers an exceptional driving experience that seamlessly blends power, precision, and speed.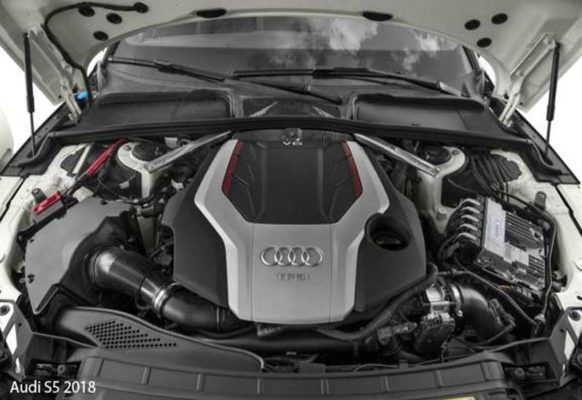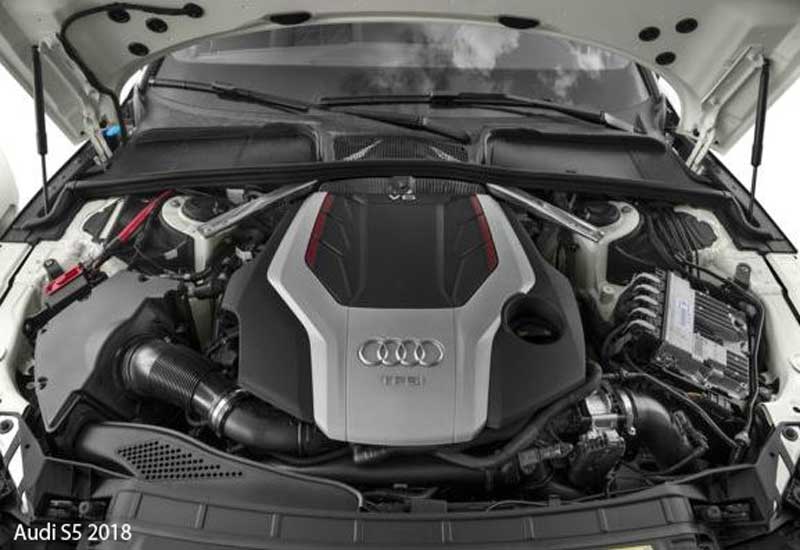 Verdict:
The Audi S5 2019 is an exceptional choice for those seeking a vehicle that combines beauty, performance, and safety. With its captivating design, featuring a newly designed front exterior and modern enhancements such as 3D LED headlights and tail lights, the S5 exudes a sense of sophistication and style. The interior is equally impressive, with comfortable seats that offer various adjustable options and a massaging function, providing a luxurious and relaxing driving experience.
While the rear legroom may be slightly limited, the inclusion of air vents in the rear area adds to passenger comfort. In terms of safety, although official ratings are not yet available, the Audi S5 is expected to receive top safety ratings due to its comprehensive safety package, including automatic braking and other advanced safety features.
Under the hood, the Audi S5 boasts a powerful 3.0-liter V6 turbocharged engine, delivering an impressive 354 horsepower and a fuel-efficient performance. The all-wheel drive system provides optimal traction and stability, while the 8-speed Tiptronic transmission ensures smooth and precise gear shifts. With a top speed of 155 miles per hour and a 0-60 mph acceleration time of just 4.4 seconds, the S5 offers exhilarating performance that is sure to impress.
Major Competitors:
The Audi S5 3.0 TFSI faces tough competition in the luxury sports coupe market. Several noteworthy rivals provide customers with alternative choices that deliver comparable performance and features. Let's explore some of the key competitors for the Audi S5 3.0 TFSI:
BMW M440i xDrive: With its 3.0-liter inline-six turbocharged engine producing 382 horsepower, the BMW M440i xDrive poses a formidable challenge to the Audi S5. Its sleek design, advanced technology, and engaging driving dynamics make it an enticing option for those seeking a high-performance luxury coupe.
Mercedes-AMG C43 Coupe: The Mercedes-AMG C43 Coupe impresses with a 3.0-liter V6 biturbo engine delivering 385 horsepower. Combining elegant styling with thrilling performance, this coupe showcases Mercedes-AMG's renowned engineering expertise. With its luxurious interior, advanced safety features, and refined driving experience, the C43 Coupe competes closely with the Audi S5.
Lexus RC F: Taking a different approach, the Lexus RC F offers a 5.0-liter V8 engine generating an impressive 472 horsepower, outclassing the S5 in terms of raw power. The RC F merges aggressive styling with a comfortable interior, providing a distinctive blend of performance and luxury.
Infiniti Q60 Red Sport 400: Equipped with a 3.0-liter V6 twin-turbo engine producing 400 horsepower, the Infiniti Q60 Red Sport 400 emerges as a strong contender. Its bold design, potent engine, and well-appointed interior make it a worthy competitor in the segment. The Q60 Red Sport 400 aims to deliver an exhilarating driving experience coupled with luxurious comfort.
These competitors offer a diverse range of options within the luxury sports coupe category, each with its own unique strengths and characteristics. Ultimately, selecting the ideal choice will depend on individual preferences for performance, design, features, and brand loyalty.