2022 BMW IX SUV (1st Generation)
Expected Launch in Pakistan =

December 2021

Expected Price in Pakistan =

1.7 – 2.2 Crores PKR
The IX is the electric mid-size luxury SUV by BMW recently launched in Malaysia and Thailand in 2021. The IX nameplate shows the top position of the electric i-series, a dual-motor car, and offers an all-wheel-drive feature. It is built on the Cluster Architecture platform, and its assembling is done on the Dingolfing plant in Germany. The Ix will be launched in Pakistani automobile markets soon in December 2021, most probably. The exact launch dates and official price of BMX IX have not been released yet, but it will be between 2 to 3 crores Pakistani rupees. The ever-new BMW IX will pioneer the new age in Pakistan and will be the only best choice in electric crossover SUVs. It will be embracing a futuristic design and will take your adventures to another level. It will be at the forefront in the future of electric vehicles in Pakistan. The all-wheel drive with two electric motors results in an unmatchable driving experience, and it gives you maximum range and efficiency. The aerodynamic design of BMW IX has a coefficient of Cw=0 0.25, and air flows to the wheels with minor resistance and results in excellent driving performance with maximum range.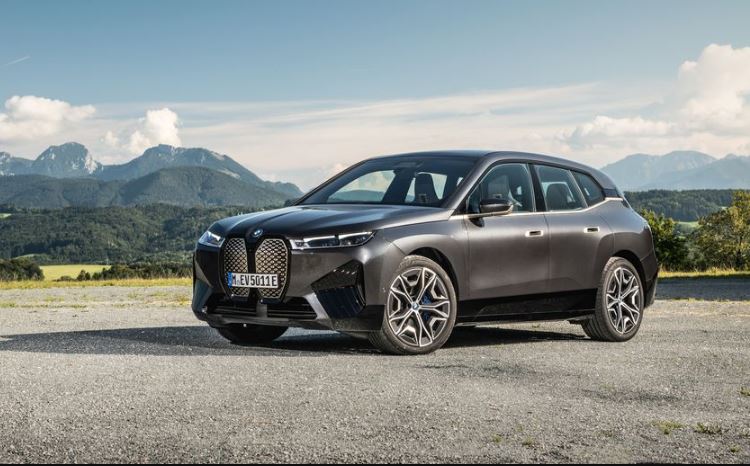 Trims & Variants:
The upcoming BMW IX will be available in two trim levels in Pakistan. These variants are xDrive40 and xDrive50. The big difference between both the variants occurs in their battery size and power generation. The xDrive50 has a larger battery capacity and produces more power than the xDrive40. The all-wheel-drive feature is standard in both models, and the transmission type is also the same. The electric ranges of both models also vary.
Powertrain & Batteries:
The BMX IX xDrive40 gets its power from electric motors backed by a 71 kWh battery pack that generates maximum output of 326 hp and torque of 630 Nm. the BMW IX xDrive50 gets its power from electric motors that is backed by a 105.2 kWh battery pack. It generates a maximum system output of 523 hp and a torque of 765 Nm. The xDrive40s battery takes 7.25 hours to charge to 100 percent by AC chargers, while the xDrive50's battery takes 10.75 hours to charge by AC chargers fully. The DC chargers take 31 minutes to charge the xDrive40's battery to 80 percent and 35 minutes to charge xDrive50's battery to 80 percent.
Performance, Drive & Range:
The BMW IX is the first fully electric SUV by BMW that delivers you all in one. The highly agile handling is coupled with excellent body strength and dynamic configuration. It will be perfect for all kinds of journeys, whether a short trip in the city or a long-route journey. It runs smoothly with low power consumption coupled with higher battery capacity. It gives you an impressive range of 630 kilometers with a power consumption of just 21 kWh per 100 kilometers driven and gives you zero local emissions. The xDrive50 accelerates from 0 to 100 kilometers per second in 4.6 seconds, which is exceptionally impressive and has a top speed of 200 kilometers per hour. The xDrive40 accelerates from 0 to 100 kilometers per hour in 6.1 seconds with a top speed of 200 kilometers per hour. The BMX IX is designed to accelerate at high speeds over snowy roads and delivers reliable performance. The performance of BMW IX remains smooth and excellent over desserts, gravels, and muddy paths other than snow. The bonnets, doors, and flaps of BMW IX are tested several times for dustproof, so regardless of the extreme weather and road conditions, the dust does not move inside the car. You are given a Wallbox so you can charge your car's battery conveniently at home. The steering control is excellent, giving you extra confidence while driving this car. It is an all-in-one car that not only saves money by consuming less power but also delivers superior performance, and its impact on making the environment pollution-free is just tremendous. The all-wheel-drive feature takes you through all types of road conditions smoothly, and the well-cushioned and spacious cabin makes your journey extra comfortable and your adventures beyond expectations.
Exterior Design & Features:
The exterior design of BMW IX draws everyone's attention with beautiful detailing that results in an aesthetic sculpture. The 3-dimensional bonnet expands all over the front end flanked by slender headlights, and a triangular, dynamic grille emphasizes the confident width on the front. There is a reduction of character lines at the side, and the body tapers towards the rear. The wheel arches are framed by rectangular contours that look amazing. The dynamic rear end is underlined by streamlined taillights that extend along the whole width of the rear-end, giving it a monolithic design. The car is made sportier and athletic because of its twenty-two inches wheels.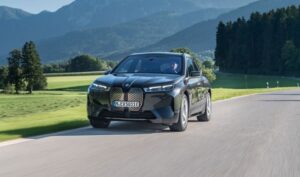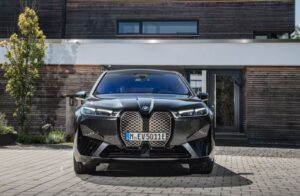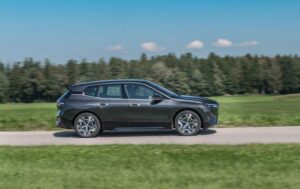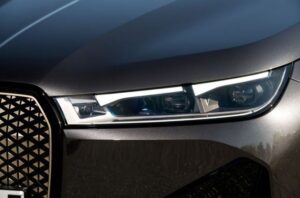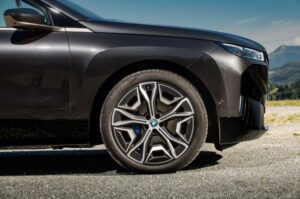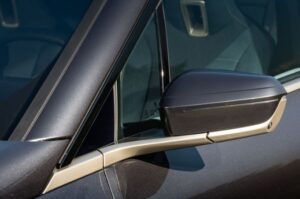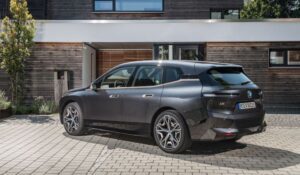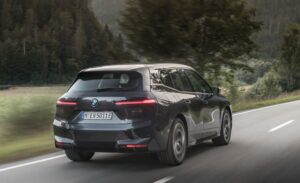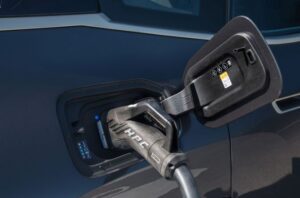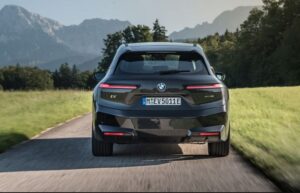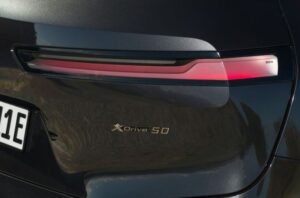 Interior Design & Features:
The inside of the BMW IX is designed to enhance your comfort. The frameless door opens into the charming cabin that has seats with headrests. The Loft and Suite design of the cabin have premium leather-covered seats, which are highly comfortable, and there is plenty of space for passengers to enjoy their journeys. There is a panoramic sunroof that invites the friendly outside atmosphere into the cabin with a refreshing breeze. There is a hexagonal steering wheel that optimizes the seating comfort and view of the curved display screens. The gear selectors are replaced by toggle switches and center console strands between the front seats, and it has a toggle switch, central control unit, and audio roller on it. The display unit of BMW IX has floating display screens that consist of a 14.9 inches infotainment screen and a 12.3 inches instrument panel. It creates a premium feel and a comfortable ambiance with its increased legroom, floating center console, curved display screens, and well-cushioned seats. The Smart features and Shy Technology create a digital world inside the car. The BMW IX gives accommodation to five adults comfortably and also gives a lot of storage spaces.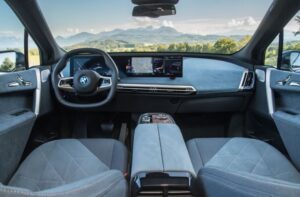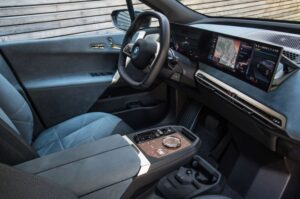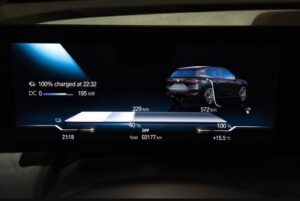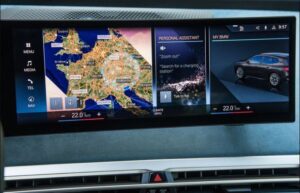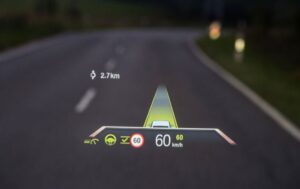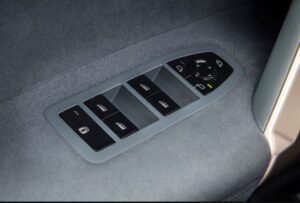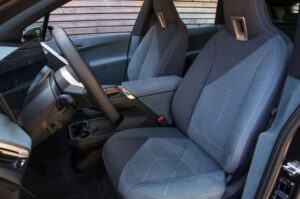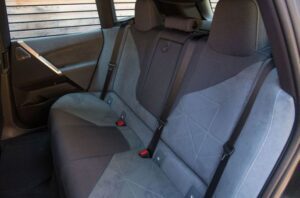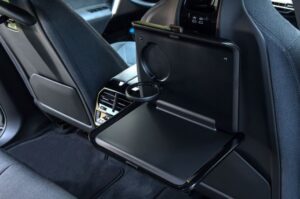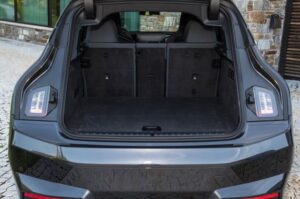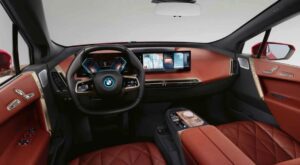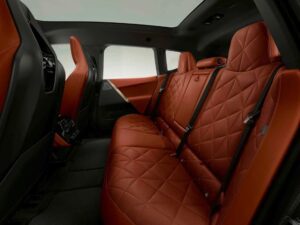 Safety & Features:
Some of the latest safety features provided by BMW IX will be as follows:
Cruise control with stop and GO
Lane Change Assist
Front crossing traffic warning
There are Cameras in the radiator grille, tailgate, and exterior mirrors for making parking easier
Reversing-assist camera with panoramic view
Lane departure warning alarm
Lane collision warning alarm
Major competitors:
Price:
The expected price of the BMW Ix xDrive40 will be around 1.7 crores Pakistani rupees, while the xDrive50 will have a cost of 2.2 crores Pakistani rupees, and these prices exclude the taxes and other documentation charges.