2023 MG ZS EV 
Sold in Pakistan = 2021-Present
1st Generation
2023 MG ZS EV Price in Pakistan
British brand MG is plunging its head into the divisive business segment of all-electric budget-friendly cars. The ZS EV is the first vehicle in its initiative and another second electric vehicle (EV) and two hybrid plug-in versions will follow shortly. Richard Jackson got the keys to his latest ZS EV Exclusive, with trendy dynamic red, from the Bushey Heath Garage, Bushey, Hertfordshire, for the first time. The milestone transition marks also the beginning of customer deliveries for ZS EV through the 100-strong supplier network of MG. Since ZS EV was launched in mid of July in the UK its sale are risen to sell 2000 units. Don't underestimate it by its looks. It looks like the ordinary ZS, but it is fully electric (but extraordinarily cheap). And it's still at a surprisingly low price for a fully electric crossover. It has a shortened wheelbase which means it can't accommodate a large-sized battery but the problem is solved by its smaller-sized lighter battery pack which also keeps the lighter in weight too. The MG ZS EV is now offered to MG dealers throughout the country in United Kingdom and its booking was started on 18th September 2019. You will find MG's dealer locator on MG's website for the dealership.
Versions & Trims:
The two trim levels – Excite and Exclusive is available. The entry-level Excite trim is equipped with includes seventeen-inch alloy wheels, Automatic adjustable headlights along with daytime running lights, push-button start/stop, cruise controls, eight inches "Apple Car Play, and Android Auto touchscreen infotainment, and a four-speaker sound system.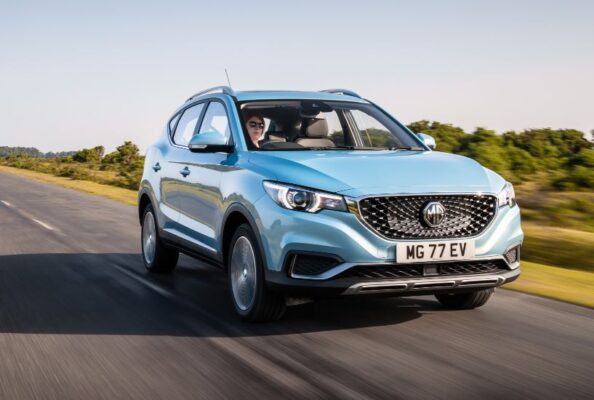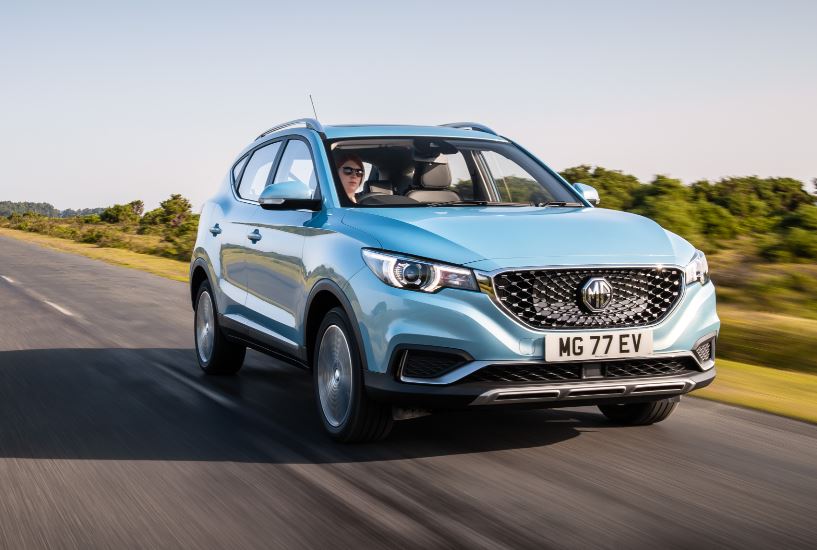 Exclusive Trim:
A range-topper trim rope in gizmos such as the I EV 2.0, electrically fold-on and heated ORVMs leather seating is available, dual panorama sky roof option, six-way driver's seat with an electrically adjustable control system, rain-sensing wiper. The exclusive trim does not offer the feature of the Android Auto and Apple Car play interface infotainment system.
Under the hood:
MG ZSEV gets its power from a 141 bhp motor run by a 44.5 kWh battery that generates a maximum power of 143 PS and torque of 260 pounds-feet to give enough power to drive the front wheels. Its battery takes 6.5 hours to be fully charged while eight percent can be charged within forty minutes. The whine of the electric motor is well suppressed, and although the steering is light and feel-free, the front wheels are no more difficult to position than in a Leaf. It is a zero-emission environment-friendly car-producing nil carbon dioxide in the environment.
Performance & Drive:
ZS EV takes 8.2 seconds to sprint from zero to sixty-two miles per hour with a top speed of eighty-seven miles per hour which means it is not the ideal car to carry out long road trips – higher-speed overhaul involves some planning, not to mention quicker drives which deplete the car's battery much faster than urban driving. The ride quality is not shown on the strengths list of ZS EV and it gives jerky uncomfortable driving on uneven roads. Even, the ZS EV is not a silent-moving vehicle. Even if there is no gasoline or diesel thrum or clatter but you'll hear more engine whine than that.
The most serious aspect, however, is the amount of noise produced by wind and roads at seventy miles per hour. Talking about the range, our miles-to-go figure felt about the same pace as our miles-traveled figure fell in suburban and partial rural driving. This is what you want. You'd to be fine with 150 miles between breaks for an official figure of 163 miles. It provides tolerably decent driving and handling that it coins and does not fade around predictably. Owing to the lighter effect of battery weight, the suspension is quieter and smoother than many small crossovers. But more advanced damping could be used. Its steering wheel is not efficient enough but it provides three driving modes selection that can be selected as per requirements.
Exterior Design & Features:
Externally the ZS EV looks very much like the fuel-driven variant with the same grille design as the 'star rider' containing the car charging point behind the MG logo. Its bold design is attractive enough to impress anyone on the city streets. It features body-colored electrically adjusted heated mirrors, auto-adjustable LED headlights given with daytime running lights, rear and front screen wipers, and rear parking sensors. Seventeen inches alloy wheels are standard in both trims. It offers four exterior color options to the customers that include arctic white, pimlico blue, the black pearl, and dynamic red.
Interior Design & Features:
The interior cabin has new soft, metallic accents and leather-cut seats. On its dashboard, with sturdy feeling buttons and an impressive finish, you can find soft-touch plastics. You get a height-adjustable driver's seat that is electrically adjusted in higher-end trim. For space, the 'baby cruises' are much higher than the Qashqai package. The battery pack does not rob the foot of two grown-ups' room in the rear. The boot space is 448 liters wide.
The technology of the cabin is up-to-date with the eight inches high-resolution Car Play and Android Auto displays, this interface is not available in Exclusive trim but it features a reverse car parking camera too. Some of the other interior features include keyless entry, DAB radio, four speakers audio system, in-car navigation, Bluetooth connectivity, USB ports, a panoramic sunroof, central locking, an adaptive cruise control system, and an eye-catching leather-covered steering wheel.
Safety & Features:
MG ZS EV is equipped with up-to-date safety features in which Excite EV editions feature a Lane Departure Warning system, Front-Collision Warning alarm, modified auto stop / go, adaptive cruise control and speed limited assistance, and traffic jam aid brakes accelerate and steer in the line. ZS has new safety equipment, which is new to the MG brand. In addition to this Exclusive trim is equipped with a blind spot detection system and a rear cross-traffic warning alarm system. It has been rated five stars by Euro NCAP crash tests declaring it the best option to purchase.
Major Competitors:
Verdict:
It is a cheaper car which is well equipped and provided with good interior space but at the same time its steering is quite rough and it's not pretty comfortable to drive for long journeys. However, long-term thinking is worthwhile and ZS EV is forecasted to decrease faster than any of its rivals. If you, therefore, foresee the cost of ownership for the resale prices, the ZS EV would only cost you slightly lower after three years as compared to its competitors.