2020-2022 Genesis G70 (1st Generation Facelifted)
Genesis G70 Sedan Current Price in the USA:
 2.0 T Starting Price =

38,570 $

 3.3 T Starting Price =

43,145 $

3.3 T Launch Edition Starting Price =

53,454 $
The G70 was launched by Genesis Motors in 2017 globally, and this was their 3rd model to compete with all luxury sedans. The Genesis G70 was a hit in the United States of America that it was named the CAR OF THE YEAR in 2019 in North America. The Genesis G70 delivers a rush of extreme power, finding the next limit. 2022 G70 not only gives driving enjoyment but also gives you a finely trimmed cabin. The 2022 G70 comes with a makeover that includes a restyled front end. The rear end is also updated. Some changes are also introduced inside the cabin that improves the minor problems, and now the infotainment screen is enlarged and more premium. The 6-speed manual transmission is discontinued in the 2022 model of Genesis G70. It is sporty and fun to drive. The 2022 G70 has heated front seats, a navigation system, and a vehicle exit warning alarm. It offers two engine options that include either a four-cylinder turbocharged engine or a twin-turbo V6 engine. Both the engines work efficiently, but the V6 is more energetic, turning the car into a sports sedan. The Genesis G70 is the best luxury sedan in the United States, and it offers all the premium features to the customers and comes with a warranty period of five years or 60,000 miles.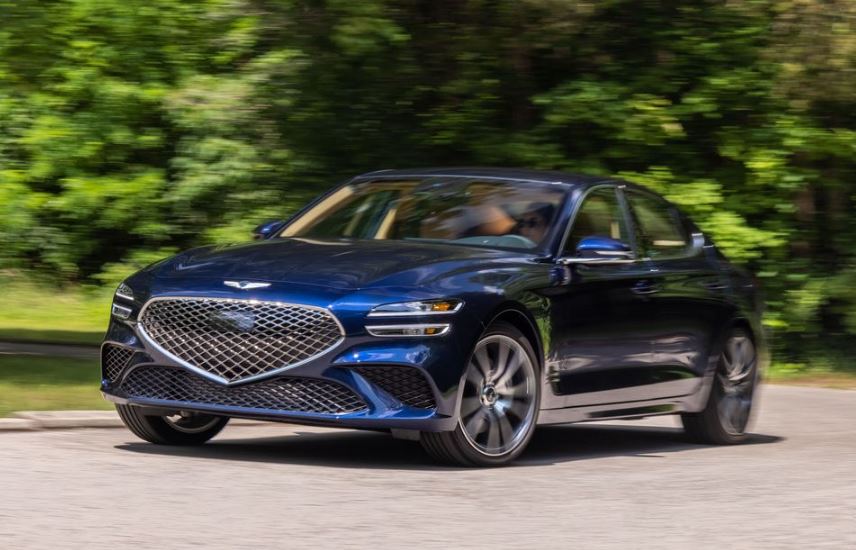 Variants available
The 2022 Genesis G70 is available in three variants that are 2.0 T trim, 3.33 T trim, and 3.3T Launch Edition.
The 2.0 T is the entry-level trim that offers LED headlights, eighteen-inch alloy wheels, keyless entry, 10.25 inches touch screen, 6-speakers, and heated front seats.
The 3.3T trim offers similar features to2.0T except for the large-sized 19-inches alloy wheels, sports suspension, performance brakes, leather upholstery, and automatic wipers.
The 3.3T Launch Edition is a limited production variant; it offers a red leather interior, lightweight nineteen-inches alloy wheels, Sports Advanced package, sports prestige package, and matte finish paint. Among all the variants, the G70 3.3T is considered best because it offers a wide range of features and comes with a V6 turbocharged engine.
Engine & Power: 
The 2.0T trim gets its power from 2.0 liters, four-cylinder, turbocharged engine that generates a maximum of 252 horsepower and a torque of 260 pounds-feet. The 3.3T and 3.3T Limited Edition get their power from a twin-turbo V6 engine that produces 365 horsepower and torque of 376 lb-ft. All the trims come with a rear-wheel-drive as a standard, but you can choose an all-wheel-drive option also. All variants offer an 8-speed automatic transmission.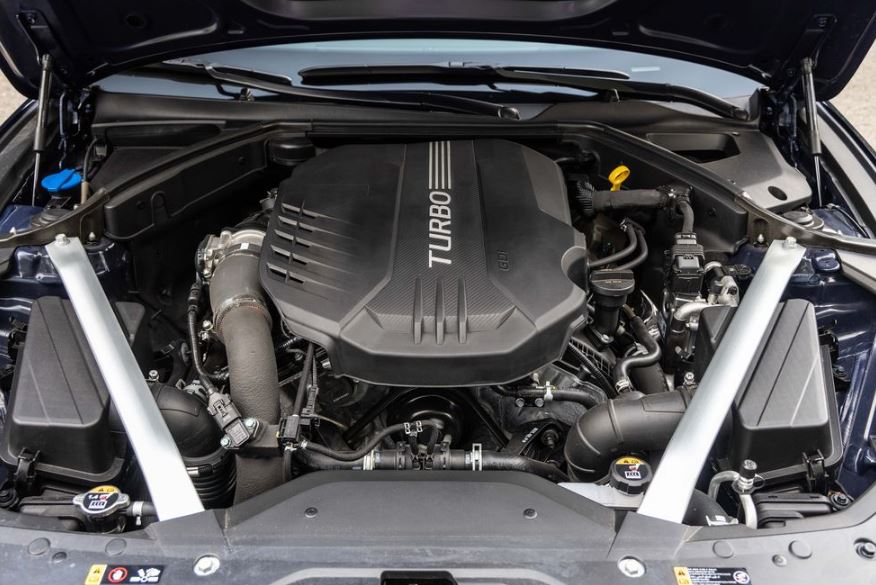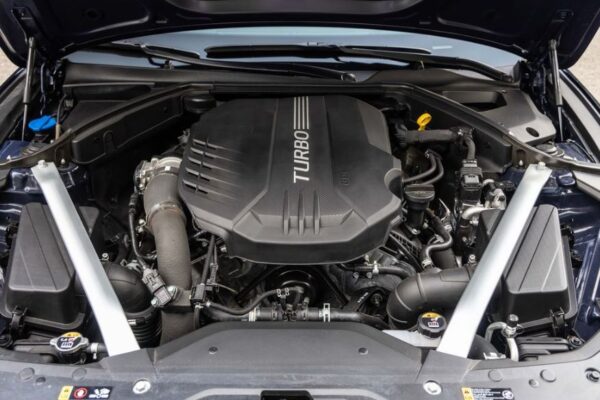 Performance & Drive:
The standard 2.0 liters engine works efficiently and delivers exceptional performance, but the V6 engine builds a boost and takes your riding experience to another level. Power from the engines to the wheels is delivered through SHIFTRONIC 8-speed automatic transmission and comes with paddle shifters mounted on the steering wheel. It flawlessly manages all shift points with throttle blip rev matches. The rear-wheel-drive option is standard, and it delivers power to all the rear wheels efficiently, but you can also opt for the all-wheel-drive option. The AWD has dynamic torque vectoring control feature that increases stability and balances the performance in low traction situations. The Genesis G70 comes with Brembo Brakes that give you the confidence of a stopping power whenever required. It provides optimal performance through monoblack brakes. It delivers you prodigious power without putting in more effort, and it has a sharp steering wheel that feels nimble when turning around corners. It manages to give you a sporty feel without compromising on passenger's comfort. The suspension of the Genesis G70 is perfectly tuned, and it gives you a cushioned ride. The fuel mileage of the Genesis G70 is not extraordinary when compared to other small luxury cars. When the rear-wheel-drive option is chosen, the turbocharged four-cylinder engine delivers a mileage of 21 mpg in the city and 31 mpg on highways. The V6 engine with rear-wheel-drive gives a mileage of 18 miles per gallon in the city, and 27 miles per gallon on highways, while the all-wheel-drive provides 17 miles per gallon in the city and 25 miles per gallon on routes. The 3.3T with rear-wheel-drive takes 4.7 seconds to sprint from zero to 60 miles per hour.
Exterior Design & Features:
The 2022 Genesis G70 is designed to make a bold statement with low overhangs and pair up to create a wide stance. Its sleek profile creates thrilling momentum, and the aggressive crosshatched grille looks astonishing, while the dual exhaust tips increase its sporty character. The grille is now more prominent, as compared to the 2021 model and it is hexagonal finished in dark chrome that gives it an attractive opening statement. It now comes with nineteen-inch sports alloy wheels that add a stylish stance to the sedan, and its innovative design maximizes the connection between the steering wheel control and the road.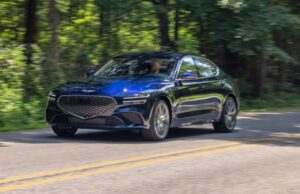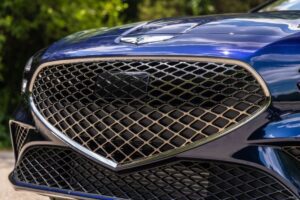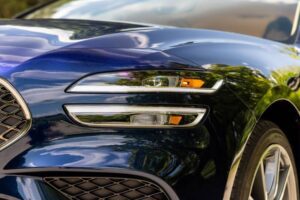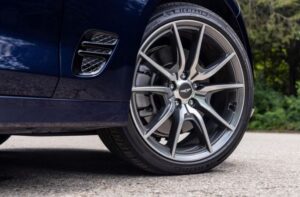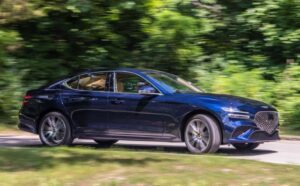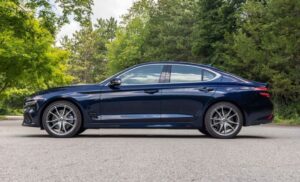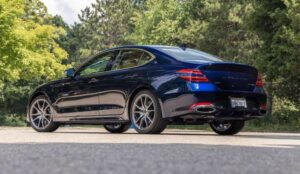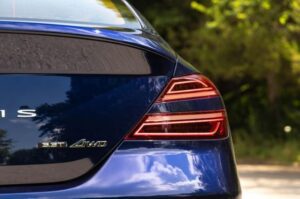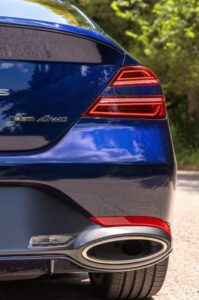 Interior Design & Features:
The inside of the 2022 Genesis G70 gives you a premium feel with attractive materials and high-end quality. The layout is driver's centric, and it kept its class by not using paster faux carbon fibre trims. The cabin has soft leather surfaces, and the higher-end trims get a suede headliner and quilted leather seats. The 2022 Genesis G70 gets an updated infotainment system with a 10.25 inches touch screen, and it has physical controls and comes with Android Auto and Apple Car-Play interface. Other than this, you will also get 6-speakers for audio and a navigation system. A wireless charging device will be provided to facilitate you in charging your phones other than two USB ports. The cabin also has a dual-zone automatic climate control feature to keep the climate inside the car comfortable. A panoramic sunroof opens your visual into the bright sky and adds fresh air to the cabin. The Genesis G70 is spacious enough to accommodate five adults, and the front seats are more comfortable and bolstered when compared to the rear that has limited leg and headroom. The cargo of Genesis G70 provides 10.5 cubic feet of area to carry goods, and it can be increased when folding the rear seats.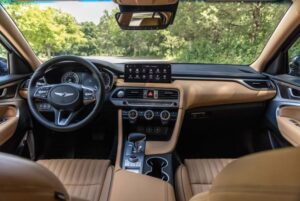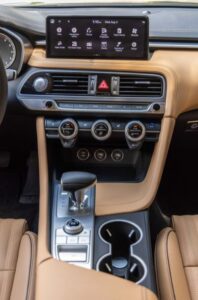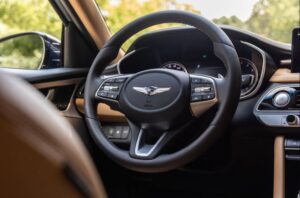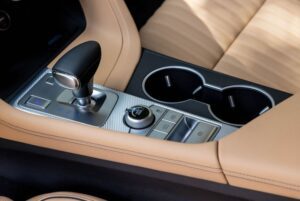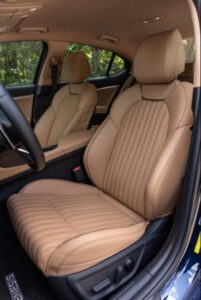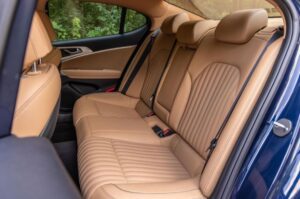 Safety & features:
The 2022 Genesis G70 has not been tested by the NHTSA or IIHS yet but for the Previous Model, genesis has received five-star safety ratings by IIHS and also been named as top safety pick. Apart from it, it has been equipped with all the latest safety features to deliver you a safe and protected ride. Some of the safety features are as follows:
Automatic emergency brakes
Lane Keeping Assist System
Rearview camera
Blind Spot Detection
Adaptive cruise control
Pedestrian detection
Forward collision warning alarm
Front and rear parking sensors
Major competitors
Price
The starting price of the 2022 Genesis G70 is around 38,570 US dollars. Its price is less than all luxury class rivals, and it offers luxurious features and a thrilling driving experience that makes it the best among its competitors.