2024 Hyundai Elantra Hybrid 
7th Generation 1st facelift
Sold in the USA =

2024-Onward

Overall Rating: 8.5/

10
2024 Hyundai Elantra Hybrid Price in the USA
| | |
| --- | --- |
| Elantra Blue | 24,550 $ |
| Elantra Limited | 29,150 $ |
The Hyundai Elantra Hybrid is a compact hybrid sedan produced by the South Korean automaker Hyundai Motor Company. The Elantra is also one of Hyundai's offerings in the hybrid vehicle segment. Hyundai recently introduced the upgraded facelift of Elantra compact sedan for 2024 onward specifically for North American customers in an online news event on YouTube. Simon Loasby, who leads the design team at Hyundai, guided viewers through the exciting design improvements. They've introduced some fresh color options like Exotic Green and Ultimate Red. Additionally, Hyundai has made safety a priority by including rear side-impact airbags and a reminder system for seatbelts in the rear seats as standard features for all Elantra models. The sedan also offers helpful driver-assist features like lane-keeping assist, blind-spot monitoring, and rear cross-traffic alert, which are included as standard across the entire Elantra lineup. These features aim to enhance safety and make driving the Elantra even more convenient. The Hyundai Elantra hybrid powertrain will be available in Blue hybrid, and Limited hybrid versions. The 7th generation facelifted Elantra Hybrid features a sleek and modern design with a Hybrid badge on it to make it different from other variants.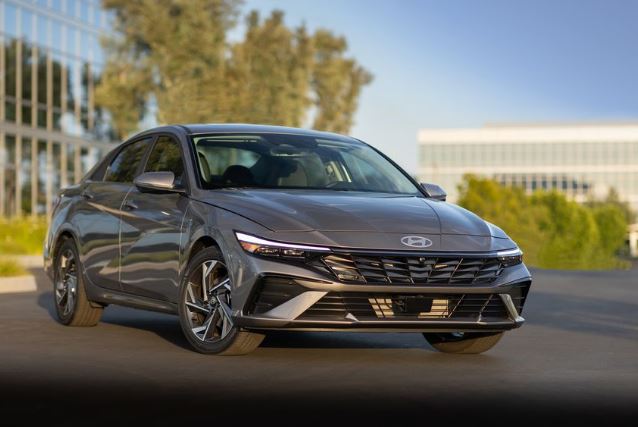 Trims & Variants:
The 2024 Hyundai Elantra will be available in 6 variants: SE, SEL, Blue Hybrid, Limited, Limited Hybrid, and N-Line. We will discuss the features and specs of the 2024 Hyundai Elantra hybrid in detail.
Hyundai Elantra Hybrid Blue: This was the base trim of the Elantra Hybrid, offering a good balance of features and affordability. It typically came with a range of standard features, including Hyundai's SmartSense safety suite, an infotainment system, and more.
Hyundai Elantra Hybrid SEL: The SEL trim typically added more convenience and technology features compared to the base Blue trim. It might include upgrades such as larger wheels, a larger touchscreen infotainment system, and additional safety features.
Hyundai Elantra Hybrid Limited: The Limited trim was the top-of-the-line variant, offering the most luxurious and advanced features. It often included leather upholstery, premium audio systems, advanced driver-assistance features, and more.
Hyundai Elantra Hybrid N Line (if available): In some years, Hyundai offered an N Line variant for those seeking a sportier driving experience. The N Line typically included sport-tuned suspension, unique styling elements, and performance-oriented features.
Hyundai Elantra Hybrid Plug-In (if available): In select years, Hyundai also offered a plug-in hybrid version of the Elantra, which allowed for all-electric driving for a limited range before relying on the hybrid powertrain.
Hyundai Elantra Hybrid Limited with Ultimate Package (if available): Some years may offer additional packages or options for the Limited trim, such as the Ultimate Package, which can add even more advanced features and technology.
Engine & Powertrain:
The car lineup offers a variety of engine options. There's a 2.0-liter gasoline engine, a 2.0-liter turbocharged engine, a 1.6-liter turbo engine, and a 1.6-liter hybrid electric (HEV) engine. The latest Hyundai Elantra Hybrid car's engine setup includes a 1.6-liter four-cylinder engine and an electric motor. They produce 139 horsepower and 195 pounds-feet of twisting force when these two work together. Instead of the continuous variable transmission (CVT) in the regular gasoline model, the hybrid version uses a six-speed dual-clutch automatic transmission to send power to the front wheels.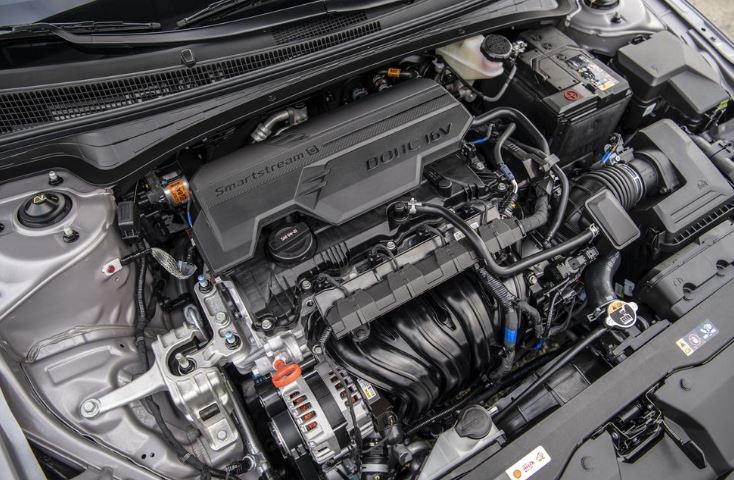 Performance & Drive:
The updated facelifted Hyundai Elantra Hybrid's performance and handling has been upgraded in several ways. The part that holds the engine has been strengthened to reduce vibrations and make the car more responsive when accelerating and changing direction.  The G bushings, which are components that help with turning and steering, have been made stronger to improve the car's ability to respond to sudden changes in direction and enhance steering precision. The material used for the insulator in the rear suspension and ABS (Anti-lock Braking System) has been switched from rubber to urethane. This change helps improve the car's ability to absorb shocks and respond to changes in direction. The hardware of the ECS (Electronic Control Suspension) has been improved to enhance the car's stability and control.  The software controlling the ECS has been fine-tuned to work better with the hardware changes, ensuring smoother handling and control. The steering mechanism has been adjusted to improve the connection between the steering wheel and the car's wheels, leading to better steering precision. The steering universal joint is modified to reduce friction, which offers improved steering precision and responsiveness. The Motor Driven Power Steering system is optimized to work better with the chassis and steering improvements, providing a smoother and more precise steering experience. The recommended tire pressure has been increased slightly for the front and rear tires. This adjustment optimizes the weight distribution on the front axle while maintaining a good balance between the front and rear for a smoother ride and better handling. The new recommended tire pressures are 36 psi for the front tires and 34 psi for the rear tires, compared to the previous 35 psi and 33 psi. The most fuel-efficient version of the Elantra hybrid gets an impressive 53 miles per gallon when driving in the city and 56 miles per gallon on the highway. This means it can travel a long way on a gallon of fuel, making it an economical choice for those who want to save on gas. 
Exterior Design & Features:
The 7th generation 1st facelifted Elantra hybrid front has some noticeable changes. It now has slimmer LED daytime running lights, a fresh two-part grille, and a Hyundai emblem made of stainless steel. The goal was to make the Elantra appear wider and more aggressive, which led to the creation of new front fenders for this model year. You'll spot some design updates on the rear pillars, a brand-new full-width LED taillight assembly, and a redesigned rear bumper with a stylish diffuser element. These changes give the Elantra's backside a fresh and modern look. It adds more variety and style to the car, Hyundai is introducing four new colors for the exterior. It offers new wheel designs ranging in size from 15 to 18 inches. These changes aim to provide customers with more choices and enhance the visual appeal of the 2024 Elantra Hybrid with attractive hybrid badges.
Interior Design & Features:
The updated Elantra Hybrid has some interior improvements as well. It offers new door panels featuring softer materials, giving the cabin a more comfortable and premium feel. You'll also have more options for upholstery colors, and if you go for the high-end Limited trim, you'll get synthetic leather seats for added luxury. There's a redesigned 4.2-inch digital information screen on the instrument panel, providing updated and clear information to the driver. The latest Elantra comes with some handy tech features as standard. It includes both Apple Car Play and Android Auto, so you can easily connect your smartphone and use your favorite apps on the car's display. Plus, there's a built-in Wi-Fi connection for staying connected on the go. Rear seat passengers will appreciate the addition of two USB-C outlets for charging their devices. There's an extra charging port, and the wireless charging pad offers improved functionality. You can control things like the climate settings or heated seats by simply speaking specific commands. It makes adjusting settings in the car a breeze, all without having to fiddle with buttons and screens. These changes enhance the interior experience, making the Elantra hybrid more comfortable and convenient for the driver and passengers.
Safety & Features:
There have been some noteworthy updates in the technology and safety department, most of which are inside the car. The rear side-impact airbags are now included as standard features on all trims, enhancing passenger safety in case of a side collision. There is a new rear seat-belt reminder system that helps ensure everyone in the backseat buckles up for a safer ride. The features like lane-keeping assistance, blind-spot warning, or rear cross-traffic alert receive haptic feedback. This feedback serves as a helpful reminder about the car's safety systems. Moreover The Elantra is a very safe car. In 2022, it got a top safety award from the IIHS, especially for its headlights. In 2023, the NHTSA gave it a 5-star safety rating.
Pros & Cons:
Pros:
Attractive and Modern Design: The 2024 Elantra Hybrid features a sleek and modern design with updated front and rear elements, new color options, and hybrid badges that set it apart from other variants.
Safety Features: Hyundai has prioritized safety by including rear side-impact airbags, a rear seat-belt reminder system, and driver-assist features like lane-keeping assist, blind-spot monitoring, and rear cross-traffic alert as standard across all Elantra models.
Variety of Variants: The Elantra Hybrid is available in multiple variants, including the Blue Hybrid, Limited Hybrid, and N-Line, offering customers a range of choices to suit their preferences and needs.
Interior Improvements: The interior of the 2024 Elantra Hybrid has been upgraded with softer materials, more upholstery color options, and tech features like Apple CarPlay, Android Auto, built-in Wi-Fi, and voice control for added comfort and convenience.
Improved Performance and Handling: The car's performance and handling have been enhanced through various changes, including strengthening components to reduce vibrations, improving steering precision, and optimizing tire pressure for a smoother ride.
Fuel Efficiency: While the specific fuel efficiency of the 2024 model isn't mentioned, the 2023 Elantra Hybrid achieved an impressive 53 miles per gallon in the city and 56 miles per gallon on the highway, making it an economical choice for fuel-conscious consumers.
Cons:
Highway Fuel Efficiency: The reviews mention that the Elantra Hybrid doesn't deliver impressive highway fuel efficiency, but it doesn't provide specific numbers for the 2024 model. It's important to wait for official fuel efficiency ratings before making a judgment in this regard.
Major Competitors:
Toyota Corolla Hybrid: The Toyota Corolla Hybrid is a well-established competitor known for its reliability and fuel efficiency. It offers a hybrid powertrain that combines a gasoline engine with an electric motor.
Toyota Camry Hybrid: The Toyota Camry Hybrid is one of the most popular hybrid sedans in the market. It offers excellent fuel efficiency, a comfortable interior, and Toyota's renowned reliability.
Honda Accord Hybrid: The Honda Accord Hybrid combines a spacious and well-appointed interior with hybrid technology. It offers a refined ride, good fuel economy, and advanced safety features.
Honda Insight: The Honda Insight is another strong contender in the compact hybrid sedan market. It features a sleek design and offers good fuel economy.
Ford Fusion Hybrid: While Ford has phased out the Fusion, you may still find used or remaining inventory of the Ford Fusion Hybrid, which was known for its comfortable ride and hybrid powertrain.
Chevrolet Malibu Hybrid: The Chevrolet Malibu Hybrid is a midsize hybrid sedan that provides a spacious interior and hybrid technology for improved fuel efficiency.
Volkswagen Jetta Hybrid (if available): Volkswagen's Jetta Hybrid offers a blend of German engineering and hybrid technology, providing a more premium option in the segment.
Nissan Sentra (non-hybrid): While not a hybrid, the Nissan Sentra is a popular compact sedan that competes with the Elantra in the traditional gasoline-powered segment.