2022 Hyundai Palisade

The most bargain luxury SUV
Sold in the USA: 2021-2022
1st Generation
2022 Hyundai Palisade Price in the USA:
Palisade SE

Starts at:

$34,895 

Palisade SEL

Starts at:

$37,245

Palisade Limited

Starts at:

$47,135

Hyundai Palisade is the new luxury SUV in the market which comes at a bargain. Hyundai Palisade starts at $34,895 and goes up to $47,135. The word bargain may not seem a good choice when spending almost $50k on a Hyundai. However, when you look at the league that Hyundai Palisade covers i.e. luxury SUV, it makes sense. Hyundai Palisade isn't the first SUV to be sold by Hyundai as a full-sized three-row SUV however it might be one of the best, biggest and nicest SUVs by Hyundai. Palisade fixes the third-row tight legroom space from the Santa FE XL along with refining the overall experience of a luxury SUV. Hyundai Palisade's luxury styling, premium feel, and smooth driving are what make it special at such a price.
Let's talk about on-road Performance
Hyundai Palisade is powered by a fine 3.8L V6 engine married to an eight-speed transmission. The 3.8L V6 makes 291 horses with 262 lb-ft of torque. The engine transmission and torque specs for the Hyundai Palisade are more than enough to ensure a premium driving experience when on road. Hyundai Palisade comes with paddle shifters on the steering wheel for manual shifting. The gearbox of Palisade is smoother in shifting however it makes a little effort while on the hill-climb however, it's almost unnoticeable. Hyundai Palisade comes with a dealer-installed trailer hitch, it can tow up to 2267 kg (5000 pounds). The Palisade comes with standard sway control, trailer pre-wiring, and a robust transmission cooler.
Hyundai Palisade comes in FWD as standard. However, you can get an optional AWD drive-train by paying @1700 extra. The AWD version of the Hyundai Palisade goes from 0-60 in 6.9 seconds on road. This means that the Palisade is slightly quicker than Kia Telluride and Chevrolet Traverse.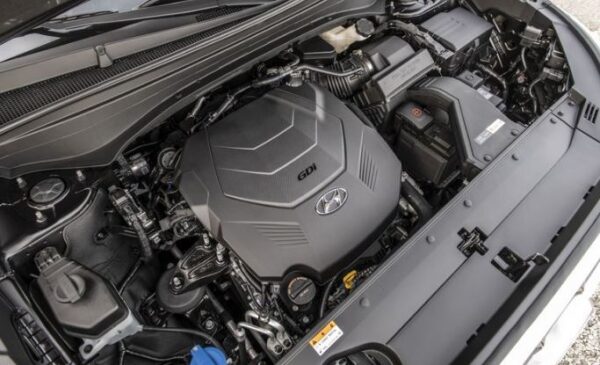 What's inside the Hyundai Palisade?
Hyundai Palisade is spacious, comfortable, and carries an adequate premium feeling to it when sitting inside. Climate control and drive modes are placed in the right spot for passengers and drivers to operate. The SE and SEL trim can seat 8 passengers whereas the highest version in Palisade i.e. Limited can carry 7 people. In addition, there is large cargo space to take care of the long driving and vacations.
Hyundai Palisade comes with 8.0 inches infotainment screen packed with android auto, Apple CarPlay, Bluetooth connectivity in SE, and SEL trim as standard. In addition, you can upgrade to higher sharper better performing 10.3 inches display in SE and SEL trims however in Limited trim it's a standard feature and offers navigation and SiriusXM satellite radio. Upon availing of the Hyundai Blue Link app service the  Hyundai Palisade can be operated and started via Google Assistant and Amazon Alexa. The second and third-row electrical folding operation is optional for SEL trim whereas the standard in Limited trim. The cargo space with second and third-row seats folded down is 86 cubic feet.
Interior Photos:
Safety features on Hyundai Palisade
Hyundai Palisade comes with Standard Lane Keep Assist, Standard forward-collision avoidance, and Standard adaptive cruise control. Ratings for the Hyundai Palisade are yet to be announced by the National Highway Traffic Safety Administration however the Insurance Institute for Safety has rated the Hyundai Palisade as Top Safety Pick+. The Hyundai Palisade in simple words is equipped with pretty much every standard safety equipment and technology.
Is the Hyundai Palisade fuel-efficient as a luxury SUV?
According to the reports by EPA, the front-wheel-drive version of the Hyundai Palisade gives 19 mpg and 26 mpg on city and highway respectively. The AWD version does about 19 miles to the gallon in the city whereas on long the average reduces to 24 mpg in the AWD version.
Exterior Photos:
Major Competitors:
Honda Pilot
Subaru Ascent
Verdict:
Hyundai Palisade comes in three different variants namely SE, SEL, and Limited.
Among the three variants, Limited is the most suitable and promising variant since it offers much at such a low price when compared to the pricing of rivals. Limited is the recommended variant by Fairwheels.