Ford Fiesta 
Sold in the USA = 2017-2020
Generation = 7th (Discontinued)
Status:

Discontinued

Worldwide FROM 2020
Ford Fiesta Last Price in the USA in 2020:
| | |
| --- | --- |
| Fiesta SE 1.6 | $ 15,350 |
| Fiesta SE Style 1.6 | $ 16,100 |
| Fiesta SE Plus 1.6 AT | $ 16,900 |
| Fiesta SEL 1.6 | $ 16,550 |
| Fiesta SEL 1.6 AT | $ 17,700 |
| Fiesta SEL Style Eco-boost AT | $ 18,900 |
| Fiesta Titanium 1.6 AT | $ 19,300 |
| Fiesta Titanium Plus 1.6 AT | $ 20,350 |
| Fiesta ST-Line Performance | $ 22,315 |
Ford Fiesta is a small compact hatchback that is in production since 1976 while the currently 6th generation is selling around the world. This is also the most selling car of ford after Escort and F-Series. In 2018 Ford fiesta gets some changes to its design with more technology as well as new power trains. Fiesta is available in both body shapes including sedan and Hatchback while according to Reports it was announced by the company that 2019 will be the last year of Fiesta specifically for North America.
Trim & Variants:
Ford fiesta Remain available with 3 Major trims levels including S (Sedan only), SE (with Both Hatchback and Sedan body type), and also one performance Oriented ST (Available in Hatchback only). Some of the extra enhancements included in ST sport trim include Sports Seats, Rear Spoiler, and Interior Trim Accents with 1.6 Liter turbocharged engine while standard trims have a simple 1.6 liter 4 cylinder engine.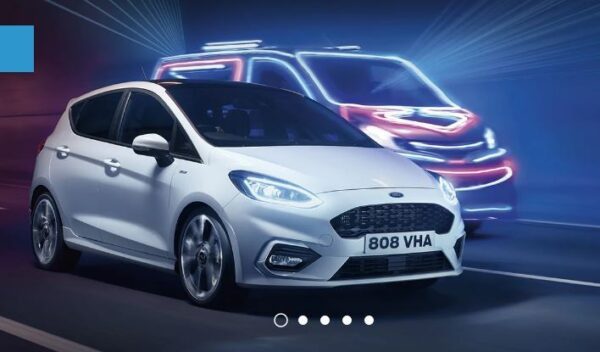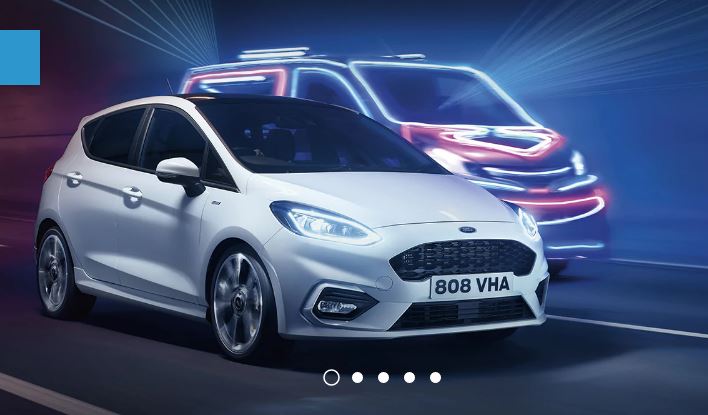 Engine & Power:
S (Sedan) and SE (Hatchback) both the versions are powered with 1.6 liter four-cylinder engine that produces 120 HP@6350 rpm with a torque of 112nm@5000 Rpm paired with five-speed manual transmission and a six-speed automatic is optional while it takes 9.1 seconds to accelerate from 0-60 miles per hour as tested by car and driver. Performance-oriented ST version is powered with 1.6 Liter Ditto the Turbo engine that produces 197 Horsepower with 202 Lb-ft of torque while it is paired with only 6-speed manual transmission and again tested by car and driver it takes 6.9 seconds to accelerate from 0-60 miles per hour.
Handling and Driving Dynamics:
As S (sedan) and SE (Hatchback) are standard trims to full fill the purpose only and not for the fun drive but still have well-weighted crisp steering which helps it to perform well around the corners. ST is the performance-oriented version so there is no doubt that it is much better than standard versions. You will enjoy it driving not only around the corners but in parking lots and twisted Lanes as well. Along with comfortable firm suspensions, it has a responsive steering wheel and a lighter brake pedal. It may do not produce enough exhaust sound but surely enough to clarify the difference between standard and Performance-oriented trim.
Fuel economy of standard trims both in Sedan and Hatch is 27 Miles per gallon in the city and 35 miles per gallon on the highway while the ST-Line performance-oriented gives 25 miles in the city and 32 miles on the highway.
Exterior Design & Features:
Overall length, width, and Height of Ford Fiesta Hatch is 3969 mm, 1978 mm, and 1464 mm with a Wheelbase of 2489 mm. the front fiesta has a beautiful honeycomb new designed grill and fully automatic aero composite halogen day time running headlamps with Delay-off that increases its road presence more than before.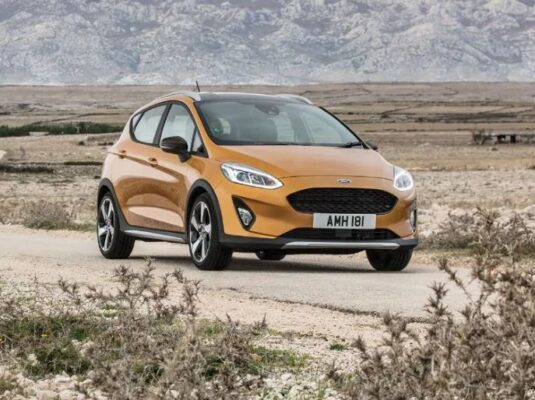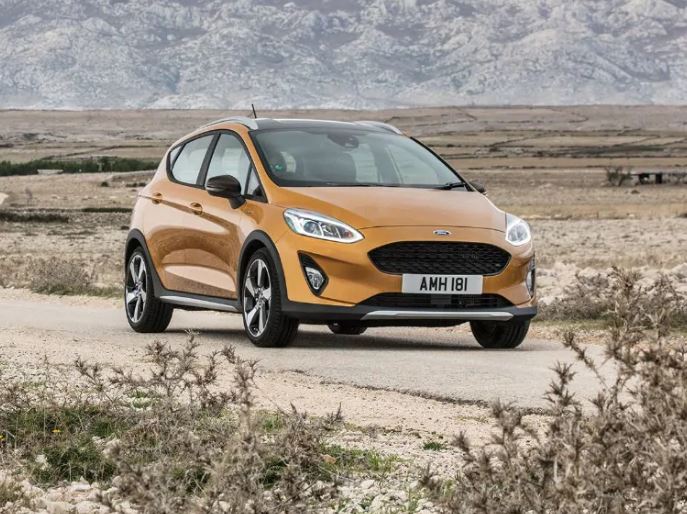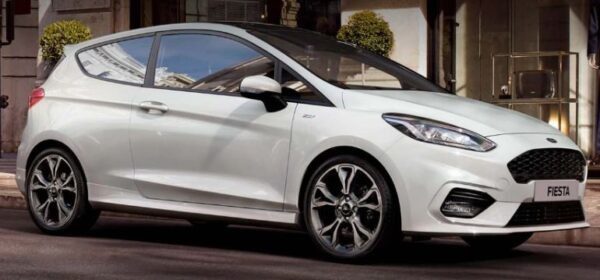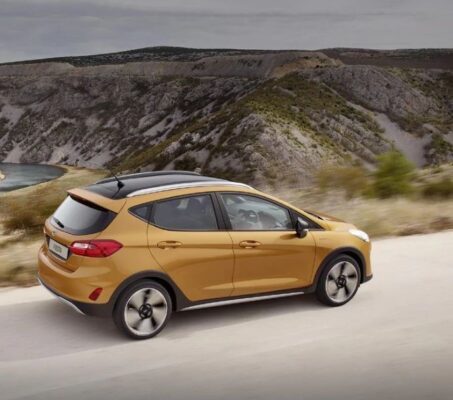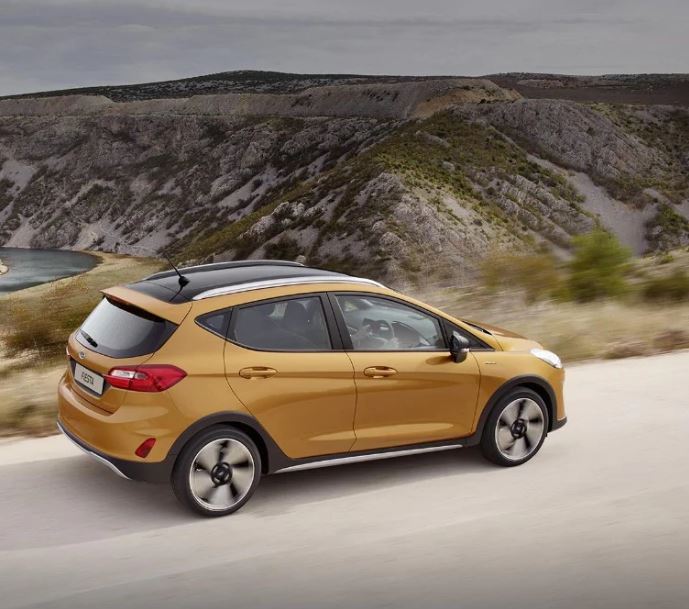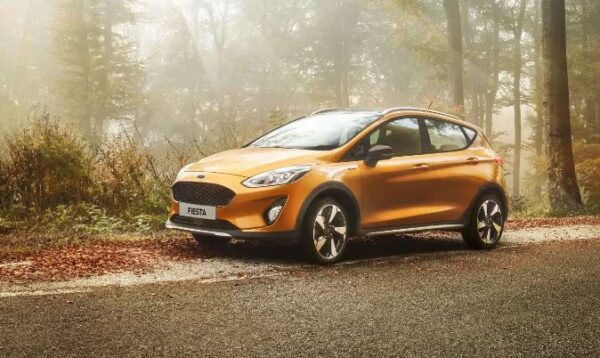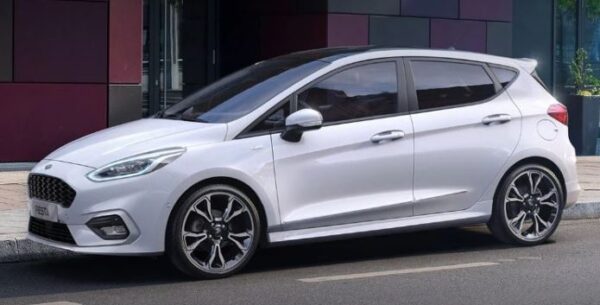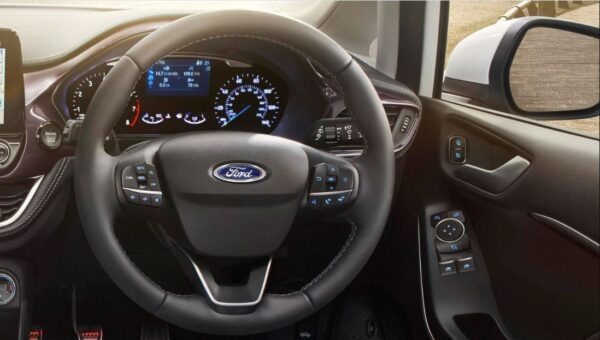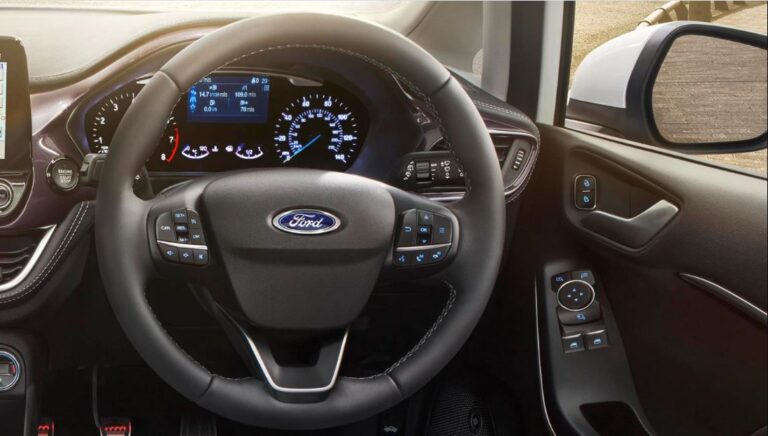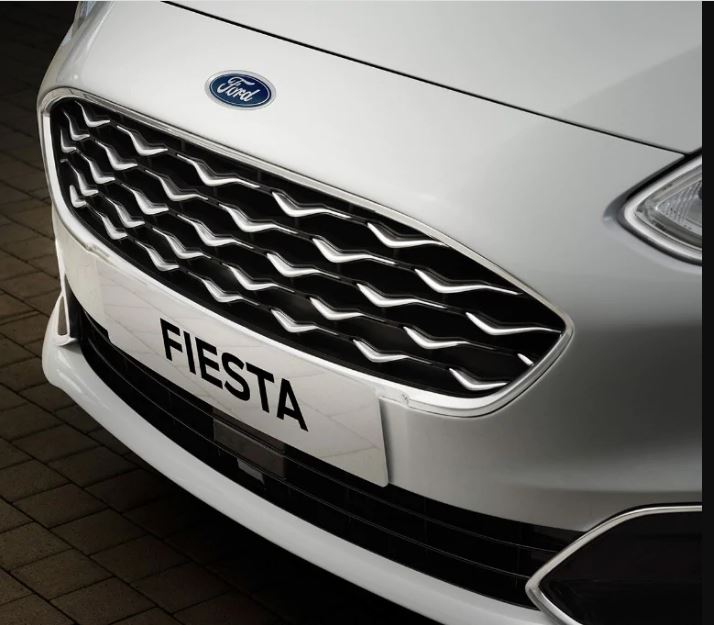 Ford Fiesta is available in 7 Exterior beautiful colors including Red Race, Frozen White, Moondust Silver, Agate Black, Magnetic, Desert Island Blue, and Metropolis white.


Interior Design & Features:
Ford fiesta interior is simple but has all the basic features; front seats are comfortable but the rear seats are tight in both sedan and hatchback body types. Basic features present in S trim include tilt and telescopic steering wheel, Backup camera while 6.5-inch touch screen, navigation, and sunroof all cost extra. Upgraded to SE trim gets Cruise Control and Remote keyless entry.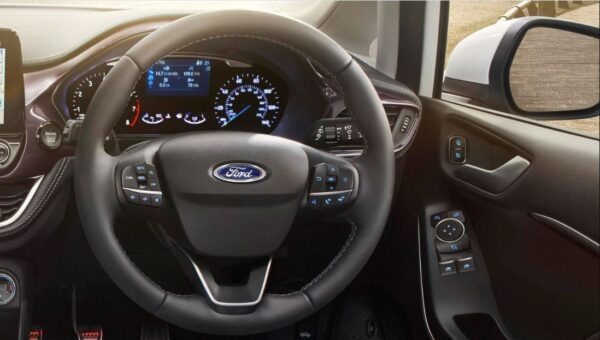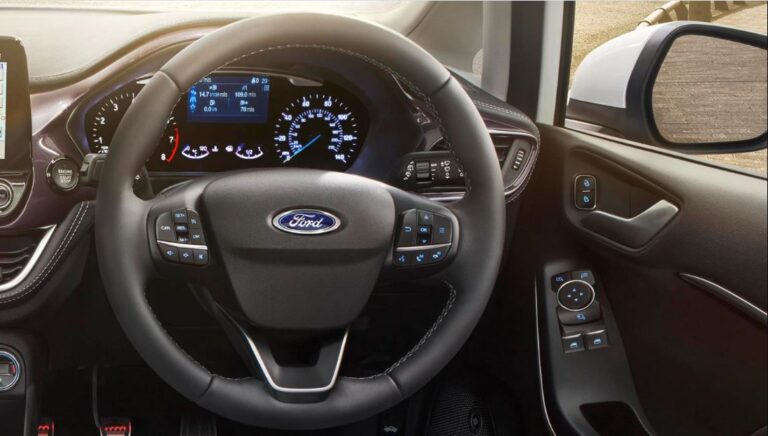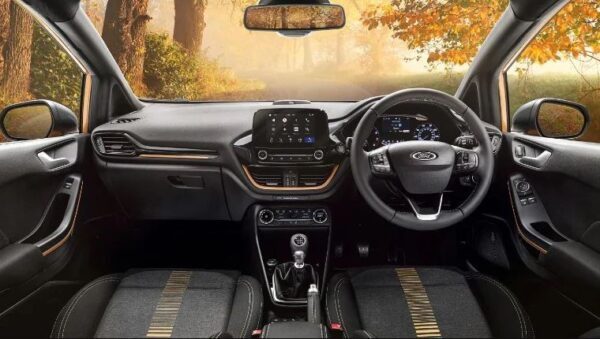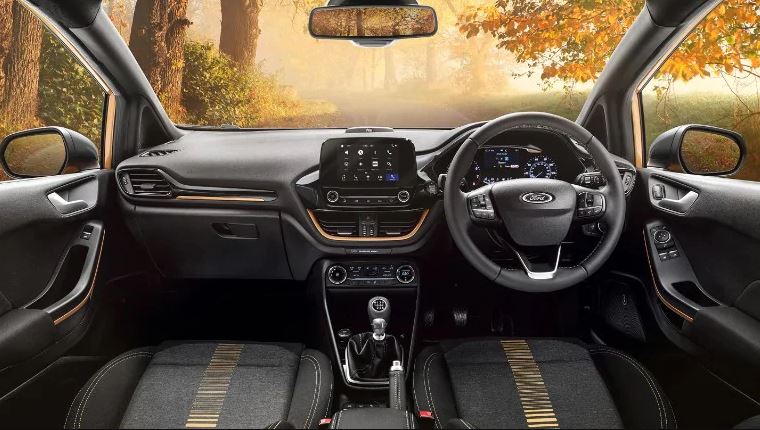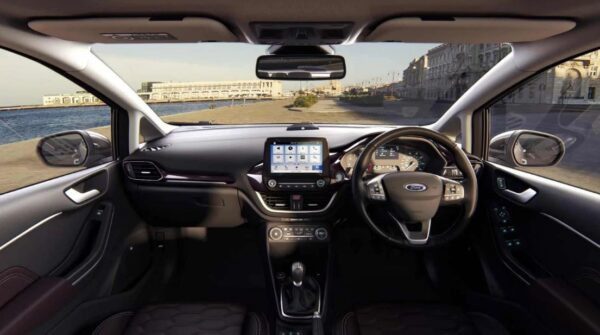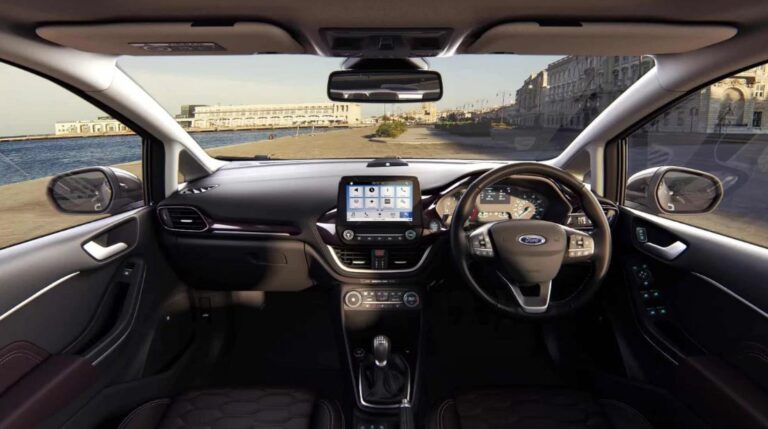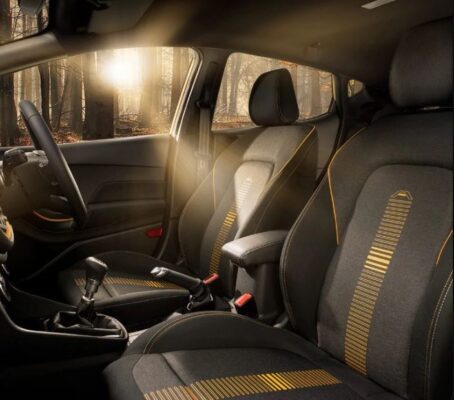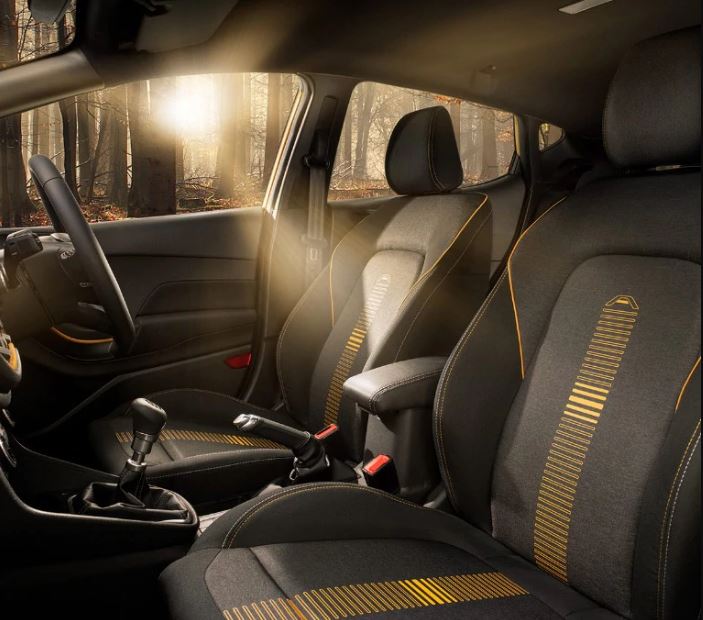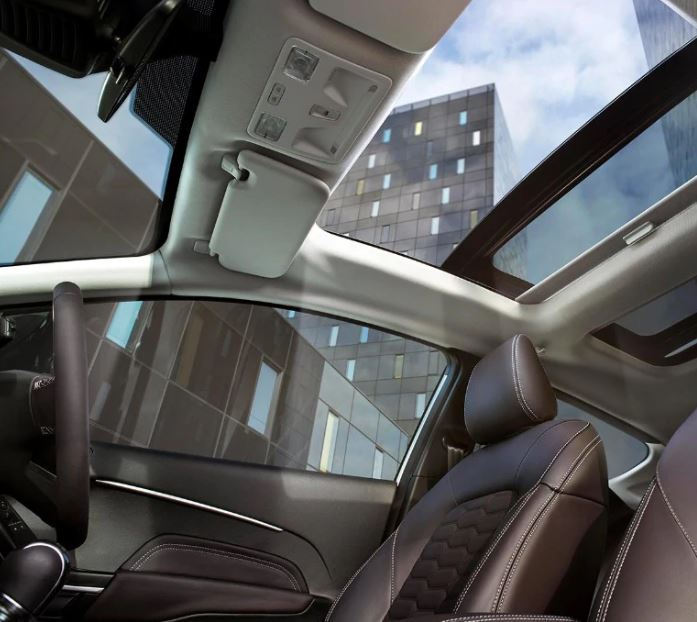 Complete List of Features:
Digital Air Conditioner (EATC);
Heater;
Bluetooth connection;
Steering wheel audio controls;
Board computer;
Integral central console with holder;
Control of the light intensity of the panel;
Rear bench with a split bump (60/40);
USB port;
Automatic pilot;
Navigation system;
The multi-function LCD screen on center panel;
Tachometer (tachometer);
Electrical Direction;
Ford Easy-Start;
Illumination of the trunk;
1 12V PowerPoint (front center console);
6 speakers (4 speakers + 2 tweeters);
Manual adjustment of the driver's seat in 4 directions;
Height adjustment and steering column depth.
As ford was planning to discontinue the ford fiesta from 2019 but recently ford has introduced a hybrid version with the same gasoline configuration but with an extra 48-volt starter/Generator which will help it to save 10 percent of fuel. This new Hybrid addition will have six times award-winning 1.0-liter eco-boost Petrol engine with a stop-start feature. Pre-Collision Assist, Active park assist, Adaptive cruise control, Lane Keep Assist, Traffic sign recognition will be part of the new fiesta depending on the trims & package. In hybrid five speeds manual transmission has been replaced with a 7-speed automatic transmission with pre-selection capability. Eco-boost Hybrid will start from the titanium package and is available in all the trims except the Entry-level and ST line Performance version.
Major Competitors: