Isuzu D-Max (2019-2021)
Isuzu D-Max made its entry into the automobile world in 2002 through Isuzu Motors and currently the third generation of D-Max is available in markets. It is also known as Chevrolet D-max, Chevrolet Colorado, and GMC Canyon in other parts of the world and is available as single cabin and double cabin options but in Pakistan, the second generation of D-Max has taken plaudits for rugged automobile streak by Gandhara Industries and offered in three levels including the Isuzu D-Max Hi-Spark, V-Cross, and Hi-Lander. This precinct with a stash of sturdy is available for bookings at all dealership showrooms of Gandhara industries all across Pakistan. It is a hit product all over the world including in Thailand where the sales per year reach 149,578 units for the year 2018. The stylish exterior along with a classy and elegant interior makes it a highly recommended car by users who have experienced wonderful comfort and road grip well than other competitor trucks available in Pakistan within this price range.
Engine & Performance:
The base model D-Max Hi-Spark is available in two trim levels including a 2.5-liter turbocharged engine generating 134 horsepower at 3400rpm and torque of 320 Nm at 1800 to 2800rpm. The Hi lander is also charged by a 2.5 liters intercooler turbocharged engine and is available as single cabin and double cabin trims. The D-Max V Cross is powered by a three-liter turbocharged engine generating 163 horsepower at 3200 rpm and 380 Nm torque at 1800 to 2200 rpm. All the trims are available in both manual and automatic transmission options providing a top-notch height of competence and resilience. Ascending and descending through the terrain is made very easy keeping the grading logic in correct way. This is the only pick-up truck powered by a 4JJI diesel engine. The towing ability of Isuzu D-max can tow up to 3.5 tones without breaking a sweat. It can tow a boat, trailer, or even a caravan while the Hill-start assistance and Descent Control prevents the vehicle from rolling back when driving on steep gradient giving you well confidence to drive on any downhill terrain. The steel sump and transfer case underbody protection guard extra protection, especially when driving on rough pathways off roads.
Isuzu D-Max Exterior Design & Features:
The body of  Isuzu D-Max acquires a modern design being upgraded with new front fascia and stylish wheel curved arches exhibiting a more muscular body and more appalling looks. The Double cabin is slightly longer from the rear doors featuring more stylish looks as compared to the Single cabin. The executive variant features multi reflectors along with daytime running lights and rear LED lights. The front chrome imparted grille runs along the front fascia with LED headlights while it also provides you with rear parking sensors, door visors, and a shark fin-shaped antenna. Sports Bar Package and the Cargo Spoiler Package feature door visors along with roof rails, rocker plates, carpet mats, and tailgate ornament depicting an overall distinctive and unique design.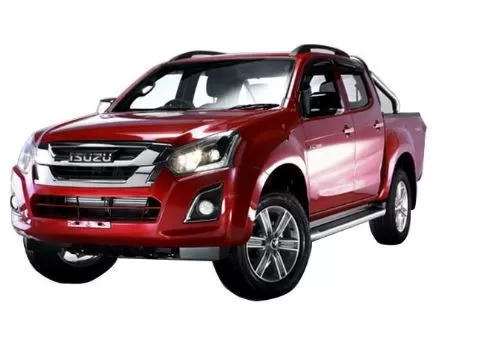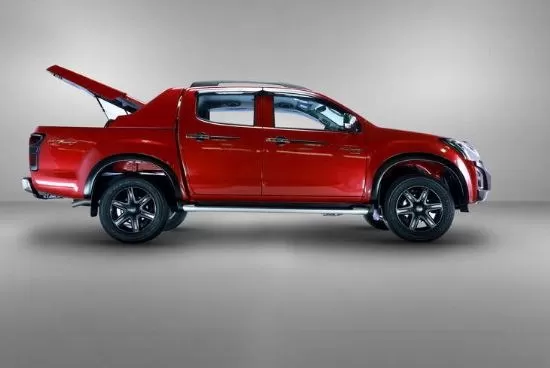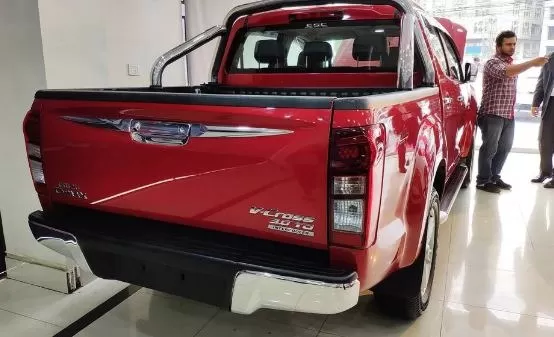 Interior Design & Features:
The interior cabin is arranged in 2 rows accommodating five passengers and the cabin is made with white-colored plastic trim pieces along with grey-colored seats which are very spacious and comfortable at both front and back rows offering a good level of refinement and comfort. All accessories provide in the cabin are precision engineered ensuring you the highest quality. Steering is power-adjustable and easily controllable while the power windows and mirrors along with the electronic smart key immobilizer and power door locks have made it easier for us.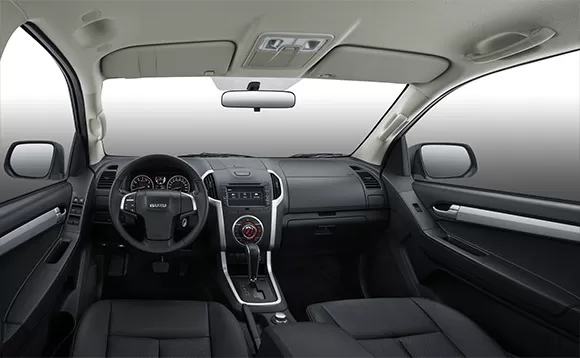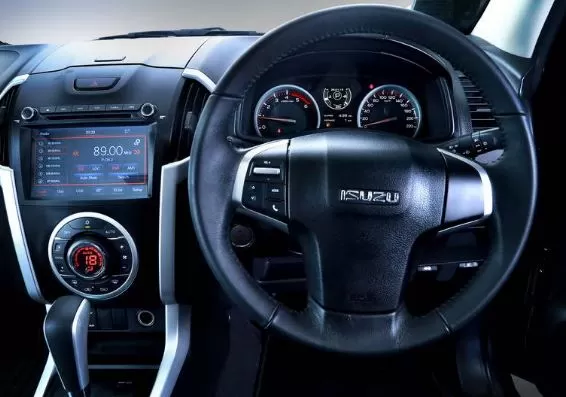 There is an eight inches infotainment screen on the console with eight speakers option in the executive package and two speakers option in base trims providing you with entertainment. Navigation and rearview camera assists you a lot in parking and driving safely. It is armed with a horde of the latest safety features ensuring you a safe drive. Some of them include emergency braking systems, traction control, hill start assistance, hill descent control, and electronic stability control along with upgraded airbags.
Major Competitors:
Some of the major competitors of Isuzu D-Max include Nissan Navara, Toyota Hilux, Toyota Tacoma, JAC T6, and JMC Vigus in Pakistan.
All Trims & Versions Pricing of 2021:
| Variants | Specifications | Ex-Factory Price |
| --- | --- | --- |
| Isuzu D-Max Hi Spark 4×2 Single Cab Deckless | 2499cc, Manual, Diesel | |
| Isuzu D-Max Hi Spark 4×2 Single Cab Standard | 2499cc, Manual, Diesel | |
| Isuzu D-Max Hi Lander 4×4 Single Cab Standard | 2499cc, Manual, Diesel | |
| Isuzu D-Max Hi Lander 4×4 Double Cab Standard | 2499cc, Manual, Diesel | |
| Isuzu D-Max V-Cross 3.0 | 2999cc, Manual, Diesel | |
| Isuzu D-Max V-Cross Automatic 3.0 | 2999cc, Automatic, Diesel | |