2023 JMC Vigus 5
Sold in Pakistan = 2021-Present
2nd Generation
2023 JMC Vigus 5 Price in Pakistan
| | |
| --- | --- |
| JMC Vigus 5 4×4 Double cab | 50,15000/- PKR |
Jiangling Motors Co-operation Limited, known as JMC is a well-known car manufacturing company in China that made its entry into the Pakistani automobile markets and is famous for its commercial vehicles. JMC's Vigus 5 is another popular vehicle of JMC that was imported to more than 110 countries and made a debut in Pakistan in 2018. JMC Vigus is loved in Pakistani automobile markets despite a big rivalry. The second generation of JMC Vigus is available at JMC showrooms in Pakistan. It is a five-seater vehicle, which is available in a double cab option, and it is equipped with all the latest features like cruise control, power steering, remote central locking, multifunction-steering wheel, electric windows, and Bluetooth connectivity. It is a diesel-powered double cab that offers you manual transmission only, and no major-styling changes have been made to it since its launch in Pakistan. Although JMC Vigus older generation has been discontinued in Australia in 2018 due to poor sales and it is still being sold in Pakistan. One of the reasons for being loved by the customers in Pakistan is its less price as compared to the other powerful brands already running in the country.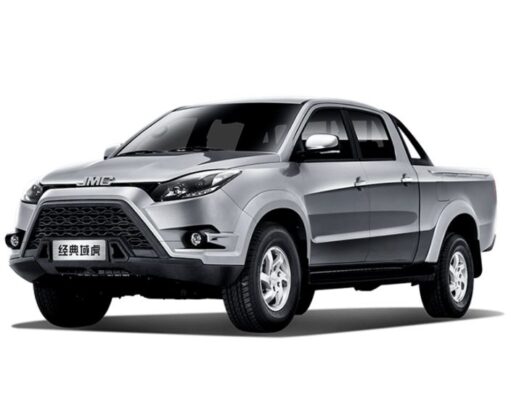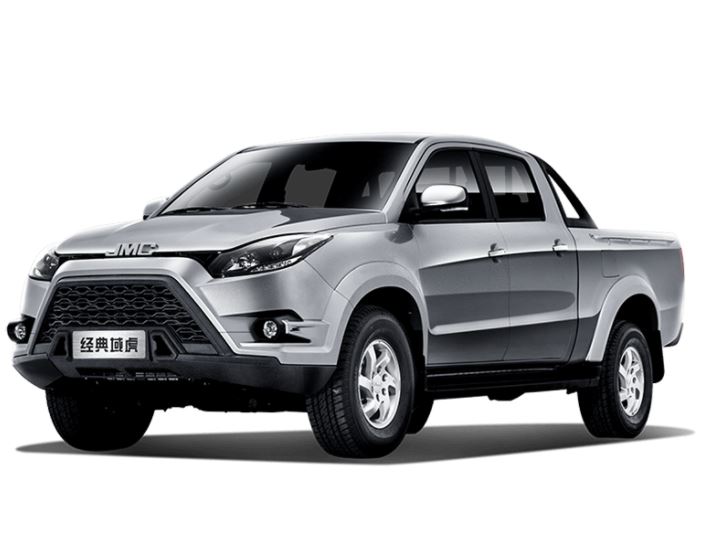 Trims & Variants:
Two variants of JMC Vigus 5 are available in Pakistan that is 4×4 double cab and 4×2 double cab. It means it is available in both two-wheel-drive options or a four-wheel-drive option. These trims are available in the manual transmission option only. 
Engine & Power:
The powertrain of both the trims of JMC Vigus 5 is similar. JMC Vigus 5 is powered by a 2400 cc, DOHC, 16-valve, in-Line, four-cylinder diesel engine with a common rail-type fuel system. It produces a maximum power of 120 hp and a torque of 290 Nm. It offers a five-speed manual transmission. The suspension and braking system is similar to the last year's model, having Macpherson Strut suspension on the front axles, and a torsion beam on the rear axles. Similarly, having disc brakes on the front axles and drum brakes on the rear axles. It is designed-on Euro II emission standards.
Performance & Drive:
One of the best qualities of the JMC Vigus 5 is its versatility which makes it a suitable vehicle for both everyday city drives and long drives on highways or hilly areas. The suspension system of Vigus is good, giving you a stable ride quality whether it is a rough road or a smooth road. The body roll in Vigus 5 is very-limited, ensuring maximum comfort for the drivers, and even the passengers sitting in the rear compartment feel a firm and stable ride. The 4×2 double cab Vigus is best suited for your everyday tasks and makes you a comfortable ride. The four-wheel-drive Vigus is also a good option to have as it will make your ride comfortable on slippery surfaces and tough-incline with its differential lock system. One of the impressive features of Vigus 5 is its wheel articulation which does not let the rear wheels lift from the ground for more than some seconds. It is a good off-road vehicle once the driver has learned to handle its nuances. The power steering of Vigus is precise, controlling the car smoothly over the turns and curves with little effort. JMC Vigus 5 is known for its durability, which is a major thing to consider when purchasing a new vehicle. There are some drawbacks to JCM Vigus too, as it is quite an old-school car compared to the luxurious Ford Ranger, Volkswagen Amarok, or Toyota Land Cruiser. Firstly, it still offers manual transmission only, which feels a bit sticky, but the car does not feel underpowered. Vigus might feel aggressive in the first gear, which may show some difficulty for the drivers to handle it, but the second gear is not aggressive at all. Talking about the load capacity of Vigus is between 500 kg to 700 kg, and it has a towing capacity of 750 kilograms. The fuel tank capacity of JMC Vigus 5 is 68 liters, and Vigus offers you an economical fuel economy consuming 8 liters of fuel per hundred kilometers driven. It gives you a mileage of 10 kilometers per liter in the city and around 12 kilometers per liter on the highways. The acceleration of the JMC Vigus 5 is also remarkable, making your drives fun and offering you a top speed of 220 kilometers per hour.
Exterior Design & Features:
It has a typical double cab design, but the front end is quite aggressive as-compared-to other vehicles of the same class. A tiger-nose trapezoid-shaped grille on the front adds a real-masculine appearance to the front end, while diamond-shaped sleek headlights are positioned on its sides. Daytime running lights can also be seen on the front, along with front fog lamps, while the rear end features a loading deck that comes with a side step, pneumatic rod, and cab protector. Sixteen inches aluminum-alloy wheels increase the sporty stance of this double cab.
Interior Design & Features:
The interior cabin of JMC Vigus is quite decent with everything simply designed, but unfortunately, the plastic used in it is not of very high quality. It does not give a cheap look to the cabin either, and the trims are nailed-properly, giving it a fine finish. The cabin is comfortable and quiet from the wind noises, but sometimes the noises may disturb the passengers at higher speeds. It features leather-covered seats and offers a seating capacity of five adults. You will also find a multi-functional steering wheel that also controls audio and calls. There is a touchscreen display fixed on the dashboard to provide you with infotainment, and a DVD player is also given along. You are also provided with the feature of cruise control that also ensures your safety & easy drive on long routes, and a defogger is also provided for driving comfortably in foggy weather. Other than this, you are also provided with Bluetooth connectivity, a USB port, a central locking system, electric windows, auxiliary cables, cup holders, and AM/FM radio.
Safety & Features:
JMC Vigus has not been tested by Euro NCAP or other crash tests yet, but it has been equipped with all necessary standard safety features. Some of the safety features include Anti-Lock Braking System, seat belt indicator alarm, automatic door locks, rear parking sensors, airbags, and electronic brake-force distribution.
Major Competitors: