2022 Kia Seltos
Sold in the USA = 2021-Present
2nd Generation 
2022 KIA Seltos Price in the USA 
LX
Starts at:

22,590 $

S
Starts at:

22,790 $

Night Fall
Starts at:

26,790 $

EX
Starts at:

25,890 $

SX Turbo
Starts at:

28,090 $
Kia Motors launched its subcompact crossover Seltos in 2019 worldwide and got huge sales in China, South Korea, India, the United States, and Australia. The latest version of Kia Seltos was due for launch in February 2020 whereas Kia Seltos goes on sale in 2021 with a more spacious interior, upgraded infotainment system, and precise handling while an all-wheel driving facility is standard in all trims of Kia Altos. Kia Seltos has been rated 8 stars out of ten by reviewers taking into account the performance, design, safety features, fuel economy, latest technology, and comfort. The all-new Kia Seltos is the major attraction for Kia Soul customers who want to buy a hatchback similar to Soul in a low price range and with more features.
Trim & Versions:
Kia Seltos is available in four trim levels that include LX trim, S trim, EX trim, and SX trim. When choosing which trim to buy we will consider the SX trim which is the top-level variant equipped with all the latest features but it is available at a very high price as compared to other trims whereas the EX trim is much cheaper than the SX trim and equipped with many latest features to be enjoyed at an affordable price.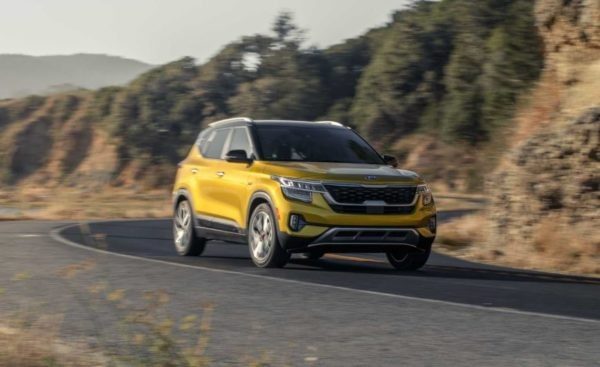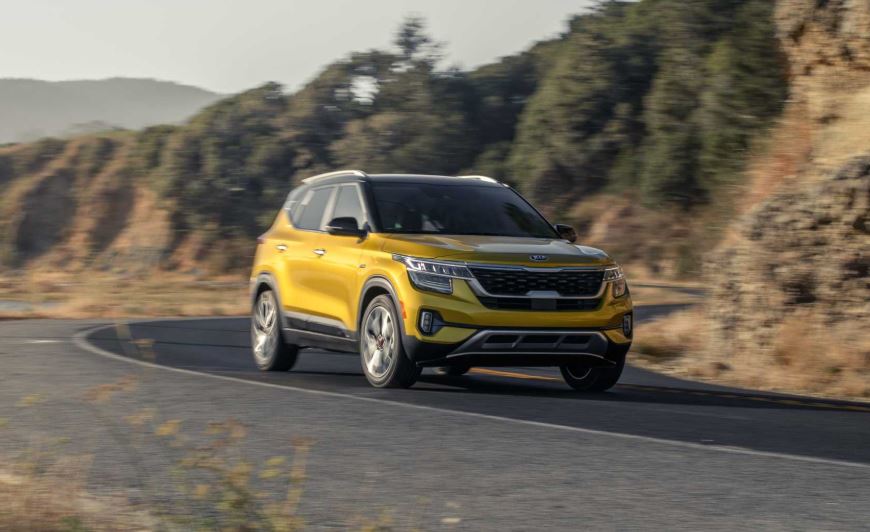 Engine, Transmission & Power:
There are two engine options in Kia Seltos that are either two liters turbocharged engine producing a horsepower of 147 hp at 1500 rpm or a 1.6 liters four cylinder turbocharged engine generating torque of 195 pounds-feet at 1500 rpm and horsepower of 175 hp at 6000 pm. It offers a seven-speed DCT automatic transmission with continuously varying smooth throttle changes.
Drive & Fuel Economy:
Transmission is improved from the previous models with more refinement and offers a quick acceleration while low speed can judder and leave the turbocharged engine flat-footed. The all-wheel driving option is offered in all trims that help the drivers in driving in all types of extreme and unfavorable road conditions. The handling and ride quality of Kia Seltos is quite smooth and firm giving drivers enough confidence to make turns and curve the car around corners and twists. The fuel efficiency of Kia Seltos is quite efficient giving you a mileage of 34 miles per gallon on highways by an engine power of two liters while a 1.6 liters engine car gives a mileage of 31 miles per gallon on highways with a fuel tank capacity of 13.2 gallons.
Exterior Design & Features:
Kia Seltos exterior design resembles other crossovers of Kia but it has a differently designed nose and grille. The hood is creased along with its nose and the headlights are beautifully styled sweeping across the fenders and central grille while the honeycomb-like front grille is itself an eye-catching piece. Horizontally shaped headlights are provided with daytime running lights to brighten your pathways along with vertical fog lights fixed on a body-colored bumper. Rear-end has floating chrome strips that join the rear tail lights while it features only one tailpipe positioned behind the bumper.
Interior Design & Features:
The interior cabin of Kia Seltos is a bit asymmetrical with an irregularly shaped cockpit made attractive in black glossy plastic with a touch of vinyl. It offers a seating capacity for four passengers with a spacious passenger room letting passengers enjoy long route journeys comfortably.
There is a cargo area of 26.6 cubic feet carrying enough amount of luggage with you.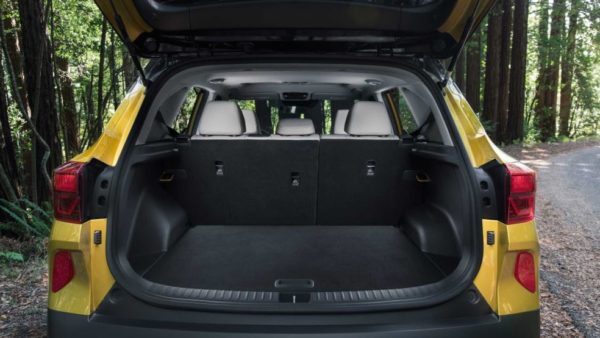 It features cloth-covered seats with contrast stitching and cushioned bolsters giving enough comfort to passengers. Features: On the other hand it is equipped with many technological features having an eight inches touch screen display having compatibility with Android Auto and Apple Car play interface and displays navigation too while boss premium eight speakers sound system enhances your audio experience. The wireless charging facility let you charge your phones where ever you need and the UVO link services help you access services and features through Kia access online.
Some of the SAFETY FEATURES of Kia Seltos include blind-spot detection, forward collision avoidance assistance, lane-keeping assistance, rear cross-traffic alert alarm, safe exit assistance, airbags, and electronic stability control, traction control system, hill start assistance, downhill brake control, and tire pressure monitoring system.
Major Competitors:
Major competitors of Kia Seltos include Chevrolet Trailblazer, Hyundai Kona, Jeep Renegade, Kia Soul, and Subaru Cross trek.