2021 Toyota Revo (8th Generation Facelift) 
Toyota Hilux Revo Current Price in Pakistan 2021:
VARIANT
EX-FACTORY PRICE
Hilux REVO G MT
PKR. 6,429,000/-
Hilux REVO G AT
PKR. 6,779,000/-
Hilux REVO V AT
PKR. 7,379,000/-
* THE PRICE IS SUGGESTED RETAIL PRICES, EX-FACTORY KARACHI, PER UNIT INCLUSIVE OF 17% SALES TAX.
** THE PRICE IS EXCLUSIVE OF WITHHOLDING TAX.
Toyota Revo 8th-generation, launched in Pakistan in 2017, was a solid vehicle for all types of terrains. The 4×4 drivetrain has made it the best car as it executes best in rough terrains and on-street situations. The demand for Toyota Revo has increased throughout these years, and finally, Toyota Indus announced a facelift for Toyota Revo. The bookings for the new Toyota Revo have been started and distributed to Toyota dealerships. The new updated Toyota Revo is all set to give its entry to the local markets. The Toyota Revo has arrived with more aggressive and recreational looks. The engine of the 2021 model of Toyota Revo also gets some updates to give you better performance. The updates being offered in three trims of Toyota Revo are Toyota Revo V Automatic, Toyota Revo G Automatic, and Toyota Revo G Manual. We will be talking about the changes introduced in the Toyota Revo G Automatic variant.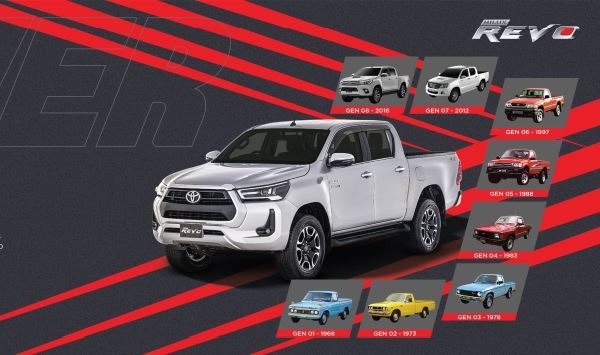 Changes introduced in Toyota Revo : (Trims & Variants)
Three variants of Revo are available which are G MT, G AT, and V AT whereas V AT is the higher-level trim, There are very minor differences in the trim major of which is the transmission.
The new Toyota Revo has four halogen lamps instead of two, and LED foglights have replaced the halogen fog lights. There are new Follow ME Home Headlamps with LED lights, and the IMC has Limited Slip Differential in it. There has been offered Variable Flow Steering-Control, and the Hi-Grade Steering-controls will replace the Mid-Grade steering controls. Similarly, the Speed Meter has also been upgraded from Mid Grade to Hi-Grade. The power train of the 2021 Toyota Revo is similar to the previous models. It offers a continuously varying automatic transmission in G & V while Manual Transmissions in Hilux E and Revo G.  The basic design and body layout are the same as the old Toyota Revo model but the new Revo is wider and has an updated front grille.
High-End Revo G V AT has some extra features include; cruise control, Bi beam LED PES, Chrome Door handlers, Cool hot box, and 6 Speakers instead of four.
Powertrain and transmission:
2021 All Trims of Toyota Revo get power from a 2755 cc, 4-cylinders, INLINE, Common-Rail diesel engine that generates a maximum capacity of 130 hp at 3400 RPM and a torque of 450 Nm at 1600 to 2400 RPM. It offers a six-speed, continuously varying transmission & manual transmission with a hydraulic power steering that works well. The suspension type is similar in all the double-wishbone variants on the front axle and leaf rigid on the rear axle. Similarly, the ventilated disc brakes on the front and LT Drum brakes on the rear are also the same in all the Toyota Revo variants.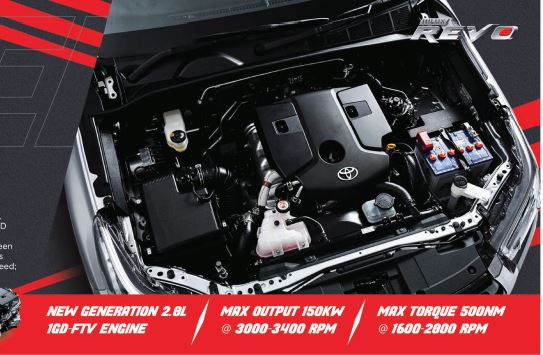 Performance & Ride:
The diesel engine of the new Toyota Revo has been designed to give you a more efficient and powerful driving performance. The turbocharger and intercooler improve the engine's power and performance with enhanced fuel efficiency and decreased engine noise so that you can enjoy a smooth and comfortable ride. The transmission is precise and gives you smooth driving feels with comprehensive gear ranges, low friction, and an acceleration management system that runs the car smoothly even at higher speeds. The steering response is good and lets you control your vehicle smoothly with fewer efforts required. You will be offered the facility to switch between two driving modes that are Eco mode and Power mode. The Eco Mode limits the power consumption to enhance the fuel economy. The power mode ensures a more agile drive on slopes and twisting roads by providing a sharp acceleration response and with a vehicle stability control system the driving gets even safer. The four-wheel-driving feature makes your journey more comfortable and convenient on rough terrains, and the engine gives enough power to run all four wheels efficiently. The electronic transfer switch eases your comfort, and you can switch between H2, H4, and L4 modes according to your requirement. It features a frame structure with enhanced rigidity that offers you exceptional durability in all types of conditions. The differential lock system ensures a safe and comfortable ride in muddy terrain by securing traction, so the vehicle does not stick in the mud. The LED headlamps with intelligent operation and LED foglights assist drivers in all types of extreme conditions and illuminate the roads properly. The fuel economy of Toyota Revo is just average as it gives you a mileage of 8-kilometers per liter in the city and 10-kilometers per liter on highways with a fuel tank capacity of 80 liters.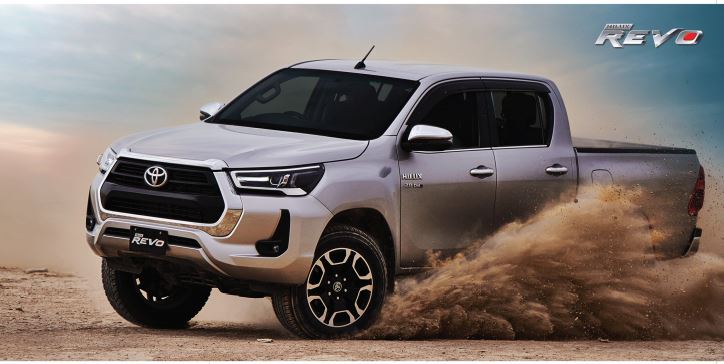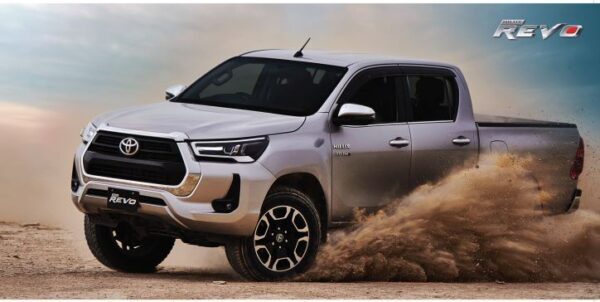 Exterior design and features:
The exterior design of the 2021 Toyota Revo is astonishing. The newly designed material with grey painted outer grille imparts on the front looks beautiful from all sides, and Follow Me Home System LED headlights with 4-headlamps are positioned on the sides of the central grille. The rear design is traditional, with a deck and two sleek designed taillights. The rear bumper has an easy step, and the deck is spacious enough to carry a large amount of cargo. The eighteen-inch alloy wheels give it a bold stance and complete its sporty looks, while it is available in three exterior color options: super white, attitude black Mica and graphite.
Interior design and features:
The black interior cabin of Toyota Revo G AT is known for its style and ultimate comfort. The seats are covered with premium quality leather with stitch detailing that gives a new dimension of luxury. The driver's seat can be adjusted electrically so the driver can have a comfortable drive. The convenience of passengers is maintained by giving them illumination lamps, storage slots, and illuminated controls. The cabin is spacious enough to accommodate five adults easily. You can start the car with the engine start and stop button, and the power door locks ensure your safety on the ride. A hot and cool box has also been provided in the higher end trim V AT while lower trims don't have it. A 4.2 inches TFT multi-information display serves as an instrument panel and ensures high visibility for providing the vehicle's information and a 9-inch capacitative touch screen to provide infotainment. You will be given 120 DC and 220 AC power sockets to charge your mobile phones anywhere you want, and the upper glove box comes with a ventilation system so that you can keep your beverages and other items chilled during your journeys. You will be given the feature of cruise control that puts the car at a constant speed without pressing the accelerator pedal so the driver can drive safely.
Safety & features:
According to EuroNCAP Toyota Hilux 8th Generation has received 3-star ratings for the 8th generation in 2016 but in the facelift version, there has been introduced new safety features that surely enhance the safety and get 4 stars.  Some of the safety features of the 2021 Toyota Revo G AT are as follows:
Active Traction Control
Hill-Start Assist Control
Immobilizer
Impact-absorbing and high-strength body
Anti-Lock Braking System
Brake Assist
Electronic Brake Force Distribution
Airbags
Major competitors:
Price:
The starting price of the 2021 Toyota Revo G AT is 64.29 lacs Pakistani rupees.