2023 Toyota Camry Hybrid
Sold in Pakistan = 2020-Present
XV70 Generation =  (2017-Present)
2023 Toyota Camry Hybrid Present Price in Pakistan
Price Effective from 10-March-2023
High Grade:

53,859,000 PKR

Low Grade:

Last Price in 2021:

160,500,00 PKR

(Discontinued)
Toyota Camry stands among the most expensive and luxury vehicles of the company,  7th Generation of Camry was introduced in 2011 (Code name XV50) that remained on sale up to 2017 while in 2018 Camry introduced the 8th generation with improved design and features. Toyota Camry may be the only car of Toyota Company in Pakistan that is available and launched with the current 8th generation and new model. As the demand for luxury vehicles has increased a lot and some new competitors also arrive in the market like Audi which is why the 8th generation Camry with a hybrid powertrain was introduced in Pakistan.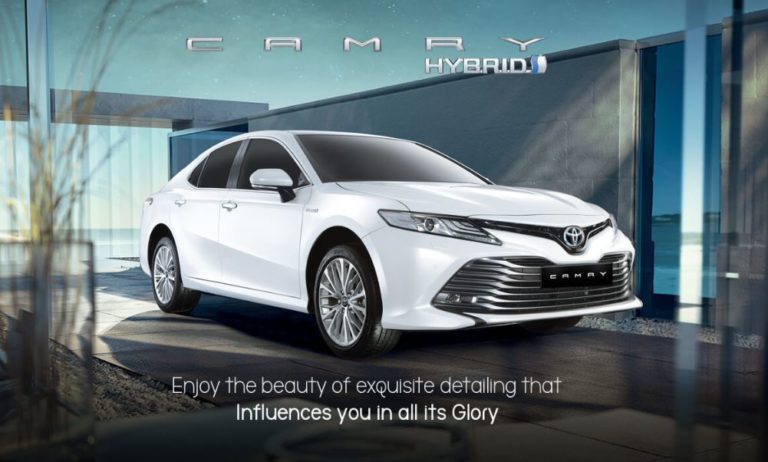 For the last 35 years, Camry remains the key player in luxury sedans, Camry has also been the American bestselling car for 15 consecutive years.
Trims & Variants:
In Pakistan, Two variants are available Hi-Grade and Low Grade, Differences among the variants can be viewed in the specs & Features Section.
Engine and Power:
The new model boasts the most powerful engines ever seen in Camry; the hybrid version available in Pakistan is powered by a 2.5-liter inline 4-cylinder SFI Euro 5 engine that Generates 131KW (175HP)@5700RPM of Power and 221NM@5200Rpm of Torque while 88 KW with 2020 Nm of torque Permanent Magnet Motor also gives more Power and Fuel Economy. Engines are paired with six speeds Sequential Shift Transmission that is designed to keep the Camry running at an ideal balance, power, and efficiency.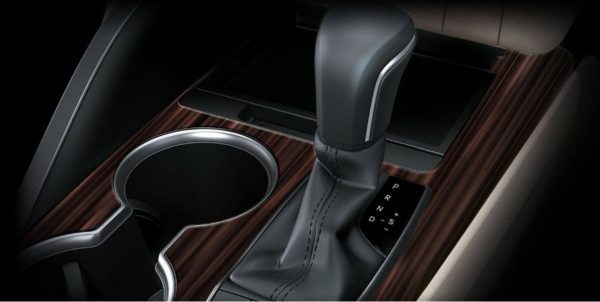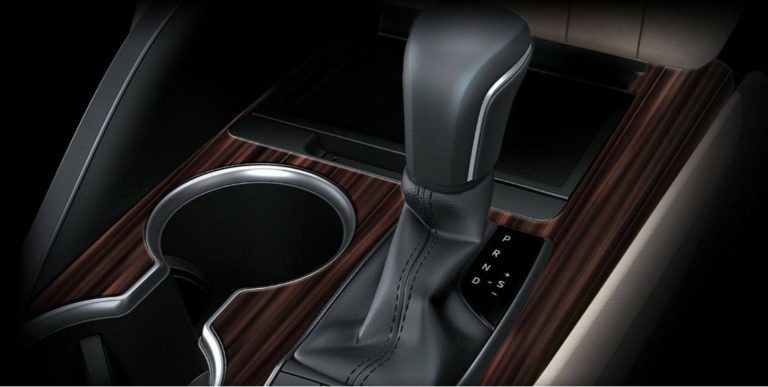 These new drive trains of Camry deliver more power and fuel economy than ever before. But to get even more from the new drive train an available drive mode selector enables drivers to switch between normal, sport, and eco drive sets.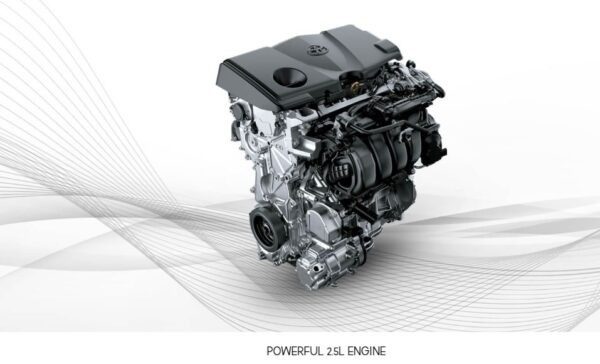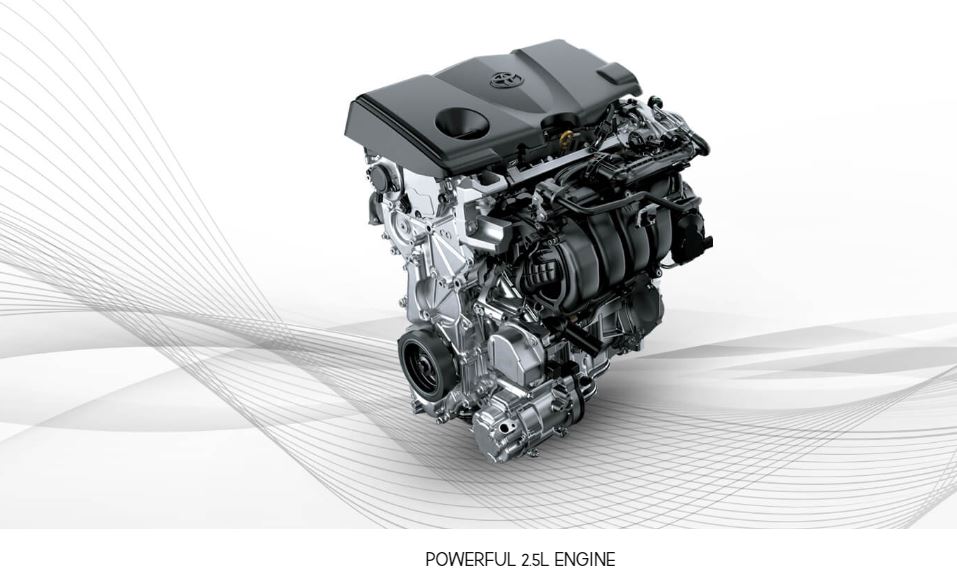 When it comes to peer efficiency though let's not forget that hybrid models, feature a new hybrid drive train designed for incredible fuel economy without sacrificing performance and that goal was achieved.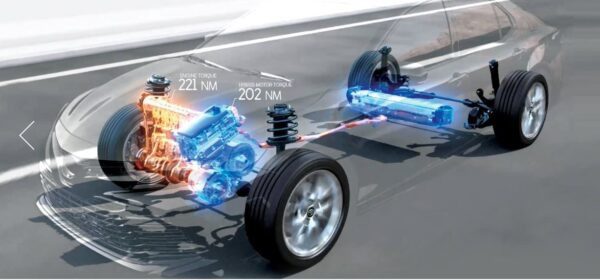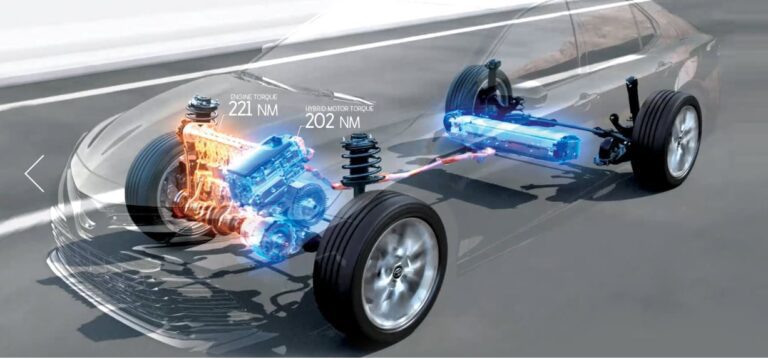 Performance & Drive:
New Camry ensures impressive stopping and handling because of its large disc brakes and fully independent suspension. Toyota Camry VIII (XV70) 2.5 (218 Hp) Hybrid CVT has a combined fuel consumption of 4.2-4.3 l/100 km Toyota Camry VIII (XV70) 2.5 (218 Hp) Hybrid CVT accelerates from 0 to 100 km/h in 8.3 sec. The maximum speed is 180 km/h | 112 mph.
Exterior Design & features:
The 8th Generation of the Toyota Camry is based on the latest TNGA Toyota global new architecture which makes it stronger and more dynamic than before and now it is more fun to drive the Camry today, TNGA platform with a low center of gravity offers a more engaging and dynamic driving manner. Toyota Camry falls in the category of midsized sedans while in the international market Camry is divided into 3 different models including S, L, and Hybrid. All models of L and S are very distinctive from one another. While only a hybrid Model of Camry is available in Pakistan.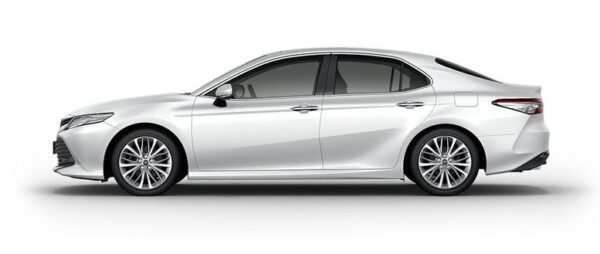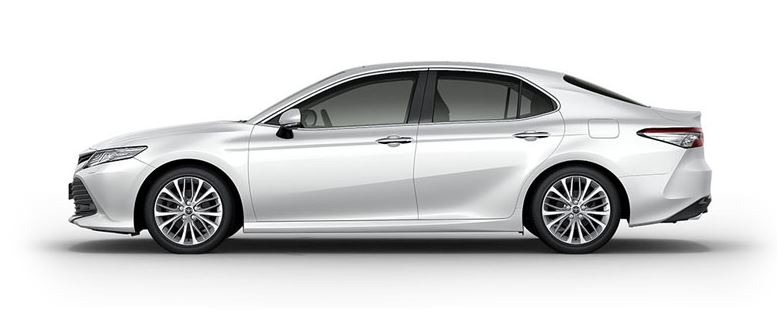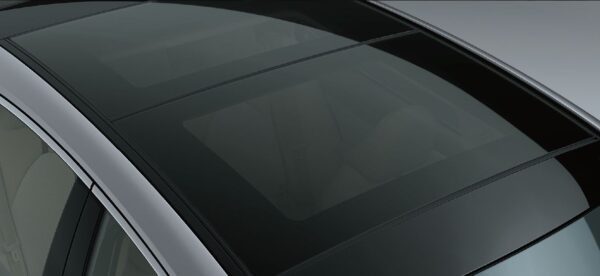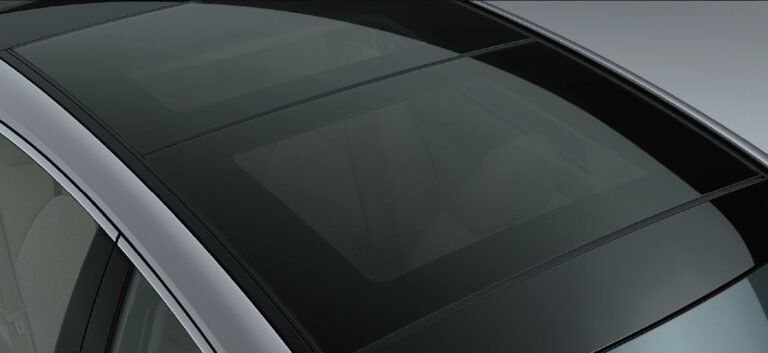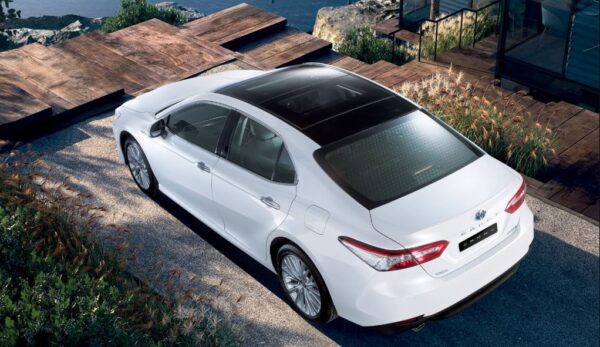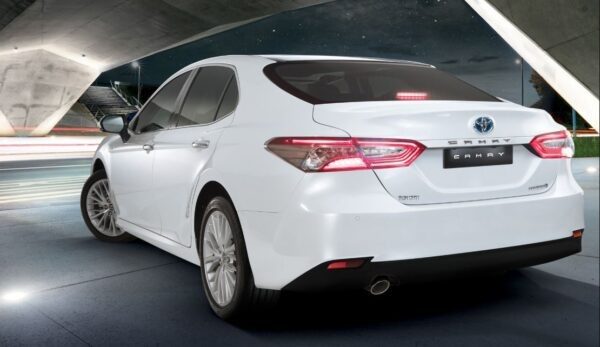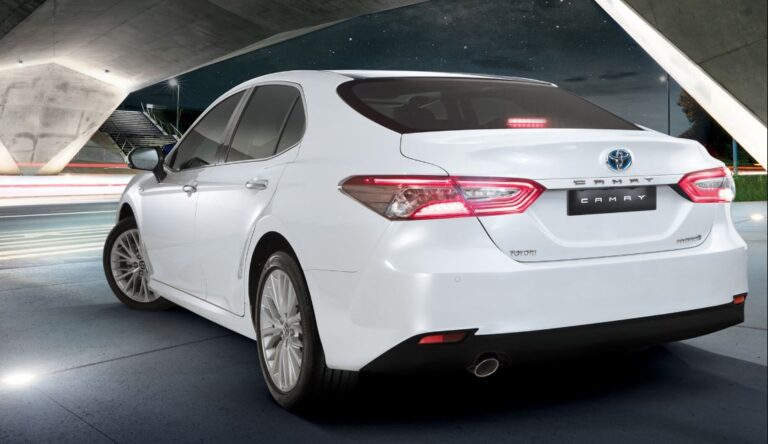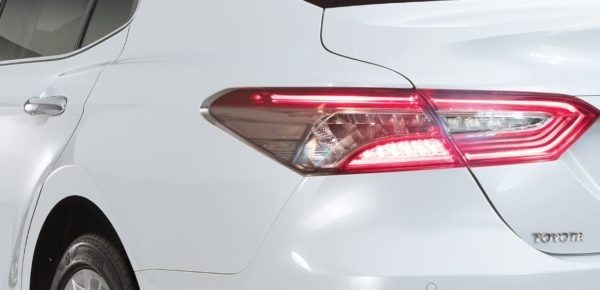 Internationally available L Models of Camry consist of L, Le, XLe, and XLE v6 have powerful and high-performance configurations other S Models of the Camry could be called with bolder design and appearance and these include SE, XSE, and XSE v6. Now there comes the Camry hybrid modes' including LE and XLE and Sporty Se hybrid. The 8th generation of Camry from 2018 to onward lineup consists of 10 vehicles and all of these have their own personality and appearance.
The front bumper and grille design vary from trim to trim as well as other exterior details like headlights, wheels and even the no of exhaust outlets. In the Hybrid version Present in Pakistan Low Grade and High-Grade Camry have the following features are standard which includes; Front LED Headlamps with Day time running lights, LED side turn signal indicators, Electric outside rearview mirrors, and smart chrome door handlers. One major difference in their outer appearance is the 17-inch alloy wheels are Low Grade while 18-inch alloy wheels are standard with High-Grade Hybrid.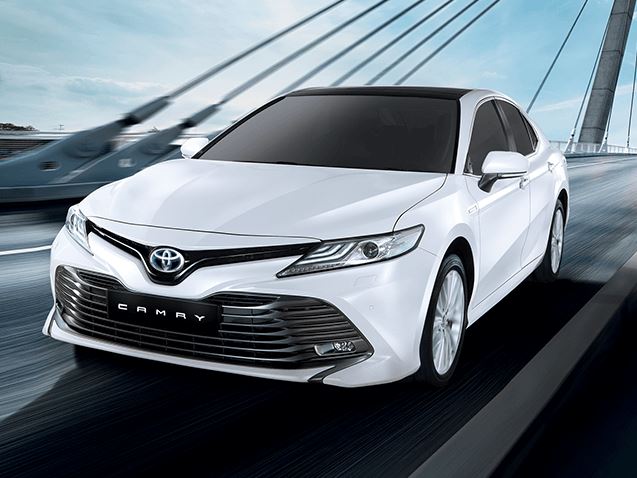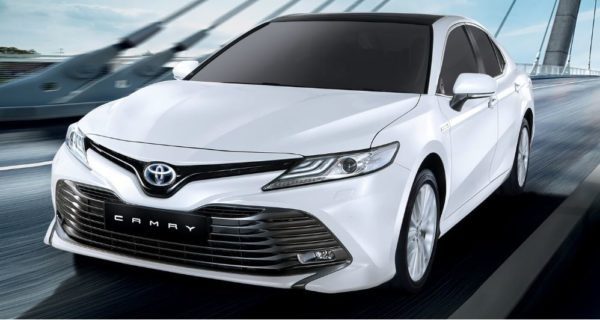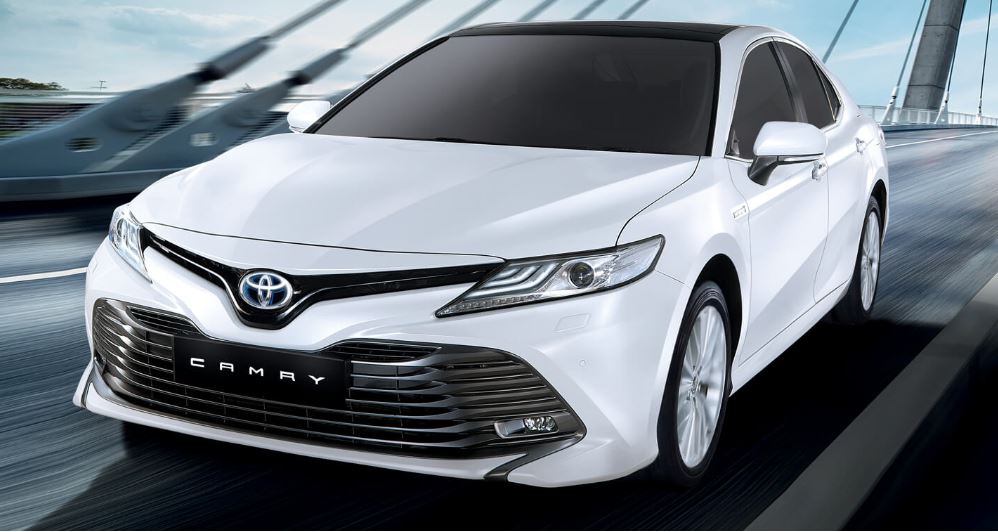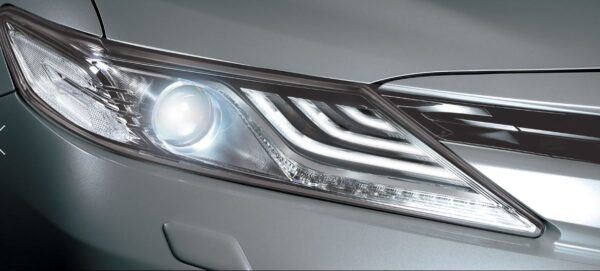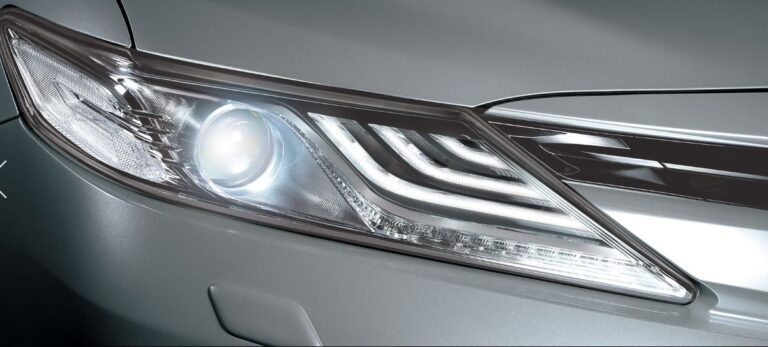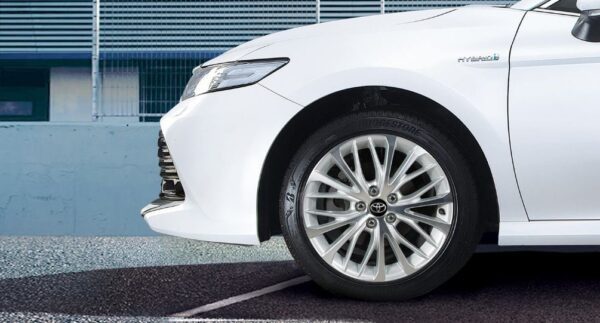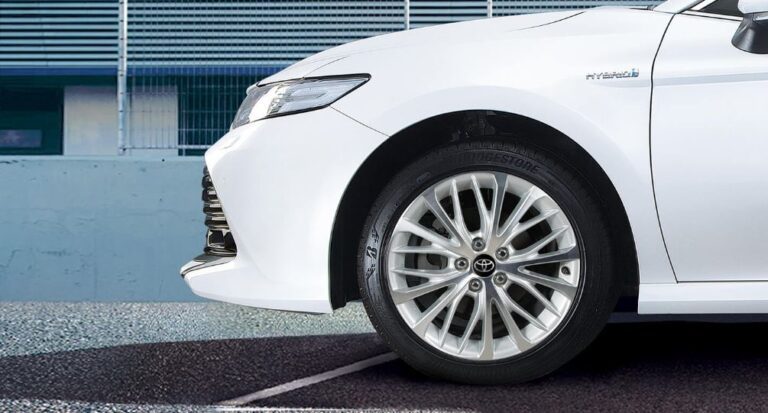 The New Camry exterior features a strong character line from the hood to the rear as well as a noticeably wider stance.
Interior Design & Features:
And stepping inside excitement continues. Camry's new interior not only offers a striking design with eye-catching new trim options but also the tone of great features and technologies. The 8th Generation Camry is the first Toyota vehicle that offers a new entune 3.0 multimedia system that brings great advances to vehicle connectivity and entertainment. Includes features like remote engine start right on your Smartphone, 3.0 entune also equipped with premium 6 speakers 800-watt JBL audio system with clarifying technology which rebuilds audio signal compression for optional sound quality.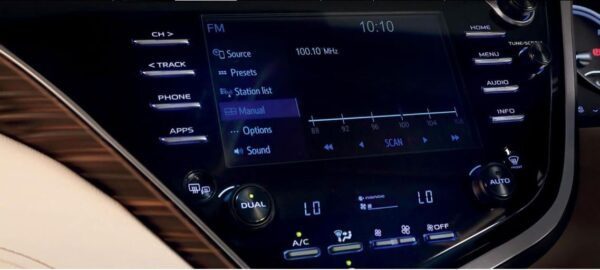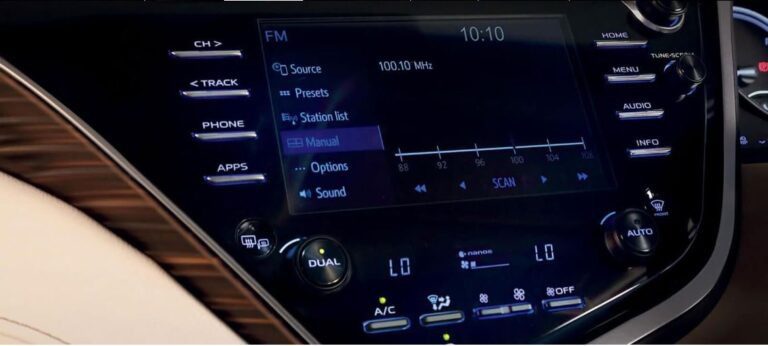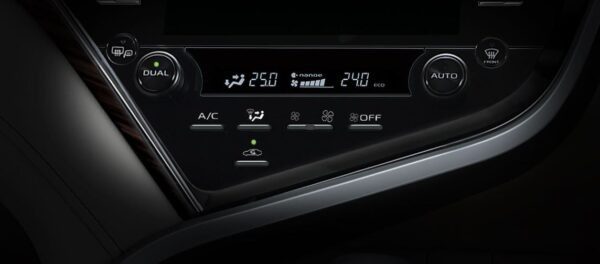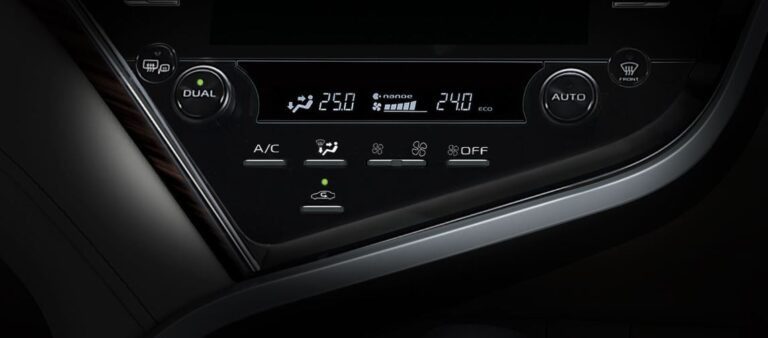 This multimedia system includes a standard backup camera but can also equip with an all-new bird's eye view camera system integrate right into the touchscreen display. The Major Difference between the interior of the two versions is the availability of the moon roof which is present in High Grade But not in Low-Grade Camry.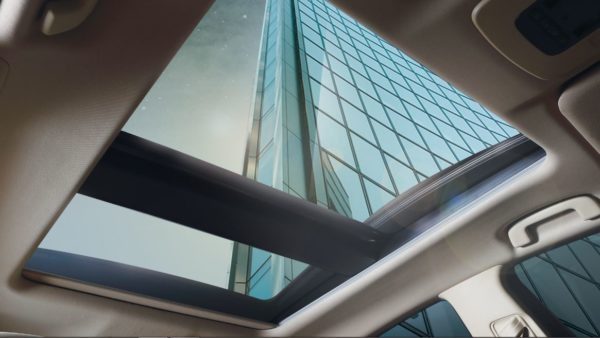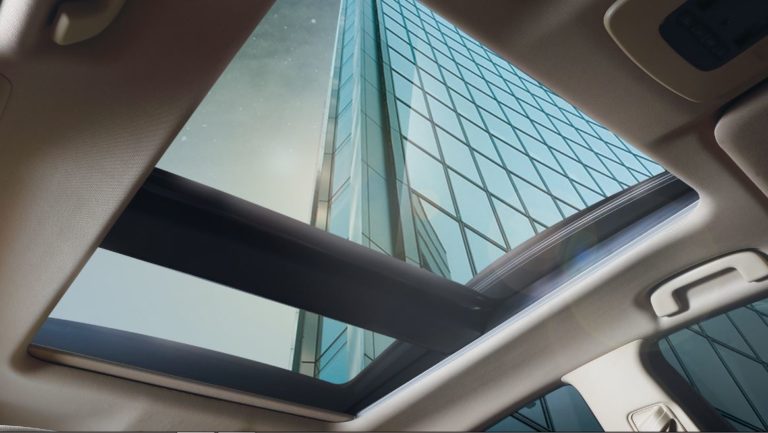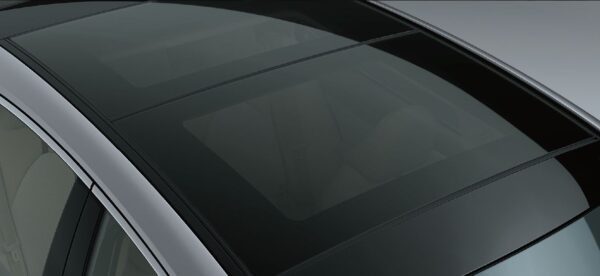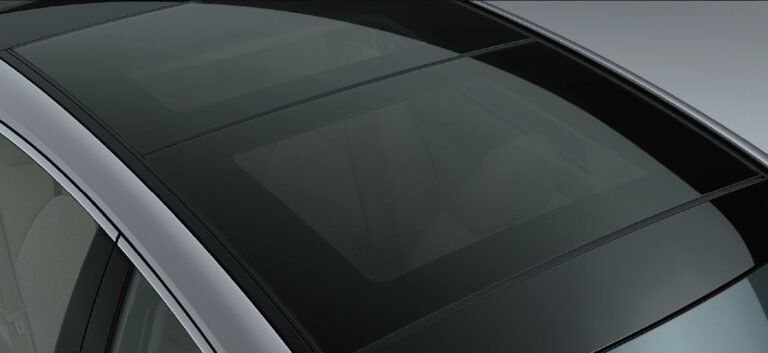 It also offers a new high-resolution 7-inch multi-touch display packed with useful information and settings as well as an available head-up display. The 2018 Camry interior isn't just all techs there is a good deal of comfort and convenience as well. Comfortable and highly adjustable front seats on both versions are standard with Driver 8 way and passenger 4-way adjustable seats as well as also offer useful convenience features like home link, wireless mobile charging, and all-new electronic parking brakes with brake hold system.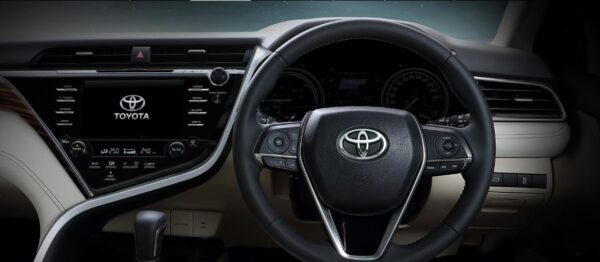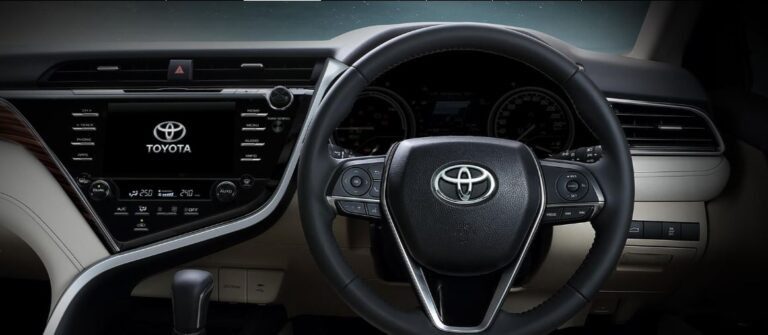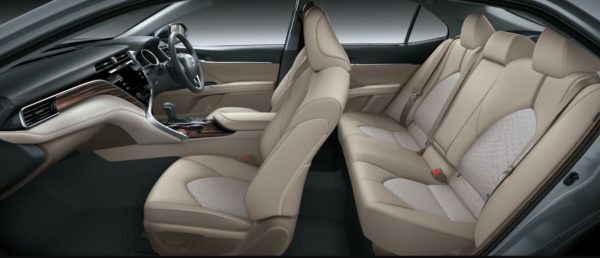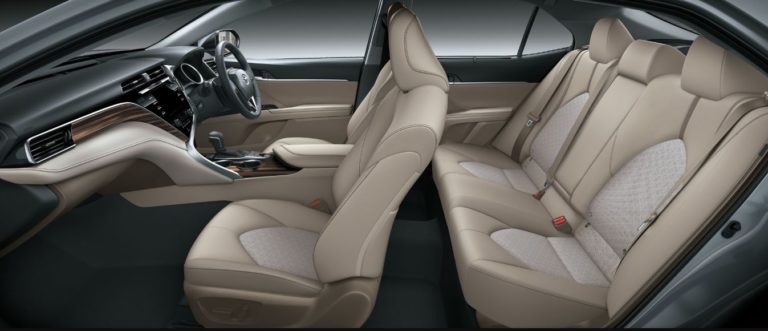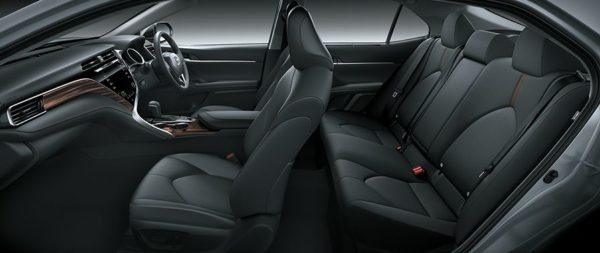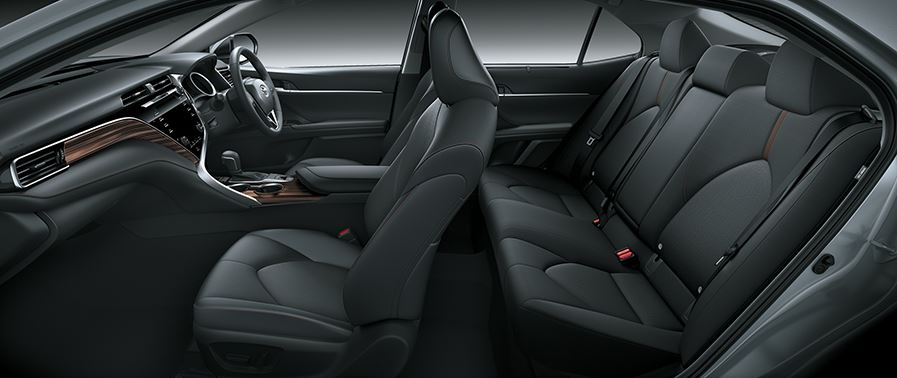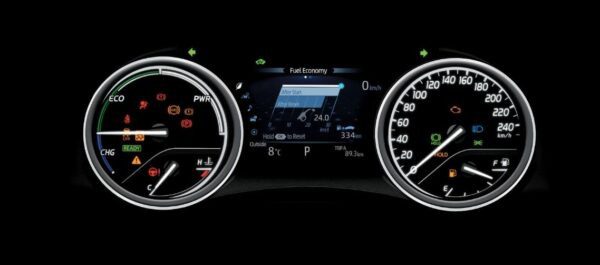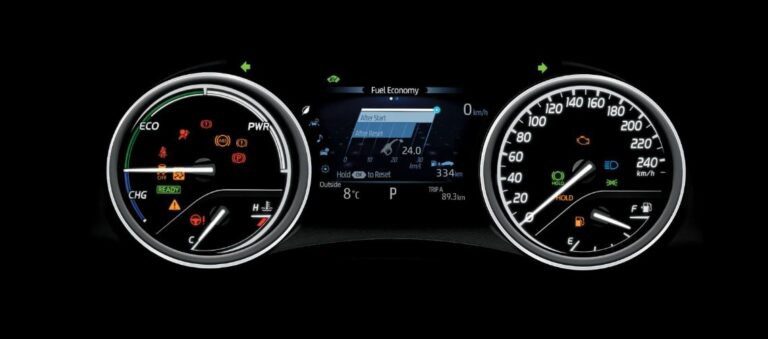 Brake Hold system: This new convenient design features hold the brakes for you when you are at a complete stop like a stoplight or in traffic without having to keep your foot on your brake pedal.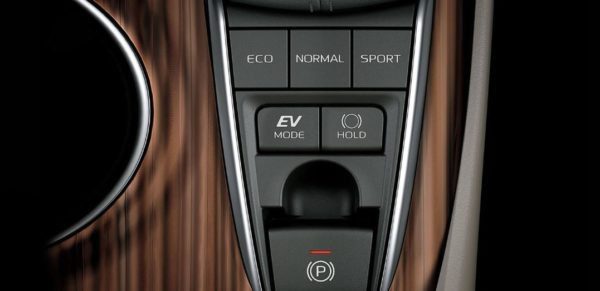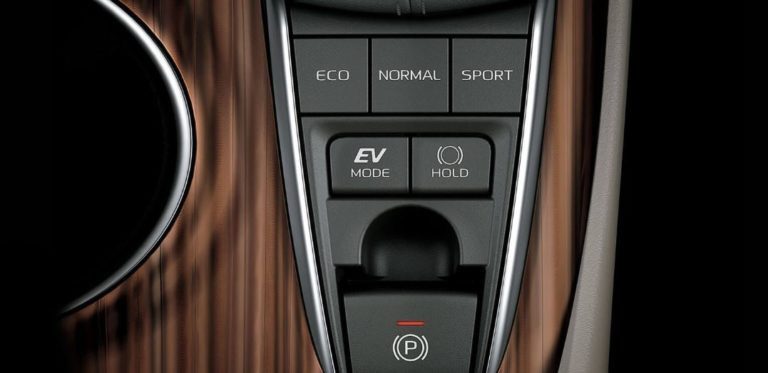 Naturally, it has all the usual details you expect from the modern vehicle as well as ample passenger and cargo compartments especially when the 60/90 split is folded down.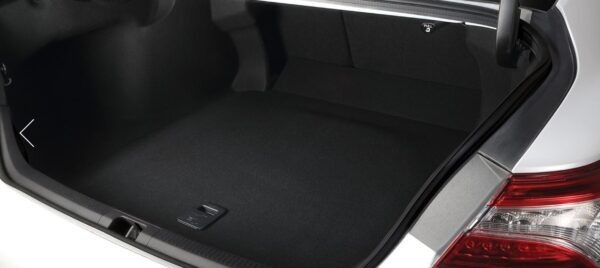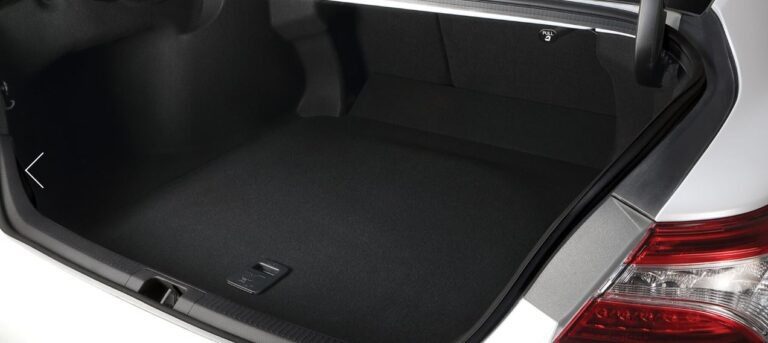 Safety & features:
It should go without saying its emphasis on technology extends to the 2018 Camry safety features as well. And that is beyond its impressive array of 6 airbags.  Other features include; Anti-theft system with alarm, impact sensing fuel cut, anti-lock brake system, vehicle stability control, hill start assist system,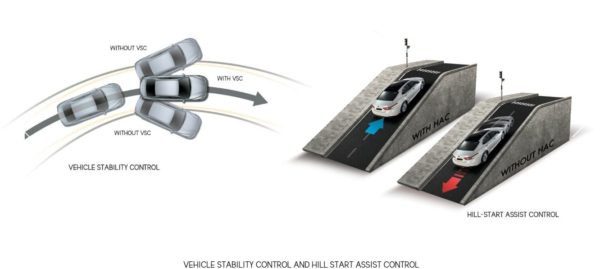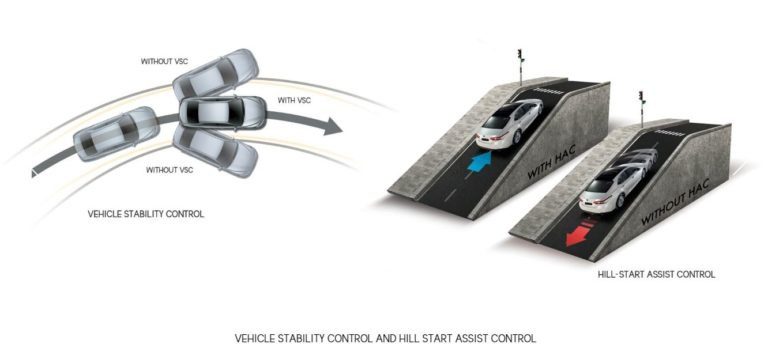 Door lock powered with speed lock, seat belts, seat belt warning, ISOFIX child seat Anchors, Light Reminder warning, Clearance, and Back Sonar.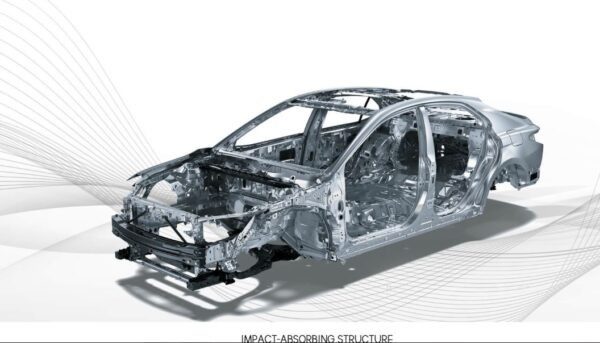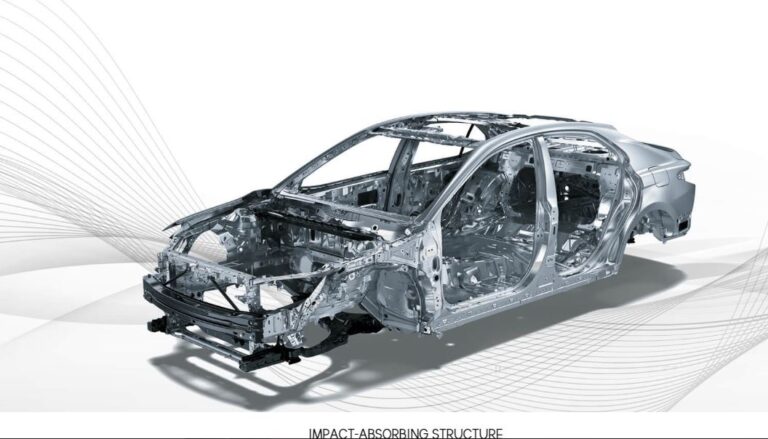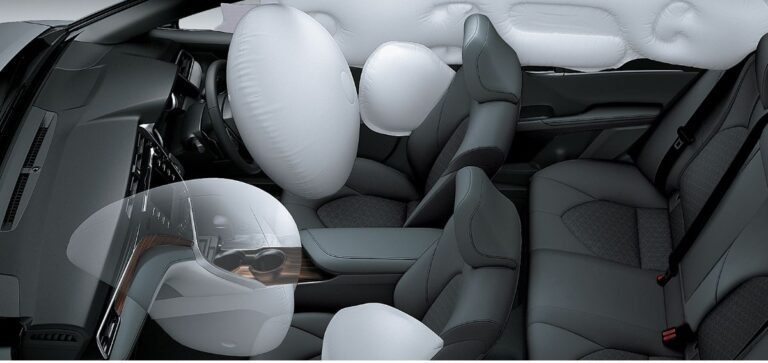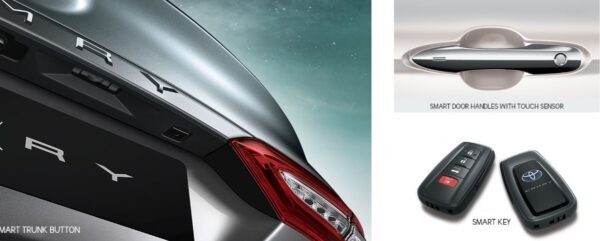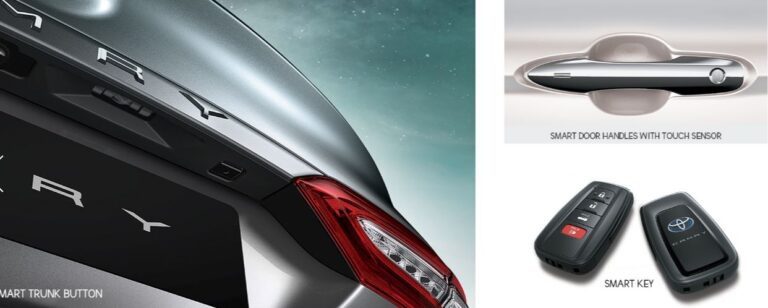 What Does Toyota Camry Hybrid Pakistan Not Have? :
Internationally SE and XSE models get a few sporty touches like the rear spoiler and in the Case of XSE available a two-tone paint schema while these options are not available in Camry Hybrids available in Pakistan. In the International versions engines are paired with (direct shift eight speeds automatic transmission) while in Pakistan Paired with Six speeds Sequential Shift Transmission Infect on SE and XSE models this transmission even offers paddle shifters mounted behind the steering wheel for maximum driver central and performance. All new expensive and luxury cars of Toyota have Toyota Safety Sense P and from 2018 all models of Camry internationally are fitted with the standard Toyota Safety Sense P  suite of advanced active safety technology while these are not available in Pakistani Camry Hybrids. As well as blind-spot monitoring rear cross-traffic alert provided with automatic braking if crossing traffic is detected reversing out of the driveway or parking spot is also Missing in the Local Camry.
Major Competitors:
Honda Accord, and Upcoming Hyundai Sonata, Kia Optima