2023 Toyota Hiace Deluxe
Sold in Pakistan = 2020-Present
6th Generation
2023 Toyota Hiace Deluxe Price in Pakistan
Price Effective from 10-March-2023
VARIANT
EX-FACTORY PRICE
Hiace Commuter Deluxe Std Roof 2.8L

13,069,000/-

 PKR
Hiace Commuter Deluxe High Roof 2.8L

14,959,000/-

 PKR
Hiace Tourer Deluxe High Roof AT 2.8L

17,059,000/-

 PKR
Luxury Wagon 2.8L (High)

21,029,000 /-

 PKR
Luxury Wagon 2.8L (Low)

(DISCONTINUED)

Last Price in 2020:

PKR. 11,199,000
Toyota has launched its all-new 6th generation Hiace in the Philippines and soon it will be launched all over the world in Pakistan, Indus Motor Company has also confirmed the launch of the 6th generation Hiace to replace the 5th generation soon available till the start of 2020. The teaser of the Hiace Deluxe was released by Indus Motors showing us the new looks of Hiace which have a protruding bonnet and a large-sized engine placed under the front seats by keeping in mind safety measurements as the bonnet will soften the blow during the collision of the car. The interior cabin is also restyled with updated features. It will be available in three versions that include standard roof, high roof commuter, and high roof tourer. It offers two engine choices either a 2.8 liters diesel engine can power your car or you can choose 3.5 liters petrol engine. All variants are equipped with two sliding doors while the executive package lets you slide the doors with power. You can purchase different packages to upgrade the features in your car e.g. elite package, leather package, and fabric seat package.
Engine & Power :
It will be powered by 2.8 liters 4 cylinders DOHC turbocharged diesel engine offering both manual and continuously varying transmission producing maximum power of 176 hp at 3400 rpm and 450 Nm torque at 1600 to 2400 rpm. This van comes with better handling and stability features because of its four-link coil suspension in the rear which also reduces engine noise in the cabin. It has received 5 stars in the NCAP crash test ensuring you a safe drive while many upgraded features are added that let the driver drive for extended distances without getting tired. With its high durability and reliability, it has been demonstrating prowess in over 150 countries and the 6th generation will soon be available in all its markets throughout the world.
Exterior Design & Features:
The exterior design varies invariants. Either the van will have a normal or standard roof or a high roof while the redesigned bonnet is a key feature in its upcoming model. It will be 5915 millimeters in length, 1950 millimeters in width, and 2280 millimeters in height while its gross weight will be around 2575 kilograms. The front grille gives it a much bolder design and the rear design is also much more appealing with L-shaped aggressive tail lights. It features seventeen inches alloy wheels with a multi-spoke premium look design. Some of the exterior features it offers are front and rear fog lamps, rear-window defogger, chrome front grille, acoustic windshield glass, halogen headlamps, and UV-cut green glass.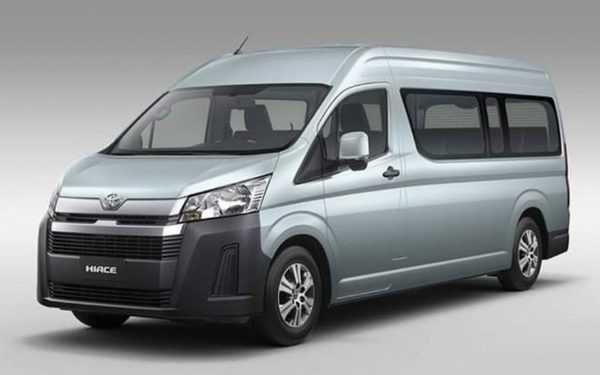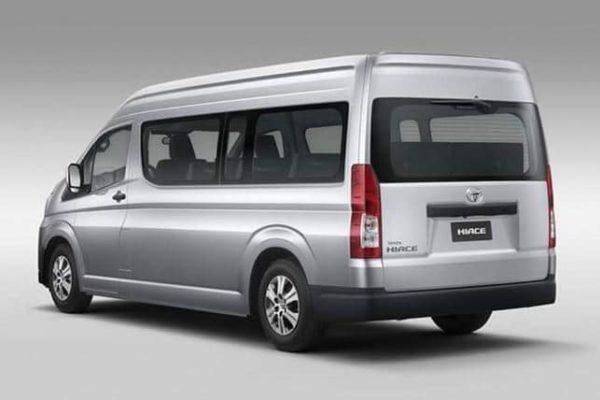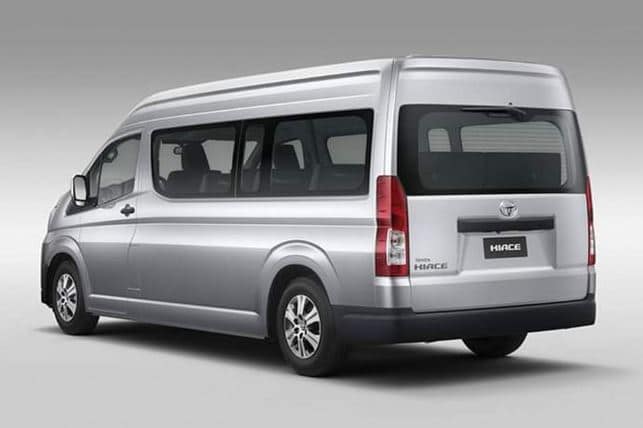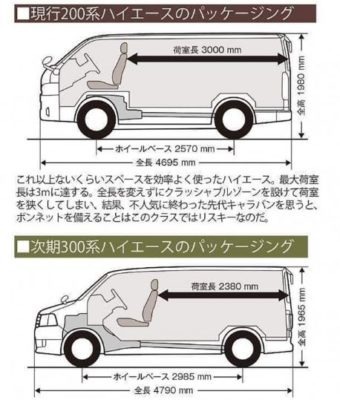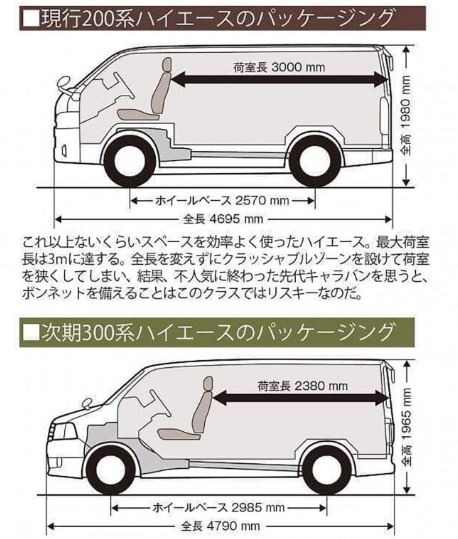 Interior Design & Features:
It is a four-door van with a seating capacity of seventeen passengers equipped with 2 pairs of captain seats on the first two rows while the last row has bench-style seats which can be powered and provided with a comfortable armrest and headrest. Operated and covered with leather upholstery in elite variant. The cabin is very comfortable and provided the latest features to enjoy a long route journey. The cabin is equipped with a total of twenty-one cup holders and the 2nd row features an aisle tray and 4 cup holders facilitating the passengers in having their meals comfortably during drives.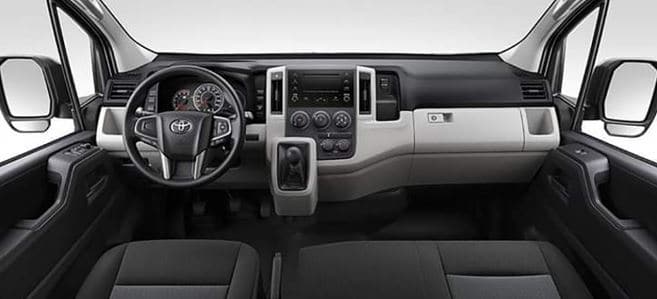 The cabin also features an automatic climate control system with powerful air conditioning and heating system. Passengers can easily adjust the brightness of the cabin with ambient color lights. It is also provided with the latest safety features including a pre-collision system, adaptive cruise control system, nine airbags for avoiding major injuries in accidents, a lane departure alert system, and automatic high beam lights. some of the features offered by it include six speakers audio system, an illuminated entry system, power door locks and windows, sliding windows, smart keyless entry, day and night rearview mirror, Bluetooth connectivity, and USB ports.
Pros & Cons:
Pros:
Mostly used for commercial transport
Being TOYOTA, People prefer to buy it for its build quality and for longer terms
Seating capacity of 17
Cons:
Expensive in its category
Expensive Spare Parts
Major Rivals:
Some of the tough competition for the 6th generation of Toyota Hiace will be given by Kia Grand Carnival, Hyundai Grand Starex & Suzuki APV