2023 Kia EV6 
Sold in the USA: 2022-Present
1st Generation
2023 Kia EV6 Price in the USA: 
EV6 Light RWD
Starts at:

41,400 $

EV6 Wind RWD
Starts at:

47,500 $

EV6 Wind AWD
Starts at:

51,400 $

EV6 GT-Line RWD
Starts at:

51,700 $

EV6 GT-Line AWD
Starts at:

56,400 $
The Kia EV6 is the first electric vehicle introduced by Kia Motors in 2021 and built on the Electric Global Modular Platform. The Kia EV6 has been awarded European Car of the year for 2022. The Kia EV6's sales started in the United States in February 2022 and managed to sell 2125 units in the first month. It has an eye-catching exterior design and a spacious cabin. It prioritized driving thrill and got excellent handling dynamics. It is an all-new electric vehicle by Kia compatible with DC fast charging stations. It is a small crossover or a hatchback, and unlike Niro EV, it is designed as an all-new electric vehicle from the get-go. It delivers a smooth ride and keeps ride quality high over bumps and breakers. The cabin is not as futuristic as other electric vehicles on the market but offers a generous passenger room. The power model GT was upcoming, and 2023 is bringing a new Kia EV6, which will line up the GT model. The latest Kia EV6 will be similar to the 2022 Kia EV6 except for the new GT model. It will produce 576 hp power and offers adaptive suspension. It will provide quick acceleration, and fuel economy will be improved. The Kia EV6 GT adds sporty trim to the interior cabin, including the sports seats and neon green colour touch. Rear-wheel-drive is standard in models of the latest Kia EV6, and optional all-wheel-drive is also offered. It competes with Ford Mustang Match E and Hyundai Ioniq5, but it is better than its rivals in terms of better passenger space. The buyers of the Kia EV6 GT will get a charging credit of 1000 kWh at VW subsidiary stations for over three years. It will be the most powerful electric Kia production vehicle ever. Its mission is to counter American Electric vehicles, and it will hit the United States markets by the end of this year.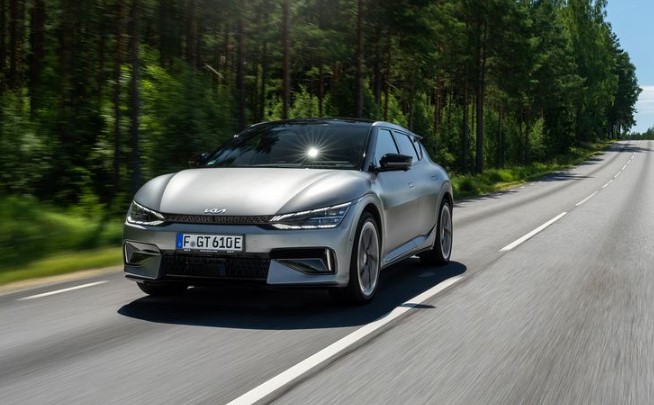 Trims & Variants:
The latest Kia EV6 will be available in 4 trim levels:
Light: it offers 19-inches alloy wheels, keyless entry, heated front seats, leather-wrapped steering wheel, driver's memory seat, rear air vents, 12.3-inches touch screen, 6-speakers audio system, wireless charging pad, navigation system, and dual-zone automatic climate control.
Wind: it offers a hands-free liftgate, 14-speaker audio system, ventilated front seats, faux leather upholstery, front and rear parking sensors, heat pump, automated parking system, blind spot camera, and automatic rear parking.
GT-Line: it offers a sunroof, technology package, heated steering wheel, automated lane change Assist, evasive steering Assist, and adaptive cruise control.
GT: it will offer 576 hp power, green interior trim, sports seat, adaptive suspension, and better fuel economy. It is the sports version of the Kia EV6 and has sporty character and looks.
All variants come with standard rear-wheel drive and an optional all-wheel-drive configuration if offered in Wind, GT-Line, and GT variants.
Powertrain, Transmission & Battery: 
The Light trim offers rear-wheel drive and comes with a single rear-mounted electric motor and a battery pack of 58 kWh, generating 167 hp of power and 258 lb-ft of torque. The Wind trim and Line trims with rear-wheel-drive generate 225 hp power, and the all-wheel-drive configuration comes with two motors and a larger-sized battery of 77.4 kWh, generating 320 hp of power and 446 lb-ft of torque. The GT trim gets an electric motor at the front and rear and offers an all-wheel drive that produces an excessive power of 576 hp. All variants of the Kia EV6 offer single-speed reduction gear transmission.
Performance, Drive & Range:
The Kia EV6 comes in two battery sizes: rear-wheel-drive trims offer a single electric motor, while the all-wheel-drive trims offer two electric motors. The smaller and standard battery size is 58.0 kWh, and it gets an estimated range of 232 miles, while the larger battery size of 77.4 KWh gets an estimated range of 310 miles. The upcoming performance model GT gets an estimated mileage of 206 miles because of the additional power needed to get extra horsepower. The GT-Line takes 4.5 seconds to accelerate from 0 to 60 miles per hour. The GT power trim accelerates from 0 to 60 miles per hour in 3.2 seconds. It is faster than Porsche Cayenne Coupe. Charging Kia EV6's battery is very convenient. Kia claims that it takes only 18 minutes to charge your battery from 10 to 80 percent with a 350 kW fast charger and an onboard 11 kW charger charging the battery to a full 100 percent in seven hours. The Kia EV6 offers one of the best fuel economies in the electric vehicle lineup, and the single-motor EV6 has an EPA rating of 117 MPGe, while the dual-motor EV6 has an EPA rating of 105 MPGe. The Kia EV6 utilizes E-GMP architecture and uses ultra-high strength steel in its structure for better handling, safety, and a mid-size SUV wheelbase. The Kia EV6's handling is one of the best. Whenever the road takes you through turns and curves, the all-powerful electric engine and low center of gravity offer impressive handling, which is a thrilling experience. There are over 41,400 charging stations in the United States, and you can find the charging spots on the LED display using the Kia Connect app. Kia EV6 delivers an excellent performance no matter how unfavorable the weather is. There is a heat pump, preserving an all-electric range in extremely cold weather, and heated steering wheel, and heated front and rear seats to keep you warm on cold days.
Exterior Design & Features:
The Kia EV6 has a striking exterior design, taking the driving experience to another level with premium accents and bold design. The front end has a Tiger nose grille, and the headlights have a sequential lighting system. The Kia EV6 body has simple lines and a bold surface. The low air intakes give a wide front look, and a flat floor contributes to better aerodynamics. The side profile is sleek and athletic, with sharp lines, and the swept-back windshield gives dynamism to the look. The rear has a sloping rear C-pillar and glossy black insert, widening the glass window. The back spoiler channels air downwards, and the higher-end trims come with 20-inches alloy wheels that enhance the sporty character. The high-performance brakes have unique neon green and mono-black calipers that look stunning.
Interior Design & Features:
The inside of the Kia EV6 is stylish and comfortable. The GT trim comes with bucket seats that are lightweight and sporty and offers maximum comfort to the passengers. The higher-end trims have faux leather seats to increase the premium feels in the cabin and enhance the comfort level. The driver's seat comes with a memory function and various power adjustments. The front and rear seats have heating and ventilation functions to comfort the driver and passengers. The D-shaped sport steering wheel in the GT model has an eye-catching neon green switch that looks vibrant. There is a 12-inches digital cluster and a 12-inches touch screen that gives infotainment and comes with Android Auto and Apple Car Play interface. There is a wireless charging device to charge your smartphones wherever you want and a Wi-Fi hotspot to entertain. It offers a Meridian unit with fourteen speakers that give good sound quality. The cabin has generous passenger space and 28 cubic feet of cargo space, which can be increased up to 54 cubic feet with the rear seats folded.
Safety & Features:
Euro NCAP awarded the EV6 a five-star safety rating in May 2022, with the all-electric crossover achieving a 90 per cent rating for adult protection and 86 per cent for child passenger protection.
Some safety features Kia EV6 offers are:
Forward collision avoidance Assist
Highway Driving Assist
Remote smart parking Assist
Blind spot camera
Adaptive cruise control
Rear cross-traffic alert
Pros & Cons:
Pros:
It has an eye-catching exterior design, and the interior is styled nicely with a generous passenger room. It is compatible with high-rate charging stations and charges the battery quickly. It is fun to drive Kia EV6.
Cons:
The infotainment system is not the latest, and the cargo space is less than the rivals. The EPA range is less in the GT model, and some driver assist programs can be improved.
Major Competitors: