2022 Volkswagen ID4 
Sold in the USA = 2020-Present
Generation = 1st
2022 Volkswagen ID 4 Price in the USA:
PRO

Starts at:

40,760 $

PRO S

Starts at:

45,260 $

PRO S Gradient

Starts at:

46,760 $
Volkswagen ID.4 is the second ID series car introduced by Volkswagen in 2020 as an electric crossover SUV. It is built on the Volkswagen MEB platform and this German product will be available to European markets at the end of 2020 and in the first half of 2021 in North America. It is introduced as a rear motor rear-wheel-drive car which was first revealed in 2017 in Shanghai. Volkswagen claims this new adventure to be something to behold that you have not seen before. It will change your vision about electric cars by providing you with a spacious interior cabin along with a striking exterior body. The ID.4 is the new addition in Volkswagen cars while all-new we have is a combination of the all-electric version to this sub-brand ID. ID-4 will be manufacturing in Germany and China from where it will hit US markets too. Chattanooga plant in Germany was all scheduled to start its launch in September 2020 while the British markets will be seeing this new addition soon at the start of 2021.
Trims & Versions:
The all-new Volkswagen ID.4 is available in three variants that include ID.4 Base trim, ID.4 Pro, and ID.4 1st Edition. The Base Trim satisfies you with necessary features at such a good price while Pro trim and 1st Edition trim are equipped with more up-to-date and latest features. Pro-Trim features IQ Drive advance driver's assistance programs, pro navigation with ten inches display screen, ID light, heated front seats along with heated steering and wireless charging. The Pro S Gradient Trim features white interior accents, a black-colored roof with silver roof rails, twenty inches bold alloy wheels, LED headlights, and a panoramic glass roof.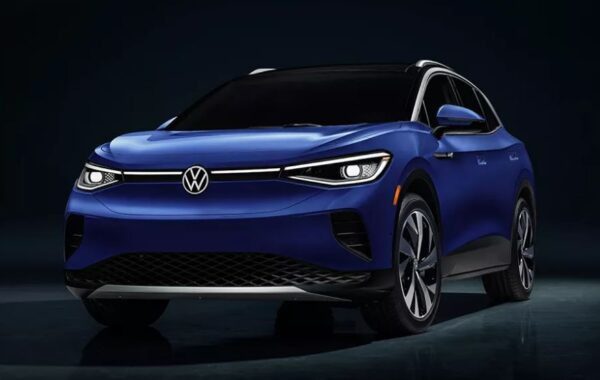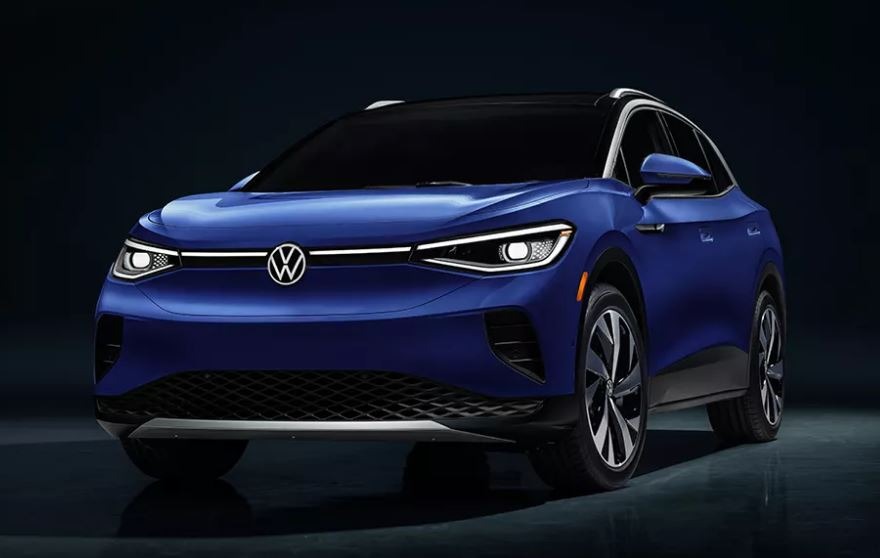 Drivetrain & Power:
It is driven by the rear-mounted AC motor that is powered by an 82 kWh lithium-ion battery generating a horsepower of 201 hp and torque of 228 pounds-feet. This single motor delivers enough power to run the rear wheels efficiently while the all-wheel-drive performance will soon be available in 2021 driven by dual motors that will be able to produce a horsepower of 302 hp. The 82 kWh batteries can be charged easily in 38 minutes from five percent to eighty percent at 125 kW. It can be changed easily at home on 110 volts or240 volts connections. The 1st Edition trim can be charged either with AC or DC.
Performance & Drive:
Volkswagen ID.4 is a comfy electric SUV that makes your driving fun by taking you to the right turn with less driver's effort. It offers you 8.2 inches of ground clearance which is quite encouraging never makes you feel off-roading. Its 82 KW battery gives you a mileage of 250 miles which is quite economical. The 1st Edition trim can be charged onboard with an 11 kWh battery which can charge the car in one hour to cover a mileage of thirty-three miles. The ID.4 can sprint from zero to sixty miles per hour in 7.8 seconds with an initial fast acceleration and increases rapidly as compared to other electric vehicles.
It does not give you an actual sporty drive as the large-sized battery increases the weight of the car limiting the natural nimbleness of the car. It does not even give you the feeling of torque steering by giving smooth and firm execution. While talking about the driving experience you will be amazed by its instant torque at the moment you are hitting the pedal and the acceleration power is quieter than the normal combustion engine which could make your ride uncomfortable but the ride is not sound insulated even. The braking system of ID.4 is not much appealing giving a little squishy feeling by making it hard to apply brakes no matter how much torque is applied. On the whole, its driving performance is wonderful in this package giving you all convenient features as compared to other competitors in this class.
Exterior design and features:
The exterior design of ID.4 promises smooth and modern looks resembling Tesla's Model Y and Mazda CX5. The aerodynamic styling along with clean lining creates an attractive silhouette and the mesh grille on the front is striking along with the sleek LED headlights. The Gradient package can further update its design with a black-colored roof along with silver-colored roof rails and silver accents to make it bolder while twenty inches alloy wheel completes its boldness to the next level.
The panoramic sunroof is astonishing giving its beauty all the stars by adding magical sunlight in the cabin and the electric shades can be switched by the swipe of your finger. The lightings in 1st Edition trim is eye-catching by glowing the LED tail lights, door handles and the illuminated Volkswagen nameplate meshed on the grille giving it the real beauty. The First Edition also comes with black mirrors.
Interior design and features:
The interior is as stunning as the exterior with white interior accents and black mirrors in 1st Edition while all other trims fulfill your comfort by providing you with a spacious cabin to accommodate four adults and its twelve way electrically adjusted front seats are super comfortable while the massaging function in driver's seat is so relaxing.
The rear seat compartment is generous enough too while talking about the cabin it is equipped with ten inches or an optional twelve inches screen to control major functions of the cabin and the larger screen can even be operated by gesture controls letting you change the functions by swiping your hand, wireless charging system for both Apple and Android smartphones, Wi-Fi hotspot system, USB ports and dual-zone climate control system that are controlled by touch screen and adjusts the temperature in the cabin while the front seats along with steering and mirrors are given with heating technology to keep the cabin warm even at extreme cold weathers.
Safety & features:
 It has not yet been tested by IIHS and NHTS but it features all the latest safety technologies. Some of the safety features of ID.4 include an adaptive cruise control system, blind-spot detection, lane departure mitigation warning alarm, and automatic high beam control LED headlights, parking sensors at front and back, emergency braking system, and IQ Drive program that transforms driving experience of yours conveniently and beautifully.
Major competitors:
Ford Mustang Mach E
Nissan Ariya
Verdict & Conclusion:
1st Generation Volkswagen ID.4 all-electric SUV has many modest powers to offer you with spacious interior with generous storage space and up-to-date technology. Thus it will be a big competition for all the available electric cars in the market for being well rounded in addition to reasonably priced.