2023 Kia Forte 
Sold in the USA: 2018-Present
3rd Generation (facelift introduced in 2021)
2023 Kia Forte Price in the USA
Kia forte LX

Starts at:

19,690 $

Kia forte LXS

Starts at:

20,190 $

Kia Forte GT-Line

Starts at:

21,890 $

Kia forte GT

Starts at:

24,390 $

Kia Forte GT Manual

Starts at:

25,090 $
The Kia Forte, also known as Cerato in the United States, is a compact car introduced in 2008, replacing Kia Spectra. The Kia Forte is available in variations that are two-door coupe, four-door sedan, and 5-door hatchback. The latest 3rd generation Kia Forte, or Kia Cerato, was launched in 2018 in North America and is a redesigned model, which is available in a sedan in the United States of America and not available in the hatchback variant due to low sales. It resembles Kia Stinger because it was designed by the same designer who designed Kia Stinger. The Kia Forte is a comfortable sedan with a list of features, and its ride quality is fantastic. The 2022 Kia Forte comes with a refreshed exterior design, and the EX trim is discontinued in the 2022 Kia Forte. The 2023 Kia Forte is ranked number three among other compact cars in the United States of America because of its efficient performance and comfort level. The Kia Forte is almost unchanged compared to the 2022 Kia Forte other than the trim lineup in which the entry-level FE trim is renamed to LX, and GT manual trim is added. It is a fuel-efficient car and offers better handling dynamics. It is available at a lower price compared to its rivals. One of the best features of the Kia Forte is that it has a spacious cabin, and its cargo space and passenger room are similar to Honda Civic. Still, it is better than Honda Civic because of its better fuel economy and performance. It costs slightly more than Toyota Corolla, but its ride quality and handling are better than Toyota Corolla. The Kia Forte gets an overall 4-stars out of five in NHTSA ratings because it offers many safety features. We will discuss the details of the  Kia Forte's specs and features today.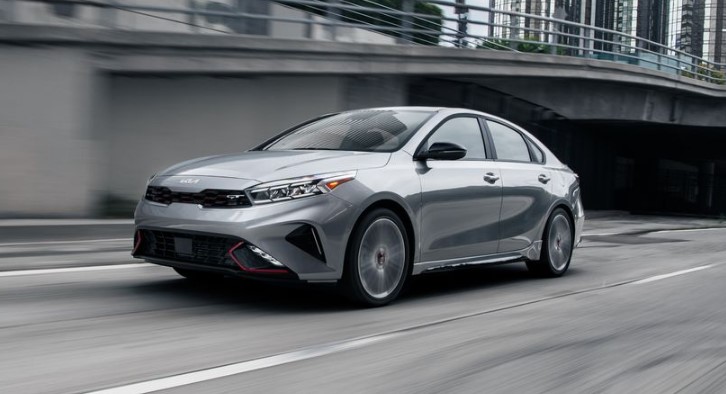 Trims Available:
The latest Kia Forte is available in five trim levels:
LX: it is the entry-level trim that offers cloth upholstery, an eight-inches touch screen, Bluetooth connection, four speakers, automated emergency braking, rearview camera, and lane-keep Assist.
LXS: it offers alloy wheels, a blind-spot monitoring system, split-folding rear seats, a rear-cross traffic alert alarm, and soft-touch interior surfaces.
GT-Line: it offers a leather-wrapped steering wheel, an additional USB port, six speakers, keyless entry, navigation, a power trunk, Apple Car Play, Android Auto, a 10.25-inch touch screen, push-start button, and offers three packages. The GT-Line Technology package provides adaptive cruise control, highway drive Assist, and cyclist detection. The GT-Line Premium package provides a sunroof, a wireless charging device, and an eight-speaker sound system. The GT Line Sport Premium package offers synthetic leather upholstery, rear USB ports, ventilated front seats, and 10-way power adjustable driver's seat.
GT: it offers a 7-speed dual-clutch transmission, eighteen-inch alloy wheels, a rear USB port, wireless charging, LED headlights, and paddle shifters. It comes with a GT2 Premium package that offers a sunroof, 10-way power adjustable driver's seat, rear parking sensors, and LED interior lighting.
GT Manual: it offers a six-speed manual transmission, power adjustable driver's seat, synthetic leather upholstery, and ventilated front seats.
Engine, Transmission & Power:
The 2023 Kia Forte is available in two engine options:
A 2.0-liter, the four-cylinder engine generates 147 hp of power and 132 lb-ft of torque. It offers a continuously varying automatic transmission. It is available in LX, LXS, GT Manual, and GT-Line trims. The GT Manual trim provides a six-speed manual transmission.
The GT trim gets its power from a 1.6-liter, four-cylinder engine that generates 201 hp of power and 195 lb-ft of torque. It offers a seven-speed dual-clutch automatic transmission.
Performance & Drive:
The Kia Forte is an excellent car to ride, and you can experience its power and incredible performance when you drive it. The dual-clutch transmission is controlled through steering wheel-mounted paddle shifters. The six-speed manual transmission is controlled through three pedals and works well. It delivers power accordingly when needed but drops revs when you ease the throttle. Both engines strike a balance of good performance and fuel economy. The Kia Forte is easy to drive and offers good ride quality. The suspension system is well and delivers good performance unless the road is very rough, and the ride quality can be lower when driving over large bumps and imperfections. The braking system is efficient and applies brakes on both dry and wet roads smoothly within no time. It accelerates from 0 to 60 miles per hour in 8.7 seconds. The steering response is agile and offers little feedback compared to its rivals which affect ride quality when turning the car around corners. One of the best things about the 2023 Kia Forte is its fuel economy, it gets 32 miles per gallon combined mileage which is better than most competitors. It assists drivers with forwarding collision avoidance Assist, which avoids accidents and applies brakes in emergencies to prevent frontal collisions. It offers blind-spot collision avoidance that avoids accidents when a vehicle is detected in the blind spot of the car. It provides a navigation-based, Smart cruise control system that adjusts the preset speed automatically and maintains a safe distance from the driver ahead. The Lane Keeping Assist system corrects steering directions in emergencies to bring the vehicle back into the desired lane and keeps the car in the center of the lane. The auto headlight control with high beam assist adjusts the light according to the road conditions.
Exterior Design & Features:
The Kia Forte has a sporty attitude and bold looks with an eye-catching grille. There is a sleek upper and lower grille and an eye-catching front bumper. The diamond-shaped LED headlights have high beam assist and add style to the front end. The taillights, bumper at the rear, and Kia Forte logo on the back enhance the striking impression at the back. It comes with sixteen-inch alloy wheels, and the higher-end trims offer 18-inch alloy wheels that add sporty character to the car. It is available in nine exterior color options.
Interior Design & Features:
The Kia Forte is a spacious car with ample passenger room. It offers a total capacity of 111 cubic feet in the cabin, which is greater than the Toyota Corolla and Mazda. It offers heated and ventilated seats at the front, and you can alter the heat and fan speed according to your choice, so your comfort is increased. The driver's seat comes with a 10-way power adjustment and two-way lumbar support so you can customize the driving position according to your requirement. The rear seats fold easily to increase the cargo area. There is a 10.25-inch touch screen that comes with Android Auto and Apple Car Play interface. The voice command navigation system helps in finding your destination with a clear vision. The wireless charging device helps charge your phone by placing your phone on a charging pad, and the smart key comes with a push button to start remote smart. The Smart trunk opens automatically by standing directly behind the trunk with the key fob.
Safety & Features:
The National Highway Traffic Safety Administration, NHTSA, gave this model a 4-Star Safety Rating. Overall, the Forte earned a perfect 5-Star Safety Rating on its side crash test as well as four stars each on the frontal crash and rollover tests.
The safety features Kia Forte offers are:
Pedestrian detection
Lane-keep assist
Automatic high-beam headlights
Rearview camera
Blind-spot monitoring
Rear parking sensors
Highway driving assist
Adaptive cruise control
Cyclist detection
Pros & Cons:
Pros:
It is equipped with an extensive list of features and offers high fuel economy that makes it stand out among competitors. It provides a generous warranty period, and its spacious cabin has high-quality materials. The infotainment system is updated, and the Smart trunk is much more useful.
Cons:
The continuously varying automatic transmission feels unrefined at high speeds sometimes, and the ride quality is affected when driving over rough and bumpy roads. The passenger room at the back is not very generous and less than some of the rivals.
Major Competitors:
Toyota Corolla
Mazda 3
Honda Civic