2023 Hyundai Elantra
Sold in the USA = 2020-Present
Generation = 7th
2023 Hyundai Elantra Price in the USA
Elantra SE
Starts at:

21,595 $

Elantra SEL
Starts at:

22,845 $

Elantra N Line
Starts at:

28,145 $

Elantra Limited Limited
Starts at:

27,445 $
The seventh generation of Hyundai's Elantra was revealed on 17th March 2020 in West Hollywood and launched before the start of the year 2021. In Australia and New Zealand, it will launch with the nameplate of the i30 sedan. The hybrid version of the 2021 Elantra is also available now along with its other four engine options. It has launched all over the world included India as well, where it launched in 2020 while Hyundai Nishat Motors also has a plan to launch the seventh generation of Elantra in Pakistan. It is relevant to mention here that Hyundai Nishat Motors has already been given a green signal by the Government of Pakistan to locally assemble the vehicles in Pakistan under Auto Development Policy 2016 to 2021. Currently in Pakistan Hyundai Motors is building two of its automobiles including an SUV Tuscon and H100-Porter Pickup truck and also selling imported Ioniq Hybrid, Santa FE, and Grand Starex. Now Hyundai Pakistan is planning to launch two more locally assembled vehicles in Pakistan that include Elantra and Sonata. We will be able to see Hyundai Elantra in Pakistan more or less before June 2021. 2021 Hyundai Elantra has been rated 6.8 in the United States because of its sleek design, increased legroom at the rear, and introduction of the hybrid powertrain. The overall interior and exterior design of the 2021 Hyundai Elantra is improved and more delightful with an all-new diamond-shaped grille and interior loaded with intuitive technology.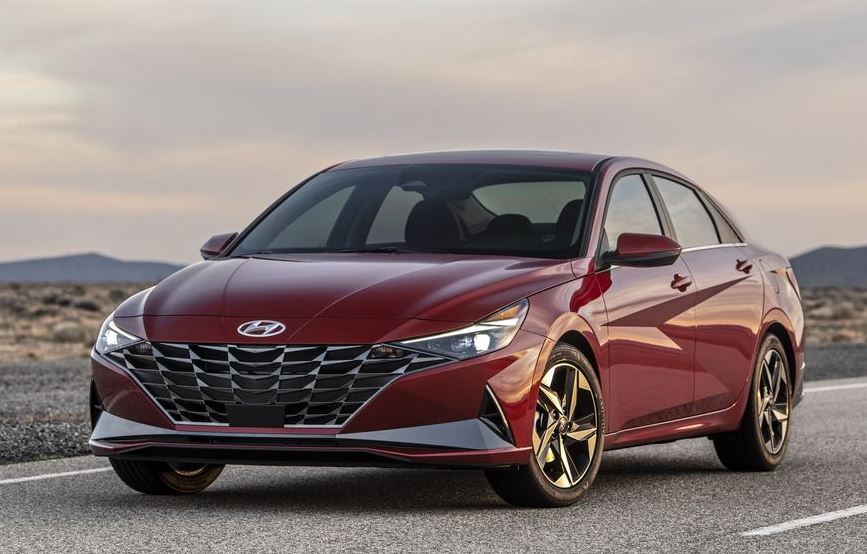 Trims & versions:
Hyundai Elantra is the cheapest sedan in the United States despite the list of its versatility and options of the powertrain. It is available in five trim levels that include SE trim, SEL trim, N-line trim, limited trim, and premium trim. The SE trim features fifteen inches alloy wheels, eight inches touch screen display, two USB ports, four speakers, and standard safety features. The SEL trim is upgraded with sixteen inches alloy wheels, keyless entry, six speakers, an automatic climate control feature, seventeen inches alloy wheels, and 10.25 inches touch screen display. The Limited trim is equipped with leather-covered seats, a rear Automatic braking system, Android Auto and Apple Car play interface infotainment, and a Lane-keeping system. N-Line trim version is further equipped with eighteen inches alloy wheels, leather upholstery, and sport-tuned springs with better shock absorbers. Premium trim is upgraded with nineteen inches alloy wheels, bigger brakes, bolstered front seats, adaptive dampers, and an attractive exterior design. You can further personalize your Elantra with a Preferred Accessory package, Cargo package, winter weather package, convenience package, and premium package. The Premium package is the most luxurious one providing you with a royal feeling. It features heated front seats, 10.25 inches touchscreen, a power sunroof, eight speakers, wireless charging, and up-to-date safety features.
Engines & Power:
Four Trims of Elantra including; SE, SEL, Limited, and premium are equipped with two liters inline four-cylinder engine that works with a front-wheel-drive system only. The 2.0 liters engine of Elantra produces a maximum power of 147 hp and 132 pounds-feet of torque.
N-line trim of Hyundai Elantra powered with 1.6 liters four-cylinder turbocharged engine that offered with both manual and automatic transmission. The 1.6 liters engine-driven Elantra 2021 generates a maximum power of 201 hp and 195 pounds-feet of torque.
 The hybrid model of Elantra is again run by a 1.6 liters engine paired with an electric motor. The power and torque production of all the trims vary accordingly. The hybrid Trim generates a power of 276 hp and torque of 289 pounds-feet. It gives you two transmission options that are either the six-speed manual transmission or the seven-speed automatic transmission.
Driving Performance & Fuel Economy:
 All the trims of Elantra offer front-wheel drive only, but without any doubt, it gives you more or less a sporty driving experience. Talking about the acceleration of Elantra then all the trims are not so fast except the N-line 1.6 Liters. The N-line accelerates from zero to sixty miles per hour in less than 7 seconds. The 2.0 liters engine of Elantra is sluggish even when you press the throttle hard and even switching to the Sport driving mode does not improve it much. The best improvements you can see in Elantra's 7th generation is in its ride quality that is more balanced and crisp. It is now better damped for all types of road trips and drives even better in cities rather than on highways. Lastly, the brake pedal tuning is also impressive. The new Elantra is now lighter in weight that strikes a balance between responsive tuning and comfort. The fuel economy of Elantra is Impressive; the base trim gives a mileage of thirty-three miles per gallon in the city and forty-three miles per gallon on highways. The higher-end versions of Elantra give you a mileage of thirty-one miles per gallon in the city and forty-one miles per gallon on the Highway. Automatic transmission gives better mileage as compared to manual in which you get only thirty-one miles per gallon on highways, While automatic transmission gives you thirty-six miles per gallon mileage on Highways.
Exterior Designs & Features:
The aerodynamic design of the all-new Elantra is built on a sporty chassis that maximizes stability. It features an eye-catching diamond-shaped grille between its dominant LED headlights. The LED Quad headlights have given with daytime running lights and fog lights. The roofline is tapered by pin-narrow taillights and the overall body is heavily creased. A luxury profile has been given to the exterior by adding chrome door handles highly visible rear reflectors and a glass antenna that gives it a more premium feeling apart from helping in better radio reception. The nineteen inches alloy wheels give it a bold and muscular stance adding real sportiness to its style.
Interior Design & Features:
You will be surrounded by innovative features when entering the Elantra that make your journey memorable. The dashboard layout is driver-centric that has many new features and new fascia. It has leather-covered seats given with cushioned bolsters that give it a feeling of Opulence Especially made for you. A 10.25 inches touch screen display mounted on the dashboard delivers quality infotainment and it comes with Android Auto and Apple Car play interface. The instrument cluster has given a multi-color information display about the driving, and the steering wheel is multi-functional given with audio and other controls. Rear seat passengers are provided with a rear center armrest, rear and front bottle holders, and rear air vents. Some of the latest features that come in the 2021 Hyundai Elantra are wireless charging, power driver's seat, keyless entry, adaptive cruise control, heated front seats, dual-zone climate control feature, power sunroof, and Bose audio system.
Safety & Features:
As for the individual ratings, frontal crash and rollover are rated four stars while side crash scored a perfect five-star rating. According to the NHTSA, the Hyundai Elantra has a rollover risk of 10.90% 
Hyundai Elantra but has all standard features like blind-spot detection, emergency brakes, lane-keeping assistance, adaptive cruise control, electronic stability control, safety windows, tire pressure monitoring alarm, and front and rear parking sensors.
Major Competitors:
Verdict:
The all-new Elantra does not have very impressive acceleration except 1.6, and the interior features build with hard plastic trims that may not appeal much. But as a whole, it is loaded with a list of intuitive features and the spacious cabin makes it attractive to customers along with its comfortable driving performance and high fuel economy.