2022 MG HS PHEV
Sold in Pakistan = 2021-Present
Generation = 1st
2022 MG HS PHEV SUV Price in Pakistan =  

8,499,000 PKR
Morris Garages Pakistan was gearing up to reveal a plug-in hybrid version of MG HS since the start of 2021 after the great success of MG HS in Pakistan. MG Motors gave us a hint in March 2021 after tweeting about a new PHEV vehicle, and now it's available for sale. MG Motors Pakistan has brought some CBU imported units of MG HS PHEV for sale in Pakistan, and these CBU units are limited in number. It has been showcased at the MG lounge located in Packages Mall in Lahore. It is a hybrid version of our favorite MG HS, and the best part of MG HS PHEV is its charging. The battery is charged overnight through a 7 KW wall charger at home that means you don't have to go to the charging stations again and again for the recharging, and it takes approximately just 5 hours to charge the battery to the full. Another fantastic feature in PHEV HS is the availability of a regenerative braking system that generates energy to charge the battery when brakes are applied. All other features of MG HS PHEV are similar to the regular MG HS. You can book your MG HS PHEV by depositing 2.5 million Pakistani rupees at any MG Motors showroom, and you may receive your vehicle in December 2021. There are only limited units of MG HS PHEV, so if you want to buy it, then book your car immediately. We will be discussing some of the fantastic features of the MG HS hybrid version in detail today.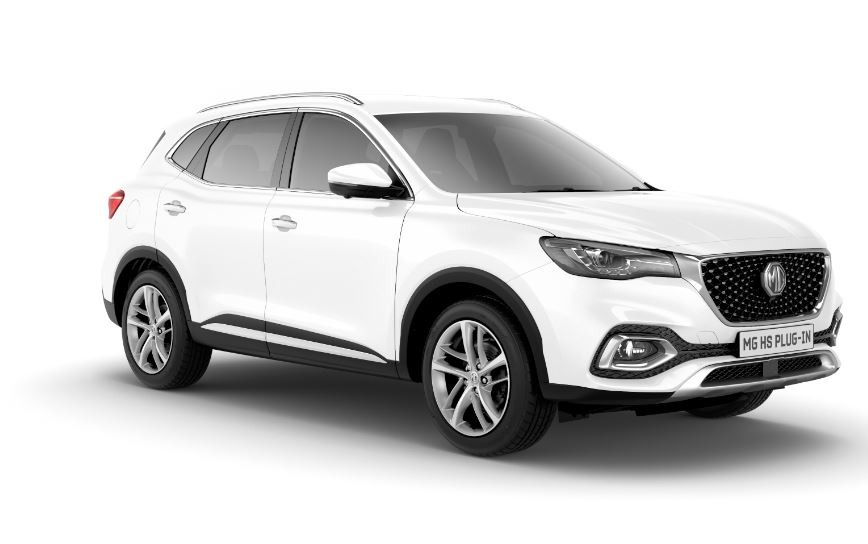 Powertrain and transmission:
The PHEV HS SUV gets its power from 1.5 liters, 4-cylinder, turbocharged engine mated with a 90 KW electric motor run by a 16.6 kWh battery pack. The hybrid powertrain produces 256 hp power and 370 Nm of torque. It offers a 10-speed automatic transmission. The hybrid powertrain is more efficient by consuming less fuel and offering more driving range. The battery is charged through a plug easily, and the electric motor along with the battery has a larger size so the vehicle can run more on electric power and save fuel. Furthermore, it is environmentally friendly as it produces less carbon dioxide emissions. The battery is fitted under the bottom of this SUV, and it can be recharged easily at home, as already mentioned above.
Performance & Driving:
The plug-in hybrid technology induced in MG HS elevates the driving experience to another level by combining the engine's internal combustion and electric motor. It gives you supreme power and excellent fuel efficiency. It offers a front-wheel-drive system and delivers efficient performance to make your journeys memorable. The all-wheel driving feature is available in non-hybrid HS, and the hybrid version is 75 kilograms heavier than the MG HS. The company says it is different from its rivals in transmission because it offers a ten-speed automatic transmission instead of a continuously variable automatic transmission. It comes with precise gear changes so you can drive it smoothly in all types of traffics. The electric motor is fitted behind the gearbox and offers four additional speeds that can be used when more loads are loaded into it. Most of the time, it shuffles between the 6-speeds of the transmission. The transition from petrol to electric power is smooth in MG HS, and the instrument cluster shows the real-time distribution of power on the screen. The hybrid powertrain is refined in MG HS, and it creates almost zero noise in the cabin apart from the wind noise when traveling at high speeds on highways. The steering control is well managed, and you can turn around corners conveniently. The brakes of MG HS are firm and regenerative, but they are mild and save some energy. The ride quality is excellent and smooth on potholes and rutted roads. The adaptive cruise technology and the lane-keeping assist system work together to deliver an efficient ride performance on highways. The fuel efficiency of MG HS consumes 6.43 liters of fuel to give 100 kilometers mileage. The MG HS PHEV gives you an electric range of 52 kilometers. The acceleration power of MG HS PHEV is also impressive, taking 6.9 seconds to accelerate from zero to 100 kilometers per hour.
Exterior design and features:
The exterior design of MG HS PHEV is similar to the non-hybrid MG HS. The muscular dimensions of MG HS PHEV and attractive design offer the dominant presence of the vehicle on roads. It has a distinctive star grille on the front and flowing roofline, while red sports brake disc calipers create a magical stance. The electric heated side mirrors and the LED daytime running lights add more convenience to your journeys. The dynamic MG logo on the front adds charm, and the eighteen-inch alloy wheels give this SUV a sporty look.
Interior design and features:
The inside of MG HS PHEV looks excellent and attractive. The dashboard is covered with leatherette extended to both sides of the central console, and the top comes with stitching details. The trims and seats are also covered with leather. The front sport seats are comfortable and have lumbar support, while the back seat is spacious with enough legroom and headroom. It offers a luggage capacity of 463 liters in the boot space, and it can be increased to 463 liters when rear seats are folded. There is a 10.5 inches touch screen mounted on the dashboard that is colorful and has an intuitive vehicle settings menu. The satellite navigation helps you navigate your journeys, and the infotainment system is compatible with Android Auto and Apple Carplay interface. The digital instrument cluster is also attractive, and USB ports are given on the front and rear seats so that you can charge your mobile phones. You will find bottle holders on each door. The sunroof will add more light and fresh air in the cabin making your journeys more convenient and thrilling, while a 360 view camera helps you in parking and reversing your cars.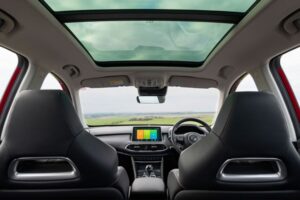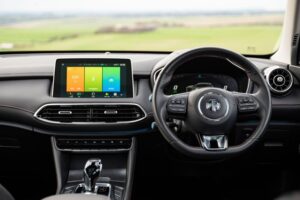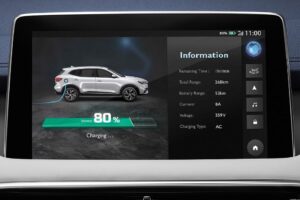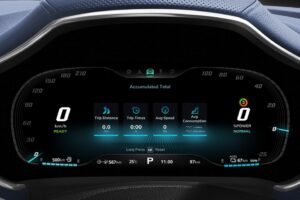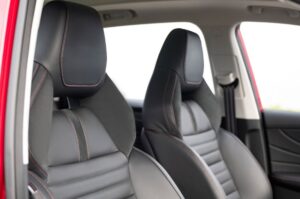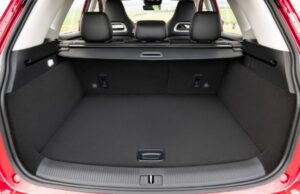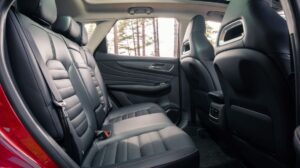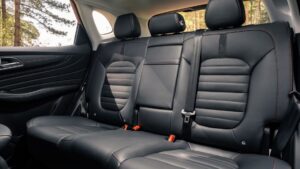 Safety & features:
The MG HS has been rated five stars by ANCAP in 2019, and the hybrid version offers all similar safety features as available in MG HS. Some of the standard safety features MG HS PHEV offers are:
Lane-keeping Assist
Lane Departure Warning
Adaptive cruise control system
Automatic high beam headlights
Blindspot detection
Forward collision warning alarm
Traffic sign assist system
Major competitors: