2021 Toyota Corolla Cross (1st Generation) 
Current Price in Pakistan 2021:
TOYOTA COROLLA CROSS PRICING
VARIANT
EX-FACTORY PRICE
TOYOTA Corolla Cross Premium (HYBRID)
PKR. 8,399,000/-
TOYOTA Corolla Cross Smart (HYBRID)
PKR. 8,199,000/-
TOYOTA Corolla Cross (HYBRID)
PKR. 7,689,000/-
* THE PRICE IS SUGGESTED RETAIL PRICES, EX-FACTORY KARACHI, PER UNIT INCLUSIVE OF 17% SALES TAX.
** THE PRICE IS EXCLUSIVE OF WITHHOLDING TAX.
Toyota Corolla Cross was specially designed for the Southeast Asian market, and it is built on the same FA-C platform as used for the E210 Corolla series. Toyota Corolla Cross was revealed in Thailand on the 9th of July 2020 and is available in two powertrain options, including a hybrid drivetrain. This all-new crossover introduced by Toyota is only available in Thailand yet, and it may be coming to the United States too. Toyota Corolla Cross is somehow similar to CH-R and RAV4, and the interior cabin resembles the regular Corolla. The entry of the Toyota Corolla Cross is also expected in the Pakistani automobile market as the CEO of Toyota Indus Motors gave the timeline for its launch in Pakistan. CEO Jamali addressed to the media that Toyota Corolla Cross will hit the Pakistani market in December 2020. He also mentioned that some of the CBU units of the Toyota Corolla Cross have already been imported to Pakistan and are under the testing phase. It will be available in two engine options that include one hybrid powertrain. Initially, only CBU units of Cross will be available in Pakistan but maybe after some time CKD units will also be available for sale by Toyota Indus Motors. We will hopefully be seeing Toyota Cross before the 2nd half of 2021 in our country.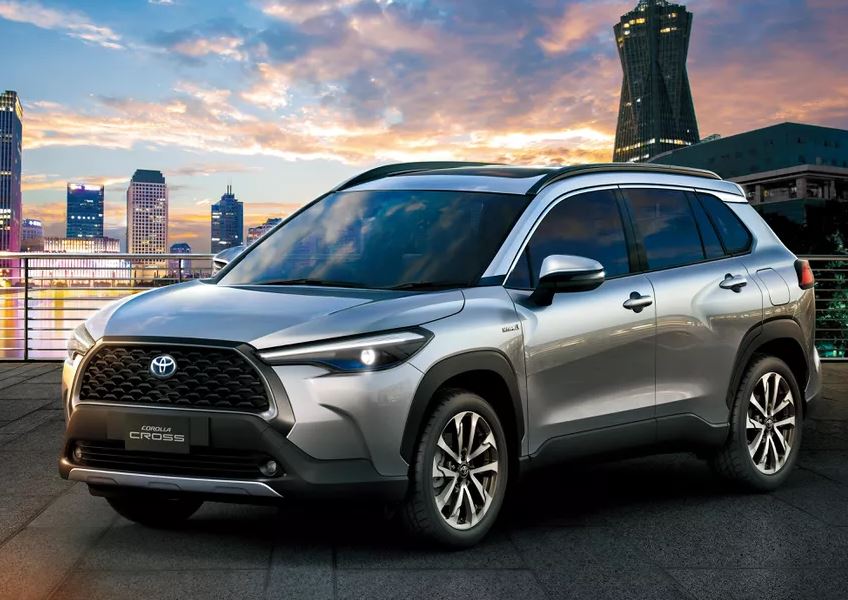 Trims & Versions:
Two trims of the Toyota Corolla Cross are available in Thailand that includes one gasoline variant and one hybrid variant. The gasoline variant has a standard and naturally aspirated petrol engine, while on the other hand, the hybrid variant comes with an AC synchronous electric motor. Both the variants offer front-wheel drive feature only, and the transmission option for both the trims are also similar to that is a seven-speed continuously-varying automatic transmission. Standard features in both the trims are similar and are discussed below in detail.
Engine and Power:
The 1.8 litres 1798 cc 2ZR-FBE engine produces maximum engine power of (103 kW) 138 hp at 6000 RPM and torque of 177 Nm at 4000 RPM. The suspension and brake details are the same for both variants. The hybrid variant is powered by a 2ZR-FXE THS II 1798 cc engine paired with a 1NM electric motor producing maximum power of (72 kW) 92 hp at 5200 RPM and torque of 142 NM at 3600 RPM. The electric motor further increases 53 KW maximum-power and 163 Nm more torque. Total power Produced by both the Electric Motor and engine is 168 hp. In both, the Trims front-wheel driving option is offered as standard.
Performance & Drive:
The all-new Toyota Corolla Cross will deliver you superb maneuverability with an elevated driving position that not only gives a wide-view field to the drivers but also assists in minimizing blind spots. You will be enjoying responsive handling with its minimum turning radius of 5.2 meters. The optimized suspension geometry of the Toyota Corolla Cross is efficient enough to give you a balanced ride quality along with its soft bushings that compliments a comfortable ride to the passengers. Both the trims of the Toyota Corolla Cross are mated with a seven-speed continuously-varying automatic transmission that comes with smooth throttle changes and the engine delivers enough power to deliver efficient front-wheel driving. Toyota corolla Cross is introduced with a lighter weight that helps to achieve excellent fuel efficiency. The hybrid variant consumes 4.3 litres of petrol to deliver a mileage of hundred kilometres in Thailand (23 Kilometers per Liter), and the gasoline-powered variant in Thailand consumes petrol of 6.5 litres in giving a mileage of hundred kilometres (15 Kilometers Per litre). The carbon dioxide emissions values provided by the New European Driving Cycle are 150 grams per kilometre by gasoline variant, and the hybrid variant emits 98 grams of carbon dioxide per kilometre. The brakes of Cross are also easy to modulate, and it let you apply the brakes smoothly, giving extra confidence to the drivers. Driver gains more confidence in their driving with the presence of Toyota Safety sense that aids the safety and makes the drive more fun. The engine does not make many noises that make your ride even more comfortable, even at high speeds on highways. The NVH insulation is even more enhanced in hybrid powertrains in which the electric motor is quieter. The steering wheel of Cross is also lighter in weight, and it gives the drivers enough confidence to drive it through narrow roads and high traffic situations.
Exterior designs and features:
The exterior design of the Toyota Corolla Cross looks similar to a sedan that features rounded edges headlight on the front accompanied by the central black coloured frame grille that looks stunning from all angles. The LED headlights are-provided with daytime running lights along with fog lights. The rear end features thin taillights and a beautiful bumper that is-covered in black cladding and faux skid plates. Fifteen inches alloy wheels look beautiful, and the hybrid trim comes with seventeen inches alloy wheels that look even more beautiful. The exterior design of Cross resembles CH-R, and it imposes a stunning fascia to attract customers from all areas.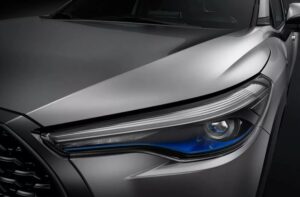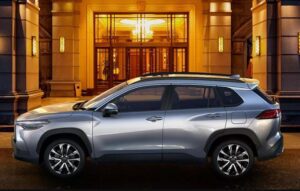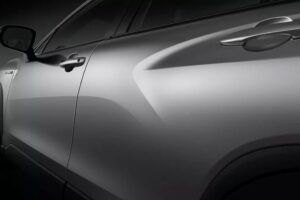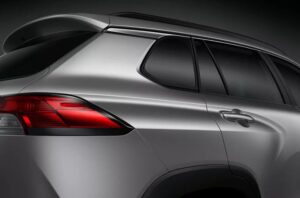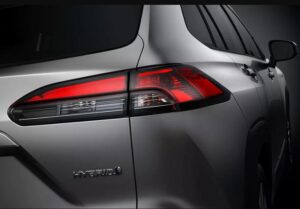 Interior design and features:
The interior end of the Toyota Corolla Cross features a large space for accommodating five adults comfortably. The large spacious openings for door makes the entry and exit from the vehicles easy, and the increased headroom provides easy access to the luggage space, which accounts for a total of 487 litres. The dashboard of the Toyota Cross is similar to the regular Corolla, and the central console is upright that gives it a classy look. Nine inches touch screen display mounted on the dashboard for infotainment that comes with Apple Car play only. Some of the best features the cabin is equipped with include power front seats, dual-zone climate control feature, and 360-degree parking camera, Toyota Safety Sense system, driver's assistance programs, and airbags for safety.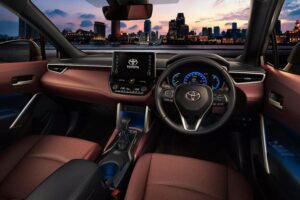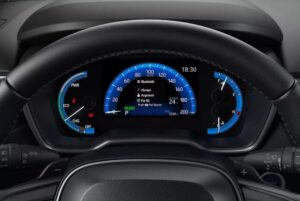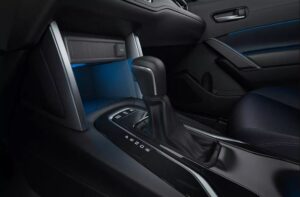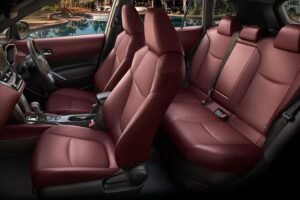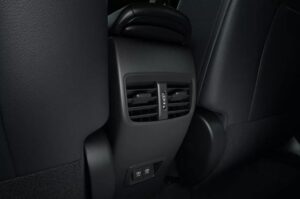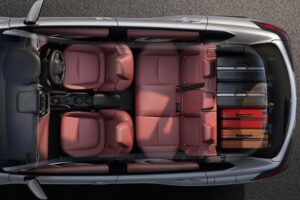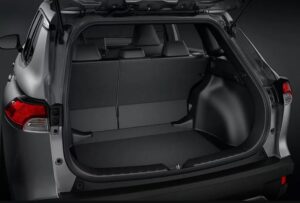 Safety features:
Toyota Corolla Cross is equipped with the Toyota Safety Sense facility that is a standard feature in both variants that makes the drive safer. Some of the standard safety features it provides are blind-spot detection, rear cross-traffic alert, pre-collision system, electronic brake-force distribution, traction control system, adaptive cruise control, and airbags. The safety ratings for Toyota Corolla Cross have not been released yet by the NHTSA and IIHS.
Major competitors:
PRICING:
Toyota Corolla Cross is available in Thailand at a starting price of 959,000 baht, while its expected price in Pakistan will be starting from 8.5 million Pakistani rupees.
Verdict:
Toyota Corolla Cross price is high as compared to other vehicles of the same class present in Pakistan, but if you are looking for a car that has a similar design language like Corolla Altis hybrid sedan and offers more ground clearance as well as the exceptional driving experience than Toyota Corolla Cross could be your next. We are expecting the launch of Corolla Cross in Pakistan before the mid of 2021, and we hope it to have a good market.