2023 Subaru Ascent USA
Sold in the USA: 2019-Present
1st Generation Refreshed in 2023
2023 Subaru Ascent Price in the USA:
Subaru Ascent

Starts at:

34,000 $
The mid-size crossover SUV, Subaru Ascent, is the most significant automobile by Subaru manufacturers, debuted in 2017. It is a 3-row SUV, offers a seating capacity of seven to eight passengers, and is sold as Subaru Evoltis in some countries. The Subaru Ascent is assembled in the United States of America and is not available in Japan. It is a 5-door SUV available in front-engine and all-wheel drive configurations. It is one of the most loved SUVs in the United States, with sales of 59,980 units in the year 2021. It's time for a new and upgraded Subaru Ascent to hit automobile markets, and it will be the 2023 Subaru Ascent. The 2023 Subaru Ascent will launch at the end of 2022 or the start of 2023. We expect many new changes and updated features in the 2023 Subaru Ascent. The 2023 Subaru Ascent brings a refreshed style with a more aggressive grille and updated trim accents. The 2023 Subaru Ascent will have a standard high-resolution touch screen compatible with Android Auto and Apple Carplay. It offers an upgraded EyeSight standard Driver's Assistance program. The 2023 Subaru Ascent offers an optional 360-degree camera and speaker system to make communication easy between passengers. The 2023 Subaru Ascent is an upgraded model with a list of new features that are given as standard, and many new optional features can be purchased. The Onyx Edition in 2023 Subaru Ascent offers green-colored stitching in the cabin that looks stunning and a panoramic sunroof that adds more luxury to the car. It is available in four trim levels, and its details are discussed further in the article. The 2023 Subaru Ascent is an excellent SUV with plenty of passenger room and the best choice for large families, making your driving experience fun. It comes with a warranty of three years and a powertrain warranty of 5 years.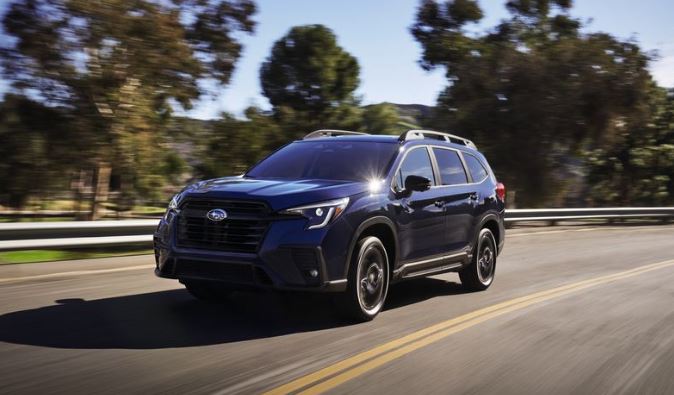 Trims & Variants:
Base: it offers 18 inches wheels, seating capacity for eight passengers, 3-zone automatic climate control, LED headlights, 6-speakers audio system, 2000-pound towing capacity, and a list of standard safety features.
Premium: it offers a 5000-pound towing capacity, heated front seats, evasive steering assist, upgraded interior trim pieces, 7-passengers seating capacity, and power adjustable driver's seat.
Limited: it offers 20-inches wheels, leather upholstery, memory function in the driver's seat, heated steering wheel and 2nd-row seats, and a power-adjustable front seat.
Touring: it offers ambient interior lighting, a panoramic sunroof, a 14-speaker audio system, ventilated front seats, a navigation system, and a 120-volt power outlet.
There is another option of Onyx Edition that can add a black-colored grille, water-repellent upholstery, panoramic sunroof, and 20-inches alloy wheels to enhance the beauty of 2023 Subaru Ascent.
Engine, Power & Transmission:
The 2023 Subaru Ascent has a single engine option on all trims. It gets its power from a 2.4-liter 4-cylinder engine that generates a maximum of 260 hp power and torque of 277 lb-ft. Every trim offers a Continuously varying automatic transmission, and all-wheel drive is given as standard in all the trims.
Performance & Drive:
The 2023 Subaru Ascent performance will be comfortable and powerful with an all-wheel drive as standard in all trims. The drastic change in the 2023 Subaru Ascent will be its excellent off-road driving experience. It maintains the road grip, and the engine delivers enough power to move through a decent clip. The 2.4-liter turbocharged engine delivers power to all four wheels through a continuously varying automatic transmission, and the engine feels quick while roaming around the city. The engine generates plenty of power to have passing maneuvers on the highways and offers good fuel economy. The continuously varying automatic transmission works smoothly and makes the drive easy, but it can get loud at higher speeds. The paddle shifters in the steering wheel take some time for the drivers to get used to the throttle response, and it works best at low rates. The car's steering response is good and focuses on the driver's comfort, so he doesn't have to apply more force while controlling the vehicle. The suspension system is tuned well, making the ride comfortable over rough pavements and breakers. The 8.7-inches high ground clearance of Subaru Ascent makes the off-road adventures comfortable with its X-mode traction control system and all-wheel drive. The brakes are efficient, and the active torque vectoring system sends more power from the front wheels when cornering and applies brake pressure to the front inner wheels. The Subaru Ascent handling is stable and is benefited from the active torque vectoring system that keeps the ride stable when turning the car.
The entry-level variants in Subaru Ascent have a towing capacity of 2000 pounds, but the high-end trims offer a towing capacity of 5000 pounds; its towing capacity is powerful, and it can tow such weights easily but consume much fuel for it. The fuel economy for the standard drive is better, and it is expected to get 21 miles per gallon in the city and 27 miles per gallon on the highways. The Limited and Touring trims can lose 1 mile per gallon in both towns and highway drives. It offers adaptive cruise control with a lane-centering feature that assists drivers in steering control and braking by controlling speed and keeping the car in the lane. It works well in daily traffic and also on long road trips. The Eyesight Drivers Assistance program in 2023 Subaru Ascent monitors traffic movement and optimizes cruise control while warning you to avoid swaying outside the lane. The X-Mode in 2023 Subaru Ascent helps to drive in snow, mud, or deep tracks by giving more control in slick terrain.
Exterior Design & Features:
The 2023 Subaru Ascent is restyled with an aggressive black-colored grille on the front with chrome accents and redesigned LED headlights that look stunning. The front bumper has air vents that improve aerodynamic flow, and the C-shaped taillights attract customers' eyes. The higher-end trims have a 20-inches geometric design that gives a cutting-edge look and makes it look sportier. The panoramic sunroof makes the interior airier and the exterior more stylish.
Interior Design & Features:
The 2023 Subaru Ascent has an all-new cabin that offers many new features to make your journey more comfortable and fun. It provides a seating capacity of seven to eight passengers. The higher-end trims offer leather upholstery to add more comfort. You can talk to all the passengers sitting in the 2nd and 3rd rows by sending a voice through the speakers at the back, which makes communication easy between passengers. All trims offer a standard 11.6-inches touch screen that comes with STARLINK Multimedia and have standard Android Auto and Apple Carplay, a Bluetooth connection, and a TomTom Navigation system that helps you to find your way easily through voice commands.
Safety & Features:
Based on crash tests, the Ascent is a safe SUV. The National Highway Traffic Safety Administration (NHTSA) gives the SUV a 5-star overall rating. The Ascent gets 5-star ratings in all individual assessments except for rollover resistance, where it earns a 4-star rating.

The Subaru Ascent safety rating from the Insurance Institute for Highway Safety (IIHS) is "Top Safety Pick+." That's the highest one available from the organization.
The 2023 Subaru Ascent offers the following safety features:
Standard automated emergency brakes.
Adaptive cruise control.
Automatic pre-collision braking.
Automatic emergency steering,
Airbags.
Blindspot monitoring.
360-degree surround view camera.
Pros & Cons:
Pros:
The Subaru ascent is an excellent SUV with a standard all-wheel drive feature and high ground clearance to make fun of your off-road adventures.
The high-quality materials in the cabin make it a premium SUV, and a list of standard safety features make it the drive safer.
Offers Plenty of Power
Great Capability
Fits Up to Eight Passengers
Advanced Headlights
Keeps People Comfortable
Premium Interior Components
Modern Technology
Rugged Style
Lots of Trim Choices
Crash-Test Cred & High Safety Ratings
Ride and handling are pillowy and inoffensive, respectively
Cons:
The 3rd row is cramped and not fit for adults.
The accelerator pedal is not good.
The engine may produce noise at higher speeds making the ride unpleasant.
2.4 Liter Turbocharged engine undermined by its continuously variable automatic transmission.
Missing Many Latest and Important features
Not Extremely Efficient fuel economy
No Surround View &  360-degree perspective
Major Competitors:
Ford Bronco
Jeep Grand Cherokee
Chevy Traverse