2023 Kia Telluride USA
Sold in the USA: 2023-Present
1st Generation Facelifted
2023 Kia Telluride Price in the USA:
Kia Telluride
Starts at:

35,000 $
The mid-size crossover SUV, Kia Telluride, debuted in 2019 and was Kia's largest vehicle in dimensions in the United States of America. It was known as the World Car of the Year in 2020. The restyled and latest Kia Telluride model was introduced on the 13th of April 2022, and it is called the 2023 Kia Telluride. It comes with the new and advanced technology with some upgraded features. It offers new trim levels: X-line and X-Pro Line, and six variants of Kia Telluride are available. The new Kia Telluride has a more refined look that offers a sophisticated and sporty appearance. It offers an upgraded list of driver's assistance programs and delivers an intuitive driving experience. The Kia Telluride has been one of the most demanding SUVs in the United States of America, which offers 3-rows of the seat and a generous passenger room. It is now coming with more capability and refreshed style. It has been among public discussion since it was shown at the New York Auto Show in April 2022. It is expected to be launched in fall 2022 and will be available at all dealerships of Kia Motors throughout the United States of America and Canada. The Kia Telluride's price is not announced yet, but we expect its price to be higher than the 2022 Kia Telluride. The engine specs will be the same as the 2022 Kia Telluride and offer both front-wheel-drive and all-t-drive configurations. The exterior design will be updated compared to the 2022 Kia Telluride, and we will discuss the changes in its design later in this article. The inside of 2023 Kia Telluride also introduces some changes, among which the drastic change is its 12.3-inches touch screen. The 2023 Kia Telluride is, in short, a stylish and comfortable family SUV with a list of standard features, and the top variants offer more luxurious features.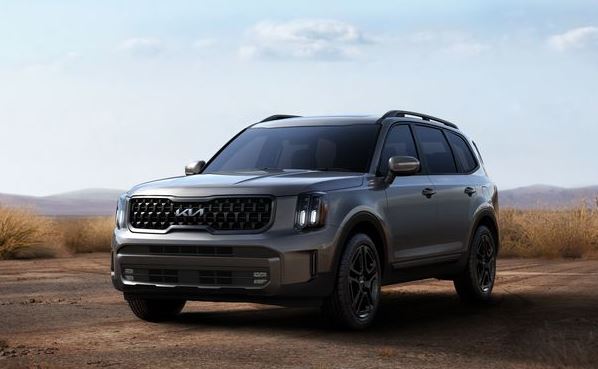 Trims & Variants:
The Latest Kia Telluride will be available in the following six trim levels:
LX: the entry-level variant offers standard features like keyless entry, GPS navigation, adaptive cruise control, 18-inches alloy wheels, LED daytime running lights, 6-speakers audio system, 12.3-inches touch screen, 7-airbags, and the latest safety features.
S: it offers 20-inches alloy wheels, heated front seats, wireless smartphone charging, 8-way power adjustment in the driver's seat, and a leather-covered shift knob.
EX: it offers leather upholstery, LED taillights, more USB ports, 18-inches wheels, ventilated front seats, an auto-dimming rearview mirror, a towing package, and a premium package.
X-Line: it offers a standard all-wheel-drive system, 20-inches wheels, more ground clearance, body-colored door handles, and upgraded roof-rack rails.
SX: it offers a power sunroof, high-beam assists, LED fog lights, 10-speakers audio system, rain-sensing wipers, 2nd-row captain chairs, 12.3-inches digital gauge, and a surround-view camera.
X-Pro: it offers 20-inches wheels, standard all-wheel drive, more towing capacity, and badges on the exterior and interior.
Engine, Power & Transmission:
The 2023 Kia Telluride gets its power from 3.8 liters, V6, DOHC, 4-valve engine with a displacement of 3778cc. It delivers maximum power of 291 hp at 6000 RPM and torque of 262 lb-ft at 5200 RPM. It offers an 8-speed automatic transmission.
It offers front-wheel-drive and all-wheel-drive configurations. It has an independent Macpherson strut suspension at the front and multi-link rear suspension. The braking system has 4-wheel disc brakes with ABS and ventilated disc brakes at the front and solid disc brakes at the rear.
Performance & Drive:
The latest Kia Telluride performance will be exceptional as the 2022 Kia Telluride. The engine power is similar, but the 2023 Kia Telluride offers two new off-road trims that boost the performance and enhance your adventure thrill. The suspension system offers precise handling dynamics and increases ride quality. The braking system with the Anti-Lock Braking system helps to apply safe brakes by keeping the quality of the ride smooth. All trims offer a towing capacity of 5000 pounds, but the X-Pro and X-Line trims offer an additional towing capacity of 500 pounds. These are specially designed trims for off-road adventures and offer all-wheel-drive as a standard. The Hill-Descent control features in these two trims help you to keep a strong grip on the road regardless of how sloppy the road is. The electronic parking brakes in Kia Telluride prevent the car from rolling back when stopped in traffic or on an inclined road. The Highway Driving Assist system helps to adjust the vehicle's speed according to the approaching cars in areas where information on the speed limit. It offers a 360-view camera that helps to give a complete aerial view on the touch screen and assists in parking and reversing. The Forward Collision-Avoidance Assist in 2023 Kia Telluride helps detect a possible collision potential and applies brakes automatically to keep you safe. It has a rear-cross traffic alert avoidance system that detects any potential collision and alerts you by giving visual and audio alarms. The acceleration will be quick as the 2022 Kia Telluride and will take approximately 7 seconds to sprint from 0 o 60 miles per hour. The ground clearance in 2023 Kia Telluride is also increased by 8.0 inches which helps in off-road drive and makes your adventures more thrilling and safer. The fuel efficiency of 2023 Kia Telluride will be similar to 2022 Kia Telluride, and within the city, the driver can give 20 miles per gallon while the highway drives can get 26 miles per gallon with front-wheel-drive. The all-wheel-drive can get 19 miles per gallon in the city and 24 miles per gallon on the highways.
Exterior Design & Features:
The 2023 Kia Telluride has a new design and has newly designed bumpers and an aggressive grille. The vertical headlight design is revised, and the rear fascia is restyled with revised taillights and lower door trims. The wheel design is restyled that looks sportier. The Telluride Night Edition package adds glossy black trims and roof rails along with 20-inches black finish alloy wheels, black radiator grille, and black bezels headlamps. The 2023 Kia Telluride offers three new exterior color options that are:
Jungle wood green color
Red colour
Midnight lake blue colour
Interior Design & Features:
The inside of 2023 Kia Telluride has some new changes introduced, and the 12.3-inches touch screen display is given as standard in all trims. The dashboard is redesigned with revised trim panels, and new color options are available for the cabin. A head-up display shows a clear view of your performance without ignoring the road. There is a 12.3-inches touch screen display mounted on the dashboard that gives infotainment and navigation, and voice commands are given as standard features. There are leather-covered seats that look luxurious and extremely comfortable, and the driver's seat comes with a 10-way power adjustment. The 1st and 2nd rows have captain chairs in the top level trims, and there is a touch button to go into the 3rd row. The top-level trims offer heated and ventilated seats and a power sunroof to add natural air and light to the cabin. The cargo space is enough to carry four suitcases behind the 3rd-row seats, and the space is increased when the 2nd and 3rd-row seats are folded. You will get Android Auto, an Apple Carplay interface, a 10-speakers audio system, wireless smartphone charging, a Wi-Fi connection, and an automatic climate control system.
Safety & Features:
Some safety features of Kia Telluride are as follows:
360 view camera
Automatic high beam headlights
Blind-spot detection
Lane-departure warning
Lane-keeping Assist
Forward collision warning alarm
Seven airbags
Automated emergency braking
Major Competitors:
Ford Bronco
Jeep Grand Cherokee
Ford Bronco Raptor