2023 Toyota Land Cruiser 300
Sold in Pakistan = 2022-Present
j300 Generation
2023 Toyota Land Cruiser 300 Price in Pakistan
Price Effective from 10-March-2023
Toyota Land Cruiser ZX Gasoline 3.5 L
156,829,000/-

PKR
The Toyota Land Cruiser has been the longest-running series of Toyota vehicles that began its production in 1951. It has been an all-time favorite SUV all-around the world, with sales of more than ten million units worldwide until 2019. The Land Cruiser in Japan is exclusive to the Japanese market and available at Japan Stores. The Year 2021 received the latest model of Land Cruiser. Still, it is discontinued in the United States, Canada, and Malaysia, where the alternative a new Lexus LX has arrived. Toyota has revealed a new Land Cruiser for 2022, known as Land Cruiser 300 with discontinuation of the V8 engine and now offering two new V6 engines instead. It has been built on new TNGA-F underpinnings that make it more rigid and also offers a 10-speed automatic gearbox. It is not available in the United Kingdom and Europe. The Land Cruiser 300 was launched in Australia in October 2021, and 5000 lucky customers have received their vehicles from the first batch. The new Toyota Land Cruiser was delayed for the Japanese market, and Toyota Japan has quoted a waiting time of four years for the new Toyota Land Cruiser on their website. The new Toyota Land Cruiser L300 has also launched in Pakistan in the first half of 2022, where Customers are waiting anxiously for the new Land Cruiser L300. The new Toyota Land Cruiser will be available in two engine choices, and all variants will have a four-wheel-drive configuration. It is expected to be available in a hybrid version in the rest of the world, but there is no confirmation about its launch yet. The new Toyota Land Cruiser L300 has horizontal elements with a boxy look in its exterior design, and bumpers are made durable, so it does not get damaged in off-road driving. The inside of the new Toyota Land Cruiser does not look much different from the previous model, but many new safety features have been introduced in the new model.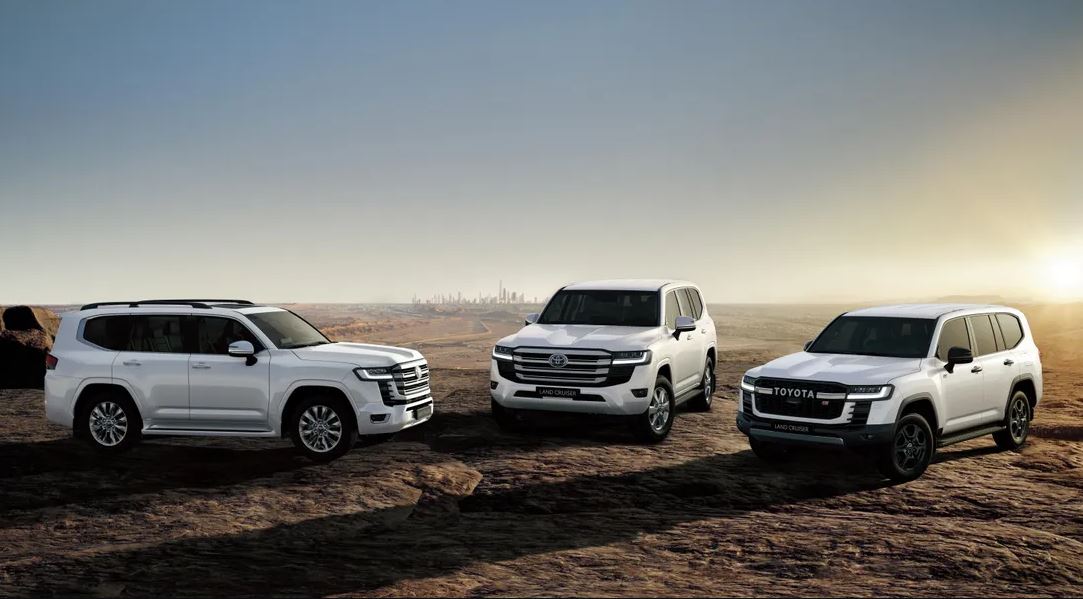 Trims & Variants:
The new Toyota Land Cruiser L300 will be available in two powertrains. The petrol version Land Cruiser L300 will be available in GX trim, AX trim, VX trim, GR Sport, and ZX trim. The GX trim is a five-seater SUV, while the rest are 7-seater. The diesel variant is available in GR Sport trim and ZX trim. Both of these trim levels have five seating configurations. The Trim Launched in Pakistan is ZX Gasoline with a 3.5 Liter Petrol Engine.
Engine & Power:
The old V8 engine will not be available in the new Toyota Land Cruiser L300. The petrol variant of the Toyota Land Cruiser will have a V35A-FTS 3.5 liters V6 twin-turbo petrol engine that generates 415 PS (410 Horse Power) and a torque of 650 Nm. The diesel version will have a 3.3-liter V6 twin-turbo diesel engine that produces an output of 309 PS (305 Horse Power) and torque of 700 Nm. It offers a direct-shift 10-speed automatic transmission. The Land Cruiser GR Sport-exclusive model has an electronic-kinetic dynamic suspension system and front and rear electronic differential locks that provide better off-road performance.
Performance & Drive:
The new Toyota Land Cruiser is based on TNGA and adopts an updated traditional frame that provides high rigidity, two hundred percent more rigid than the previous 200 series. These improvements make the Land Cruiser lighter in weight, contributing to environmental performance. The direct injection petrol engine uses a longer stroke with optimized valve angle positioning, delivering high efficiency at low speeds. The diesel engine is equally efficient and promises thrilling acceleration. The large intake volume of the V6 diesel engine contributes to its smooth acceleration. The direct shift 10-speed automatic transmission has drive torque features and changes gear precisely with optimized timing. It provides relaxed torque features at high speeds for petrol engines and exciting torque at lower speeds for diesel engines. It comes with hydraulic power steering and delivers exceptional maneuverability at low speeds with a crisp feel. The new Toyota Land Cruiser comes with an electronic brake system that detects brake pedal force to produce optimal brake force and linear braking. It comes with a limited-slip differential that provides exceptional rear-wheel traction. It distributes drive torque optimally when accelerating and speeding the car according to the load. The off-road driving abilities are exceptional in Toyota Land Cruiser and let you drive over rough terrains comfortably. The Multi-Terrain Select system helps in off-road driving and provides six-driving modes to help in driving over rugged terrains conveniently. These driving modes are auto mode, dirt mode, sand, mud, deep snow, and rock mode which can be selected according to the requirement. The electronic kinetic dynamic suspension system in GR Sports trim reacts to road conditions by providing stabilization adjustments and improving road handling at medium speeds, and also reduces vibrations. The quality of the ride is exceptional; with minimal to zero roads and engine noise in the cabin so the passengers can enjoy a comfortable ride.
Exterior Design & Features:
The new Toyota Land Cruiser will have facelift changes and typical vertical and horizontal elements on the entire body, unlike the other SUVs. It is lighter and more rigid than the previous model and has aerodynamic features. The front has a wide slated grille, having narrow LED headlights on the sides with LED daytime running lights. The headlights and the bumpers are durable that not get damaged easily. The GR Sports trim comes with black-colored bumpers and differently designed alloy wheels. The high-tensile steel body of the Land Cruiser comes with an aluminum bonnet and door panels that provide better protection and safety. The overall exterior of the Toyota land Cruiser is more aggressive, futuristic, and competitive.
Interior Design & Features:
The inside of the Toyota Land Cruiser offers a spacious and luxurious cabin. The front and 2nd-row seats come with a ventilation and heating facility and have premium leather covering. There is a console box in the center with a 2-sided opening structure, and we can access it from the driver's seat, the front, and the rear seats. There is a fantastic box for chilling bottled drinks and other foods in the cabin. An attractive instrument panel at the front gives vehicles basic information. A 12.3-inch touchscreen is mounted on the dashboard and shows navigation, infotainment, air-conditioning, audio, and off-road data. A smart key for the car automatically opens and closes the door by placing feet under the rear bumper.
Safety & Features:
Some of the safety features the latest Toyota Land Cruiser provides are:
Pre-collision system

Emergency steering assist system

Parking support brakes

Blindspot monitoring

Toyota Safety Sense

Lane departure alert

Automatic high beam assist

Radar cruise control

Road sign Assist

Lane tracing Assist
Pros & Cons:
Pros:
Latest Generation all around the world
Comes as CBU
Powerful Engine
Exceptional Features
Dealership available in Pakistan to cater later.
Cons:
Very Expensive
High Tax and Duties
High Maintenance Cost
Compact Third Row Space
Major Competitors: