United Bravo Affordable Hatchback in Pakistan
United automobile industry does not have an old history in Pakistan but it has completely taken over the market with its Chinese assembled bikes in Pakistan. United group of automobiles came into being in 1999 and today it is second largest most demanding motorcycle brand in Pakistan. United has now made an entry in small hatchback segment market in Pakistan by launching United Bravo. United Bravo was launched on 8th September 2018. While many new entries are making debut in Pakistani automobile industry, united Bravo has been most searched car and it has made a wonderful success in markets. The 2019 United Bravo was launched after huge demand for the original variant. It is 800cc hatchback under the price of 9 lacs which is very reasonable as compared to other cars. It has been equipped with all those features that locally produced 800 cc cars lack. As we all know Suzuki Mehran is already stopped in manufacturing and the most loved 800c small hatchback segment is leaving the automobile market. In the meanwhile United Bravo has chosen the perfect time to launch its Bravo 2019 that is equipped with all standard features which can replace the place of Mehran in markets. Let us have a look on the features and specifications of United Bravo in detail:
Engine and performance:
It is equipped with 800 cc three cylinder water cooled Euro II EFI engine that generates a horsepower of 50bhp and torque of 60nm. It offers manual transmission only with four speed gear option but the company promised the automatic version soon. Bravo offers a fuel tank capacity or thirty liters and gives a mileage of twenty two kilometers per liter. It offers enhanced performance than Suzuki Mehran. It ensures all safety features that local cars lack. It has central lock facility along with power windows, steering lock, power steering and fog lights.
Design of United Bravo 2019:
 United Bravo is available in three exterior colors including white, silver and grey. Design is quite elegant that is a bit old but it has an attractive appearance with LED brake lights, amalgam edges on outside with fog lights and rear camera for parking.  It is 3290 millimeters in length, 1600 millimeters in width, 1580 millimeters in height and have a ground clearance of 150 millimeters. It comes in aluminum alloy rims that gives a stylish look. Front fog lights are provided to drive the car in extreme weather conditions. It is bigger in size and weight as compared to Suzuki Mehran.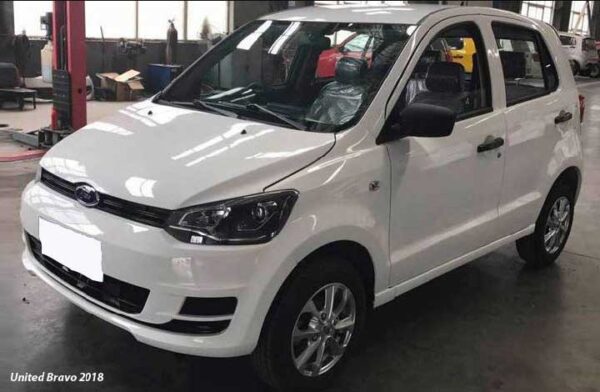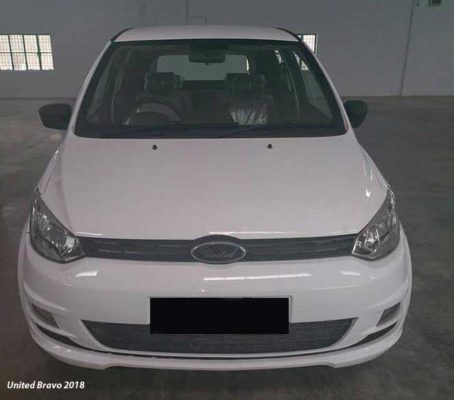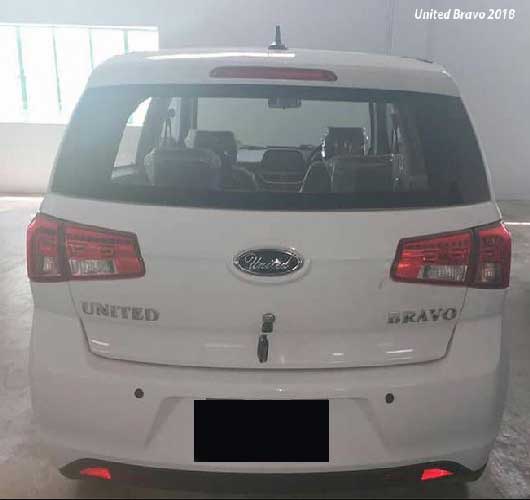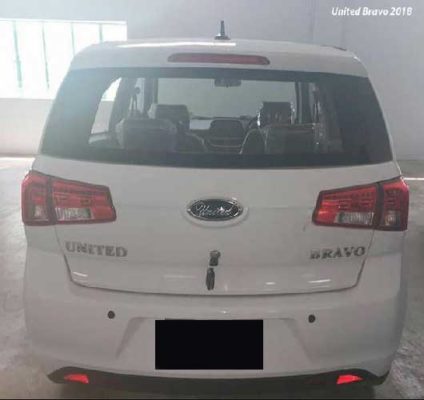 Interior features of the car:
Interior of the car is equipped with many advanced features that the locally assembled cars lack. It has an interactive multimedia system with USB, AUX cable and Radio player option. The seats are fabricated with option of reclining and sliding of front seat and adjustable front and rear seat headrest. There are two cup holders for the passenger's facility. Wooden panels along the sides of the interior cabin gives a deluxe look. It is equipped with power steering, power windows, seat belt warning, fuel lid opener, rear view camera and digital instrumental meter. The headroom and leg room are quite spacious at front giving a lot of area for sitting at front but the legroom and headroom are not sufficient at back seats. Coming on safety features then it has been equipped with seat belts, seat belt warning alarm, central lock, reverse camera and steering lock.
Favorable points of United Bravo:
Affordability: it is available in 8.95 lacs Pakistani rupees which is very affordable and budget friendly car. It only gives affordability to all classes of customers but it also has surpassing features mentioned above in detail.
Attractive design: company has provided marvelous design that is much better than the previous Mehran, Alto and Santro designs. The quality of paint is commendable and the aerodynamics are smooth.
Advanced features: United Bravo has been equipped with all standard features a modern car should have as we have already discussed the tremendous changes introduces that were not in the previous 800 cc cars.
How it can be made even better?
It can be improved a little with the quality of plastic used in the interior cabin. The quality of plastic is not up to the standards that give a cheap look to the cabin. The handles of door from inside is shoddy.  The seats of United Bravo are not very comfortable and suitable for longer journeys that does not suit patients with low back pain. So those people who have to travel a lot to their hometowns do not prefer United Bravo. Company promises a good fuel economy that is expected by all the consumers of small hatchback segment cars but the fuel economy is not that much promising as declared. It does not give any spare tyre and even no place for spare tyre. There is no ABS system provided so company should keep in mind these flaws that should be removed in the upcoming versions. The facelift can also be improved a bit to give a modern design. Lastly company should focus on the availability of spare parts of the car because the car is competing with Suzuki Mehran and as we all know Mehran is most loveable car because of the readily available and low cost spare parts of Mehran that makes its maintenance cheap and promising resale value. Up till now the spare parts of United Bravo are not readily available but we hope that with the increase sales and demand of the new car in market, its spare parts will also be available at cheap prices in market and will give an average resale value. The automatic version should also be introduced soon so the customers seeking for automatic transmission should not search for other companies.
Price:
United Bravo is available in show rooms at the price of 8.95 lacs Pakistani rupees so if you are looking for small budget friendly 800 cc car then book your Bravo soon.
Final verdict:
United automobiles have set a goal to break the stereotype of the Suzuki small hatchback segment cars including Mehran and Alto. It has provided many advanced and improved features that the Suzuki cars do not have. Although Mehran has been vanished in manufacturing plants but still the supremacy and power of it have remains on our automobile industry. Its resale value, maintenance value and value of spare parts had made it favorite among the buyers and United Bravo has to face a big competition from Suzuki cars. If United Bravo continues to give better advanced features and the spare parts of the car become common in markets then it can break the hold of Mehran in small hatchback segment market. It may take some time for United to become as popular as Mehran but we hope a profiting business and a good place in markets for the United Bravo.