Update: October 4, 2018 –> (United Bravo Deliveries will Start in December)
According to famous automobile website "Pakwheels.com" United bravo has already become the most awaiting and most searched vehicle in Pakistan, this new vehicle bravo by United will launch against famous vehicle Suzuki Mehran and from gathered details mentioned on many websites it seems that it will have much better quality and features while the price of vehicle will also be cheaper than Mehran. If this vehicle launched with mentioned features and price tag lower than Mehran than it will surely become most selling vehicle as well and will also become a reason for reduction of car prices in automobile sector. It has nice looking design and surely more spacious interior as well, according to pakwheels this vehicle has already been tested on Pakistani roads.
For now Suzuki Mehran is the most selling small car in Pakistan which has price more than 7 lacs that makes it quite expensive comparing to the quality and features available in it, on the other hand this New Bravo is expected to have price tag between 6-7 lacs which this is much less if we compare it with Mehran in terms of features.
Expected features in United Bravo:
Rear Parking Camera
Wooden interior
Digital info cluster
Touch screen infotainment system
Rpm and Speedometer dials
Power Windows
Seat Belt warning indicator
Some of these features are not even present in Midsized and high priced vehicles like Suzuki Swift, Suzuki Wagon R and Toyota Passo. This will become a big threat for three big giants in Pakistan  including Toyota, Honda & Suzuki, there are also some rumors that this new vehicle will not have better build quality as because united is a Chinese company and has no expertise in car manufacturing and especially  how can a bike manufacturing company can produce a better car? We can't say anything about it before the Launch of Bravo.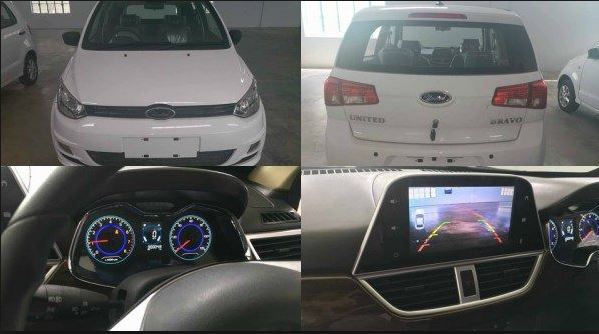 Engine and Power:
United Bravo will have same 800cc three cylinders engine like Mehran that will produces 40 Horse power and 60 Nm of torque.
What will happen after united Bravo Launch?
If this vehicle launched with same mentioned features than it can set the new trends in automobile industry of Pakistan, it will force the automobile manufacturers to reduce the prices and to upgrade the vehicles with new updated features, in both the cases automobile industry especially big 3 giants will surely suffer in profits.
Expected Price:
There is no official price given by the company but expected price of United Bravo is between 6 to 7 Lacs PKR.
Expected Launch Date:
Again there is no official date announced by company but launch of united Bravo is expected on 8th September 2018.
Let's hope for good as Pakistan Community is already exhausted of buying low quality vehicles with high price tags, On social media Pakistani Community also requesting Chief Justice & Chief Minister of Pakistan to take the notice of these high prices of vehicles and take some solid steps for reducing prices & manufacturing of better cars.
Update: 8-09-2018
Credit: Fazal Wahab
Launch and Price of United Bravo
BRAVO
The Million -Dollar question is answered. The price of the mostly awaited car is
RS 850,000/- [ single trim level only ]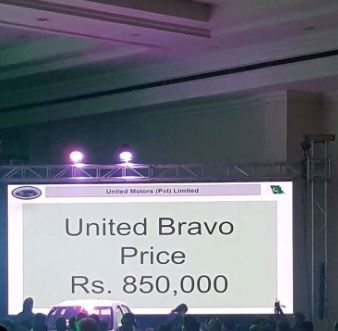 At launch the car is available in three color options SILVER, WHITE & GRAY. More colors and an automatic variant will be added later. United Motors have not released the dealership network details so I believe customers have to wait for few weeks or months before it's actually available for sale. Additionally, currently there is NO local production. It will be CBU initially.
Read my opinion I made 24 hours earlier to the launch > https://goo.gl/QLy3hb
The vehicle is a re-badged DH350, a model sold by a small Chinese company "Dahe Motor" who sells small cheap electric city cars and geographically in a very limited region within china.
The Chinese variant does not have a SPARE-TIRE which is an identical vehicle but LHD. Does BRAVO has it? Need confirmation.
The Bravo is Bravo in the sense that its believed to be powered by heart and soul of legendary Suzuki Mehran engine; yes the 800cc 3 cylinder EFI engine. There is no confirmation if it's the same engine but the power output is near 40hp / 60NM which sound same as Mehran.
Check Also: Complete Specifications of United Bravo
As I mentioned yesterday as well, features and options is not everything in a car or any other vehicle. It's a complete package. How well it is put together, the materials, the fit and finish and obvious on top of that the safety features in car as well as after sales service and support.
Well I don't see any safety features in the car at all except seat belts which is very unfortunate and I don't want to make an opinion on the quality and built of its platform which includes the crash and crumple zones which are very important for vehicles of this size. No data was shared on this matter by the manufacturer; in fact they have no data at all.
A customer wants a well built vehicle with acceptable fit and finish and obviously a reasonable price point. Any new vehicle in our country will only succeed if these above mentioned things are met especially in the market where a buyer talks about resale before even buying a car and keeps the car as an investment.
We also know that Suzuki Mehran is not a hero either. In fact Mehran is one of the worst car ever. BUT how well Bravo is built, how good is fit and finish and overall quality of the product is yet to be seen. Many good cars lost their image in our market because of poor dealership network as well as parts and resale.
Delivery time and obviously what United will do as far as controlling premium mafia should be watched out as well. Sometime manufacturer themselves are involved in such activity of unethical business practice. I hope UNITED don't do like this.
Let's all get UNITED and applaud BRAVO for now and welcome a new entrant in the market. I hope it meets our expectations.
Suzuki has already notified its parts suppliers regarding the discontinuation of Mehran and production will be stopped by March 2019. So , we can say for now Bravo can challenge Mehran for few months provided Bravo sales and delivery starts immediately.
Suzuki will be replacing Mehran with Alto as per currently available information. This can dent Bravo sales as well because buyers in market will wait and see what's up with the new Alto before they put their deposit for Bravo. Let's see how Suzuki react to the launch of Bravo as far as their new product in 800cc category.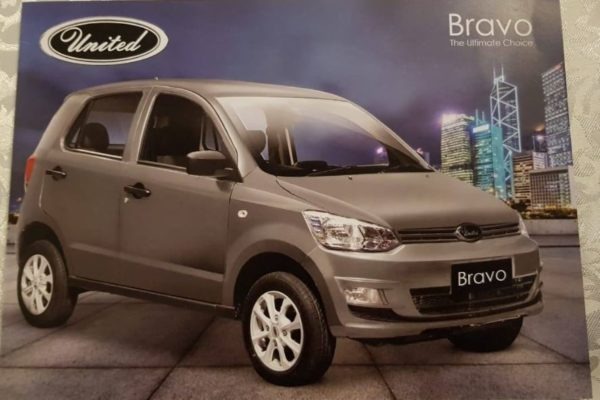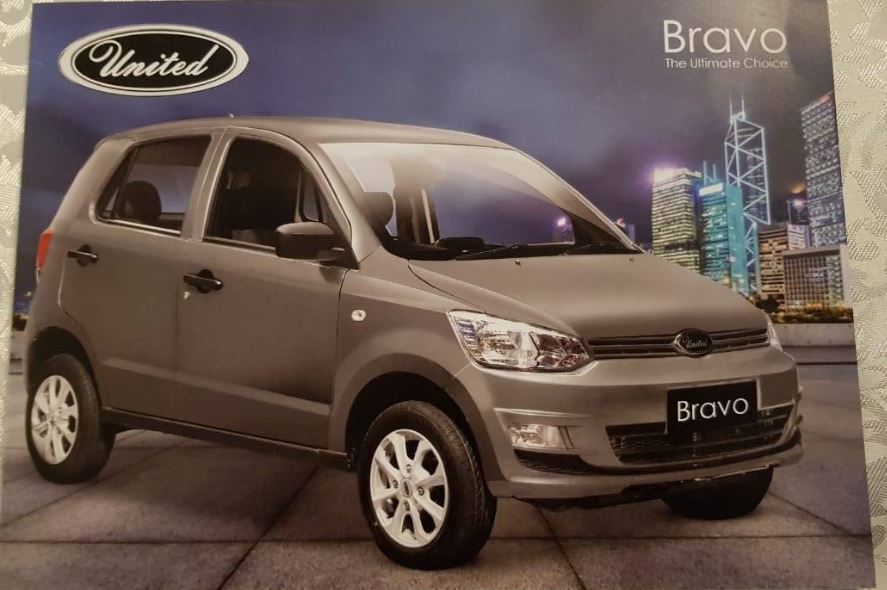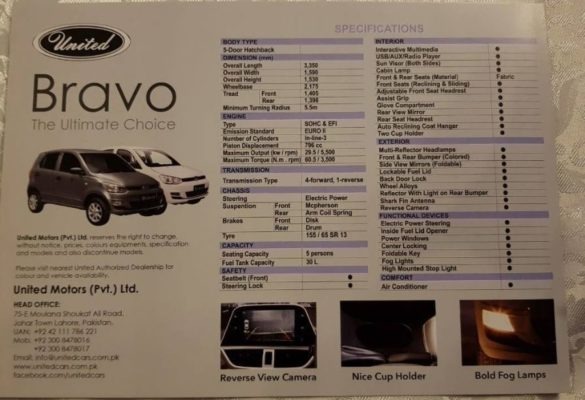 Update: 4-10-2018
United has started delivering Bravo car:
As per details and Updates most awaited vehicle united bravo shipping to dealers has been started from today 4th October 2018 even thous some dealers has also started advance bookings with price of RS: 2,00,000 but still there is not confirm date when deliveries will be done. Keep visiting fairwheels to stay up to date.