Al-Haj Group of company signed an agreement with Malaysian company Proton on 29th of August, 2018 to assemble and distribute Proton vehicles in Pakistan and recently a friendly relationship was being observed between Pakistani and Malaysian government when Mahathir Mohammad gifted Proton X70 SUV to Pakistani prime minister Imran Khan and Proton's assembly plant was announced in Pakistan. Saga is the debut vehicle of Proton and this is ready for launch in Pakistan too. Saga was spotted on roads of Pakistan that clears that the car is under testing phase and ready for launch. Saga has an old history in Pakistan, it was launched in 2006 by Royal Automobiles with C20 MK3 model based on second generation Mitsubishi Lancer. BT MK3 model of Saga was launched in September 2016 and the Saga which is going to be launched by Al-Haj group is completely renewed with BT MK4 model and improved engineering and more focused on NVH reduction. Saga is running successfully in Malaysia because of its durability, fuel efficiency, cost effectiveness and improved technology and thus it has become a national car of Malaysia and we are expecting its launch soon in Pakistan too. Let us review the features and specifications of this upcoming Sedan.
Engine of Proton Saga 2019
3rd generation of Saga is powered by 1.3 liters DOHC VVT 1332 cc engine that generates ninety four horse power and 120 Nm torque. It has a fuel consumption of 18.5 kilometers per liter. It offers five speed manual and automatic transmission. It has a front engine and front wheel drive that is completely advanced technologically.
Features and specifications
It is a Sedan which is 4331 millimeters by length, 1689 millimeters by width and 1491 millimeters by height. Interior and exterior design of the Saga is completely revamped. Proton Saga has won many awards since it was introduced in Malaysia including the Compact Sedan of the year 2017, Best three city cars of Malaysia, 2018 and Budget car of 2018. It has been awarded with four star safety rating by ASEAN NCAP that confirms the best safety standards and features of the car. Electronic stability control has been introduced in it that makes it safe car. Steering control and handling of the car has been improved with more comfort. Vehicle Dynamic control is a combination of anti-lock braking system, brake hill assistance, hill hold assistance, traction control system and electronic brake force distribution that minimize the risk of accidents. Brakes of the Proton Saga has ventilated disc at the front while drums brakes on back. Suspension in this new prototype consist of McPherson struts at front and torsion beam on back. There are parking sensors on the front bumper to help in parking. It can speed up from zero to hundred kilometers in just 12.2 seconds and have a maximum speed of 175 kilometers per hour.it has a good fuel consumption. It offers a seating capacity for five persons.
Exterior of the car
Proton Saga have been spotted on roads and some clues related to the design of the car have been gathered which shows that the new car is longer than the previous generations. The front of the car is improved with new bumper style and halogen headlights with LED tail lights. Body panels are redesigned with sleeker external profile, one of the variant also have fog lights on back and front and back lamps. Handle of doors are matte black in color while executive variants have body colored handles. Side mirrors are power adjustable but not power folding and the chrome grille spans across the entire width of car. There are thirteen inches steel rim wheels in standard variant. Proton Saga is available in six exterior colors; red, topaz blue, metal grey, cotton white, sterling silver and midnight black.
Interior of the car
It has a spacious cabin inside with more boot space that is expanded by seven liters boost. Dashboard of the car is redesigned with modern looks and the air vents are also redesigned. Seating is made more comfortable with upholstered fabric and the cabin is quite elegant in looks with plastic everywhere. Side mirrors and windows are power adjustable in executive variants. The advanced infotainment system has a seven inches touch screen and has options of Bluetooth connectivity, mobile connection, and two USB port and voice control. It offers two speakers for entertainment and folding back seats that increase the cabin area at the back. There are dual airbags in the sedan to offer more safety to the passengers. Executive features also have rear view camera for parking and four speakers and a total of six air bags for safety. Black and grey color scheme for interior cabin adds more elegance and beauty in the car.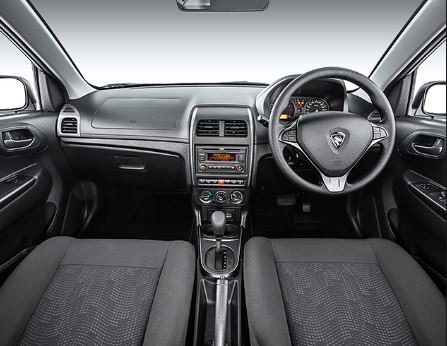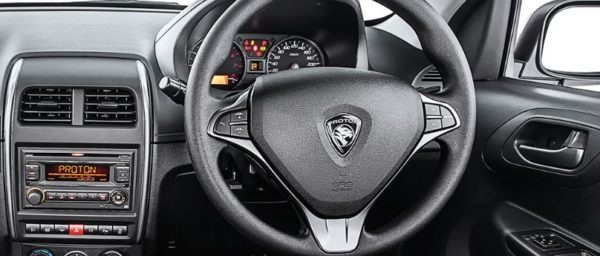 Versions of Proton Saga 2019
The Saga in Pakistan is expected to arrive in 5 speed manual transmission and continuously variable transmission.
Expected price and launch date in Pakistan
Proton Saga is expected to launch at the end of 2019 in Pakistan and the price is expected to start from fifteen lacs Pakistani rupees.
Major competitors
Major competitors of Proton Saga are considered to be Honda city and Corolla Xli and GLi. Concept of all these cars are similar to Saga providing luxurious features and technology to customers but Saga is very budget friendly and fuel efficient car that is expected to make a good business in Pakistan.
Conclusion
There are many things that needs to be improved in the finishing of car especially the plastic interior of the car and the maintenance of the car will be a little costly due to its expensive and less frequently available spare parts in market and it is expected to have an average resale value of the car but overall it is really cost effective and technologically advanced. Saga is hands down better to drive and handle with its improved driving control features and it has a plus point of low fuel consumption. Safety features provided by the Proton are also very advanced with globally four stars awarded in the safety rating and we are hoping a good hatchback of this sedan in Pakistani automobile market and it is expected to give a tough competition to its competitors.