2023 Proton Saga
Sold in Pakistan = 2021-Present
3rd Generation 
2023 Proton Saga Price in Pakistan
Price Effective From 20-June-2023
Proton Saga 1.3L Standard M/T
1299cc, Manual, Petrol
3,749,000/-

PKR

Proton Saga 1.3L Standard A/T
1299cc, Automatic, Petrol
 3,949,000/-

PKR

Proton Saga 1.3L Ace A/T
1299cc, Automatic, Petrol
 4,099,000/-

PKR
As we all know, the Proton Saga has been a major milestone in the Malaysian automobile industry as it became the first locally produced car and it has been enjoying the best-selling car in Malaysia till now. Currently, the third generation of Saga is available in Malaysia which has received some facelift changes, and Proton is about to bring its 2021 version of Saga to markets that were sighted in its camouflage form in Kuala Lumpur in September 2020. The latest model of Proton Saga launched in mid of 2021 continues to have a similar powertrain as introduced in the 2019 Saga, but some minor changes in its design have also been introduced. Proton Saga was launched in Pakistan after the entry of X70 into our country. The High Commissioner of Malaysia announced the launch of Proton X70 on December 18th in Pakistan and Saga launched afterward in April 2021. An official launch of Proton Saga in Pakistan was done on 4 April 2021. Initially, 100CBU units were available for sale, and then locally produced cars available from June 2021 as per the plan Proton. Initially, Proton Saga was spotted on the roads of Karachi which showed that the car has been tested thoroughly. Proton has established its dealership networks in big cities of Pakistan so that the availability of their vehicles is made easy for the customers.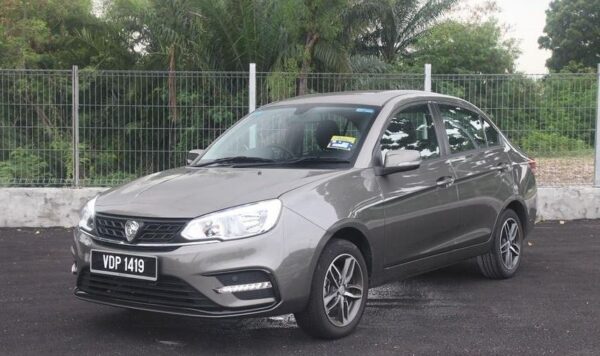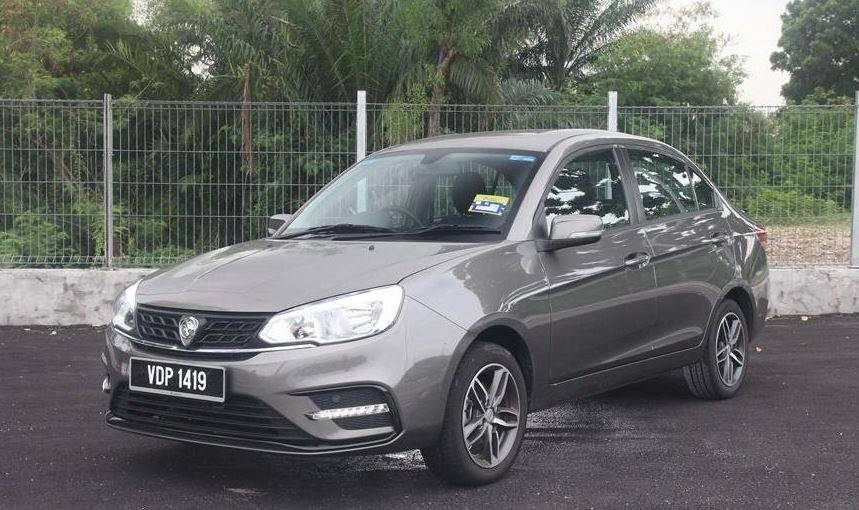 Trims Available :
It is available in three levels that include Standard trim, Executive trim, and Premium trim but in Pakistan only Standard and Premium (ACE) trims are available. The Standard trim is available in both manual and automatic options, but the Top of line Premium  (ACE Trim) is available in only the automatic transmission option. The CVT version was already discontinued in the 2019 model and a Hyundai –source four-speed automatic transmission was introduced.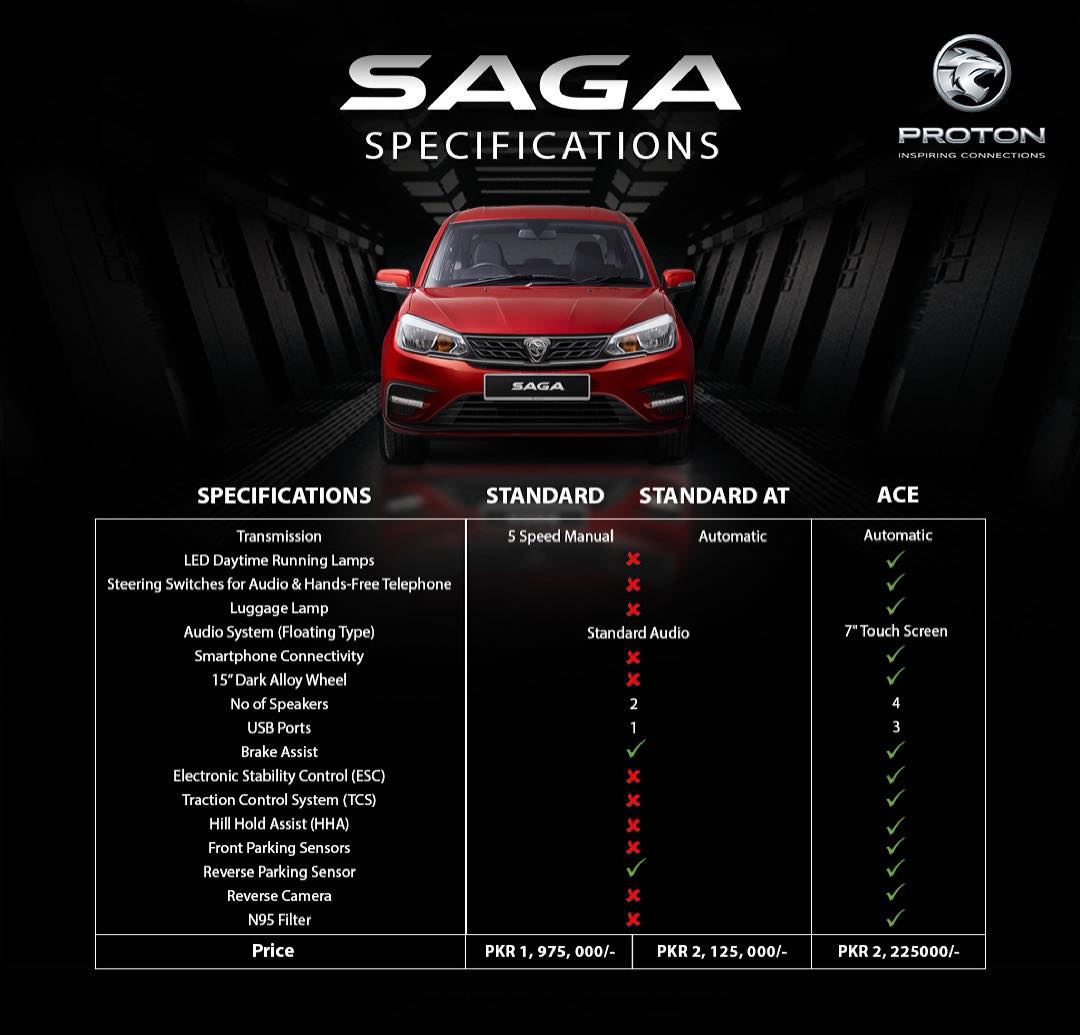 Proton Introduced More features in Locally Assembled Saga:
Standard in All
A center console with an armrest to enhance comfort
Front parking sensors for parking ease
Noise Vibration Harshness (NVH) guard for the bonnet
NVH guard on the boot lid
A strut tower brace to minimize body-roll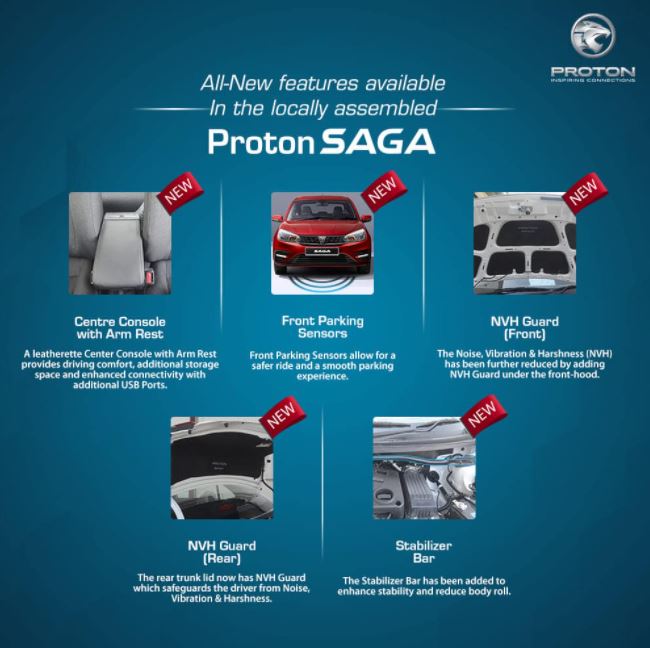 Standard features:
14-inch Steel Wheels
halogen Headlights
Power Windows
Electric Door Mirrors with Turn indicators
Keyless Entry
Remote Trunk opener
Hydraulic Power Steering
Power Steering Tilt
Driver Seat Height
Eco-Drive Assist
Dual Airbags (Driver + Passenger)
ABS  + EBD, Brake Assist
 Rear Parking Sensors and Immobilize
Extra Features in ACE Trim:
15-inch Alloy wheels
LED DRL's
Multimedia Steering wheel
7-inch Touch Screen
Smartphone Connectivity
Steering wheel switches for phone
Hill Assist
Electric Stability Control
Traction Control System
Front Parking Sensors
Reverse Camera
Engine & Power:
The Proton Saga is available in 1.3 liter DOHC VVT engine with 1332 displacement that generates a maximum power of 70 kW (93 HP) AT 5750 RPM and torque of 120 Nm at 4000 RPM. The Saga with a downsized engine has a displacement of 1299 cc instead of 1332 cc displacement generating an almost similar horsepower of 91 hp and torque of 120 nm. Four-speed automatic and five-speed manual transmission is available.
Performance & Drive:
Proton Saga has always been exceptional when talking about the driving experience and has been given awards many times. The latest model is improved to modify the handling on most and the good suspension is coupled to enhance the handling even when cornering and curving are required. The braking system is improved as well by the addition of higher friction pads and large-sized discs. It now offers you automatic transmission instead of a continuously varying transmission and the gearbox is taken from the Hyundai Transys, both the manual and automatic options are given with smooth throttle changes. The new automatic driving mode is more economical and also gives a bit of a sporty feeling to the drive-by when giving direct in-gear acceleration. It delivers a decent acceleration that hovers the revolution needle below 3000 RPM at a speed of 110 kilometers per hour. The engine brakes feel strong in the new gearbox when you lift off the gear. It can accelerate from zero to a hundred kilometers per hour in 11 seconds. The hydraulic steering wheel is lighter and works with less steering effort. Turning and curving the car around corners is made easy and effortless which is appreciated by the customers. The steering wheel remains the same effortless even at high speeds and makes the handling confidence-inspiring. It has always been a priority by customers because of its dynamic sophistication that makes high-speed cruising even more fun. The fuel economy of Proton Saga is also not very bad, consuming 5.6 liters of petrol by giving a hundred kilometers of mileage when driving it with manual transmission and automatic transmission consumes 5.4 liters of petrol by giving mileage of hundred kilometers. It is the best car if you are looking for driving enjoyment, and some of its features like electronic stability control, traction control, hill-hold assist, reverse camera, and parking sensors at the front and back.
Exterior Design & Features:
The Proton saga's modern and elegant lines complement its refined looks with distinct enhancements that attract every person. The front bumper features an infinite weave-shaped grille above, and new diamond-shaped halogen reflector headlights on its sides are given with new LED daytime running lights (ACE Trim only). The rear end is garnished with a new rear bumper and spoiler that attracts every eye and the proton logo is encrypted in between the two stunning taillights. There is a bee sting antenna fixed on the roof that looks good and does the job perfectly to attract radio signals. In the last fifteen inches (ace trim), alloy wheels complement their looks and add a bit of sporty design to them.
Interior Design & Features:
It is all about comfort when talking about the cabin of Proton Saga. The stylish leather upholstery adds luxury to the interior, whereas the eye-catching central console is given with convenient buttons that are easy to reach, and a seven inches touch screen display (ace trim) is mounted on that comes with Bluetooth connectivity and 16GB of storage memory. You can now connect your Android smartphones easily with the display screen and enjoy the music of your choice. The N95 cabin filters suit best in the days of viruses when you need to filter out all the dust, bacteria, and other pollutants including smoke particles. The cabin features a new LED Map lamp, sun visor with mirror, and ticket holder, attractive instrumental display that comes with Eco-Drive Assist. Three USB ports, power windows, steering tilt adjustment, a big cargo area, and a bench-type rear-seat fold for additional cargo space are also given to the customers.
Safety & Features:
Proton Saga comes with an improved NVH braking system and drives quality that ensures its passengers a safe ride. It has equipped with an electronic stability control feature, traction control system (ACE), 2 airbags, brake assist feature, hill-hold assist, parking sensors (ACE) at front and rear, ISOFIX, and reverse-view camera (ACE). It has been given four stars by ASEAN NCAP which increases the customer's trust and faith in Proton Saga.
Pros & Cons:
Pros:
Most affordable sedan
Reliable car
Powerpack features for a sedan
Cons:
Outdated Shape
Not spacious
The fuel Average is not satisfactory
Parts are not easily available due to Covid Restrictions in Malaysia
Major Competitors:
Verdict:
Proton Saga is the most loved car in Malaysia, just like our Suzuki Mehran which is owned by almost every house at least once in a lifetime, and its popularity is still the same as proved by its sales. Sales of Proton Saga reach the highest level up till now in June 2020 which shows people's love for it. The entry of Proton Saga into the Pakistani auto market is a threat not only to all its rivals but also to prove to be a worthy option to own, and we expect a welcoming market for Saga in our country too.