Suzuki Swift made its debut globally in 2004, and its design was based on Concept S and Concept S2. It received 4-stars out of 5 in Euro NCAP crash tests. The 1st generation Suzuki Swift was manufactured by Pak Suzuki in 2009 and was available in a single-engine option with manual and automatic transmission. The 1st generation Suzuki Swift ruled in Pakistan for more than a decade and was discontinued in August 2021. The 2nd generation Suzuki Swift was launched in 2010 worldwide, and it was available in the United Kingdom, Europe, Thailand, Indonesian, Japanese, Malaysian and Indian markets. It's time for the 3rd generation to arrive in Pakistan. It will be locally manufactured here and available in a petrol engine. All Swift enthusiasts are looking forward to the launch of Suzuki Swift in Pakistan, which will be launched by March 2022. The images of Suzuki Swift show it is a sleek design car with a futuristic look and has been given a traditional sporty look.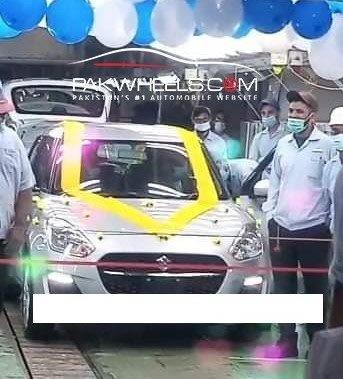 It has halogen headlamps and daytime running lights, and the high-end variant will offer fog lights and alloy wheels. The excitement was increased when an image of the new Suzuki Swifts loaded on a carrier vehicle on social media. It was expected to be launched by February 2022 or the beginning of March 2022. The 3rd generation Suzuki Swift will be equipped with a direct-injection turbocharged petrol engine, and hybrid variants will also be offered, having Integrated Starter Generator. The 3rg generation Suzuki Swift is also manufactured in Japan, India, Thailand, and Myanmar. It will have the latest features like a TFT display, automatic climate control, a multi-functional steering wheel, and an excellent glove box. We hope the new Suzuki Swift to have a reasonable price so people from all classes can purchase it.
Trims & Variants:
The 3rd generation Suzuki Swift is available worldwide in petrol, hybrid, and MHEV variants. It will be available in petrol variants in Pakistan. The petrol engine is expected to be available in the same classification: the automatic variant and the DLX variant. The DLX variant offers a five-speed manual transmission.
Engine & Power:
The 3rd generation Suzuki Swift will be available in a single-petrol engine option, while the global variants have petrol, diesel, and hybrid powertrains. The 3rd Generation Suzuki Swift gets its power from a 1.2 liters DOHC 16-valve 4-cylinder VVT engine that generates an engine power of 92 hp at 5800 RPM and a torque of 116 Nm at 4200 RPM. It offers a five-speed manual transmission or an automatic transmission. It comes with a Macpherson Strut and coil suspension at the front and torsion beam suspension at the rear. The braking system consists of ventilated discs at the front and drum brakes at the back.
Performance & Drive:
The 1.2-liter petrol engine generates enough power to run Suzuki Swift efficiently. It develops enough ability to run smoothly around town and on motorways. It works well when you use its revs, so you have a confident and smooth rude. It comes with both a manual and automatic gearbox. The manual gearbox has a light clutch and shifts gears precisely, and automatic transmission works equally smoothly. The global Suzuki Swift comes with a hybrid technology combined with a 1.2-liter engine, and the electric motor gives a power boost at low speeds. The Suzuki Swift comes with a front-wheel drive and is best for traveling within cities and runs well at highways, but uneven patches may disturb the smoothness in the ride. The overall performance of Suzuki Swift is comfortable, but you will feel jerks on bumpy roads as the ground clearance is not very high, and the suspension is just average. The steering wheel is nicely weighted and quick and has an impressive grip which gives less body roll and makes the drive fun. Suzuki Swift's engine will rarely sound strained even when driving at high speeds, and you will feel fewer vibrations through the pedals and steering. You will only hear the road noise, and it is also a fair amount of noise from the wind that does not discomfort your journey. The estimated fuel economy of Suzuki Swift's upcoming generation is not bad, and it may give you 10 kilometers per liter in the city and 14 kilometers per liter on the highways with a fuel tank capacity of 42-liters. The Suzuki Swift 3rd generation will give you a top speed of 180 kilometers per hour. Its acceleration will be precise, and it will deliver a smooth ride so you can enjoy your short or long-route journeys.
Exterior Design & Features:
The new generation of Suzuki Swift will be ten percent lighter than the previous generations, giving an efficient performance. It will be sportier than its previous models. It will have an overall length of 3695 millimeters, a width of 1690 millimeters, and a height of 1510 millimeters. The front end will have a chrome-accented grille with the Suzuki logo encrypted beautifully. The floating roof and rear door handles make Swift different from others, and the LED headlamps and tail lamps look attractive. The higher-end trims have halogen headlamps and come with daytime running lights and fog lights. The rear has a similar shape as all the Swift models have, but the taillights are different from the previous models.
Interior Design & Features:
The inside of Suzuki Swift will have a black and silver color theme, and it will be equipped with all the latest features. It has good forward visibility, but the rear side windows are narrow, giving a restricted view over the shoulder. We will find plastic trims all over the cabin that may look unattractive, and there will be cloth upholstery in it. It will give seating capacity to four adults and one child. It also comes with a 7-inches touch screen display mounted on the dashboard that gives you infotainment and is compatible with Android Auto and Apple Carplay. The infotainment system's menu will be used to use, and we expect better graphics in it. The boot space will be enough for carrying one to two luggage bags, and the rear seats can split, so increase the boot space for carrying more goods. Some of the features you will get are automatic climate control, navigation, USB port, Bluetooth connection, rear cup holder, and a rearview camera.
Safety & Features:
The global Suzuki Swift gets two stars in Global NCAP crash rating, and it needs many more updated safety features in it. We expect the Pak Suzuki Swift 3rd generation to offer the latest safety features to have a safer ride. Some of the desired safety features it provides are:
Anti-Lock Brake system
Electronic Brakeforce distribution
Child locks
Rearview camera
Brake Assist
Major competitors