2023 Aprilia Tuareg 660
Sold in Pakistan officialy = 2021-Present
Engine Technology = robust 660cc parallel-twin engine (EURO-V)
2023 Aprilia Tuareg 660 Price in Pakistan
Taureg 660

56,00,000/-

 PKR
Ravi Automobiles Private Limited in Pakistan is the proud importer of Aprilia bikes from Italy. Among their impressive lineup is the Aprilia Tuareg 660, a thrilling adventure motorcycle that promises an exceptional riding experience. With its 660cc engine, this middleweight adventure bike is built to conquer diverse terrains, making it an ideal companion for adventurous spirits. The Tuareg 660 boasts a rugged and upright design, featuring long-travel suspension, spoked wheels, and other adventure-oriented attributes. To enhance both performance and safety, modern electronics and rider aids are incorporated, such as multiple riding modes, traction control, and cornering ABS.
Comfort is paramount on long-distance journeys, and the Tuareg 660 takes this into account with its ergonomic design, tailor-made for adventure touring. Moreover, it comes equipped with a digital instrument cluster that allows for smartphone connectivity, keeping riders well-connected on their explorations. Designed for off-road prowess, the Tuareg 660 is engineered to tackle even the roughest terrains with ease. It challenges conventional norms, encouraging riders to embrace new challenges and find the ideal path to overcome them head-on, even in the most gripping situations. The bike defies the standards set by others, rewarding riders with an array of sensations and exhilaration that every adventurer yearns for, regardless of the riding environment. With the Aprilia Tuareg 660, riders can expect not just a machine but a companion that empowers them to push boundaries and seek the thrill of exploration wherever their hearts desire.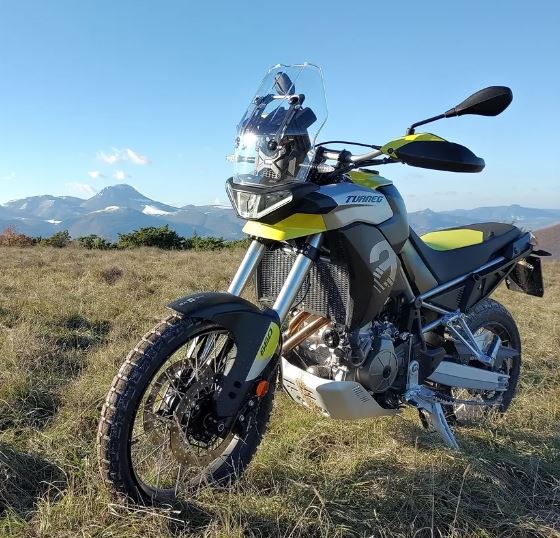 Engine & Performance:
The Aprilia Tuareg 660 is equipped with a robust 660cc parallel-twin engine, likely based on the same platform as the high-performance sport bike, the Aprilia RS 660. Renowned for its smooth power delivery and agility, this engine strikes a perfect balance between performance and efficiency, making it ideal for both on-road and off-road adventures. The parallel-twin configuration ensures ample power and torque to conquer various terrains, while also delivering good fuel economy for extended rides. Its impressive performance figures include 80 hp power at 9250 RPM and 70 Nm torque at 6500 RPM. Mated with a six-speed manual transmission, the Tuareg 660 can reach a top speed of 130 miles per hour. Fuel efficiency is commendable, achieving 45 miles per gallon in the city, and it boasts a substantial 21-liter fuel tank capacity to support long journeys without frequent stops. To ensure a comfortable and controlled ride on diverse surfaces, the Tuareg 660 is equipped with long-travel suspensions that effectively absorb bumps and rough terrains. Moreover, these suspensions are adjustable, empowering riders to fine-tune the settings based on their preferences and the type of terrain they are traversing.
The Aprilia Tuareg 660 boasts an impressive front and rear suspension system, designed to handle various terrains with ease. At the front, it features a telescopic fork with generous travel, ensuring a smooth and controlled ride even on bumpy roads. The rear suspension comprises a mono-shock with multiple preload and damping adjustments, allowing riders to fine-tune the suspension settings according to their preferences and the riding conditions. This setup enhances the bike's off-road capabilities, providing excellent stability and control when navigating uneven surfaces and obstacles. Safety is a top priority in the Tuareg 660, and it comes equipped with a high-performance braking system. The bike features dual front disc brakes, which ensure enhanced braking performance and sufficient stopping power on both paved roads and off-road trails. Additionally, it is equipped with a single disc brake at the rear, further contributing to its reliable braking capabilities. The use of ABS (Anti-lock Braking System) prevents wheel lock-up and skidding during emergency braking, especially on slippery surfaces, enhancing rider safety and control in critical situations.
The Tuareg 660 is designed to be agile and nimble, making it adept at handling various riding situations. Whether navigating through busy city traffic or exploring off-road trails, the bike remains responsive and easy to maneuver. Its well-balanced chassis, along with a well-tuned steering setup, contributes to a confident on-road riding experience, providing stability and smooth handling even at higher speeds. Riders can also enjoy a comfortable and upright riding position on the Tuareg 660. This design not only minimizes rider fatigue during long-distance journeys or off-road adventures but also allows for better control over the bike. The combination of a comfortable riding position and adaptable suspension system enhances overall rider comfort and confidence, inspiring riders to take on new adventures with ease.
Exterior Design & Build Quality:
The Aprilia Tuareg 660 possesses a rugged and purposeful design, signifying its versatility in conquering diverse terrains. With its tall and upright stance, the bike exudes a commanding presence both on the road and off-road, instilling confidence in the rider's abilities. Drawing design cues from dual-sport motorcycles, the Tuareg 660 cleverly combines elements from both off-road and street bikes, making it a formidable companion for any adventure. One striking feature of the Tuareg 660's design is its distinctive beak-shaped front fender, not only adding to its aesthetics but also providing practical functionality. This fender effectively protects the bike and the rider from debris and mud when venturing off the beaten path. Moreover, the bike comes equipped with a windshield or windscreen, thoughtfully designed to offer wind protection during extended rides, ultimately reducing rider fatigue and enhancing overall comfort. Incorporating fairings around the front and sides, the Tuareg 660 optimizes aerodynamics while ensuring the rider's comfort. This smart design choice reduces wind resistance, enabling a smoother and more enjoyable riding experience. The bike's dual-headlight setup, a common feature among adventure motorcycles, further enhances safety and visibility, providing excellent illumination for both on-road and off-road excursions, regardless of the lighting conditions.
Designed with adventure in mind, the Tuareg 660 boasts spoked wheels, a practical choice that enhances its off-road prowess. Spoked wheels are known for their robustness and durability, making them better suited to handle the challenges of rough terrains compared to traditional alloy wheels. Recognizing the needs of adventure riders, Aprilia has thoughtfully incorporated mounting points for luggage racks, panniers, and other adventure accessories. These features allow riders to carry their gear securely and efficiently, making the Tuareg 660 well-equipped for long journeys and extended expeditions. As a reputable and well-established motorcycle manufacturer, Aprilia maintains a reputation for producing bikes with exceptional build quality. The Tuareg 660 is no exception, as it embodies high-quality materials, precise engineering, and meticulous attention to detail. The bike's robust chassis, durable components, and protective features are carefully designed to withstand the rigors of both on-road and off-road riding, ensuring its reliability and performance in the face of demanding conditions.
User Reviews:
The Aprilia Tuareg 660 has garnered strong user satisfaction for its exceptional adventure touring and off-road capabilities. Riders appreciate the advanced electronics, such as riding modes, traction control, and ABS, which significantly improve safety and overall performance. The bike's expected upright and comfortable riding position is lauded for reducing rider fatigue on long-distance journeys. Its dual-sport-inspired design is also well-received by users, enhancing its appeal.
However, some users have expressed concerns about the Tuareg 660's taller seat height, which may pose difficulties for shorter riders. Additionally, the bike's higher price point compared to other middleweight adventure motorcycles has left some users dissatisfied. Furthermore, the limited availability of Aprilia dealerships and service centers has emerged as a potential drawback, particularly when comparing to more widespread motorcycle brands. Despite these few drawbacks, the Aprilia Tuareg 660 remains a popular choice for those seeking an exhilarating adventure experience with cutting-edge features and rugged design
Pros & Cons:
Pros:
Impressive adventure touring and off-road riding capabilities.

Advanced electronics, including riding modes, traction control, and ABS, enhancing safety and performance.

Comfortable and upright riding position for reduced fatigue on long-distance journeys.

Rugged and purposeful design with dual-sport-inspired elements.

Robust 660cc parallel-twin engine with a good balance of power and efficiency.

Long-travel suspensions for a smooth and controlled ride on diverse terrains.

Spoked wheels for enhanced off-road prowess.

Thoughtful addition of mounting points for adventure accessories and luggage.
Cons:
Taller seat height may be challenging for shorter riders.

Higher price point compared to other middleweight adventure motorcycles.

Limited availability of Aprilia dealerships and service centers in some regions.
Verdict:
The Aprilia Tuareg 660 is an impressive adventure motorcycle with exceptional performance, safety features, and a rugged design. Its 660cc parallel-twin engine strikes a perfect balance between power and efficiency, making it suitable for on-road and off-road adventures. The long-travel suspensions and advanced electronics enhance its off-road capabilities, while the comfortable riding position ensures reduced fatigue on long journeys. The bike's design, with spoked wheels and mounting points for accessories, is practical and versatile. However, the taller seat height may be a drawback for shorter riders, and its higher price point and limited availability of service centers may deter some buyers. Overall, the Tuareg 660 remains a popular choice for adventure enthusiasts seeking an exhilarating and secure riding experience in various conditions.
Major Competitors:
Yamaha Tenere 700: Yamaha's adventure-focused bike with a 689cc parallel-twin engine, known for its off-road capabilities and comfortable long-distance riding.

Honda Africa Twin 850: Honda's iconic adventure motorcycle, available in various displacements, with the 850cc version being a strong competitor to the Tuareg 660, offering versatility and a reliable engine.

KTM 790 Adventure: KTM's adventure bike with a 799cc parallel-twin engine, known for its agile off-road performance and feature-rich electronics.

BMW F 850 GS: BMW's adventure-touring motorcycle with an 853cc parallel-twin engine, offering a comfortable riding position and a variety of optional features for adventure touring.

Suzuki V-Strom 650: Suzuki's middleweight adventure bike with a 645cc V-twin engine, known for its reliability and practicality both on and off the road.

Triumph Tiger 850 Sport: Triumph's adventure motorcycle with an 888cc inline-three engine, offering a well-rounded package for both on-road and light off-road adventures.

Ducati Multistrada 950: Ducati's versatile adventure bike with a 937cc V-twin engine, offering a combination of sporty performance and touring capabilities.

Kawasaki Versys 650: Kawasaki's adventure-touring bike with a 649cc parallel-twin engine, providing a comfortable and practical option for a wide range of riding conditions.