2023 Benelli 251S
Sold in Pakistan = 2021-Present
Engine Technology = single-cylinder, liquid-cooled engine
2023 Benelli 251S Price in Pakistan
Benelli Leoncino 500

10,500,00/-

PKR
The Benelli 251S emerges as a pivotal member within Benelli's array of smaller-displacement motorcycles, thoughtfully catering to riders seeking an accessible and novice-friendly option. Its heart beats with a single-cylinder, liquid-cooled engine boasting a roughly 250cc displacement – a hallmark configuration observed in entry-level and commuter motorbikes. Sporting a design language akin to its larger siblings in the Benelli lineup, the 251S exudes a sporty and contemporary demeanor, characterized by sleek fairings, angular contours, and modern stylistic elements. Anchored by a steel frame, the motorcycle achieves an astute equilibrium between rigidity and weight – a cornerstone for stable and controlled rides. Enhancing both comfort and control, the suspension system combines front forks and rear shocks, ensuring a smooth and composed journey. A judiciously integrated braking system, encompassing disc brakes at the front and rear, stands ready to deliver efficient and confident stopping power.
Lightweight alloy wheels underpin the 251S, amplifying its adept handling and performance prowess. The motorcycle embraces modernity through digital instrumentation, LED lighting, and an array of contemporary amenities typically associated with smaller-displacement motorbikes. Enveloped in an upright and comfortable riding posture, the 251S proves an ideal companion for city jaunts and daily commutes. Its approachable nature and beginner-friendly attributes facilitate a seamless entry into the world of motorcycling, offering manageable performance tailored to novice riders. While not tailored for high-speed or aggressive riding, the 251S shines as an adept partner for everyday commuting and leisurely escapades. It beckons riders to embrace its reliability, comfort, and user-friendly demeanor, making each journey an inviting and enjoyable experience.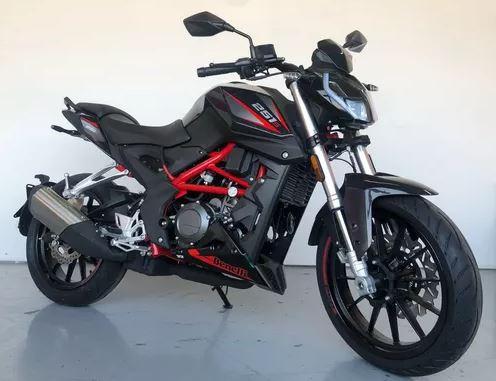 Engine, Performance & Fuel Economy:
The Benelli 251S stands as a compelling synthesis of accessible performance and commendable fuel efficiency, positioning itself as an ideal choice for emerging riders and urban travel. Sporting a single-cylinder engine with an approximate 250cc displacement, the 251S crafts a harmonious blend of power and control. Generating 25.8 horsepower at 9250 RPM and 21.2 Nm torque at 8000 RPM, this engine delivers a balanced and manageable riding experience. With a typical top speed of 150 kilometers per hour, the Benelli 251S strikes a fine equilibrium between exhilarating journeys and assured safety. Accelerating from 0 to 100 km/h within the range of 9 to 11 seconds, it exhibits a controlled burst of energy that complements urban commuting scenarios. Efficiency remains a hallmark, with the 251S exhibiting an average fuel consumption of 25 kilometers per liter, harmoniously complemented by a generous 17-liter fuel tank capacity, facilitating extended travels with fewer stops.
Embracing its role as a gateway for newcomers, the 251S excels in user-friendly handling, well-suited for navigating the intricacies of urban landscapes. Its compact and lightweight build contributes to its agility, rendering it adept at maneuvering through city traffic and confined spaces. The suspension configuration, a marriage of front telescopic forks and a rear mono-shock setup, is attuned for both comfort and ease of handling. These components collectively absorb road imperfections and ensure a smooth and composed ride, particularly on the uneven surfaces ubiquitous to city terrains. Front telescopic forks provide a harmonious blend of comfort and stability, adept at accommodating road irregularities while maintaining rider control. The rear mono-shock, often adjustable for preload, empowers riders to fine-tune their suspension preferences or adapt to varying loads. Boasting relatively soft damping, the suspension system prioritizes rider comfort across urban roads and moderate bumps. Tailored to cater to riders, potential passengers, and daily commuting requirements, the suspension aptly complements the diverse demands of urban exploration.
The Benelli 251S presents an upright and comfortable riding position, a pivotal asset for heightened visibility and control, particularly within bustling urban landscapes. Elegantly positioned higher, the handlebars encourage a relaxed posture, fostering rider ease during urban exploration. The bike's adept choice of tires strikes an equilibrium between grip and comfort, rendering them optimally attuned for urban riding dynamics and moderate velocities. Paired with an efficient braking system, tailored to city speeds, the 251S ensures a reliable stopping mechanism, indispensable amidst rapidly changing traffic scenarios.
Meticulously calibrated steering geometry embodies a delicate equilibrium between stability and maneuverability, ushering seamless navigation through traffic and graceful turns. Its design ethos artfully emphasizes low-speed maneuverability, rendering the 251S effortlessly manageable in diverse urban contexts, including parking lots and stop-and-go scenarios. Boasting poised handling at moderate speeds, the Benelli 251S crafts an idyllic partner for both urban and suburban terrains, unveiling stability and grace that align seamlessly with the ebb and flow of city life. Collectively, the Benelli 251S extends an invitation to an exquisite and assured riding experience, tailored for novices venturing into the world of motorcycling or those who relish a leisurely, composed approach to their journeys amidst the urban tapestry.
Exterior Design & Build Quality:
The Benelli 251S presents a contemporary and sporty exterior aesthetic, meticulously tailored for riders seeking an amalgamation of style and accessibility. Encompassing sleek and angular bodywork, the 251S exudes a dynamic and modern allure, echoing its performance-oriented essence. Streamlined fairings not only augment aerodynamics but also seamlessly contribute to the bike's holistic visual narrative. At the forefront, a distinct and modern LED headlight takes center stage, harmoniously integrated into the front fairing, amplifying the bike's visual magnetism. The fairing, adorned with sharp lines, angular accents, and aerodynamic nuances, weaves an elegant tapestry of aggression and cohesion. The interplay of panels culminates in an assertive and unified facade. The fuel tank stands as an epitome of ergonomic design, cradling the rider in comfort while exuding an aura of contemporary style. Marked by sharp angles and contemporary graphics, the tank encapsulates the 251S's sporty demeanor.
The seat configuration strikes a harmonious balance between ergonomic comfort and urban utility, making it an inviting companion for both casual cruising and city escapades. The slightly elevated tail section contributes to the bike's sporty aura, forming an evocative silhouette. The exhaust system's design seamlessly integrates with the overall aesthetics, showcasing angular lines or distinct features that resonate with the bike's overarching narrative. Further enhancing its visual sophistication, lightweight alloy wheels stand as a testament to modern performance and style. The Benelli 251S stands as a canvas for self-expression, available in a spectrum of color options that often showcase graphics and decals, underscoring its sporty and dynamic image. The digital instrument cluster stands as a technological cornerstone, presenting essential rider information in a user-friendly and modern format. Furthermore, the meticulous application of high-quality paints and coatings underscores its longevity and resistance to elemental wear, embodying a design ethos focused on durability.
Pros & Cons:
Pros:
Accessible Performance: The Benelli 251S offers a balanced blend of power and control, making it an ideal choice for emerging riders and urban travel. Its single-cylinder engine delivers manageable performance, complemented by commendable fuel efficiency.

Modern Styling: Sporting a sporty and contemporary design, the 251S exudes a dynamic allure through sleek fairings, angular contours, and modern stylistic elements. The LED headlight, sharp lines, and aerodynamic features contribute to its overall visual magnetism.

Comfort and Control: The bike's upright riding position enhances rider visibility and control, particularly in bustling urban environments. Higher-positioned handlebars promote a relaxed posture, while the adept choice of tires and efficient braking system ensure a secure and comfortable ride.

User-Friendly Handling: Engineered for navigating urban intricacies, the 251S boasts lightweight agility, making it adept at maneuvering through city traffic and confined spaces. The suspension system strikes a balance between comfort and handling, absorbing road imperfections for a smooth ride.

Novice-Friendly: With its approachable nature, beginner-friendly attributes, and controlled performance, the 251S is an inviting gateway for new riders, offering a seamless entry into the world of motorcycling.

Elevated Build Quality: The use of high-quality materials and meticulous coatings ensures the 251S's durability and resistance to the elements. This attention to detail contributes to a bike built to withstand the rigors of urban and suburban journeys.
Cons:
Limited High-Speed Performance: While suitable for urban and leisurely rides, the 251S is not tailored for high-speed or aggressive riding, making it less suited for those seeking intense acceleration or highway cruising.

Niche Market: The 251S's design and performance characteristics cater primarily to urban and novice riders. It may not fully satisfy enthusiasts seeking more powerful and adrenaline-pumping experiences.

Sport-Oriented Handling: The bike's design leans towards low-speed maneuverability and urban comfort, potentially limiting its appeal for riders seeking dynamic cornering and aggressive handling on open roads or winding routes.
Verdict:
The Benelli 251S emerges as a compelling option within the realm of smaller-displacement motorcycles, adeptly catering to novice riders and urban adventurers seeking a harmonious blend of approachable performance, modern styling, and user-friendly handling. With its single-cylinder engine delivering a balanced mix of power and control, the 251S excels as a reliable companion for daily commutes and leisurely escapades. Its sporty and contemporary design, characterized by sleek fairings and angular contours, encapsulates its performance-oriented essence, while the steel frame provides stability and control. The adept suspension system, efficient braking, and lightweight alloy wheels contribute to its agile handling and comfort. Enveloped in an upright riding posture, the 251S ensures heightened visibility and ease in urban environments, making it an inviting gateway for newcomers to the world of motorcycling. While not tailored for high-speed endeavors, the 251S promises a poised and enjoyable ride, inviting riders to embrace its reliability, comfort, and accessible demeanor, amplifying the allure of every journey amidst the tapestry of urban life.
Major Competitors:
The Benelli 251S competes in the small-displacement motorcycle segment, where there are several other notable competitors. Some of the major competitors of the Benelli 251S include:
Honda CBR300R: Honda's CBR300R is a popular option in the entry-level sport bike category. It features a single-cylinder engine, sporty styling, and a comfortable riding position.

Yamaha YZF-R3: The Yamaha YZF-R3 is known for its performance-oriented characteristics. It comes with a twin-cylinder engine, aggressive styling, and advanced features, making it a favorite among riders seeking a sporty experience.

KTM RC 390: KTM's RC 390 offers a higher level of performance with its single-cylinder engine and sharp handling. It has an aggressive design and is often chosen by riders who prioritize sporty riding dynamics.

Kawasaki Ninja 400: Kawasaki's Ninja 400 is lauded for its blend of power and agility. With a parallel-twin engine and modern styling, it caters to riders looking for a well-rounded sport bike experience.

Suzuki GSX250R: Suzuki's GSX250R features a single-cylinder engine and a comfortable riding position. It focuses on delivering accessible performance and is a contender for riders seeking a balance between sportiness and practicality.

BMW G 310 R: BMW's G 310 R offers a premium option in the small-displacement segment. It has a single-cylinder engine, distinctive design, and a brand associated with quality and innovation.

Kawasaki Z400: The Kawasaki Z400 combines a streetfighter design with a parallel-twin engine, providing a unique aesthetic and engaging riding experience.

CFMoto 250NK: The CFMoto 250NK is known for its value-oriented approach, offering a single-cylinder engine and contemporary styling at an affordable price point.
These are just a few of the major competitors in the small-displacement sport bike category. Each of these motorcycles offers a distinct blend of performance, styling, and features, catering to a variety of rider preferences and needs