2022 Honda Gold Wing
Sold in the USA = 2019-Present
Generation = 6th
Honda Gold Wing Price in Pakistan as import Model: starts at

49,000,00 PKR
2022 Honda Gold Wing sportbike Price in the USA :
| | |
| --- | --- |
| Automatic DCT | 25,300 $ |
| Tour | 28,500 $ |
| Tour Automatic DCT | 29,500 $ |
| Tour Airbag Automatic DCT | 32,800 $ |
The Gold Wing by Honda is the touring motorcycle series first introduced in 1974. The latest 6th generation Honda Gold Wing was revealed in 2019, and it is a completely redesigned model with a new 4-valve engine. The 6th generation Gold Wing is forty-one kilograms lighter than the previous generation and technologically advanced. It offers 4-driving modes and other technologies include; Android Auto, Apple Carplay, and traction control. The latest Honda Gold Wing was introduced with some minor updates that include a larger-size trunk with a capacity of 61-liters, and the back seat is made more comfortable. The rear turn signals are changed to red color. The compartment is spacious enough to carry two helmets. The 2022 Honda Gold Wing will be similar to the previous model, apart from new colorways that depend on your model variant. The Tour variant is available in Gunmetal black metallic color, and the DCT variant is available in Glint Wave blue metallic and Pearl Glare colors. The powertrain is similar in the latest Honda Gold Wing compared to the previous model. The Honda Gold Wing is loved by sports bike lovers in Pakistan, just as in other countries, and it can be imported through Honda bike dealers across Pakistan. The price of the Honda Gold Wing is much high here because of the import duties and latest features it offers. The Honda Gold Wing is a luxurious sports bike that gives you a premium feel and provides you with intuitive technology.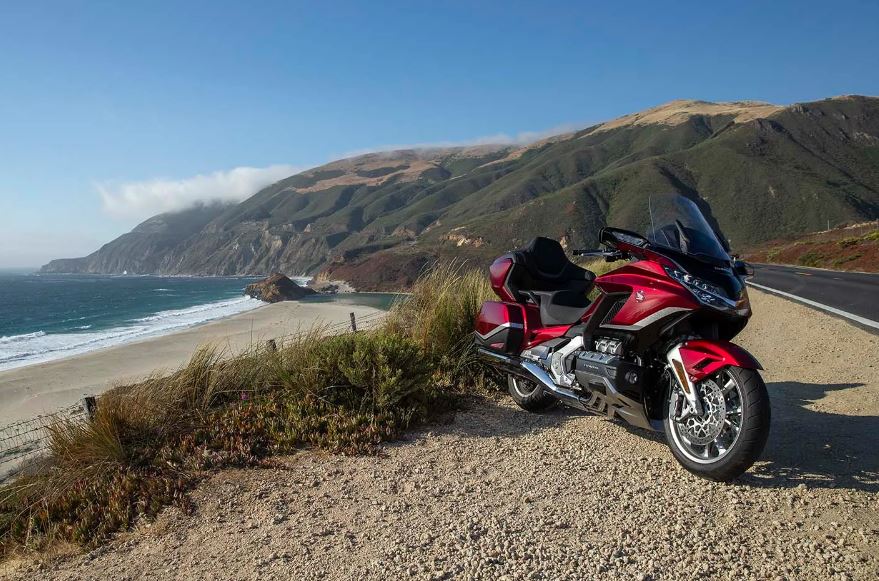 Trims & Variants:
It will be available in four variants that are:
Honda Gold Wing Automatic Dual-Clutch transmission
Gold Wing Tour
Gold Wing Tour Automatic Dual-Clutch transmission
Gold Wing Tour Airbag Automatic Dual-Clutch transmission
| | | | |
| --- | --- | --- | --- |
| Dual-Clutch | Tour | Tour Automatic Dual-Clutch | Tour Airbag Automatic Dual-Clutch |
| 7-speed Automatic DCT transmission (Premium) | 61-liter travel trunk | 7-speed Automatic DCT transmission | 7-speed Automatic DCT transmission |
| Walking mode/reverse | Reverse | 61-liter travel trunk | Airbag |
| 1833cc six-cylinder engine (standard all) | Electronic preload suspension | Walking mode/reverse | |
| Twin-spar aluminum frame (standard all) | 6 Speed Manual | Electronic preload suspension | |
| Anti-lock brakes (standard all) | | | |
| Four ride modes (standard all) | | | |
Performance & Drive:
The Honda Gold Wing gets its power from a SOHC 1833cc 6-cylinder 24-valve engine that generates 97.9 hp of power at 5500 RPM and 108.4 lb-ft of torque at 1250 RPM. It offers options of a 6-speed manual transmission or a dual-clutch automatic transmission. The mapping in DCT is remarkable as it decides when to shift and control the engagement of the two clutches. The low-RPM thrust in Honda Gold Wing delivers smooth performance. The 1833cc engine is thirteen pounds lighter than the previous model and provides exceptional performance. The double-wishbone suspension at the front offers smooth performance, and better handling is achieved due to its innovative design that moves the engine and passenger closer to the front wheel. The steering is light and easy to control, giving a confident steering control. The 320 millimeters disc and 6-piston brake calipers at the front and 316 millimeters single-piston caliper at the rear makes the braking system efficient. The Anti-lock Braking system makes sure the braking is always blended to secure the ride, even you just use the front brake lever or rear brake pedal. The stopping distance of the Honda Gold Wing from sixty miles per hour to zero is exceptional among other sports bikes. It offers four driving modes: Tour, Sport, Eco, and Rain, and other than this, you will get features like traction control, cruise control, smart key, heated grips, and seats.
Mileage & Top Speed:
The 6-speed manual transmission Gold Wing gives a mileage of 37.1 miles per gallon with a fuel tank capacity of 61-liters with a reserve capacity of 11-liters. It gives you a top speed of 140 miles per hour.
Exterior Design & Build Quality:
The Honda Gold Wing's latest model has upgraded passenger accommodations with a relaxed backrest angle with padding, and the seat height is increased to enhance the comfort levels. The fender at the front is vented, and a cowling opens into a sportbike scoop above the fender that forces air through the radiator into large vents. There is a V-shaped headlight on the front that comes with stock fog lights. The LED lights enlighten your way, and the backseat's height is increased with an increased angle from 17-degrees to 24.5 degrees so the passenger can have a more comfortable ride than before. The Honda Gold Wing has an 18-inches wheel at the front and a 16-inches wheel at the rear, giving it a bold look. The variant that offers airbags has stock with an inflatable crash buffer that protects passengers in a front collision. There is a 7-inches color TFT screen on the front that allows you to see the control settings and is compatible with Android Auto and Apple Carplay, so you can use navigation, music, and Bluetooth with your smartphone. A USB port in the front for charging smartphones and 550watt audio speakers give good sound quality. The build quality of the Honda Gold Wing is exceptional and makes it outclass sports bike that ensures you have a sporty and memorable ride. It is a symbol of luxury and class for all sports bike lovers.
Major Competitors:
BMW K 1600 GTL
Indian Roadmaster