2023 Husqvarna TC 125 Motocross
Sold Worldwide: 2013-Present
Updated in 2023
2023 Husqvarna TC 125 price in the USA:
Husky TC 125 Heritage
Starts at:

$13,038
Husqvarna Motorcycles TC 125 was introduced as a more competitive 2—stroke engine by Husky with a smaller and lightweight engine. Husqvarna Motorcycles has been playing a central role in offering two-stroke engine bikes, starting from its 85cc mini bike. The TC 125 is a powerful and lightweight dirt bike.
The Husky TC 125 has new styling and attractive dark blue color. It has a Brembo Hydraulic system in DDS clutch and a WP XACT suspension system. It has high-quality DID rims, similar to the clutch, and the brakes also have a hydraulic system. It comes with a kick-start technology and offers a 5-speed manual transmission. The latest Husqvarna TC 125 offers multiple upgrades. It offers electric-start technology and delivers improved performance. The Electronic Fuel Injection system is also introduced in 2023 TC 125. A new cylinder has an electronic exhaust control system and better throttle response. There is a Pro Taper handlebar and all-new bodywork, which gives the Husky TC 125 a striking new look, and it looks attractive among competitors.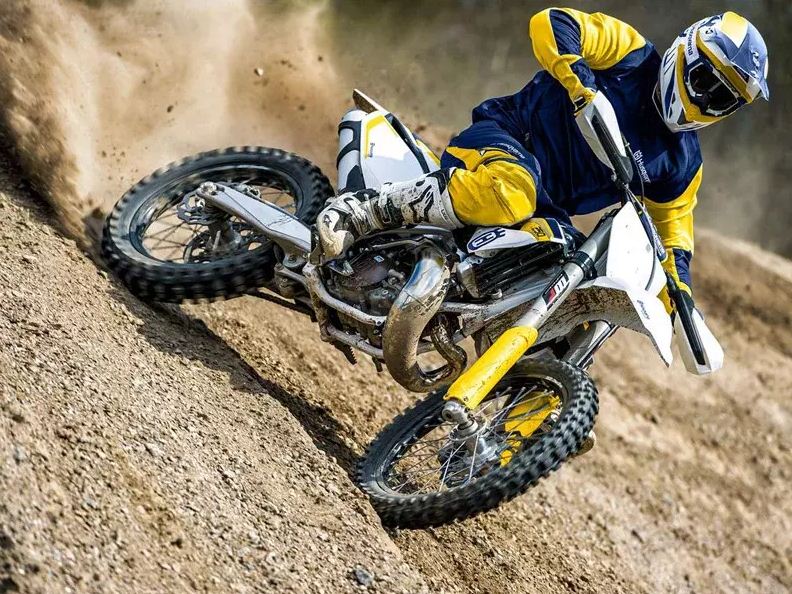 Engine & Performance:
The Husqvarna TC 125 gets its power from a high-revving, two-stroke, 125cc engine. Its engine is just 17.9 kilograms, and this lightweight engine produces more torque and ensures the rider can ride faster on tracks, either beginner or professional. There is a new 54-millimeter bore in the cylinder, and an electronic exhaust control system is introduced in it and delivers maximum power. The crankshaft is redesigned with lighter weight and provides better throttle response by giving minimum vibrations. It is positioned precisely to ensure mass centralization and overall handling of the bike. TC 125 has an improved handling and symmetrical engine whose components are positioned perfectly to have an ideal center of gravity and optimize mass centralization for better handling. It offers a 6-speed gearbox that ensures durability and reliability. It has a redesigned shift drum and shift fork that improves leverage and helps in smoother shifting of gears, while the gear lever design is revised and prevents the build-up of dirt. The diaphragm steel clutch design contributes to the compact layout of the engine and is durable. The latest TC 125 comes with an electric start technology, and the engine quickly starts with a push of a button soon.
The Lithium-ion battery is placed under the seat, and the bike's handling is uncompromised due to the battery being close to the center of gravity. It comes with engine switch mapping power in which Map 1 is the standard option where you get predictable control, and Map 2 is an aggressive response where you get explosive power output. Riders can switch between both options by pushing a button on the handlebar. It comes with an engine management system with a Rollover Sensor system, which shuts the engine off during accidents and emergencies. The TC 125 comes with Brembo calipers hydraulic brakes and provides better-stopping power in all conditions. The WP XACT shock absorbers guarantee smooth performance at high and low speeds.
Fuel Economy & Top Speed:
It has a fuel tank capacity of 1.85 gallons, and the electronic fuel injection system analysis the running condition of the engine and delivers a perfect air-to-fuel ratio to ensure minimum fuel consumption. The Husqvarna TC 125 gives a top speed of 70 miles per hour.
Design & Build Quality:
The latest Husqvarna TC 125 has a chromium molybdenum steel frame, and there is a metallic blue coating on the frame that offers durability and better protection. There is a new shock mounting, and optimized wall thickness provides advanced geometrics. There are forged brackets on the lower frame rails that help in the easy installation of the skid plate. There is a polyamide-reinforced aluminum subframe for exceptional strength and improved reliability. The TC 125 has a Swedish-inspired design, and the contact points are repositioned in this new model, which provides more comfort to the riders. A falter seat is designed in 2023 TC 125 with improved grip cover and ensures the rider stays firmly in his place at high speeds. An air box is designed with inlet ducts that reduce drag and airflow for unrestricted airflow. The Pro Taper handlebars in TC 125 bikes offer maximum comfort and class-leading strength at the lowest possible weight. The CFD-designed new footrests have a larger area, provide better control, and do not hook on deep ruts. An hour meter shows the fuel level on an LED and indicates to the rider when the fuel level is low. The black alloy rims in TC 125 have Motor cross tires designed for better road grip and ensure optimal bike handling on all riding surfaces. The bike has an excellent build quality that stands it out among competitors.
Major Competitors: